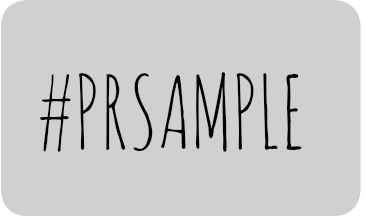 I am back with a review on one of the latest Innisfree products in their Jeju Volcanic line.  Innisfree has come out with color clay masks, each one with a specific are of concern.  Jolse, a premier K-Beauty oneline store,  offers me a chance to review products that I find interesting, brand new or cult favorites and this was my pick out of the 7 clay masks ~ the Cica version.   Cica is just code for centella asiatica and I am on a dogged mission to try as many centella products as I can!
Skin Type/Concerns: Oily, blemish prone, aging skin with hyper-pigmentation and fine lines/wrinkles.
Innisfree has built off the popularity of their classic Jeju Volcanic Pore mask with releasing seven new masks, that feature an ingredient or skincare concern.  They all contain Jeju Volcanic Scoria, a lava rock, and it forms after the lava cools after a volcanic eruption. It is very powerful in absorbing excess oils and will help unclog pores from dirt and impurities, leaving your skin very clean.  The 7 different masks have different clay textures too ~ water gel: thinly spread and dries rapidly, cream: mild for all skin types and transformative clay, which lathers upon contact with water and functions as a mask pack and a cleanser at one time.
Yellow (Brightening) The volcanic cluster yellow mask for sebum control and brightening.  Contains Jeju volcanic cluster and Vitamin C derivatives. The yellow mask provides a brightening effect to make the skin bright and brilliant. Water gel clay texture
Blue (Hydrating)  The volcanic cluster blue mask for sebum control and moisturization. Contains Jeju volcanic clusters and hyaluronic acid. The blue mask corrects the skin balance of moisture and oil to cleanly refine the skin while leaving it non-greasy. Water gel clay texture
Pink (Vitalizing)  The volcanic cluster pink mask for sebum control and rejuvenation.  Contains Jeju volcanic clusters and pomegranate seed oil. The pink mask provides a revitalizing effect to make dull, lifeless skin become vibrant. Water gel clay texture
Green (Cica)  The volcanic cluster green mask for sebum control and cica care.  Contains Jeju volcanic clusters and madecassoside. The green mask provides cica care to refine multiple troubled skin areas.  Soft cream-type clay texture
Purple (Calming)  The volcanic cluster purple mask for sebum control and soothing purposes.  Contains Jeju volcanic clusters and panthenol. The purple mask soothes the skin becoming sensitive after being exposed to external irritants. Soft cream-type clay texture
White (Refining) The volcanic cluster white mask is a transforming formula for sebum control and smoothening the skin.  Contains Jeju volcanic clusters and sea salt. The white mask takes care of rough skin texture to make the skin soft and smooth. Transformative clay
Black (Purifying) The volcanic cluster black mask is a transforming formula for sebum control and skin purification. Contains Jeju volcanic cluster and mud. The black mask takes care of skin impurities and old dead skin cells to make the skin look clean and transparent. Transformative clay
I have written about multi-masking in the past, and it is a fun way to target your skin concerns with different products.   You don't even need to use all clay packs ~ I have used jelly masks and clay masks for multi-masking (rainbow masking).   I think this is such a great idea, that even my skincare application is similar ~ I will use certain skincare products  only on certain areas on my face.   Since I just got the one Cica clay mask pack, I didn't multi-mask.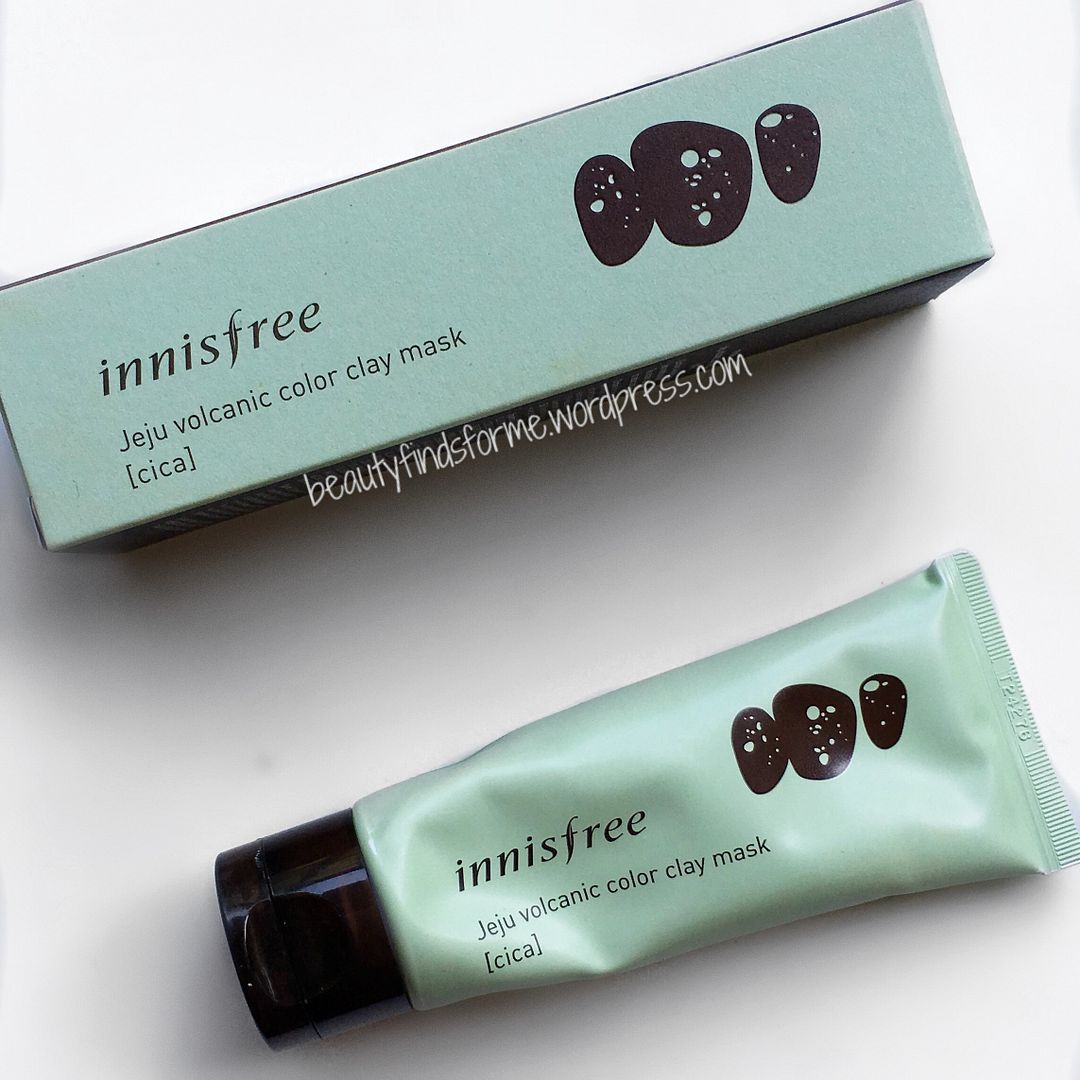 In addition to the 210 mg of scoria (volcanic ash), this mask contains kaolin, a white clay that helps remove dirt and debris on your skin, while absorbing excess oil and reducing shine. Very good for oily and blemish-prone skin. It also has bentonite clay, which is for smoothing, exfoliating, cleaning pores and improving overall skin tone.  It also contains madecassoside, a derived of centella asiatica, which helps soothe, reduce redness and inflammation and helps heal your skin.  This also has hydrating, soothing humectant glycerin as one of its top ingredients, so it won't dry out your skin.  This also contains the famous Innisfree Green Complex: citrus unshiu, orchid, green tea, camellia and prickly pear (opuntia coccinellifera) extracts, which are full of antioxidant compounds.
Ingredients: water, kaolin, propanediol, glycerin, caprylic/capric triglyceride, silica, titanium dioxide (CI 77891), bentonite, polyglycerin-3, hydrogenated poly(c6-14 olefin), polyvinyl alcohol, cetearyl alcohol, 1,2-hexanediol, madecassoside, volcanic ash (210mg), opuntia coccinellifera fruit extract, camellia japonica leaf extract, citrus unshiu peel extract, camellia sinensis leaf extract, orchid extract, theobroma cacao (cocoa) extract, dextrin, xanthan gum, glyceryl caprylate ,ethylhexylglycerin, tetrasodium pyrophosphate, polysorbate 20, polysorbate 60, disodium EDTA, chromium oxide greens (CI 77288)  cosDNA analysis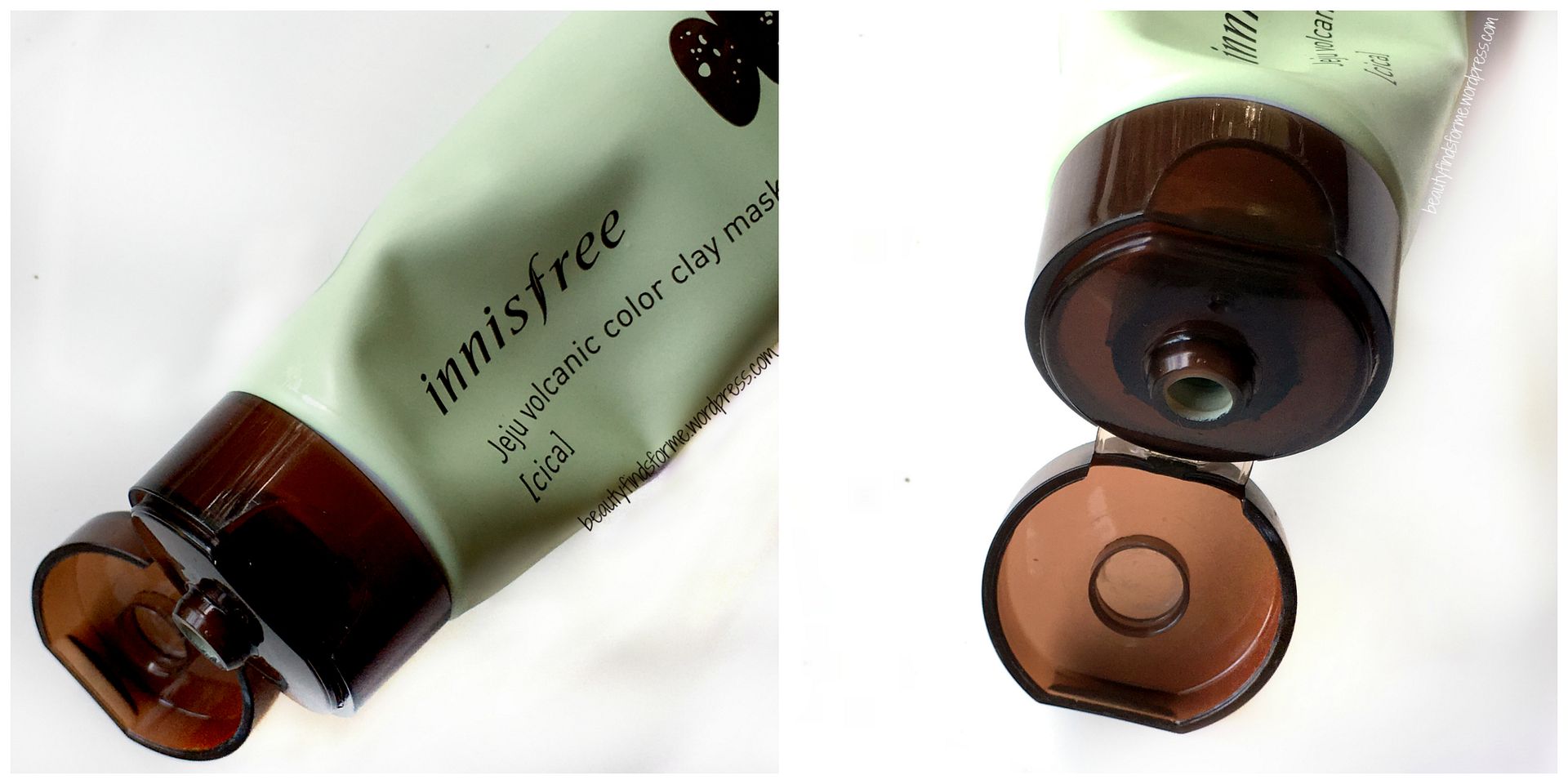 This clay mask come in a soft metal tube in a nice mint green color.  It has a flip top applicator and I just squeeze out the clay mask ~ it is a creamy smooth mask product that glides on easily on my skin.  It has a dense pudding texture, a light olive green shade and basically has no scent.  This mask does not dry down, even after 30 minutes of wear ~ instead it gets a gummy texture ~ somewhere between moist and dry.  The first two pictures below have swatches initially applied and the third photo is after 30 minutes.
The mask feels soothing and cooling as I wear it and after 30 minutes, I rinsed off the mask, which was fairly easy to get off my face.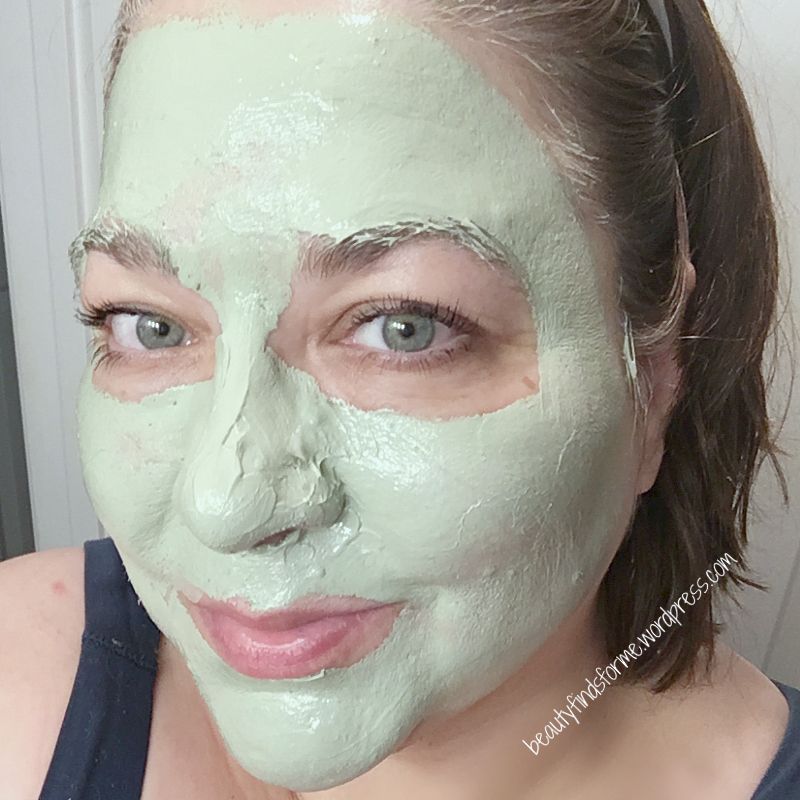 I did notice my skin looked calmer and not as red, but I didn't not think this mask provide a deep pore cleansing action nor did my pores look unclogged.  I noticed that several areas of my nose were still clogged a bit after I rinsed this mask.  My skin did feel soft and smooth, as this mask did remove surface dead skin, but my pore areas were not as clean as I would have expected.  This did provide some oil control, as my skin did look and feel less oily.  
Final Thoughts
This is not, at least for me, the best unclogging pore mask in the world.  I have used much more effective ones and therefore, if you are looking for a mask that will unclog pores, this is not it.  That said, what I did notice is how soothing and non-irritating this mask is on my skin.  If you follow me regularly, you know that I have been using some acid treatments nightly now and one in particular really makes my skin very sensitive the next morning.  When I use this mask after that treatment, I do find it removes any flaky dead skin, leaving my skin smooth and soft and it is very soothing and doesn't sting or irritate my skin ~ this is important to note, as I have found some of my normal skincare products sting slightly after my AHA treatment.   
I think the Innisfree Jeju Volcanic Color Clay Cica Mask is probably best suited for those with sensitive skin, skin that is undergoing any type of peeling treatments, dry skin and skin that doesn't have clogged pores. This suits my needs right now, as I am using a peeling treatment.   Many thanks to Jolse for their generosity in sending this mask to me for review purposes. Have you tried this mask yet?  Did you pick up a different version and what did you think of it?

Where to Purchase

You can purchase this 70 mL tube and the other six varieties at Jolse (click here).  Jolse retails this for  under $10.00 and they ship world wide.  Jolse offers free International shipping for orders $40.00 or more  ~ plus they give lots of free samples with each purchase!

[  product provided for review purposes ]