[ all descriptions in italics from Herb Stop. Blog post contains referral link ]
This month's theme is Summer Travels ~ getting you ready to be energized and to help prevent jet lag and tiredness.  Herb Stop has made a lot of positive improvements over the last few months ~ oil-resistant labels, new box packaging and they are changing the caps on the oils, as they can pop off and leak. What is Herb Stop?

Herb Stop is located in Pine, AZ and has been recognized by the community and the state of Arizona  with a variety of awards.  They only use ingredients from  reliable and ethical sources and all of their essential oils are 100% pure, with the exception of their precious oils ~ such as Jasmine, Rose, Neroli, Sandalwood ~ and those will be blended with jojoba oil.    You will receive a box of 4 bottles, either 1/6 oz or 1/3 oz)  that can be essential oils, essential oil blends and/or roll-on essential oil blends.  You will also receive information about your oils and how to use them, including safety information.   Each box is $19.99 which includes shipping, USA only and Herb Stop will start mailing them out during the 10th thru 17th of every month.   Herb Stop has over 200 varieties essential oils alone, which means the boxes will be very different each month ~ as there are also custom-made blends as well.   You can auto subscribe here.   Use Promo Code BFFM15  and receive 15% off your first box!
What's In Your Aroma Box?
All of the essential oils, unless otherwise noted, have a screw top lid and there is a plastic lid inside that has a tube, so that you don't spill out all of your oil if you drop the bottle (and it doesn't break).  I also like that the oils are in dark cobalt blue glass bottles to help protect them from UV rays and light.  Unless noted otherwise, all of the pure essential oils are 100% natural, pure essential oils, vegan and vegetarian safe, non-GMO and no additives. Bottled in the USA.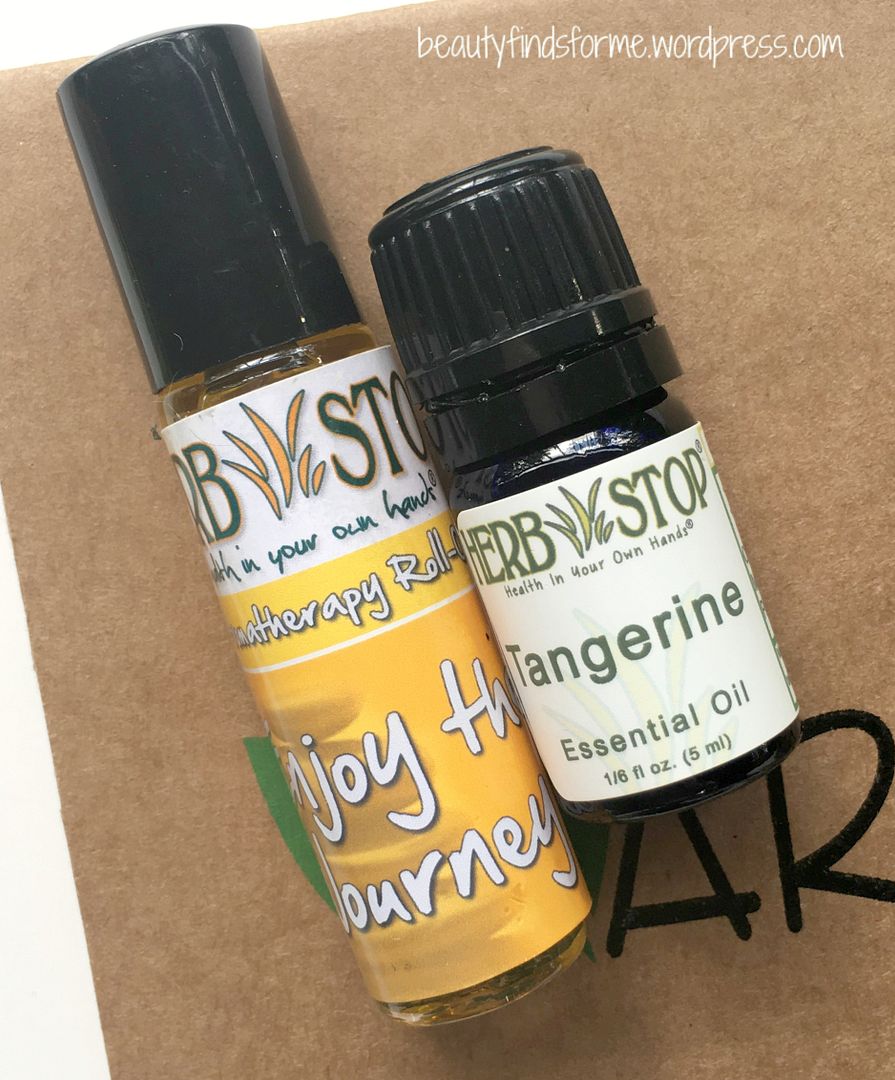 Enjoy the Journey Aromatheraphy Roll On    Made with scents that are known to help with nausea, jet lag, stress and tiredness, this scent will lift up your mood and help combat those traveling blues.  It has a nice blend of citrus and minty oils, but the scent I really smell is the Lemon Eucalyptus oil ~ a brisk lemony scent.  This is 100% natural and vegan  RV $16.95
Description: Enjoy the Journey was created with all aspects of travelling in mind.  The carefully selected essential oils are known to aid with many of the travelling ailments, such as fatigue, jet lag, digestive troubles, respiratory congestion, and stress.*  As a bonus, the orange, tangerine, and spearmint essential oils may also lift your mood.*

 Ingredients: 100% Pure Essential Oils of Orange, Spearmint, Coriander, Tangerine, Ginger, Lemon Eucalyptus and Clove in a base of Pure Golden Jojoba Oil.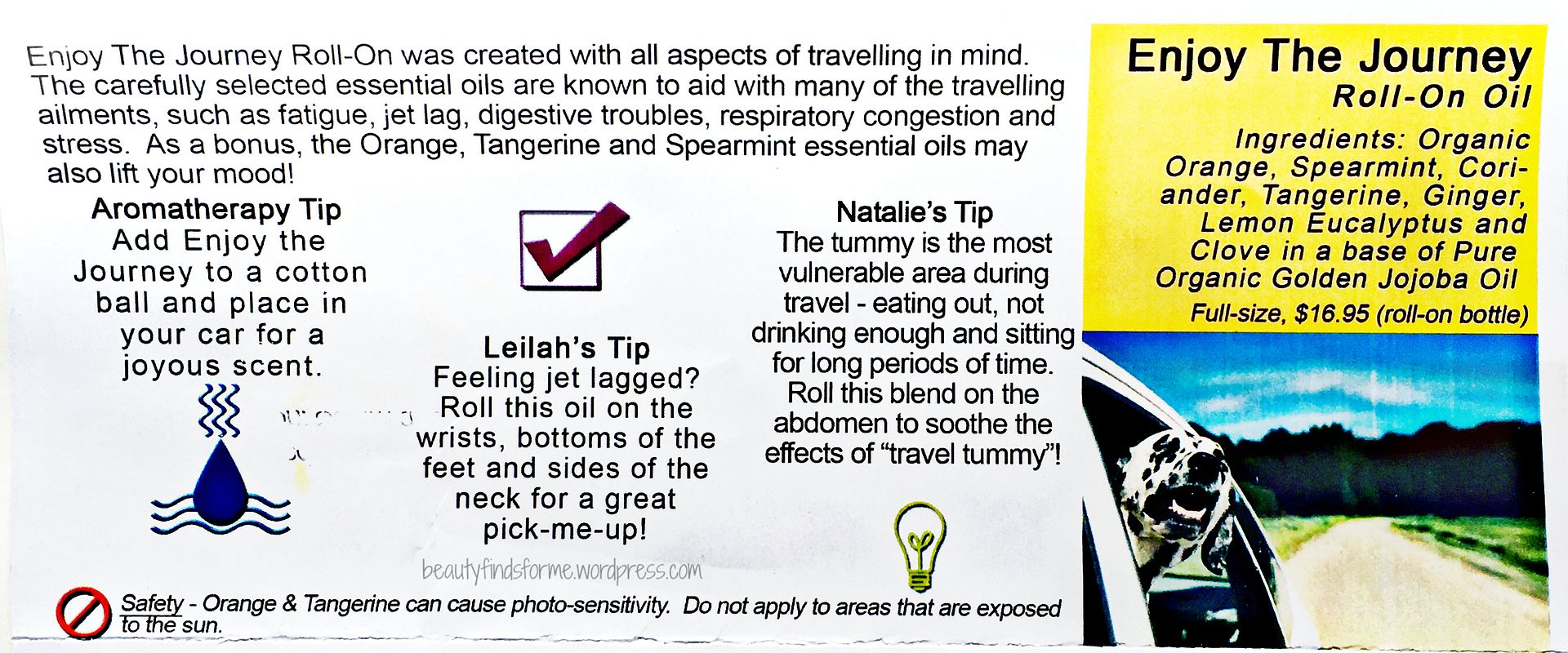 Tangerine (citrus reticulata) Essential Oil Ahhh, there is nothing better than the scent of a ripe tangerine ~ so sparkling, so fresh and makes me want to go somewhere warm and Mediterranean!   This oil does not disappoint ~ it does smell like wonderful tangerines, just refreshing and a mood picker-upper.  Since this is food safe, you can add a drop in 24 oz of water, lemonade, ice tea or any other beverage and it will help settle your tummy, while giving you a sweet tangerine taste. I am actually going to mix this with clove and fir essential oils, alcohol and distilled water to make a refreshing room spray.   This doesn't contain any additives and is vegan.  This was one of the bottles whose cap did pop ~ Herb Stop just started to replace them, and I received the old versions.  Herb Stop quickly sent me out my replacement oils, but if you see my photos on the info card, it got damaged as 2 of my oils leaked in the box and caused the card to stick together.  5mL RV $2.60

Description: Traditionally used to reduces stretch marks and as a muscle relaxant with calming and sedative properties.  Herbalists use Tangerine externally in various carrier oils as a massage oil to break down cellulite and pockets of fat, as it may help to stimulate lymphatic drainage, especially when mixed with Fennel. Under the supervision of a qualified professional, Tangerine may be used internally as a digestive stimulant and for all sorts of digestive problems

Ingredients: 100% Pure Citrus reticulata (Tangerine) Essential Oil.

Origin: USA

Parts Used: Peel

Extraction Method:  Cold Pressed

Food Chemical Codex:  Yes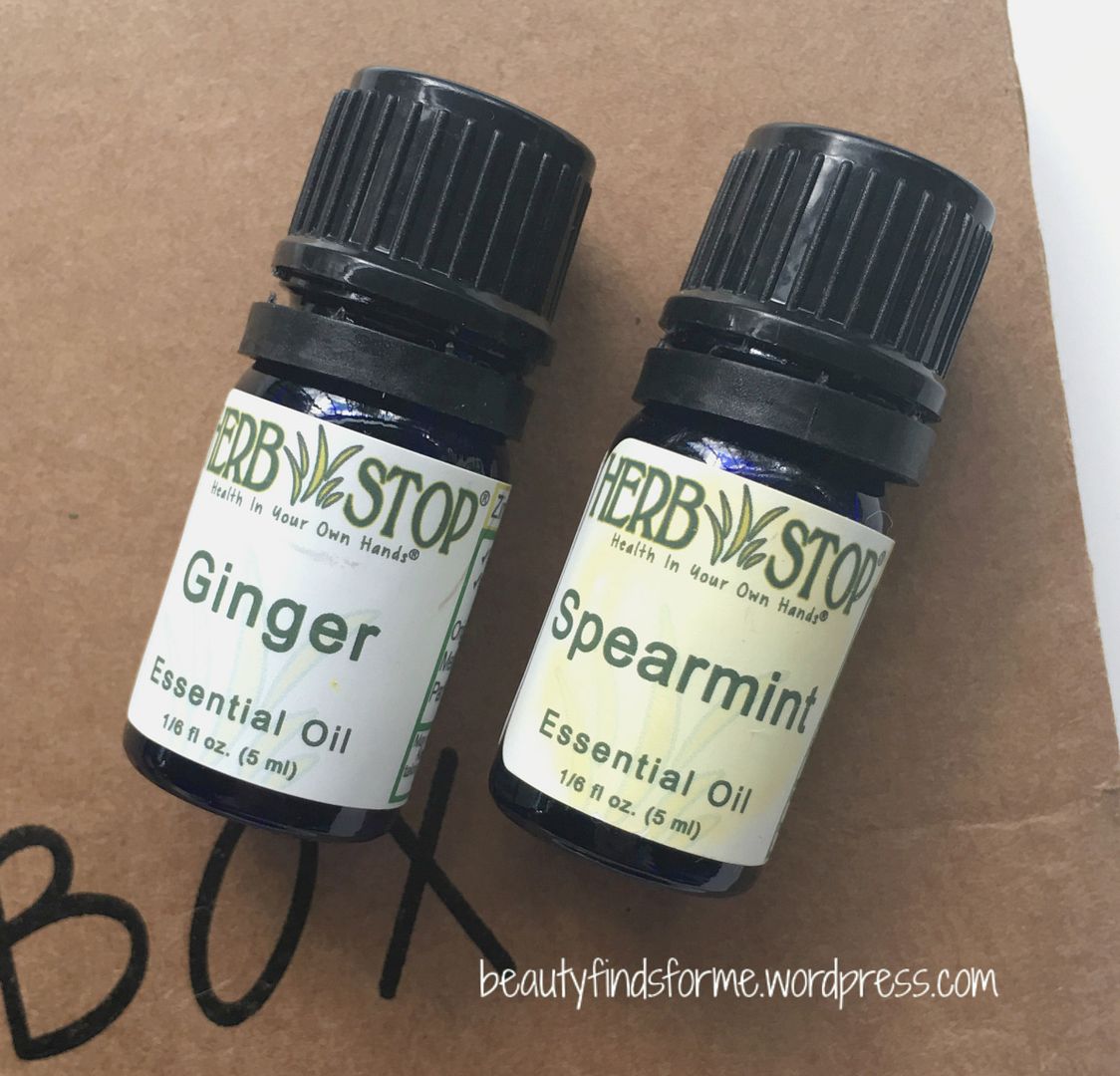 Ginger (zingiber officinale) Essential Oil I love ginger ~ I have ginger teas, ginger matcha lattes, ginger candy, pickled ginger, ginger cookies, ginger spread as well as fresh and powdered ginger ~ I love the spicy sweet heat and the scent.  I am learning that with some oil scents, such as this one, sniffing in the bottle doesn't really showcase the scent ~ it needs to be put into a diffuser or added to a cotton ball ~ this is a spicy scent, a bit dark and richer than I am used to for ginger, but it is ginger.  When I sniff it in the bottle, it doesn't smell much like it, but once out in the open, its strong ginger scent comes thru.  I am not sure why certain oils do not smell good in the jar, but once "freed", they do smell like the ingredient they are. It is strange, but it is what it is.   This ginger oil is also food safe, so I will be adding this to teas and hot lemon drinks.  Ginger is excellent for digestive issues and I also love it when I am sick too.  5 mL RV $5.43
Description:  Traditionally used for warming, digestive stimulant, carminative for gas, nausea and indigestion. Herbalists use Ginger to enhance pelvic circulation which may relieve pelvic congestion. In a massage, it is commonly used for muscle and joint pain, poor circulation, and cramps.

Ingredients:  100% Pure Zingiber officinale (Ginger) Essential Oil.

Origin:  China

Parts Used:  Root

Extraction Method: Steam Distilled
Food Chemical Codex: Yes

Spearmint (mentha spicata) Essential Oil This oil smells just like Doublemint gum!  It is so spearminty and refreshing.  I love mint scents, so it is no wonder that I love this ~ spearmint is a more sweeter scent than peppermint ~ peppermint is more wintery and brisk, whereas spearmint is a sweet brisk minty scent.  Mint scents are great for when you are suffering from headaches and also just as a pick me up. This is non-GMO, vegan and contains no additives. 5 ml RV $3.66
Description: Traditionally used as a cooling and anti-inflammatory oil good for migraines and itchy skin conditions. Herbalists use Spearmint as a good alternative to Peppermint because it is less stimulating. Commonly used as a mental stimulant, carminative for digestive upsets, gas and bloating.
Ingredients: 100% Pure Mentha spicata (Spearmint) Essential Oil.
Origin: USA

Parts Used: Flowering Herb

Extraction Method: Steam Distilled
Food Chemical Codex: Yes
Herb Stop also included a "Jet Lag A.M." recipe:  Blend 20 drops of tangerine, 8 drops of spearmint and 1-2 drops of ginger essential oils in a glass bottle. Add  a few drops to a cotton ball and inhale as needed. Adjust the scent as desired by adding or removing essential oils. They also have included a promo code to save 10% off any of their full sized oils and roll-on's in their shop  ~ use ABJN17
I love all of the scents here ~ spicy, sweet and fresh ~ all scent-sations that I love!  Plus, all of these are great for creating room fresheners, which I will be doing.  Herb Stop customer service is top notch too ~ all I had to do was send the photos of the damaged oils and they sent me replacements right away!  It isn't that they didn't believe me, they wanted the photos to see what the damage was so they could find a solution to fix it.  When I received my replacements, the caps now had some shrink wrap on them to prevent the cap from popping open.  I paid $19.99 for this and received a value of almost $29.00.  If you are interested in subscribing, you can do so here and use promo code BFFM15  to receive 15% off your first box!
Please note, essentials oils are not to replace seeing a doctor if you have serious ailments or issues.  However, aromatherapy, scents and herbal tinctures/oils have been used for centuries with great success.   I would never state that this should replace seeing your doctor, but if you know your body and you have discussed this with your doctor, you should be able to use essential oils for minor treatments.

Have you signed up for Herb Stop's essential oil box?  Are you interested in doing so?

[ all descriptions in italics from Herb Stop. Blog post contains referral link ]
Save
Save
Save