[ complementary product received for review purposes. contains affiliate links ]
If you follow my blog, you will notice that I love Naruko and have written several reviews on their products ~ their Tea Tree Night Jelly and Job's Tears Enzyme Powder Wash, along with assorted masks, are part of my HG lineup.  I think I have three backups of the night jelly and 2 of the powder wash!!  On occasion, the lovely Rachel at Naruko USA will offer me an item for review purposes and this time, it is the amazing and very long named La Creme Face Renewal Miracle Essence.  I have several friends in the AB Community (Asian-Beauty Community ~ skincare and cosmetics) who love this essence, so I jumped on the chance to give it a try.
Skin Type/Concerns: Oily, blemish prone, aging skin with fine lines/wrinkles and hyper-pigmentation (both sun damage and PIH)
I have written about this before, but I think it is a good time to repeat myself 😀  There are two types of essences ~ the first type is a traditional essence ~ it is thicker than water and is used somewhere between the toner and moisturizer steps.   I use those types of essences interchangeably with serums.  Naruko La Creme Face Renewal Miracle Essence is the other type of essence, called First Treatment Essence (FTE) and is also known as First Essence, Treatment Essence  and/or Treatment Toners ~ these are very watery concentrated formulas with fermented ingredients, very nutrient-enriched and it preps your skin, while providing benefits that will help reduce/prevent fine lines and wrinkles, dull and uneven skin tones.    These are boosters and provide an instant shot of hydration and nutrients to your skin and prep your skin to accept your other skincare products.
Some of the more famous (but I have never used) first essences are SK-II Facial Treatment Essence and Missha impossible long name Time Revolution The First Treatment Essence.  I have used other FTE by Benton, Swanicoco and Goodal, among others.
This Miracle Essence is made with natural ingredients originally from Taiwan and it will help rejuvenate your skin, along with cellular renewal and bring a radiant glow back to your skin.  This has an intense concentration of fermented proprietary formulas.
It contains 94.9% of Ystract™, an anti-oxidant blend of amino acids, vitamins and minerals which will help inhibit melanin production ~ the dark spots ~ help reduce hyper-pigmentation and aid in cellular renewal.  It is known for hydration and will keep your skin moist, smooth, bright and firm.  Ystract is actually fermented rice extract or lees, and is produced from Nantou, Taiwan.  Rice ferment filtrate is a byproduct from making sake.  It contains more than 100 amino acids, organic acids, saccharides, vitamins, nucleic acids and esters. Rice ferments, diluted with water, has been used for centuries in Japan as part of a skin care routine, due to its moisturizing abilities from kojic acid. It also will suppress the performance of melanin so that hyper-pigmentation is reduced and your skin tone is brighter. Ferulic acids, a powerful antioxidant, are also found in lees and it helps absorb UV light, which helps prevent skin aging. Due to its own natural alcohol content, it is an astringent and also contains antibacterial properties to help control blemishes.  This also has rice bran extracts in it and that is obtained when rice is polished and it comes from the hard outer layer of the rice seed and contains 15 to 20 percent oil. It has a vast amount of lipids and contains phytic acid, squalene, vitamin E, phytosterols and ferulic acids, which help eradicate free radicals and it contains 44% of omega 6 and 2% omega 3 essential fatty acids, which help reduce inflammation.   More fermented goodness in yeast extracts, which will keep your skin moist and will repair your skin while helping protect it, as well as providing oil control and brightening effects.
Actuat E60™ is a blend of 60 natural botanic ingredients, which many are used in Traditional Chinese/Asian Medicine. Many of these ingredients have been researched extensively and studies produced to prove their skincare benefits ~ such as skin tone brightening licorice and mulberry, soothing and anti-inflammatory centella asiatica and chamomile, anti-oxidant and anti-aging ingredients of green tea, ginseng, peony and ginger ~ and these are just to name a few!  These ingredients will help with brightening,  hydrating, firming and toning of your skin.
To help with gentle exfoliation, there are two ingredients in here that specifically serve that purpose ~ Papain is an anti-inflammatory and anti-bacteria enzyme derived from papaya. It will exfoliate your skin without irritation by gently loosening dead skin cells and removing them from your skin. Pineapple is rich in anti-oxidants, vitamin C and amino acids. It also contains manganese, which aids in strengthening your connective skin tissues. Pineapple helps keep skin elastic and firm as it aides in collagen production and is also an anti-inflammatory, helping reduce redness and swelling from blemishes. Pineapple is also a gentle exfoliator as it contains bromeliad, an enzyme similar to papaya's papain. This helps remove excess dirt, dead skin cells and oil, leaving your face fresh and clean. Pineapple can also reduce hyper-pigmentation and fine lines, due to the vitamin C content and leaves your skin hydrated, soft and supple.
Ingredients: Ystract™ (94.9%) (oryza sativa lees extract), purified water, alcohol, glycerin, phenoxyethanol, chlorphenesin, propanediol, yeast extract, sodium lactate, achillea millefolium extract, actinidia chinensis (kiwi) fruit extract, aesculus hippocastanum (horse chestnut) extract, alchemilla vulgaris extract, aloe barbadensis leaf extract, ananas sativus (pineapple) fruit extract, arctium lappa root extract, arnica montana flower extract, artemisia umbelliformis extract, calendula officinalis flower extract, camellia sinensis (green tea) leaf extract, centella asiatica (gotu kola) extract, chamomilla recutita flower extract, chondrus crispus (carrageenan) extract, citrus grandis (grapefruit) peel extract, corallina officinalis (algae) extract, cucumis sativus (cucumber) fruit extract, dioscorea opposita (wild yam) root extract, epilobium fleischeri extract, equisetum arvense (horsetail) extract, equisetum hiemale (horsetail) extract, gingko biloba leaf extract, glycyrrhiza glabra (licoric) root extract, hamamelis virginiana (witch hazel) extract, jobs tears (coix lacryma-jobi) water, kalanchoe pinnata leaf extract/kalanchoe spathulata leaf extract, ledebouriella divaricata (fang feng) root extract, leontopodium alpinum (edelweiss) extract, malva sylvestris (mallow) extract, mentha piperita (peppermint) leaf extract, melissa officinalis (lemonbalm) extract, morus alba (mulberry) root extract, narcissus tazetta bulb extract, oryza sativa (rice) bran extract, panax ginseng root extract, papain, peony (paeonia suffruticosa) root extract, peucedanum ostruthium (masterwort) leaf extract, pisum sativum (garden pea) extract, plantago major seed extract, polygonum cuspidatum extract, poria cocos extract, pueraria lobata root extract, rhodiola rosea extract, rosa damascena flower water, rosmarinus officinalis (rosemary) leaf extract, sakura (prunus yedoensis) leaf extract, salvia officinalis (red sage) leaf extract, sambucus nigra (elderberry) flowers, saxifraga sarmentosa extract, scutellaria alpina flower/leaf/stem extract, snow fungus (tremella fuciformis) extract, thyme (thymus serpillum) extract, tilia cordata (linden) extract, triticum vulgare (wheat) protein, undaria pinnatifida (wakame/seaweed) extract, veronica officinalis (common speedwell) extract, vitis vinifera (grape) fruit extract, willow (salix alba) bark extract, zingiber officinale (ginger) root extract, iodopropynyl butylcarbamate, soy amino acids, potassium sorbate, sodium benzoate cosDNA analysis
Description: Brightens and lightens facial hyper-pigmentation ~  Enhances skin elasticity and restores firmness ~ Smooths fine lines, firms the skin ~ Provides long-lasting moisture, prevents dryness ~ Conditions oil-to-water balance, eliminates enlarged pores ~ Increases skin metabolism, say goodbye to rough skin ~ Revitalizes skin self-repairing system, restores healthy vitality ~ Provides concentrated moisture,  fortifies skin's natural barrier

Naruko Miracle Essence comes packaged in a highly reflective silver box which is sealed.  Opening up the box, I find a pamphlet explaining what this product does and my beautiful bottle. This weighty bottle is 150 mL and is made from clear, frosted glass with a bright silver cap.  The bottle has some flowers etched on it and it is just drop dead beautiful for its simplicity.  I feel I need to worship this goddess. 
This has a pin hole applicator, which just means you gently tip the product out of the bottle ~ I want to mention that this applicator is not sealed when you get it and that is just the way it is.  I use my hands to pat this essence onto my skin but you can use a cotton pad. I just can't bear the thought of wasting any of these fermented goodness ~ remember, I did say gently tip the bottle, don't shake it.  This opening will release a lot of essence all at once, so be careful that you don't shake it or tip it forcefully.
This is a very watery essence ~ in fact, I would think it is water except for the scent. Which is sake.  This smells like sake and no fruitiness, like the Kikumasamune Skincare Lotion.  This scent doesn't bother me one bit ~ in fact, I am always wondering what would happen if I DRANK my Miracle Essence ~ ahaha. However, I do know that some people don't like sake scents, so don't worry, the scent disappears quickly.  This has a pH level of 4, so it is acidic and will exfoliate your skin.  It does absorb into my skin quickly with no sticky residue and increases my moisture level by about 53% so my face is refreshed and hydrated.
I have been using this product for a  little over a month now and I use it daily.  What I have noticed in the course of the month is that my skin looks more radiant, more brighter.  I haven't noticed too much of my dratted sun damage spots going away, but those sunspots didn't happen overnight either.  My face doesn't look as oily when I use this and in fact, my face has a glow-y look right after I apply it ~ not dewy or greasy, but a nice glow ~ very fresh looking. And at my age, looking youthful and fresh is a miracle! Hey, maybe that is why it is called Miracle Essence!! 
Final Thoughts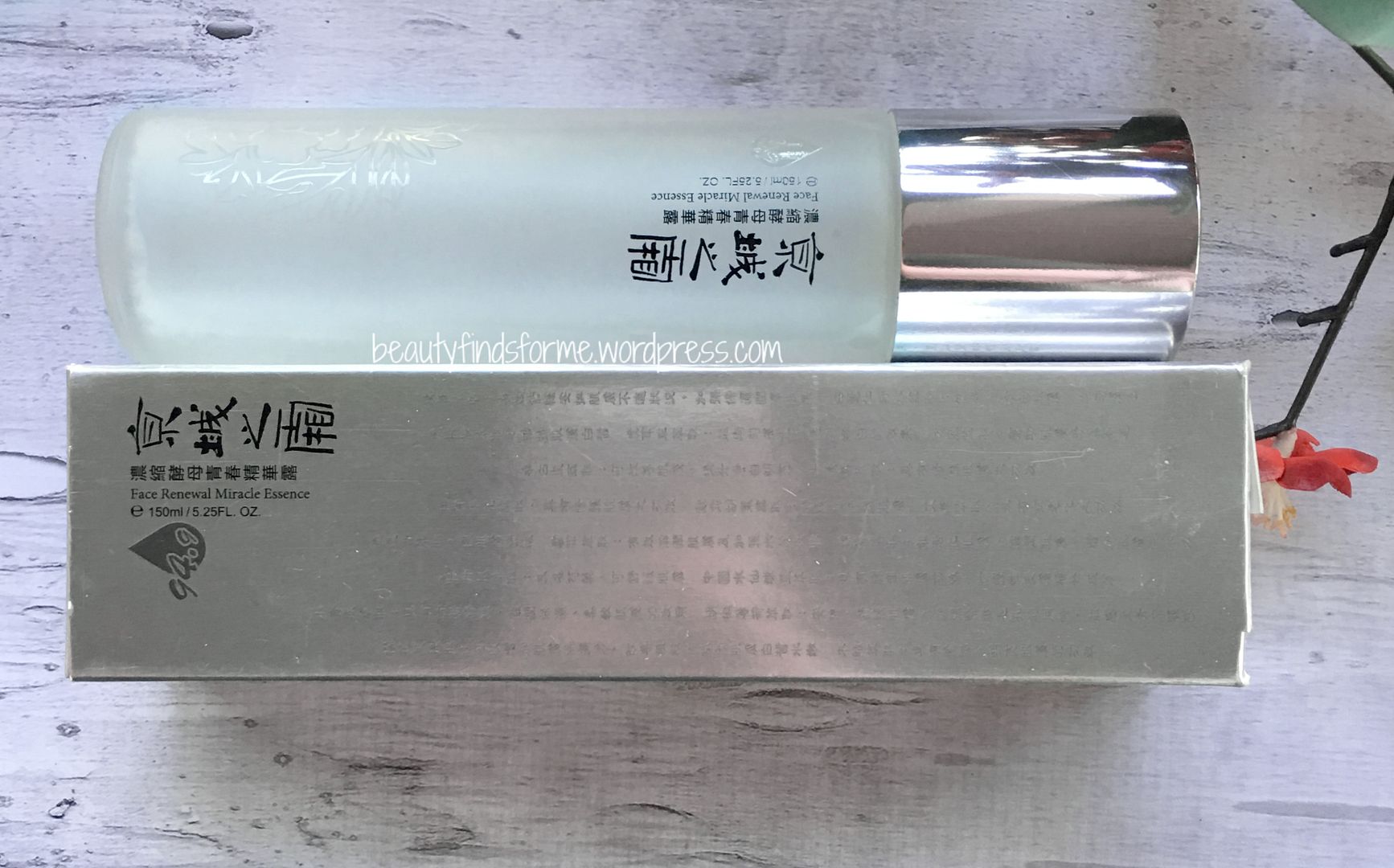 I really like this FTE a lot.  I mean a lot.  I just purchased another one, so I could have a backup for this summer, as I think this will be perfect in the summer time, when it is hot and sticky outside.  This will freshen, refreshes and brighten my skin tone, while hydrating and not leaving a heavy feeling on my skin.  As it is so lightweight and non oily, a watery essence is a must in the summertime for me and my skin type.  I also hope I can see results on the hyper-pigmentation front too.   I don't view my normal freckles fading in and out as proof that this lightens them ~ I look to sun damage hyper-pigmentation as the true test of does a product really lighten and reduce the appearance of them.  So far, I haven't found that magic skincare product, but this one is promising!   I like using this during the daytime and Swanicoco The Bio Therapy 1st Essence , which is a different type of fermented ingredient ~ that uses probiotic bifida ferment lysate, and has more viscosity in its texture, so that makes that one a great one to use at night for me.  Have you tried this product yet? What do you like about it best?

Where to Purchase
Naruko, of course!  Naruko has several different stores around the world too
Naruko USA  Naruko USA will also give free gifts and you earn points when you purchase at their store.  These reward points then can be converted to spend on any product you want.  They sell this essence in different configurations. Don't be alarmed by the prices in the actual link ~ once you add it to the cart, you will see the discounted price that I have listed here. For USA orders, if you order $40.00 or more, you automatically get free shipping.  Naruko USA will ship internationally, so check here for more information.

[ complementary product received for review purposes. contains affiliate links ]