[ blog post contains referral and affiliate links ]
I apologize in advance for some of the photos ~ I have a hard time photographing really white items!!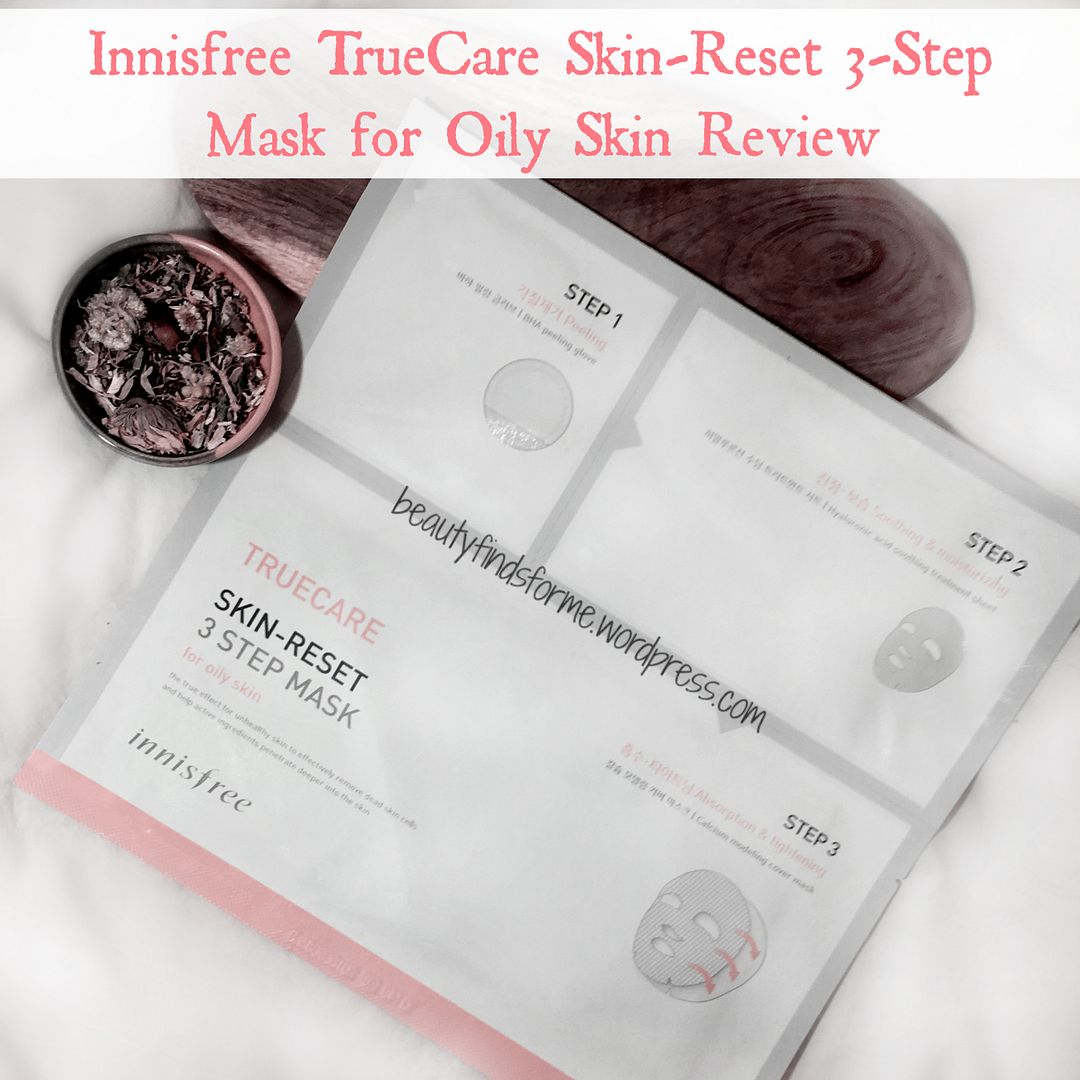 I have been on a mission to find and test out a TON of products with Centella in them ~ I plan on having a Mega Blog post review at the end of this summer, where I feature Centella skincare products as this ingredient works really well for all skin types who suffer from inflammation and blemishes!  So, I was really excited when I saw that Innisfree started a new line in 2016 called TrueCare that features Centella Asiatica and I purchased a couple of items from this line ~ including the CICA Intensive Balm (review here)   Innisfree also has other items in this line, such as a moist cream, recovery lotion and facial masks (oily or dry skin) and I purchased several of these masks last year at the Innisfree Korea site, when they had a special event ~ buy 3, get 1 free.  At that time, you could only find these masks at Innsifree Korea, but now they are on some other sites, which I will link to at the end of this review.

Innisfree has the prettiest advert photos.  I need inspiration!! I also see they overexposed their photos!!

 mine ~ ahahaha
Skin Type and Concerns:  Oily, blemish prone, with aging concerns ~ hyper pigmentation, sun spots, fine lines and wrinkles.

 What It Is

Multi-Step masking is on fire right now!  So many brands are offering 2, 3 and even 5 step masks ~ where the steps could be a cleanser, ampoule, serum, cream, neck cream, eye cream and then off course, the lowly sheet mask ~ lol.  Innsifree's 3 Step mask is a bit different ~ it is more in line with Primary Raw Sheet DoYou 2-Step Face Therapy Mask (review here), where the first step is an exfoliating treatment.  For oily skin, it is a BHA pad and for dry skin, it is an AHA pad.  However, Innisfree has a third step, which I haven't seen yet in other masks ~ this is taking the benefits of a modeling mask and applying another mask over the sheet mask!
Dry Skin
AHA Pad ~ AHA help exfoliate on the surface of the skin and is water soluble

Centella + Ceramide Sheet Mask~ for soothing, deep nourishment and moisture
Calcium Powder & Modeling Pack Dry Cover Sheet ~ to help with absorption of Step 2
Oily Skin
BHA Pad ~ BHA is oil soluble and therefore, can really get into those pores to clean out and exfoliate
Centella + Hyaluronic Acid  Sheet Mask ~ for soothing, hydrating moisture without a greasy residue
Calcium Powder & Modeling Pack Dry Cover Sheet ~ to help with absorption of Step 2
The rest of the review will just be for the Oily Skin mask.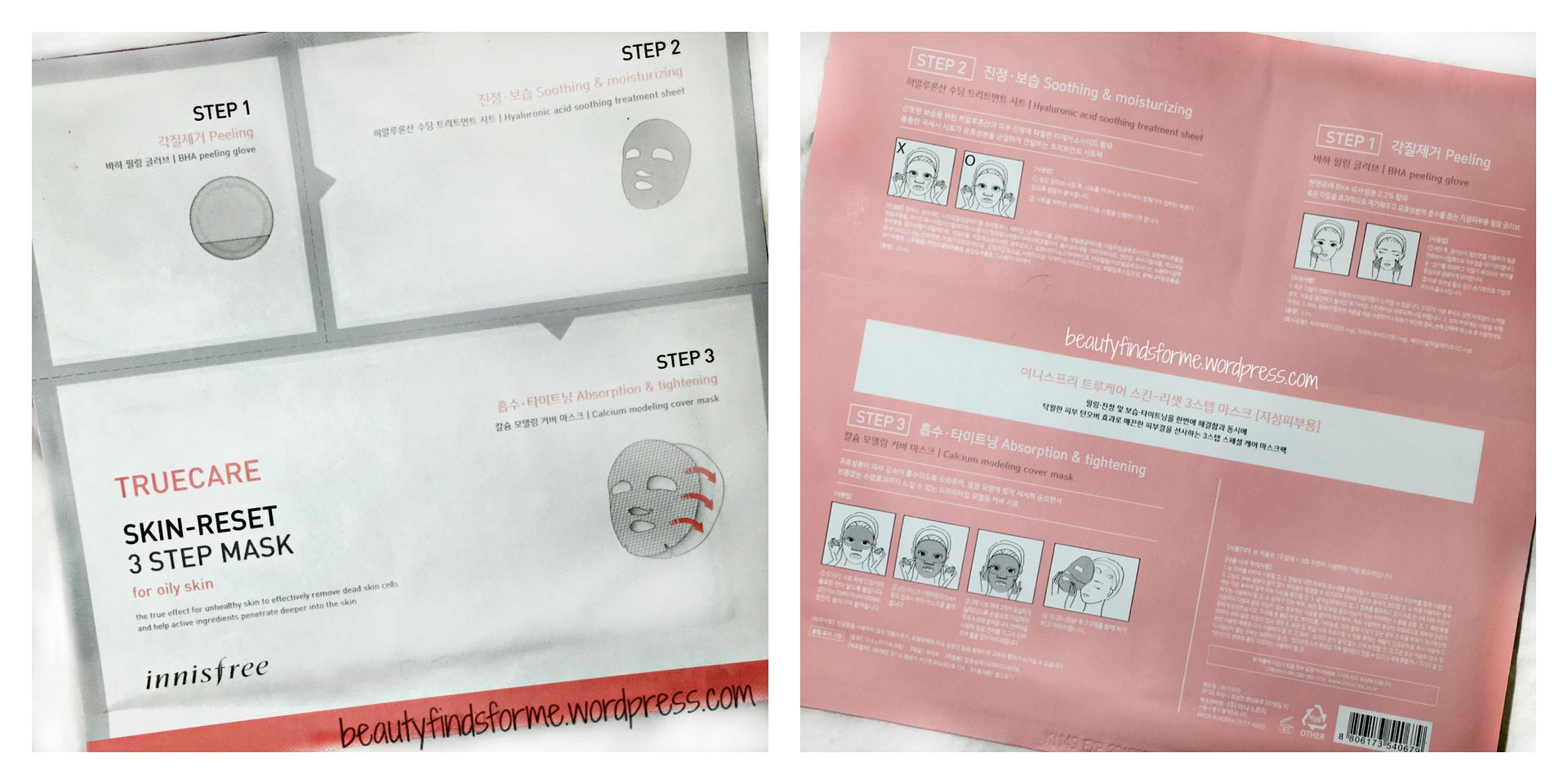 Description: A three-step home care solution that implements a professional beauty shop's peeling program in one pack. Perfect skin reset effect with keratin care and aftercare. Step 1: Derived from natural ingredients like BHA – Oil and sebum to remove fat-soluble effective exfoliants. Step 2: Centella (calm) + Hyaluronic Acid (moisturizing neat) – Fresh, moist moisturizing transparent solubilized formulation. Step 3: Absorption of the active ingredient and the convergence effect – Modeling Pack containing the same calcium powder dry-type cover sheet
Step 1 is a BHA pad that contains 3 ingredients: 202 mg of lactic acid which is an AHA and derived from milk proteins and has both hydrating and skin brightening properties.  100 mg of tartaric acid ~ another AHA and is commonly derived from grapes or apricots and it is known for smoothing and refining your skin texture.  10 mg of betaine salicylate, which is the BHA in this pad ~ this exfoliator will help reduce pore size, helps prevent acne, remove dirt and debris from clogged pores by dissolving the dead skin cells and smooths the skin. It is also an anti-inflammatory and antibacterial.  I should point out that the AHA pad for the Dry Skin version contains just the first two ingredients.
 
Step 2 is the Centella + Hyaluronic Acid Sheet Mask.  It contains centella asiatica, which will soothe and heal your skin. Centella asiatica is a common herbal ingredient that is used medicinally to help speed up wound healing, such as blemishes and skin rashes. It also helps minimize the appearance of pores, and since it stimulates collagen production, it will make your skin more supple and firm.   This also contains .22 mg of madecassoside acid, which helps aid in the production of collagen and tissue.  Chamomile extracts can calm down the skin and relieve redness effectively as it has antioxidant, antibacterial and anti-inflammatory properties. It helps to relieve skin issues and irritations because it soothes and lessens swelling and redness, while healing skin and stimulating cellular renewal.  There is 2.2 mg of sodium hyaluronate, which is an intensive moisturizing ingredient which bonds water to keep skin hydrated. It is a natural substance found in the human body and it made up of amino and uronic acids, and helps retain 100 to 1,000 times its own water weight in our skin cells.  It doesn't leave your skin feeling tacky or greasy, but very hydrated and plump
And finally, Step 3 is a mask made from calcium sulfate hydrate, which is basically Plaster of Paris and it will mold to the contours of your face while helping the Step 2 sheet mask absorb more efficiency into your skin.
Ingredients
Step 1 (BHA pad): lactic acid (202 mg), tartaric acid (100 mg), betaine salicylate (10 mg) cosDNA analysis 
Step 2 (Sheet Mask): purified water, glycerin, dipropylene glycol, trehalose,  betaine, 1,2-hexanediol, panthenol, butylene glycol, xylitylglucoside, paeonia suffruticosa (peony) root extract,  centella asiatica extract, hydroxyethylacrylate/sodium acryloyldimethyl taurate copolymer,  polyglyceryl-10 laurate, xanthan gum, anhdroxylitol,  anthemis nobilis (chamomile) flower extract, glyceryl caprylate, xylitol, ethylhexylglycerin, glucose,  sorbitan isostearate, caprylyl/capryl glucoside, sodium hyaluronate (2.2 mg), pantolactone,  citrus aurantium bergamia (bergamot) fruit oil, citrus aurantium dulcis (orange) peel oil, lavandula angustifolia (lavender) oil, madecassoside (0.22 mg),  eucalyptus globulus leaf oil, camellia japonica leaf extract, camellia sinensis (green tea) leaf extract,  orchid extract, opuntia coccinellifera fruit extract, citrus unshiu peel extract, disodium EDTA  cosDNA analysis
Step 3 (Calcium Mask): Calcium Sulfate Hydrate 
Performance


Step 1: BHA Pad This smells a bit like bitter, sour milk, which is probably due to the lactic acid ~ however, it is very faint. The pad doesn't seem to be very soaked with not a lot of extra essence, but don't let that fool you ~ this is wet and you will feel it working on your skin.  My skin was slightly stinging from the BHA pad and if you have any open blemishes or cuts on your skin, you should avoid treating it with this pad.  I applied the textured side first to remove dead skin cells and then the smooth side afterwards.  If you are sensitive to BHA or AHA, Innisfree recommends using this mask at night time instead of a morning mask.   The BHA ingredient is dead last in the list of 3 exfoliating acids and the pH level looks to be a 3, so this looks to be a true BHA product.  Onto Step 2!

Step 2:  Soothing & Moisturizing Treatment Mask.  This very soft and plush sheet mask is soaked with essence and there isn't any left over in the pouch, as this mask is very absorbent!  I do not detect a scent with it and the mask fits really nice on my face.  It feels wonderful ~ I am not sure if this is a cotton or a microfiber mask and this is a bit thicker than most masks, but it adheres beautifully and it feels so luxurious against my skin.
Step 3: Calcium Mask.  This looks like the stuff you use to start patching your drywall! lol   It is very delicate and powdery, so don't rough house handle it!  It comes sandwiched between thin cardboard so it doesn't get damaged during transit and storing of your mask.  One side is flat and smooth, while the other side is slightly raised.  I put the raised side against my face.   I put the top half on first ~ in the photo below, it is a bit too high and should be lower on my face.  Then the lower half is pressed against my face.  I gently pressed the palms of my hands and the tips of my fingers on top of the calcium mask to ensure better adherence and form it to the contours of my face.  I did have some powdery residue on my hands ~ I just rinsed that off.
I immediately felt a lovely cooling and refreshing feeling on my skin while I was wearing this mask. I don't feel claustrophobic like I do with modeling masks ~ the calcium mask is lightweight enough with the mesh opening that I don't feel "shut in".  I left the mask on for 30 minutes and that cooling sensation never left as I was wearing the mask.  At the end of the 30 minutes, I could see that the cotton sheet mask was pulling away from my face, but it was time for me to remove the mask anyway.   The photos below, from left to right, Step 2 mask alone, Step 2 & Step 3 mask right after I applied it, Step 2 & Step 3 mask after 30 minutes.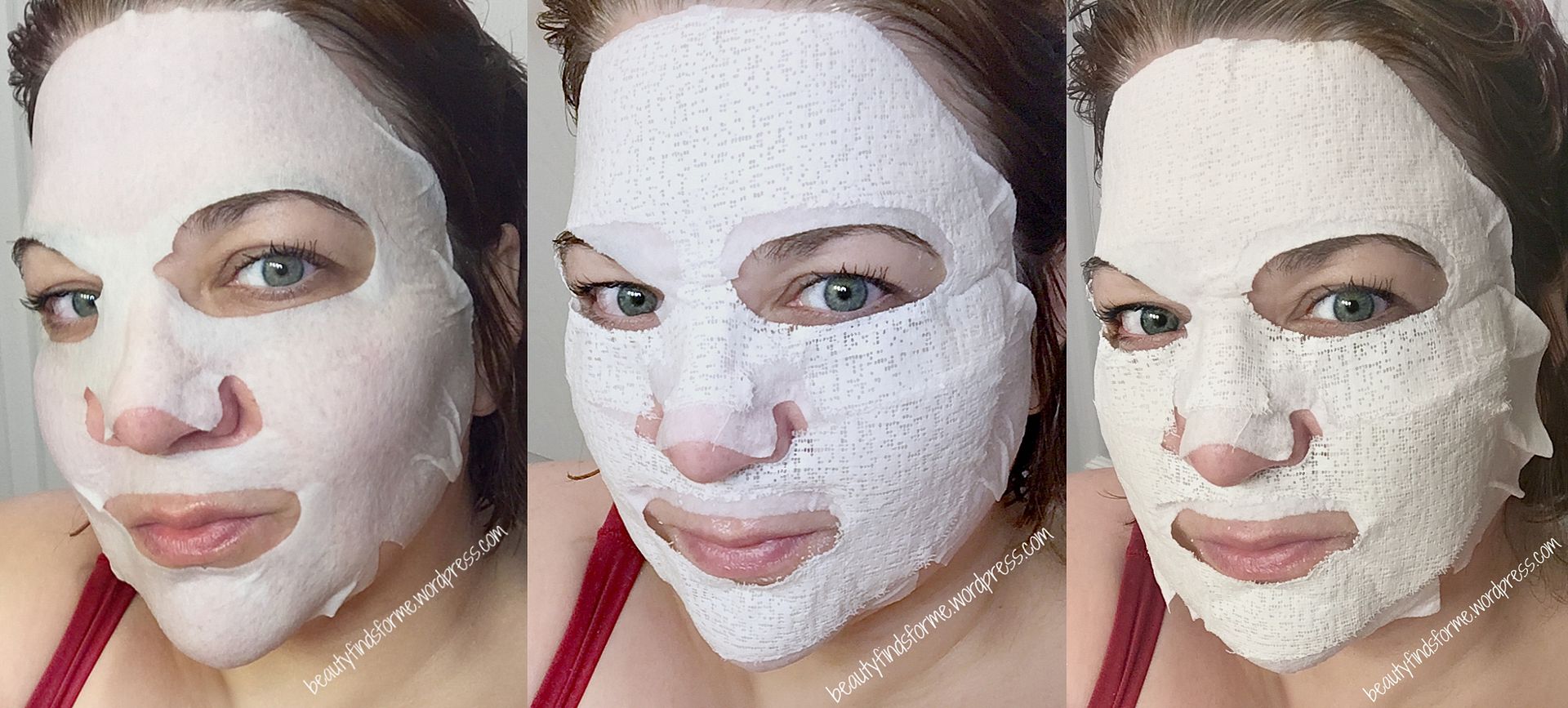 I did have some powder residue around my mouth and lower eye area where the calcium mask was touching my skin directly ~ I just used some cleansing water to remove.  I have to say, the results of this 3 Step Reset Mask is pretty darn good!  My pores were very clean and were near invisible. My skin felt hydrated, but matte at the same time ~ I wasn't oily and there was no residue at all from the essence.  My skin also felt cool and refreshed and it did look more brighter and the redness around my chin area, where I am still experiencing blemishes, was lessened in appearance. 
Final Thoughts

I've used this mask twice now and I really like it a lot!!  I think for a 3 step mask, this is one that I can really get behind ~ I don't care for the ones with the cleanser, facial cream, neck cream, etc ~ a serum or a exfoliating product is what I like in a first step, then a great sheet mask.  The calcium modeling mask just locked everything in while I was wearing it and I like how I didn't feel suffocated like I do when I use rubber modeling masks.  I don't know if these are a limited edition or not, but I am going to purchase some more from W2Beauty, as they have some great prices there for the oily skin mask version.  Have you tried these new TrueCare masks from Innsifree? Are you interested in purchasing them yourself?   
Where to Purchase
W2Beauty 

 

Save $5 on your first purchase with my referral link or sponsor code 0811226902. They also give out a ton of free gifts ~ take a look at their freebie page here. FREE shipping for purchases $60.00+ OR if you include any products from Benton, Klairs or Troiareuke.
Amazon 
eBay 

  $7.59 USD

Tester Korea  

$4.64 (no free shipping)
If you want to purchase directly from the Innsifree Korean Site, use their search tool (click here) and enter in 트루케어  which is TrueCare.  Unless you live in Korea, you will have to use a shipping service and I recommend Korean Buddy. You can save 50% off handler fee with Korean Buddy Shipping Service by using my blog url as a referral https://beautyfindsforme.wordpress.com with your first purchase
[ blog post contains referral and affiliate links ]