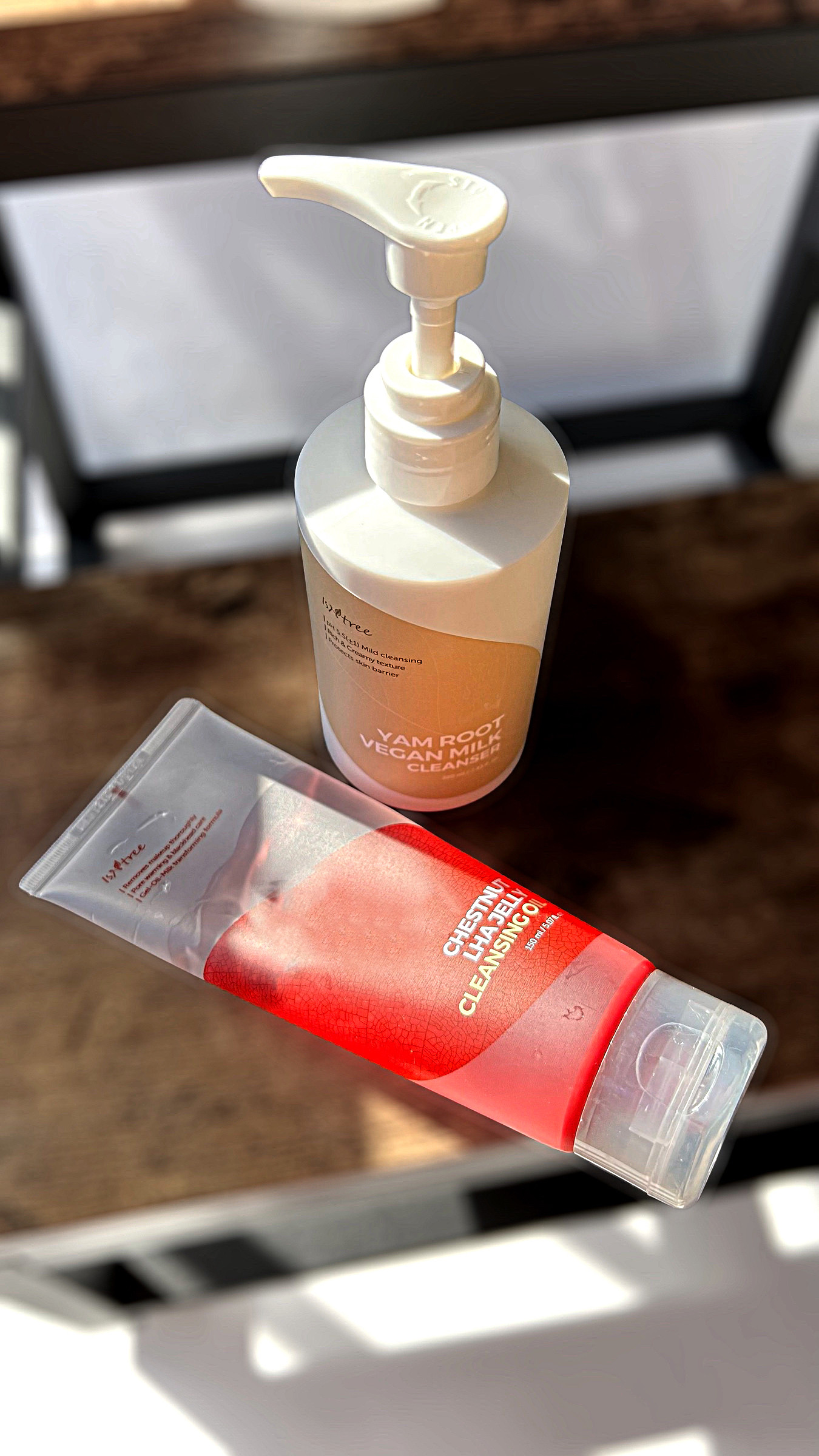 IsnTree's name comes from fusing the words island, natural and tree together and is a  K-Beauty brand that has  very affordable, high  quality products.   I have tried a few of their products in the past (reviews here) and I totally love their Mugwort line.   Isntree is cruelty free ~ they do not test on animals or use animal materials in their skincare.   Jolse Cosmetic, a premier K-Beauty online store, carries IsnTree brand and sent me the Chestnut LHA Jelly Cleansing Oil for review purposes. Isntree gifted me the Yam Root Vegan Milk Cleanser and I felt that both of these go well together for gentle cleansing. 
Skin Type/Concerns: oily, blemish prone, dehydrated, aging concerns, pores, fine lines/wrinkles, hyper-pigmentation
I received these products complementary to review and was not paid.  All reviews are my own honest opinion and  I never have been asked to write copy for a brand.  This blog post might contain promo codes, affiliate and referral links, which using my links will help generate a small commission that helps support my blog at no extra cost to you.
Before I get into these products, some readers ask me why I link to cosDNA for the ingredients list.  I am not linking to it EWG or "clean" standards, but more of a breakdown category of what the ingredients do. I don't list every function of an ingredient here, but if you click on the cosDNA link after the list of ingredients, you can see the breakdown.  For example, what is tetradecene doing in my skin care?  cosDNA will tell you its function is "Solvent, Viscosity Control, Emollient".  I find that to be helpful and pretty much ignore the safety column.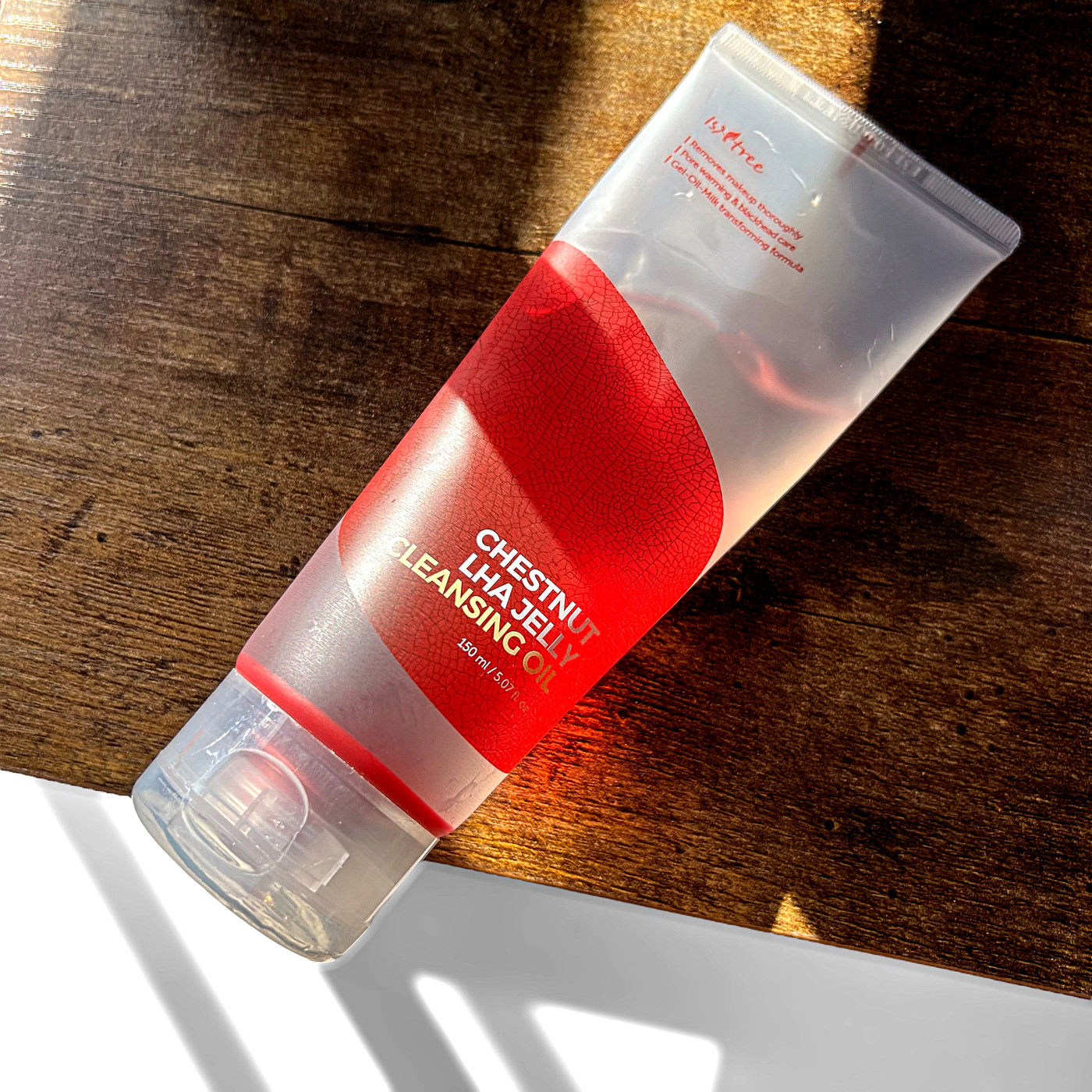 Chestnut LHA Jelly Cleansing Oil has a lot of ingredients that are not only nourishing and moisturizing but also cleansing! Containing a Nuts-Oil Complex with lightweight sunflower seed oil, rich in antioxidant vitamin E and omega-6 fatty acids; emollient macadamia seed oil is non-greasy, leaving skin soft and smooth, and it is full of vitamins A, B and E along with 50% oleic acid,  20% palmitoleic acid plus minerals;  lubricating sweet almond oil is mild, full of fatty acids to prevent dryness and it will help strengthen your skin barrier.  Using 10,000ppm of upcycled chestnut shells, sourced from Gongju City, this ingredient contains tannins, helping  to reduce the appearance of pores.  
This has a great ingredient for those who need to unclog their pores ~ capryloyl salicylic acid, which is a LHA.   This ingredient is in so many products now ~  Shu Uemura POREfinist2 Sakura Cleansing Oil and By Wishtrend Acid-Duo 2% Mild Gel Cleanser are just two that I currently use. Salicylic acid is derived from willow tree bark and capryloyl salicylic acid is the a derivative of salicylic acid, so it has all of the anti-bacterial, anti-inflammatory and deep pore cleansing and exfoliating properties as a BHA, but it can be used in lower percentages than salicylic acid.
This also has antioxidant, antibacterial, moisturizing squalane, healing, soothing and skin softening allantoin removes cracked, chapped skin and CICA care ~ anti-inflammatory, pore care and collagen aiding centella asiastica along with its derivatives:   asiaticoside helps form collagen to strengthen your skin and speeds up wound  healing.  Asiatic acid is an anti-aging compound, that helps to plump up your skin, prevents wrinkles, fine lines and scar tissue. Madecassic acid helps aid in the production of collagen and tissue while madecassoside helps soothe, reduce redness and inflammation and helps heal your skin.
Sucrose palmitate is an emulsifier, helping oil and water to mix, which is very important with this oil cleanser.  It helps smooth and hydrate the skin, along with  sucrose stearate.   Anything that has sugar (sucrose, glucose) will be hydrating to your skin.  Antioxidant, yuzu (citrus junos) is full of vitamin C, helping to brighten the skin tone, while keeping your skin smooth and silky.
Ingredients: Cetyl Ethylhexanoate, Isopropyl Myristate, Isopropyl Palmitate, Hydrogenated Polyisobutene, Sunflower Seed Oil, Caprylic/Capric Triglyceride, C12-15 Alkyl Benzoate, Purified Water, Sucrose Palmitate, Sucrose Stearate, Macadamia Ternifolia Seed Oil, Prunus Amygdalus Dulcis (Sweet Almond) Oil, Citrus Junos Fruit Extract, Squalane, Butylene Glycol, Allantoin, Capryloyl Salicylic Acid, Centella Asiatica Extract, Portulaca Oleracea Extract, Madecassoside, Asiaticoside, Asiatic Acid, Madecassic Acid, Tocopherol, 1,2-Hexanediol, Glycerin, Ethylhexylglycerin cosDNA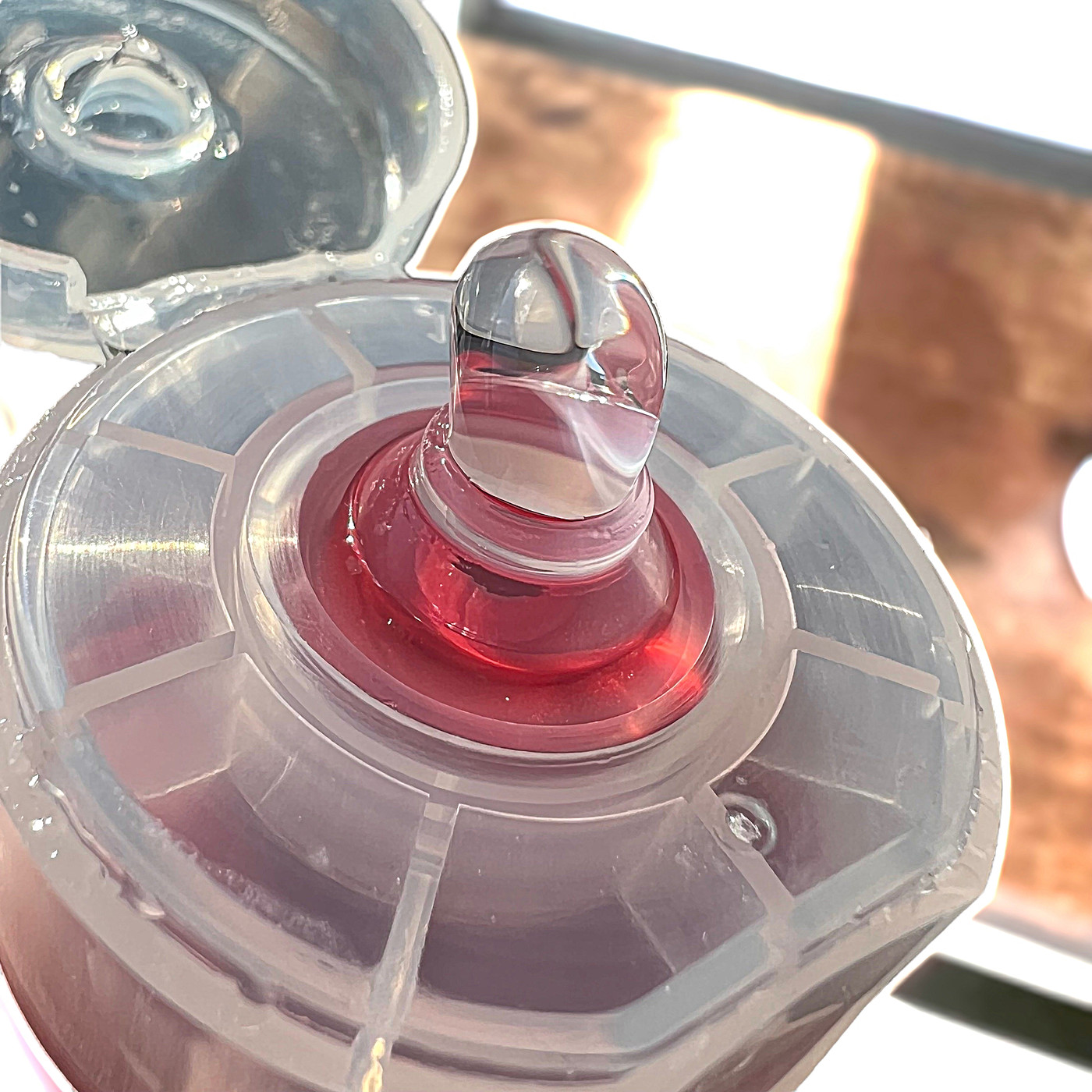 This gel-to-oil cleanser comes in a big vinyl tube that is transparent so you can see the clear jelly.  It has a medium weight texture, adn feels very slick and oily.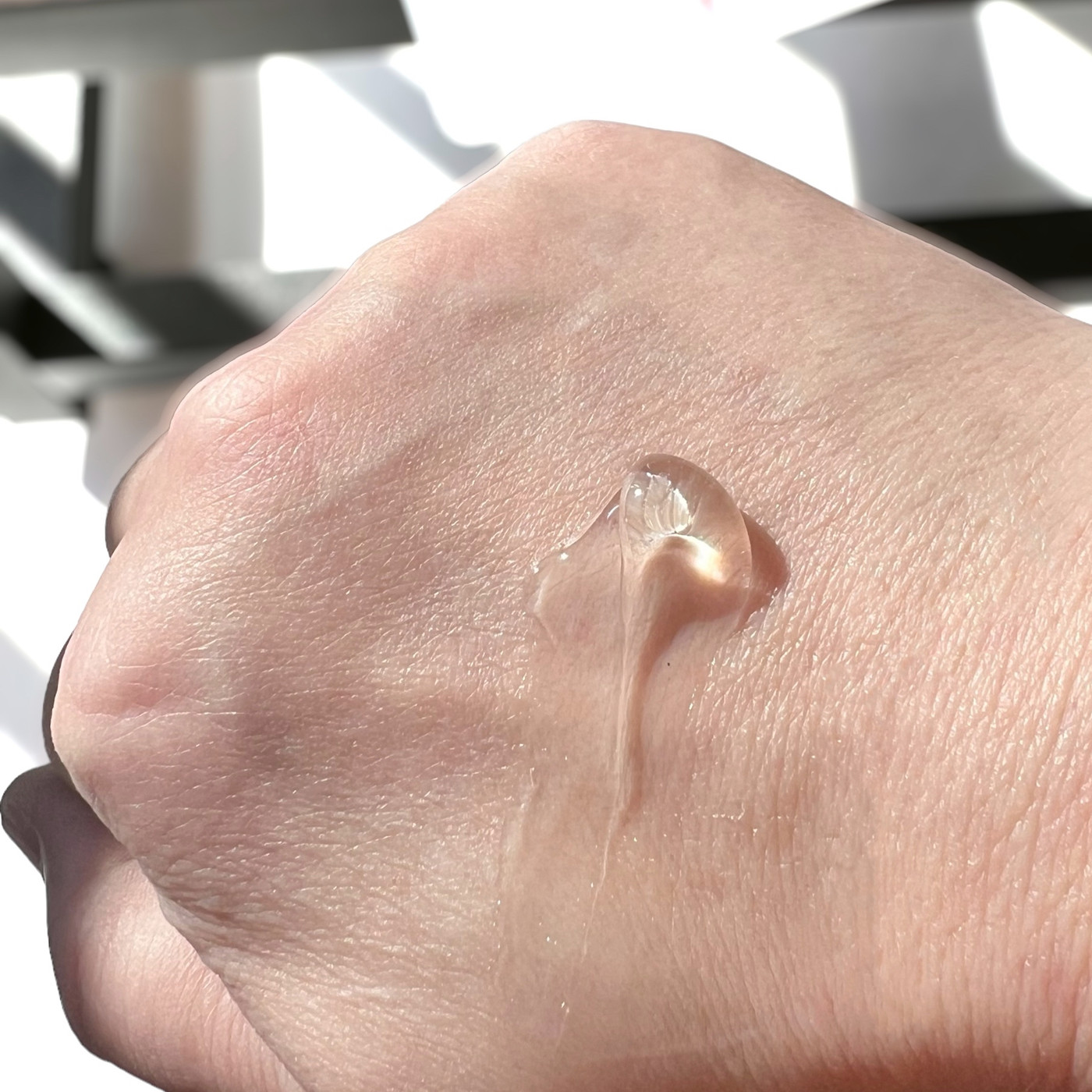 I did like using this as it is quite fun and effective. First, I massage the oil into my skin using a  circular motion, which not only produces a mild heat due to the friction, but it helps softens and allows for deep cleansing into my pores It does emulsify after I add water to it and rinsing this off leaves my skin feeling soft with no greasy residue.   I really like that it has LHA in here, as it helps with exfoliation, unclogging my pores of dirt and excess oils, so that they are clean.  And clean pores means happy pores = look smaller in appearance. My skin does not feel stripped or dry after using this.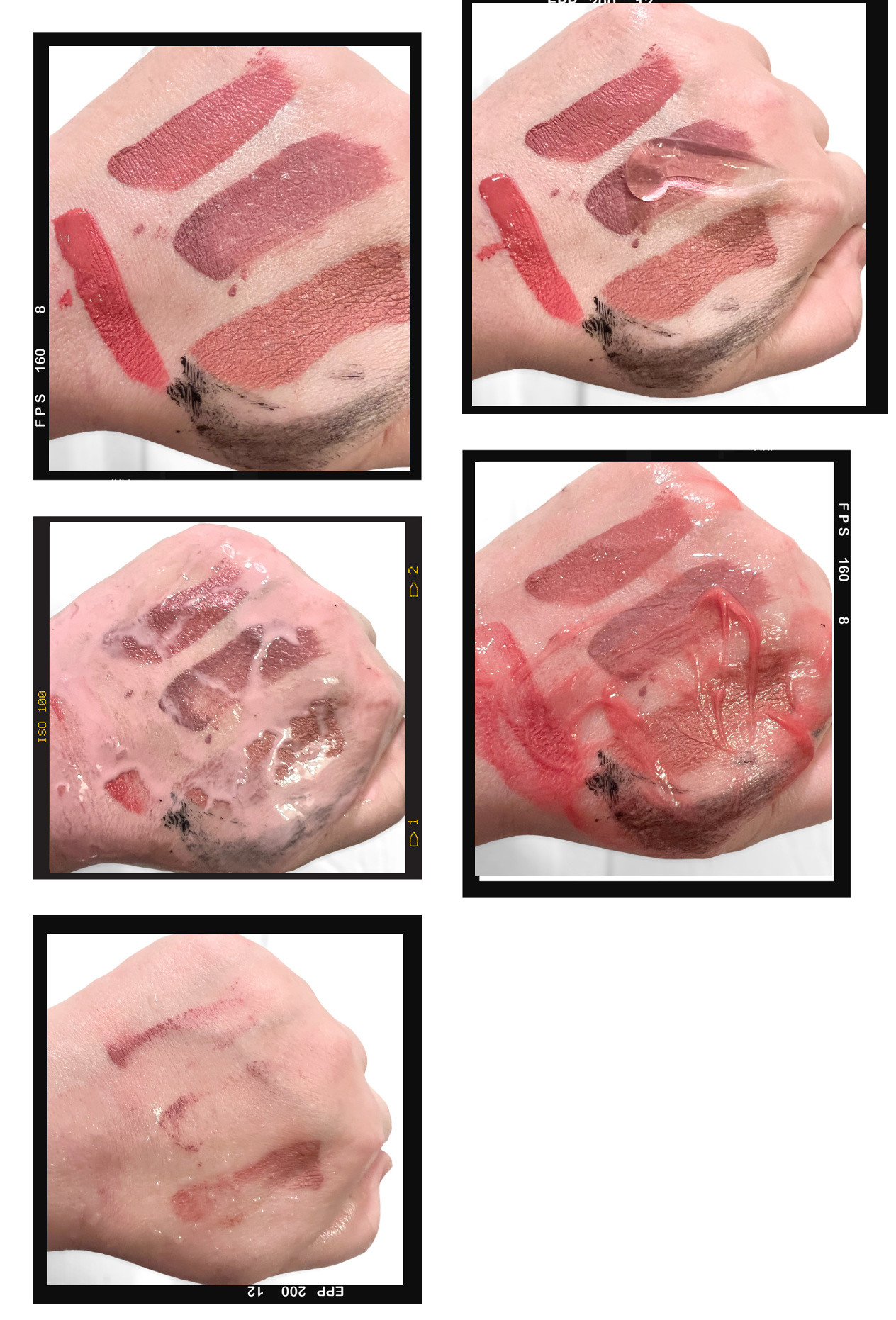 It does cleanse really well ~ for regular day-to-day makeup, sunscreen and grime, it will remove all traces.  However, for testing, I like to put my cleansers through the test, so I always use stubborn, hard to remove makeup.  As you can see, it doesn't remove all traces of the makeup, but it did a good job.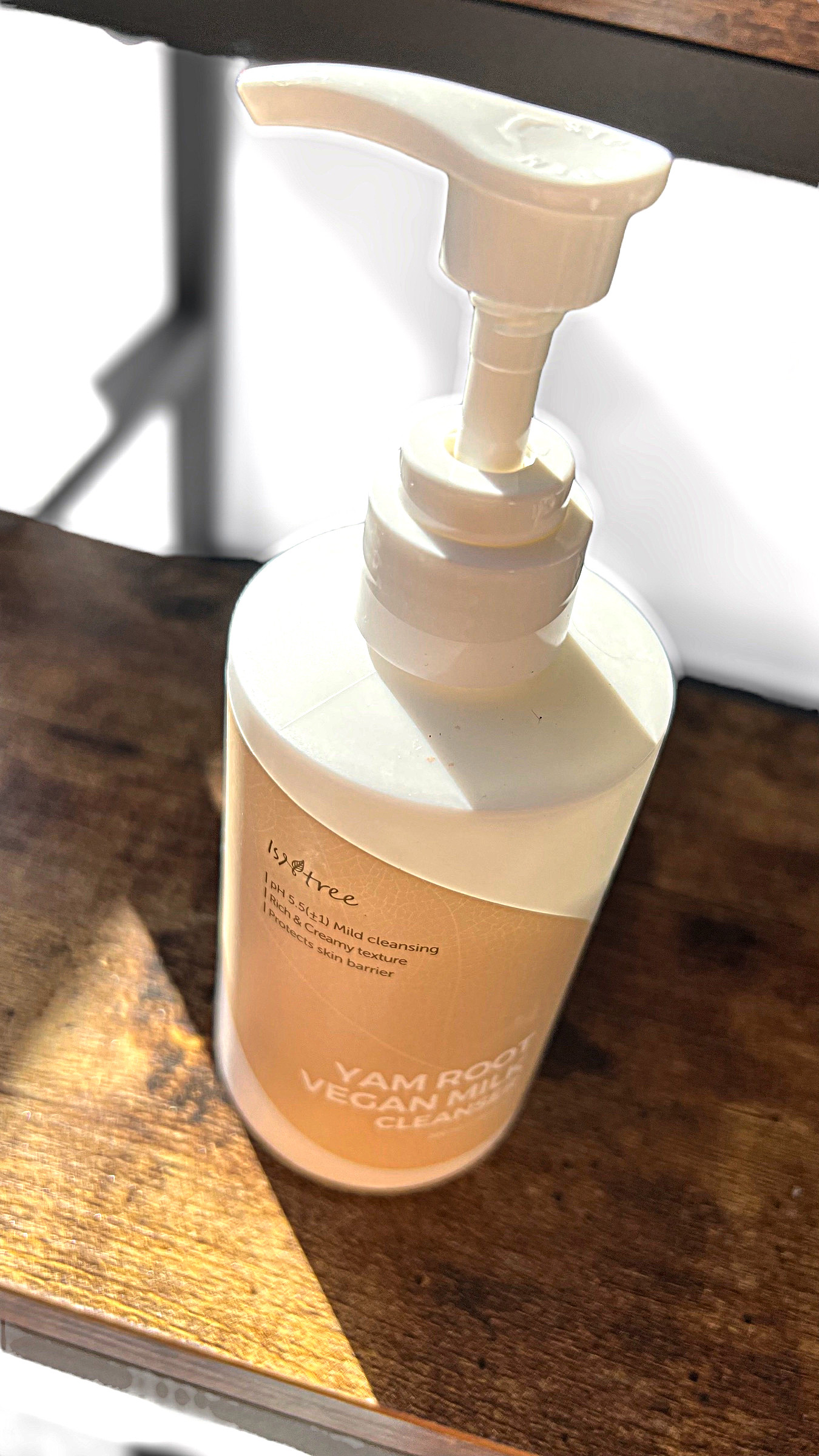 Yam Root Vegan Milk Cleanser is a gentle cleanser that is suited for drier skin or irritated skin.  I normally like to keep a milky cleanser around in case I overdo my exfoliation!  This contains a Vegan Complex consisting of skin brightening, hydrating, anti-inflammatory rice, soothing and moisturizing oatmeal, skin barrier strengthening, moisturizing sweet almond oil, mineral-rich. moisturizing coconut fruit water  and antioxidant, anti-inflammatory, moisturizing  soybeans.
Amino acid-rich Japanese yam (10,000ppm) is  an  anti-oxidant with anti-wrinkle and skin brightening properties.  It reduces inflammation of the skin while moisturizing and creates a protective barrier on your skin due to its high content of phytomucin and amino acids . Hibiscus esculentus is okra, one of my least favorite veggies to eat, but applied topically,  it helps soothe and calm skin that has been irritated, since it is a rich source of vitamins A and C, along with other antioxidants such as beta-carotene.
Undaria pinnatifida is wakame ~ and this edible green sea vegetable is also beneficial in skin care products, as it has antioxidant and anti-inflammatory, as it contains a slew of B vitamins (B1, B2, B3, B6, B12) and it helps protect your cells against external factors such as UV rays.  It also helps suppress an enzyme that prevents your skin from creating hyaluronic acid, which is what keeps your skin elastic, firm and smooth.
This has coconut derived, non-comedogenic coco glucoside as its surfactant and it is ultra gentle and mild, without clogging pores, along with surfactant arachidyl glucoside, very mild and emulsifying. Prebiotic fructose and hydrating glucose are humectants that draw  and bind  moisture to your skin.
Ingredients: Water, Helianthus Annuus (Sunflower) Seed Oil, Ethylhexyl Palmitate, 1, 2-Hexanediol, Polyglyceryl-10 Myristate, Arachidyl Alcohol, Glycerin, Cetearyl Alcohol, Butylene Glycol, Behenyl Alcohol, Arachidyl Glucoside, Glucose, Coco-glucoside, Glyceryl Stearate, Dioscorea Japonica Root Extract, Hibiscus Esculentus Fruit Extract, Nelumbo Nucifera Root Extract, Undaria Pinnatifida Extract, Laminaria Japonica Extract, Glycine Max (Soybean) Seed Extract, Cocos Nucifera (Coconut) Fruit Extract, Oryza Sativa (Rice) Extract, Prunus Amygdalus Dulcis (Sweet Almond) Seed Extract, Avena Sativa (Oat) Meal Extract, Citric Acid, Xanthan Gum, Sodium Polyacrylate cosDNA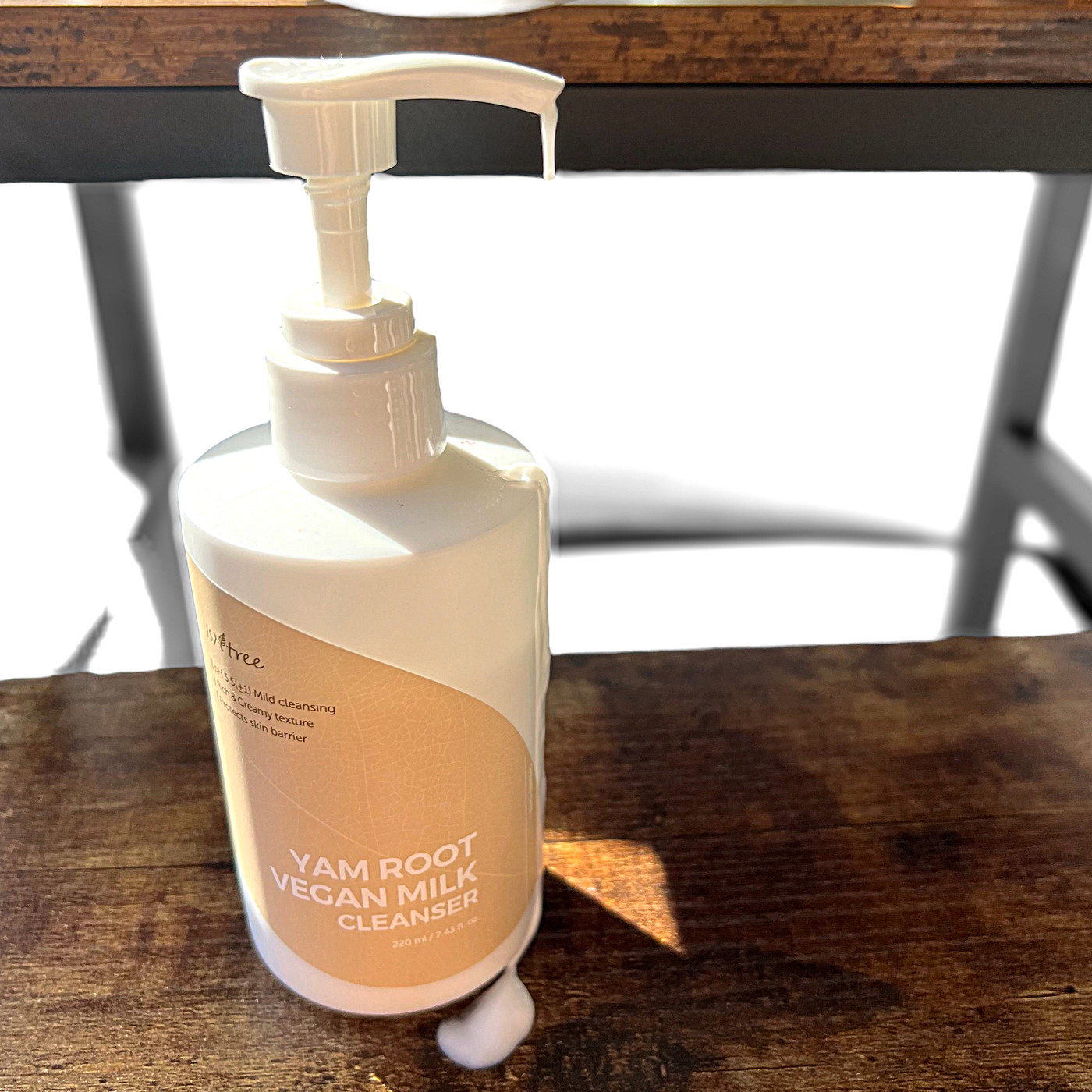 This comes in a huge plastic bottle with a pump applicator.  The vegan, cruelty free cleanser is a   creamy with a lotion texture.  As expected, this is not a foaming cleanser, so don't expect any lather.  I just apply a good dollop on my face, massage it around lightly and rinse off.  It's not irritating at all all and has a pH balance of a 6.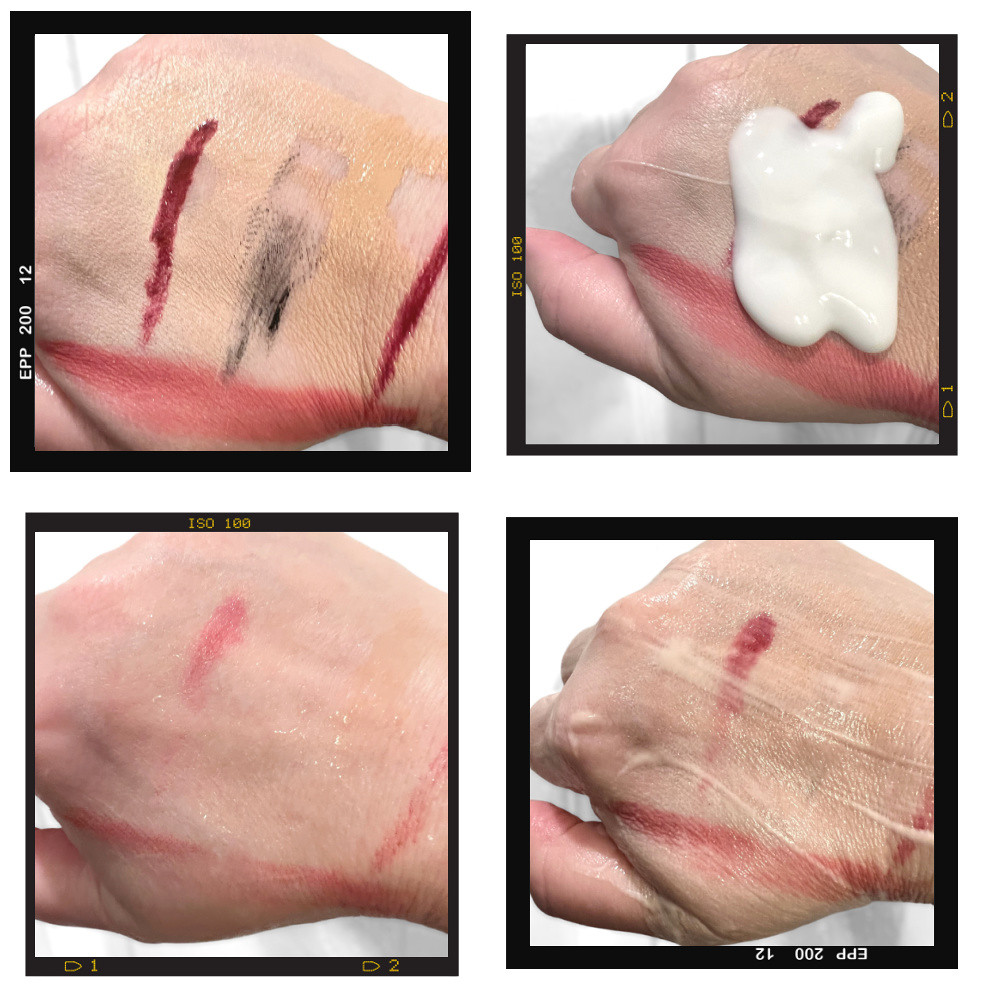 As you can tell, it has issues with stubborn long-lasting makeup, but that is okay.  As I previously stated with the LHA Jelly Cleansing Oil, these cleansers are really designed for regular daily use and for sensitive, dry or irritated skin.  For my use, I am using this product for when I have irritated skin or as a morning cleanse, as my face just needs a gentle cleansing to remove the oils and night time skincare product residues from my skin.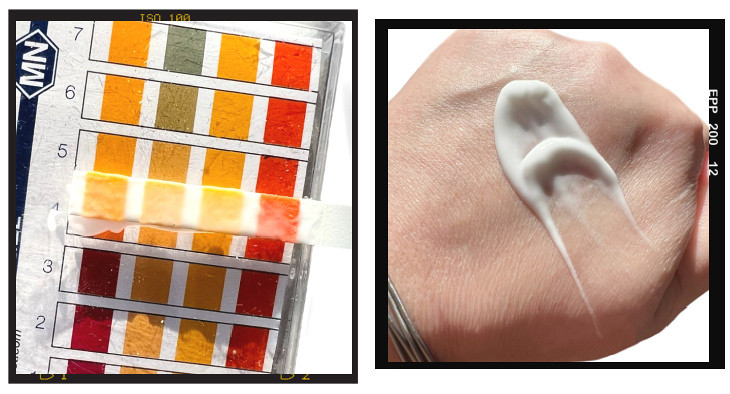 I also followed Isntree's recommendation and used this in one of my clay masks – with a ratio of 6 parts cleanser and 4 parts clay mask.  I  For pore care, mix the cleansing milk with clay mask in the ratio 6:4 and then apply, leave on for 10 to 20 minutes and rinse off.  I really didn't notice a difference but I think that if you have sensitive skin or dry skin, the richness of the cleansing milk helps buffer the dryness of the clay mask
These cleansers are really nice ~ great for those who have sensitive skin, irritated skin or don't wear a lot of makeup. They are gentle, yet do a nice job of cleansing the skin without any redness or dryness and no residue. 
Where to Purchase
Jolse carries a variety of  Isntree skincare products and  they are quite affordable 
All prices are in USD ~   Jolse offers free global shipping plus gives a lot of samples out ~ the more you purchase, the more samples you get! Please note that the prices do fluctuate a little bit due to the WON to USD exchange rates. Make sure to check your coupon zone (click here) for money saving discounts. You need to log into Jolse first, then download the coupons before you use them.  Their coupon savings has recently changed and your savings is now tied into how much you spend there, so make sure to check it  out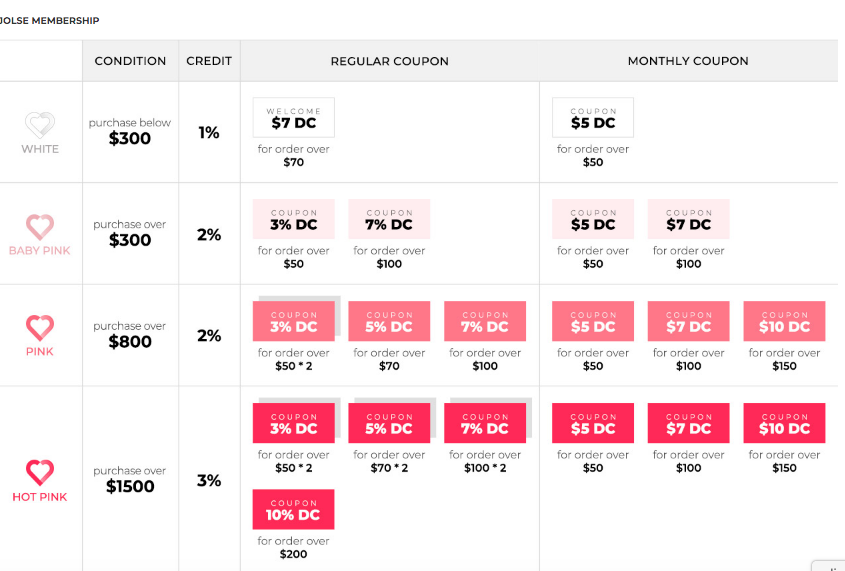 [ products received for review purposes.  blog post contains affiliate links ]