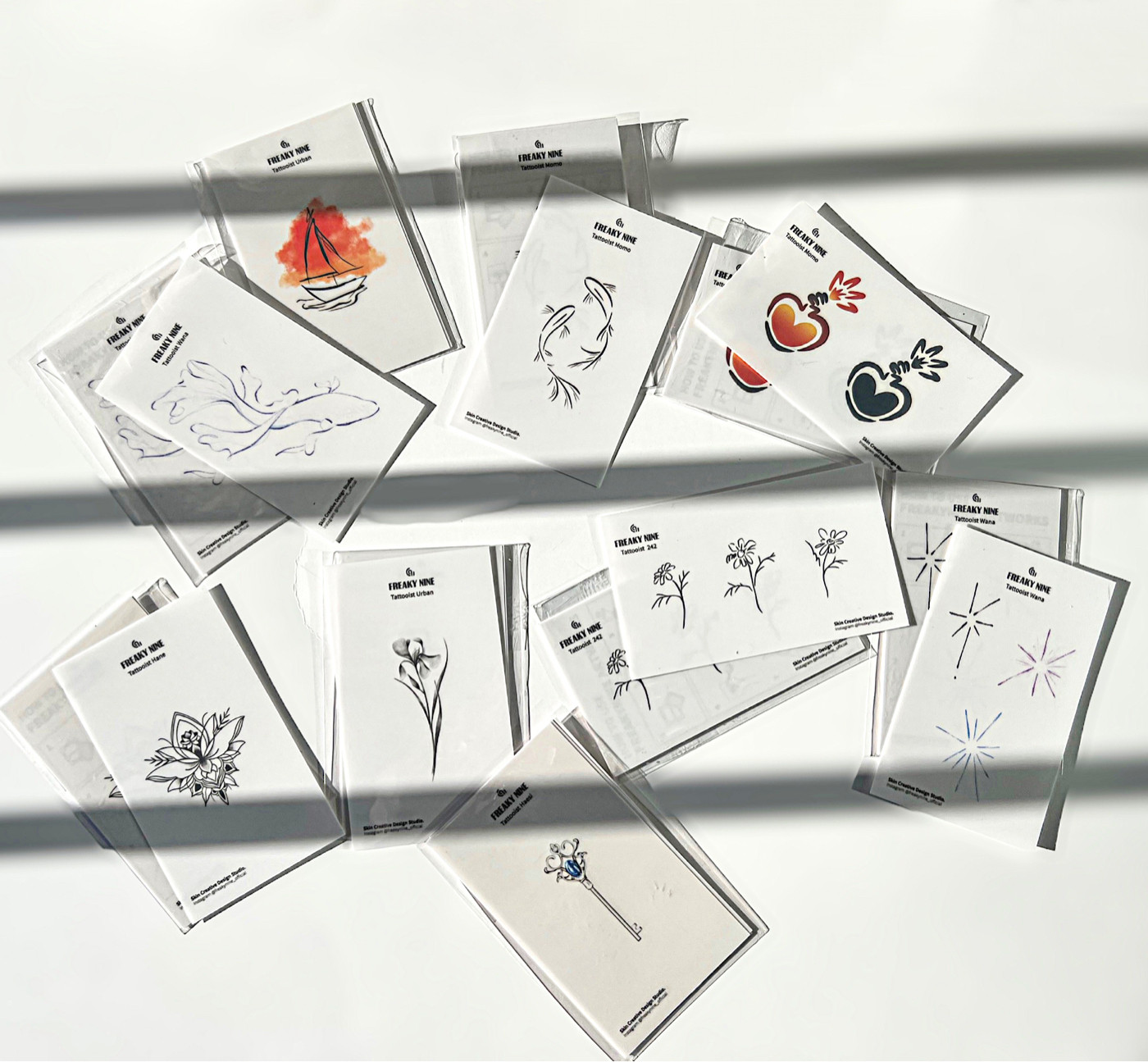 I long to get a tattoo but I am not sure what I want and my local tattoo artists don't really do the type of artwork that I am want.  Not to mention, it is SO expensive, so I don't want to get a tattoo for the sake of getting one and hating it.  Temporary tattoos are a way for me to get my fix, and I can find the type of watercolor or line work that I love so much.  Skin Creative Design Studio  Freaky Nine is a Korean shop that has 10 Korean Tattoo Artists to create unique designs and are easy to apply.  I received all of these from Freaky Nine in exchange for my honest review.
I received these products complementary to review and was not paid.  All reviews are my own honest opinion and  I never have been asked to write copy for a brand.  This blog post might contain promo codes, affiliate and referral links, which using my links will help generate a small commission that helps support my blog at no extra cost to you.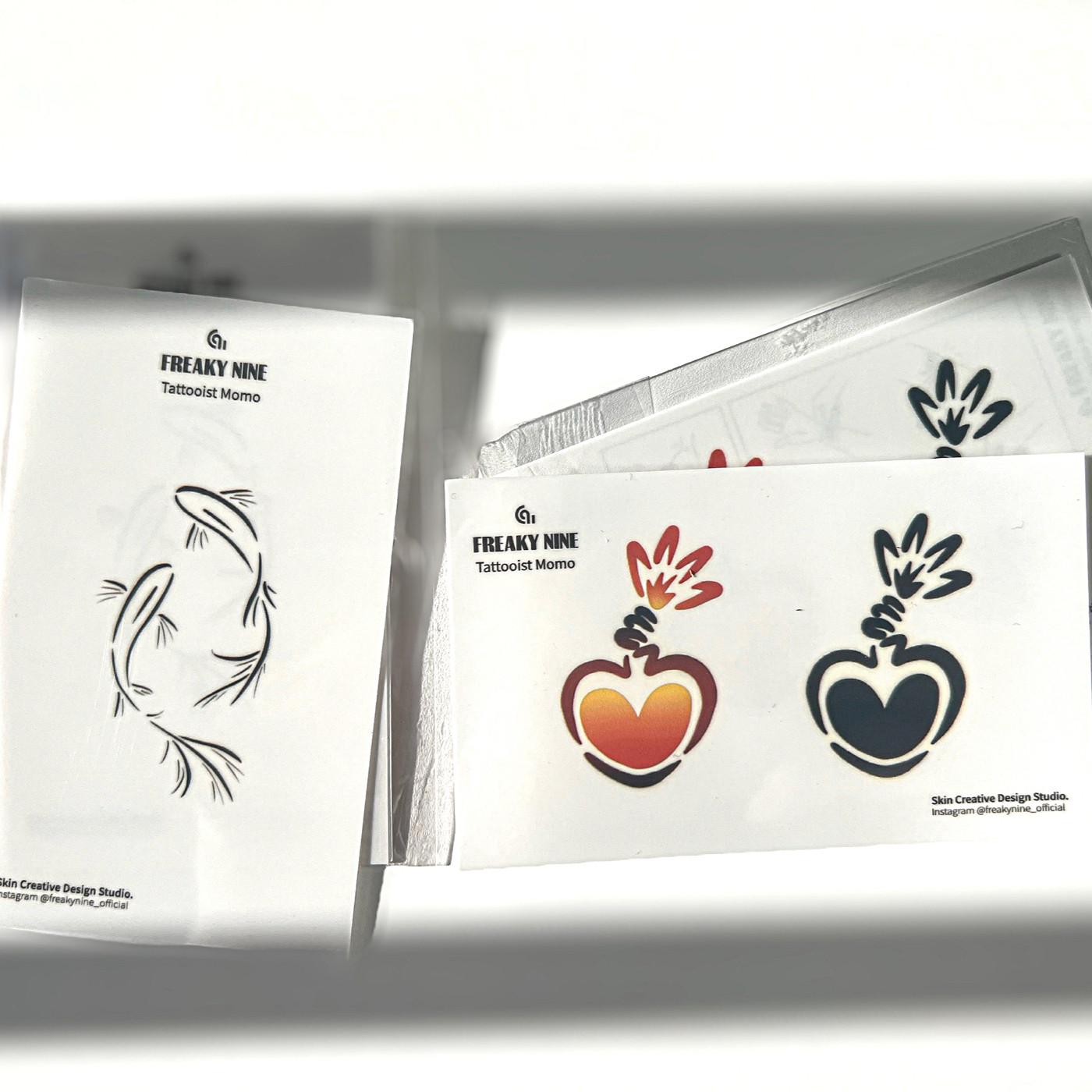 Tattooist artist Momo masters their craft by levering the natural changes in the lines and thickness to convey moods.  The designs are symbolic and bold.   I have two very different designs by Momo:  Swim uses thin, delicate line work to create a Koi fish swimming in motion. Heart Bomb is a more dramatic tattoo, one in color and the other in black and white ~ it is a heart shaped bomb!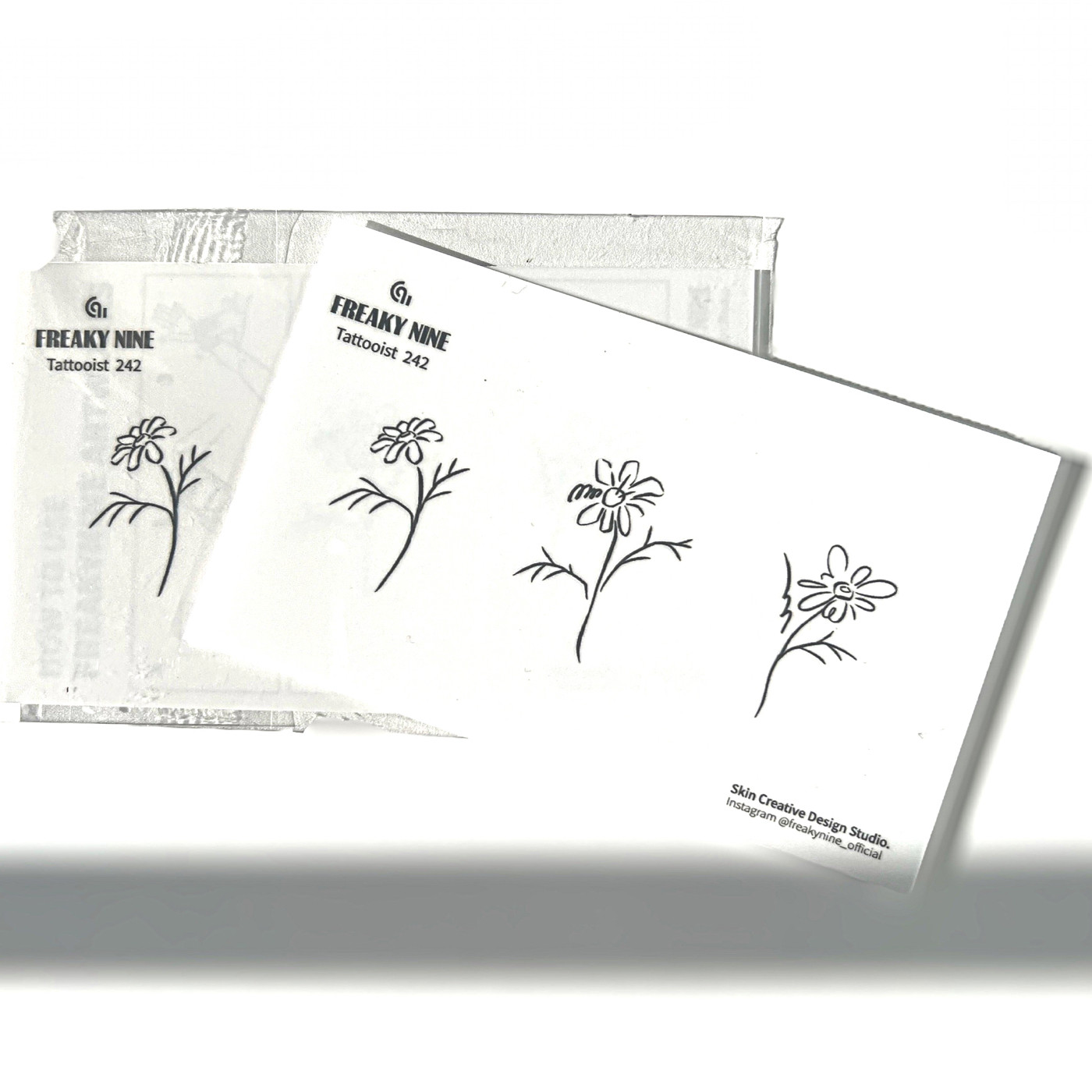 Artist 242 Nan Chun (爛春) focuses on linework with abstract lines.  Warm Spring is a trio of ink flowers with thin branches.  These would be great to cut apart and use as finger or hand tattoos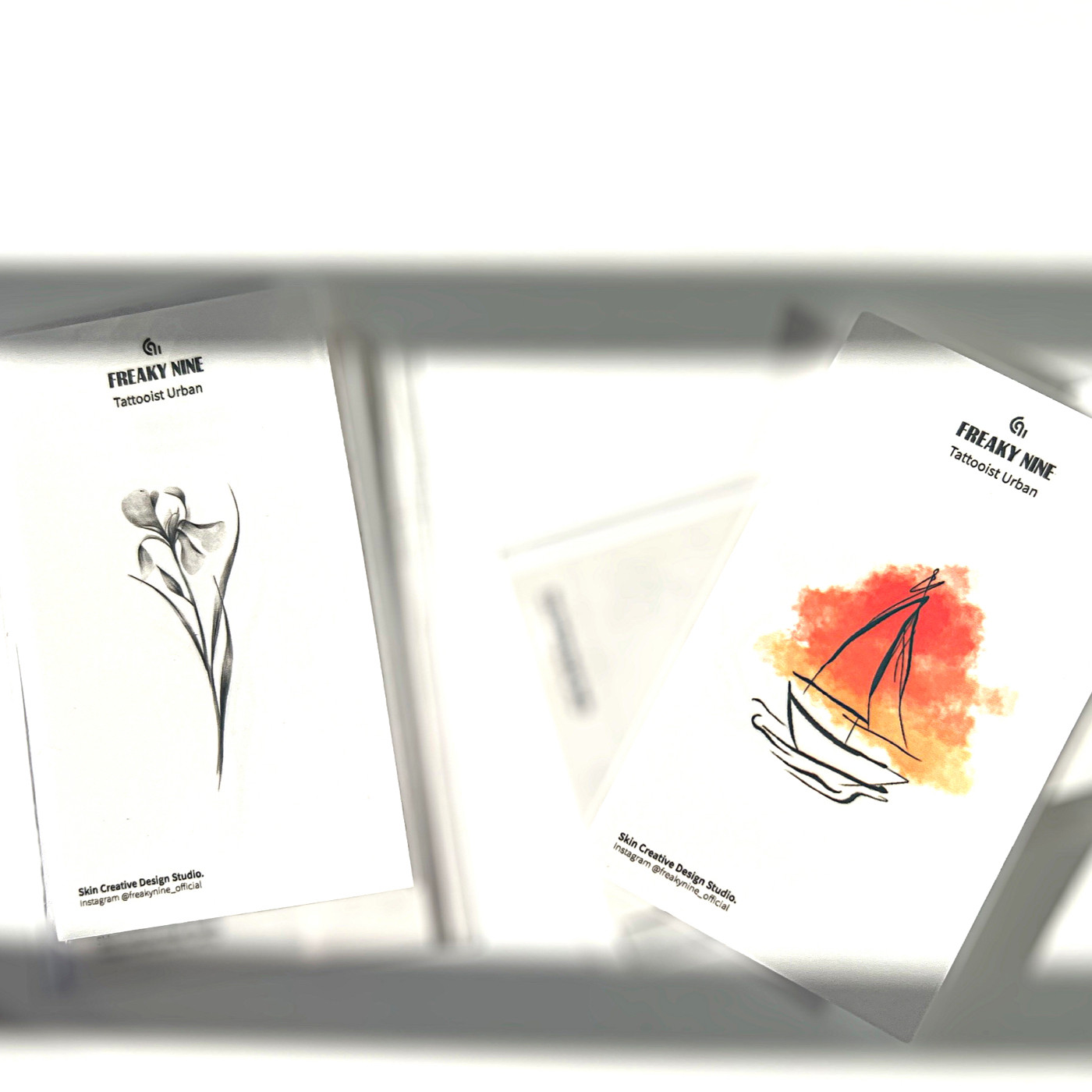 Two vastly different designs from artist Urban.  Urban creates geometric designs with neat lines or translucent watercolors.   Urban's X-Ray is a beautiful black pen etched iris flower, a simple but powerful design.  Sunset Beach is a fun, colorful design of a  boat, with waves and a sunset watercolor-saturated background.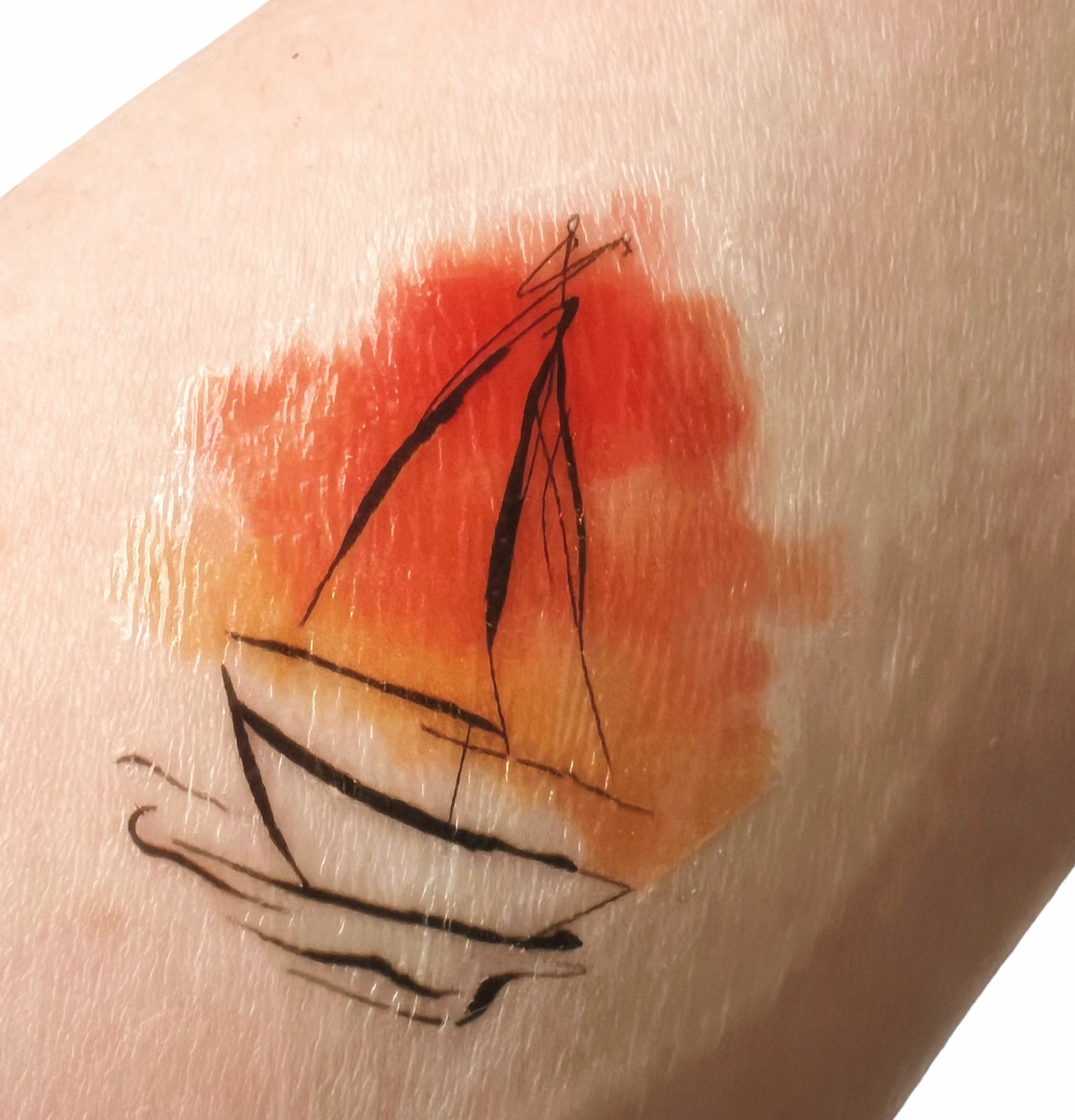 Tattooist Wana creates abstract, free line drawing that are dreamy and flowing.  One of my favorites is their Freely tattoo, a quick drawing in blue that brings a swimming koi to life with watercolor line work.  Poin consists of 3 sparkling lights, using quick brush strokes and dots.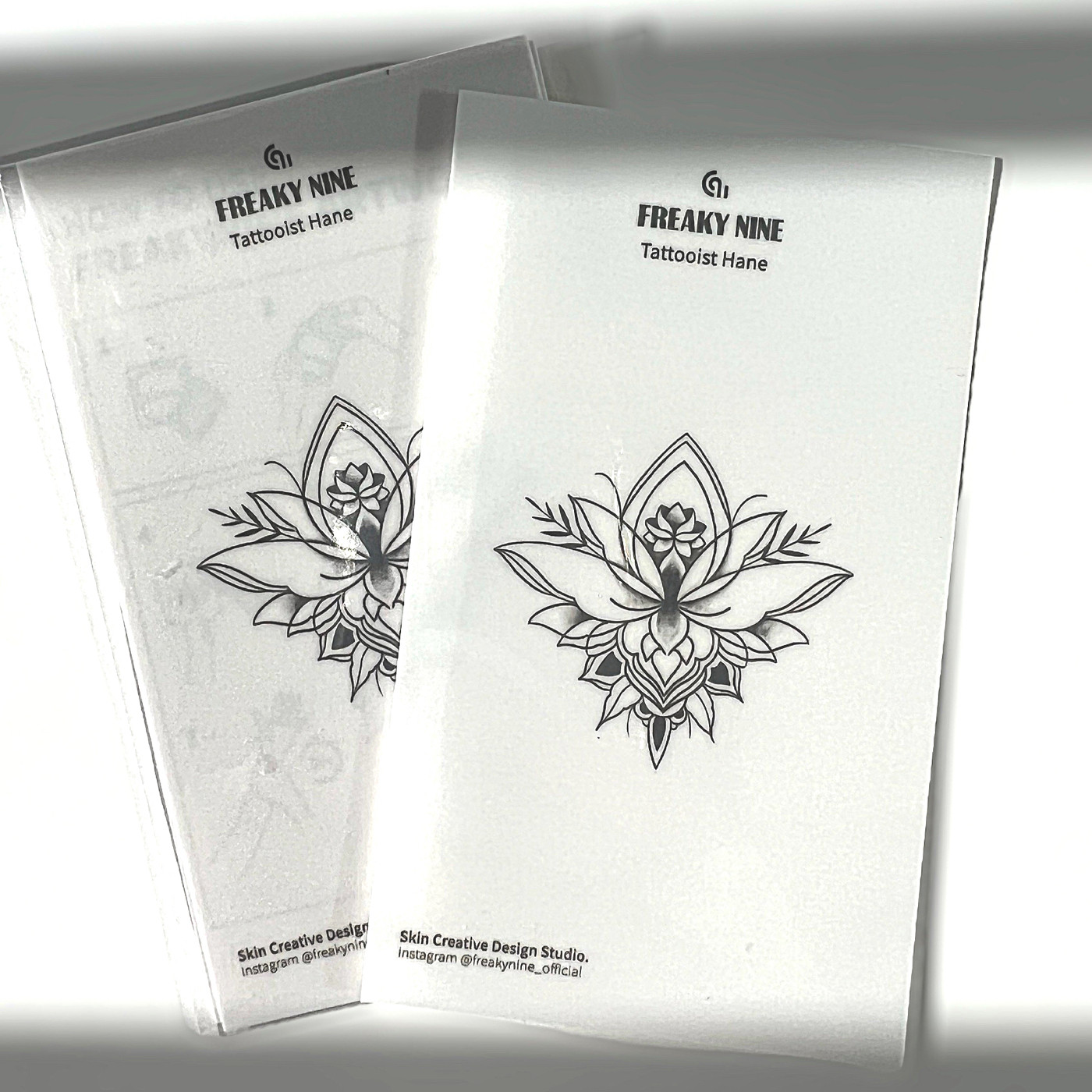 Tattooist artist Hane works with designs that are interpretive thru their prospective and stories, all in black linework.  Lotus is a very stylized rendition of the lotus flower and very unique.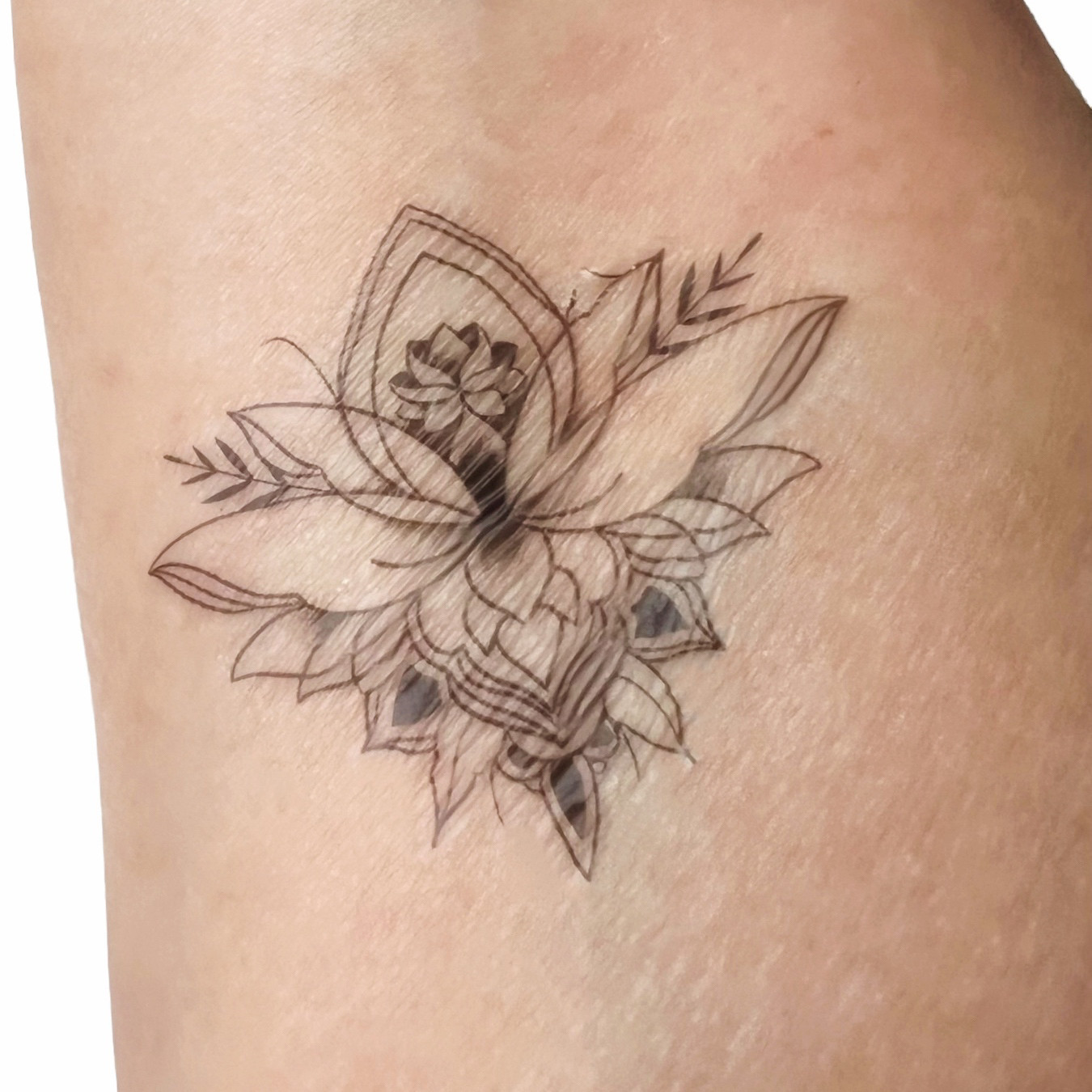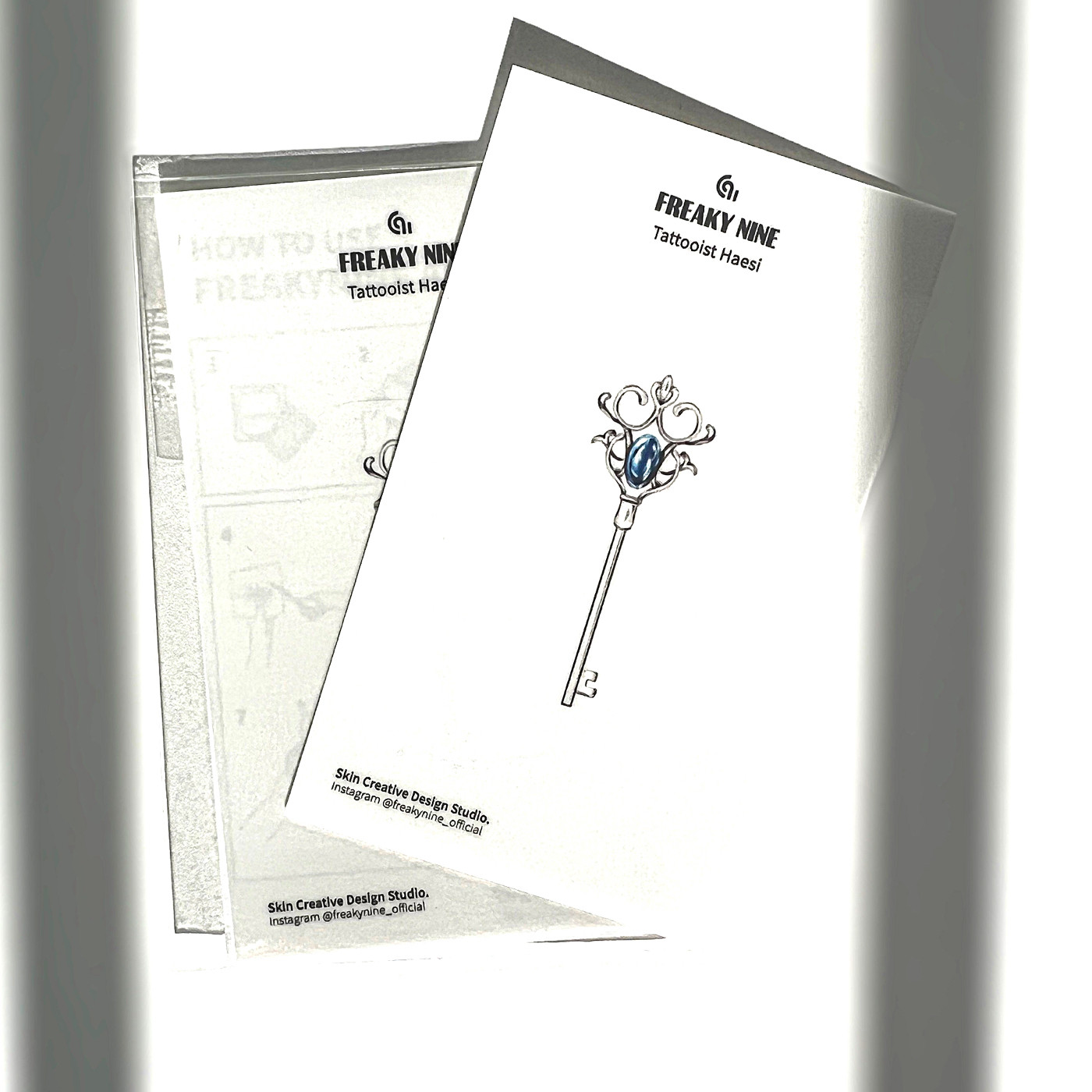 Haesi works with blues and black tones, using free curves and picking subject matter that are mystical in nature, such as this fantastical Blue Key with its mysterious blue stone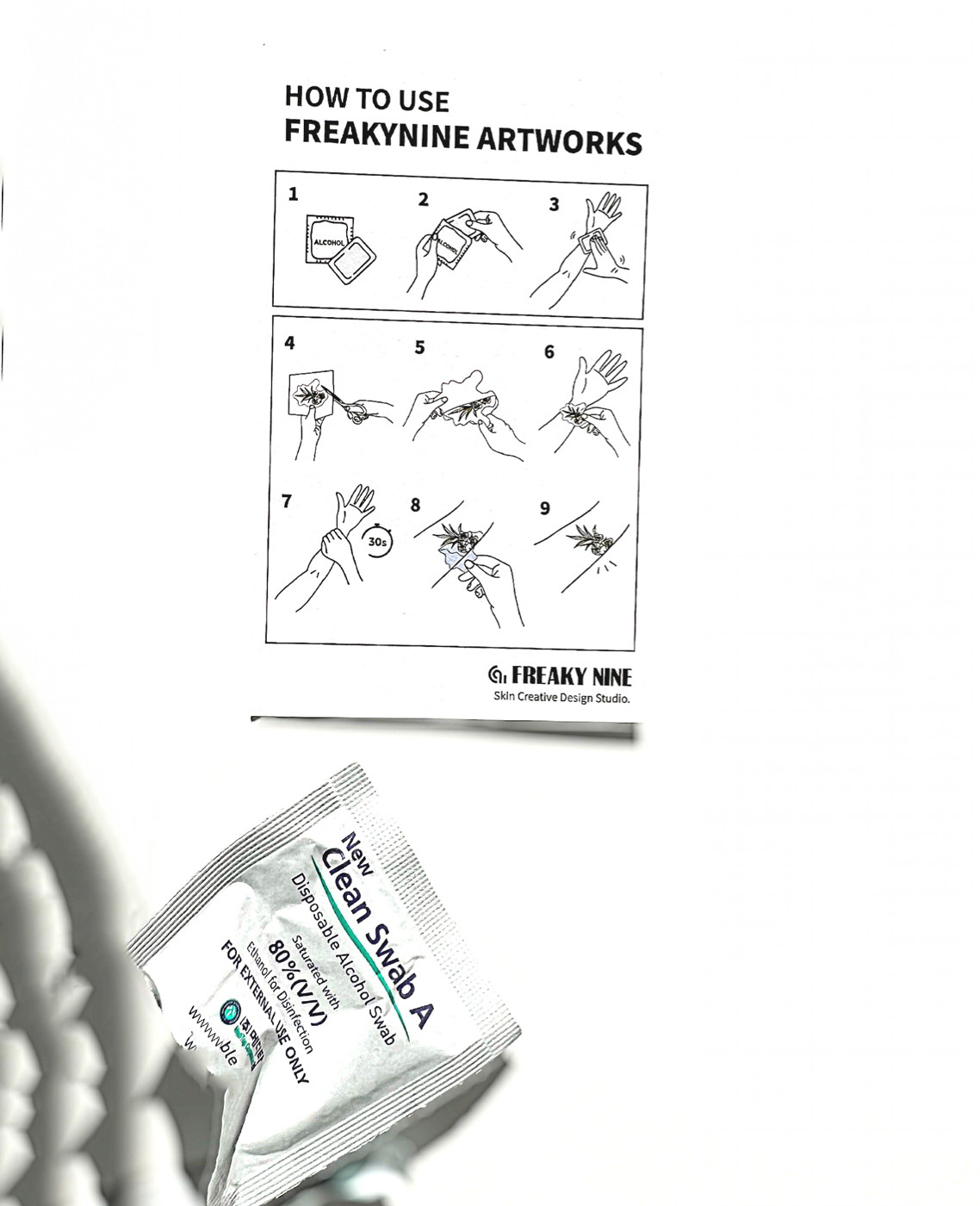 These are so simple to use!  Just clean and dry your skin where you want to apply the tattoo and use rubbing alcohol to remove any oily or soap residue.  Freaky Nine even gives you some individually wrapped rubbing alcohol towelettes.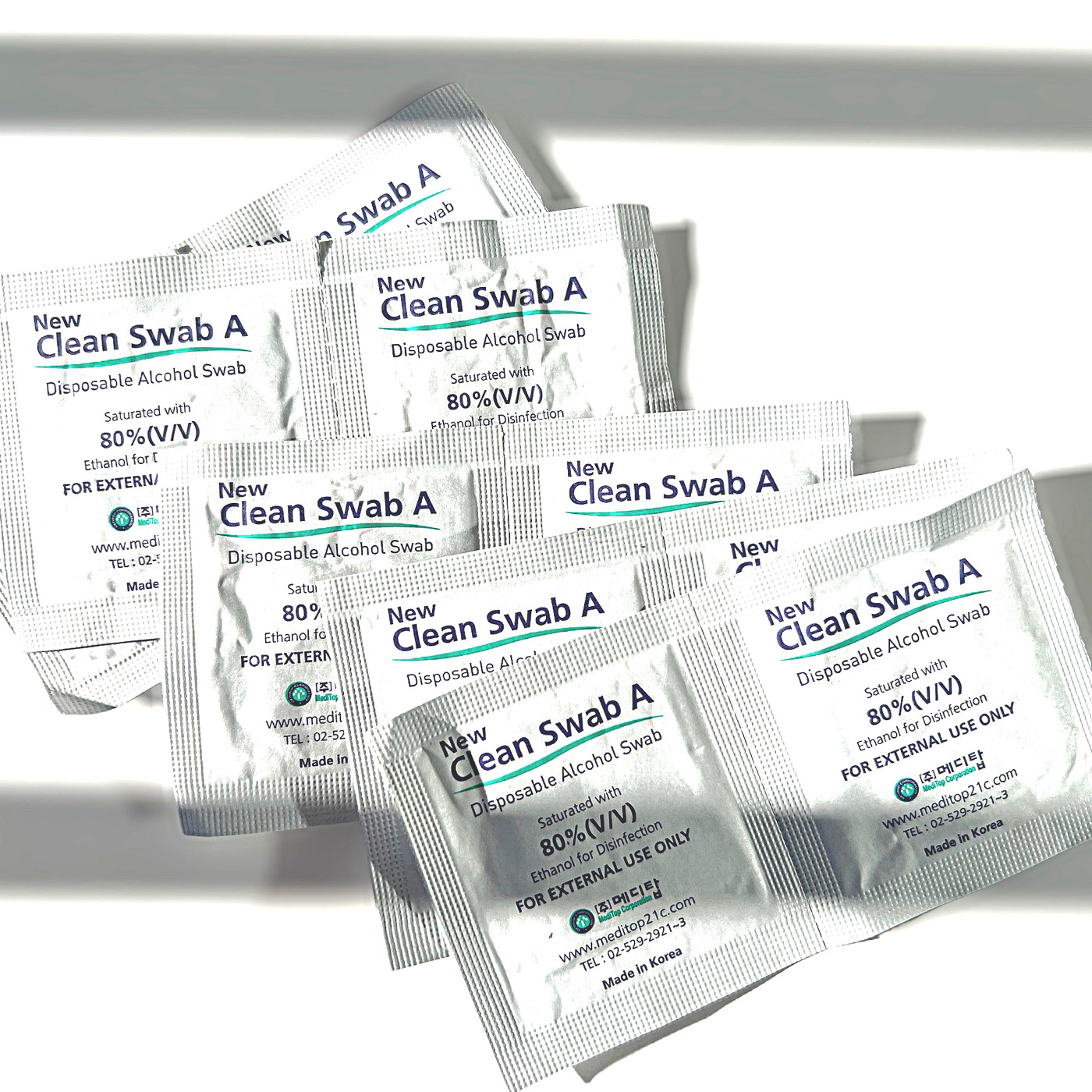 Cut around the outline of the tattoo as if you do not, you will also transfer the name and copyright information that is on the sticker.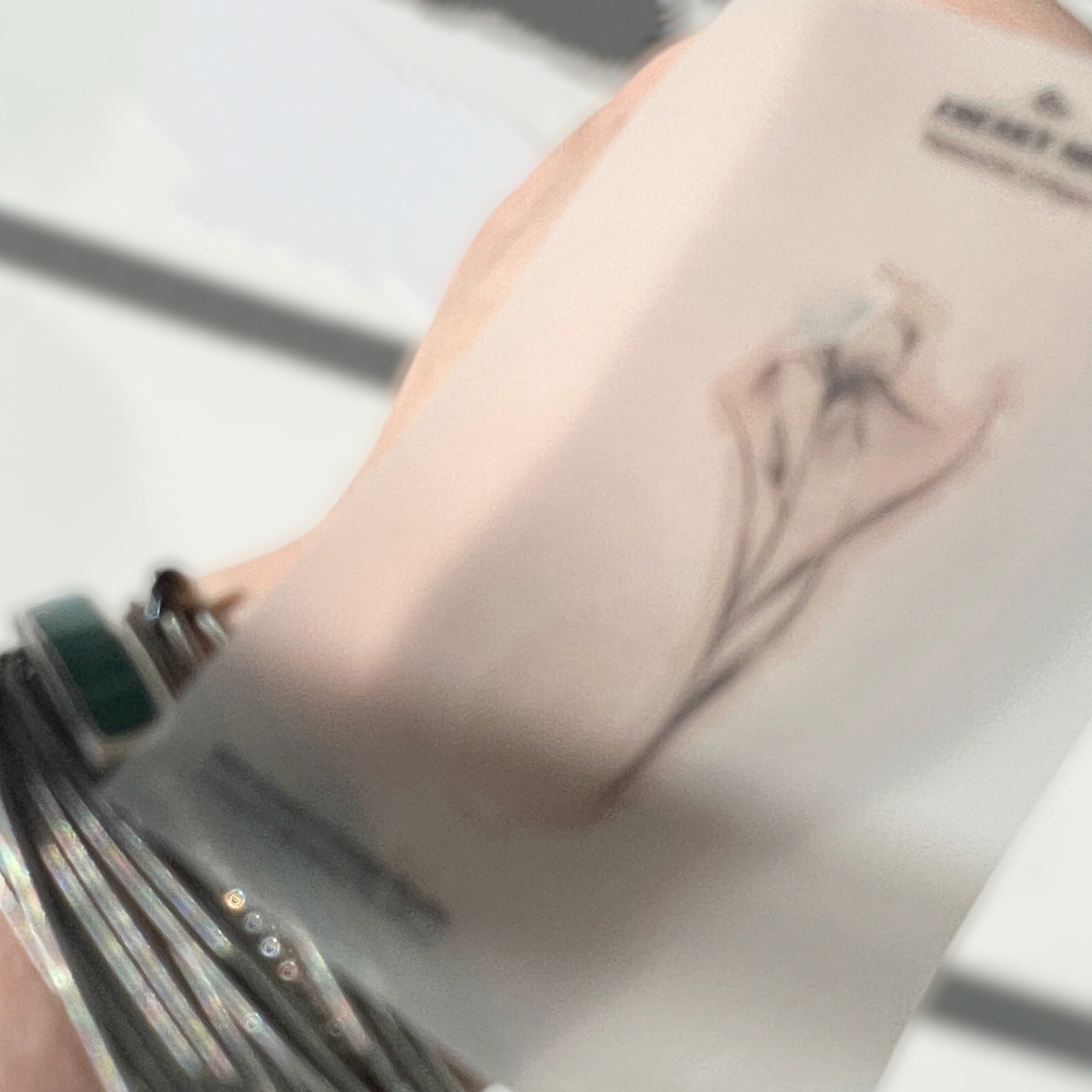 Press the tattoo firmly against your skin, pressing it hard with your hand for about 30 seconds or longer.  Carefully lift off transfer ~ you might notice on the colored tattoos that there might be some glossy areas ~ that is normal and will fade quickly.  These are water resistant and depending on where you placed the tattoo, they can last for 2 to 5 days, even up to a week, depending on the areas friction.  I noticed that the more delicate tattoo I used didn't last as long, but I also placed that where it would get friction from my sweaters and long sleeved shirts.  I do not scrub the area, but just use regular soap and water to clean it as well as avoiding oil where my tattoo is ~ oil cleansers will erase the tattoo, same with oil based moisturizers ~ I used an oil free moisturizer or aloe gel to keep my skin hydrated during the duration of the tattoo. 
Left: freshly "inked"  Middle: 3rd day Right: 6th day

All in all, I got a fairly long use out of the Black Flower design ~ almost 6 days, but Blue Key faded quickly within 3 days.  I also noticed that with drier weather, the tattoos fade faster as well ~ I did a few more during our cold snap here in the Boston area and they faded within 2 days. 
Left: freshly "inked"  Right: 3rd day
These are a great way to try out tattoos and the designs are just so pretty!  Would you be interested in trying out temporary tattoos?  If you are interested in purchasing from them, don't forget to support my content by using my affiliation links, at no cost to you!   Freaky Nine's tattoos come in 2 in a pack, so you receive 2 of the design you choose.  Prices range from $8.50 to $12.00 per pack, and you will receive free towelettes of rubbing alcohol.  Freaky Nine ships worldwide with free shipping with purchases over $34.00.  To purchase, please click here to use my affiliate link 
Shipping times
Standard K-packet,  7~20 Days,  excluding below countries

USA  USPS, 7~14 Days

Japan Nekopos, 7~10 Days

Hong Kong, Malaysia, Singapore and Taiwan, Qxpress, 7~10 Days

Express: Fedex (3 ~ 5 Days) 

[ blog post contains affiliate links ]