I received some lovely Japanese products that you can purchase at Amazon USA!  You can check out my Instagram Reel her,e unboxing all of the products 
I already reviewed the KISSME Heroine Mascaras here.  This review is focusing on some more eye products from the brand Daisy Doll.  I have never used anything from this brand before so it is all new to me!  I have all of the shades in the eyebrow pencils and eyeliners. 
 I received these products complementary to review and was not paid.  All reviews are my own honest opinion and  I never have been asked to write copy for a brand.  This blog post might contain promo codes, affiliate and referral links, which using my links will help generate a small commission that helps support my blog at no extra cost to you.
Wearing Daisy Doll  Eyebrow Liner Pencil BR01 Camel Brown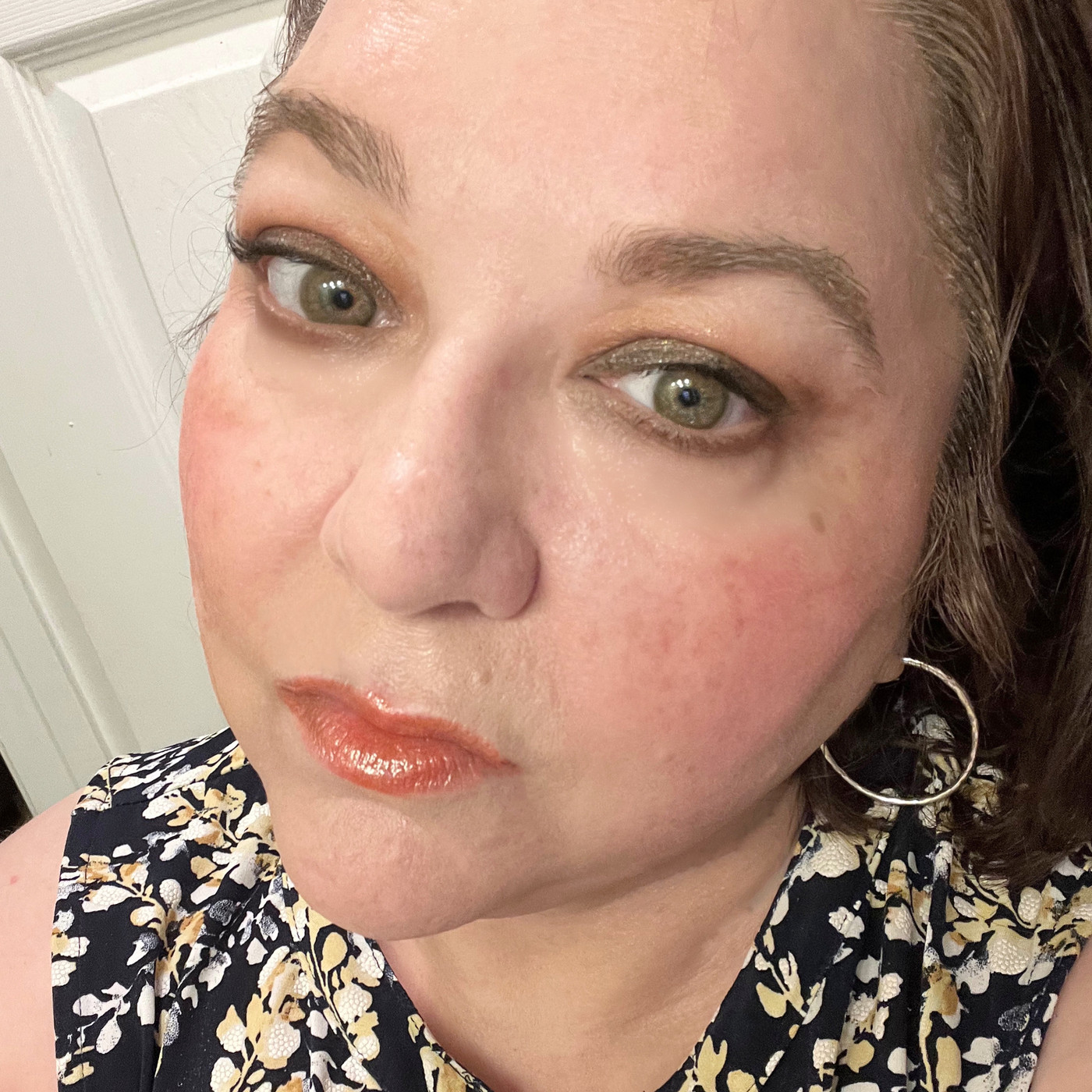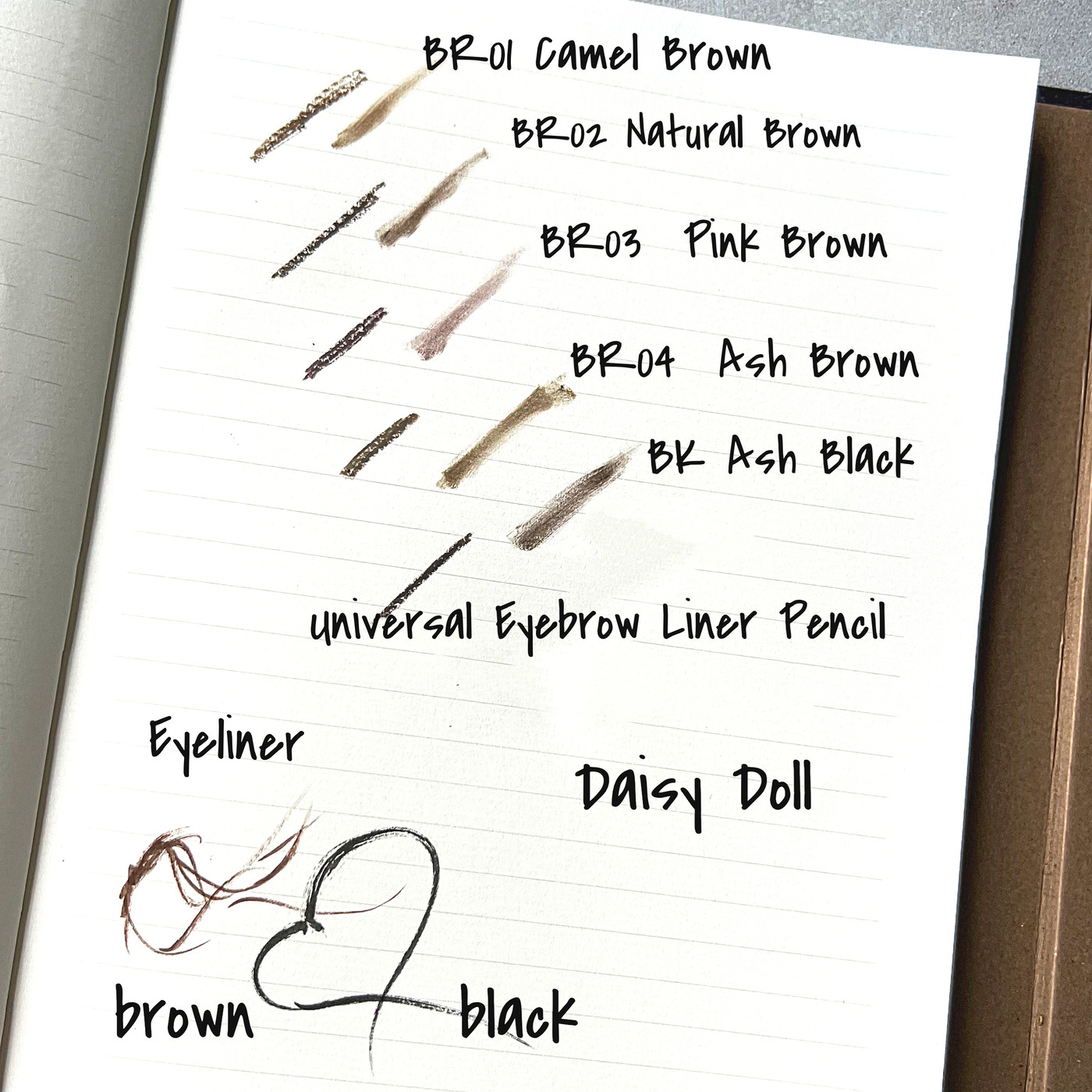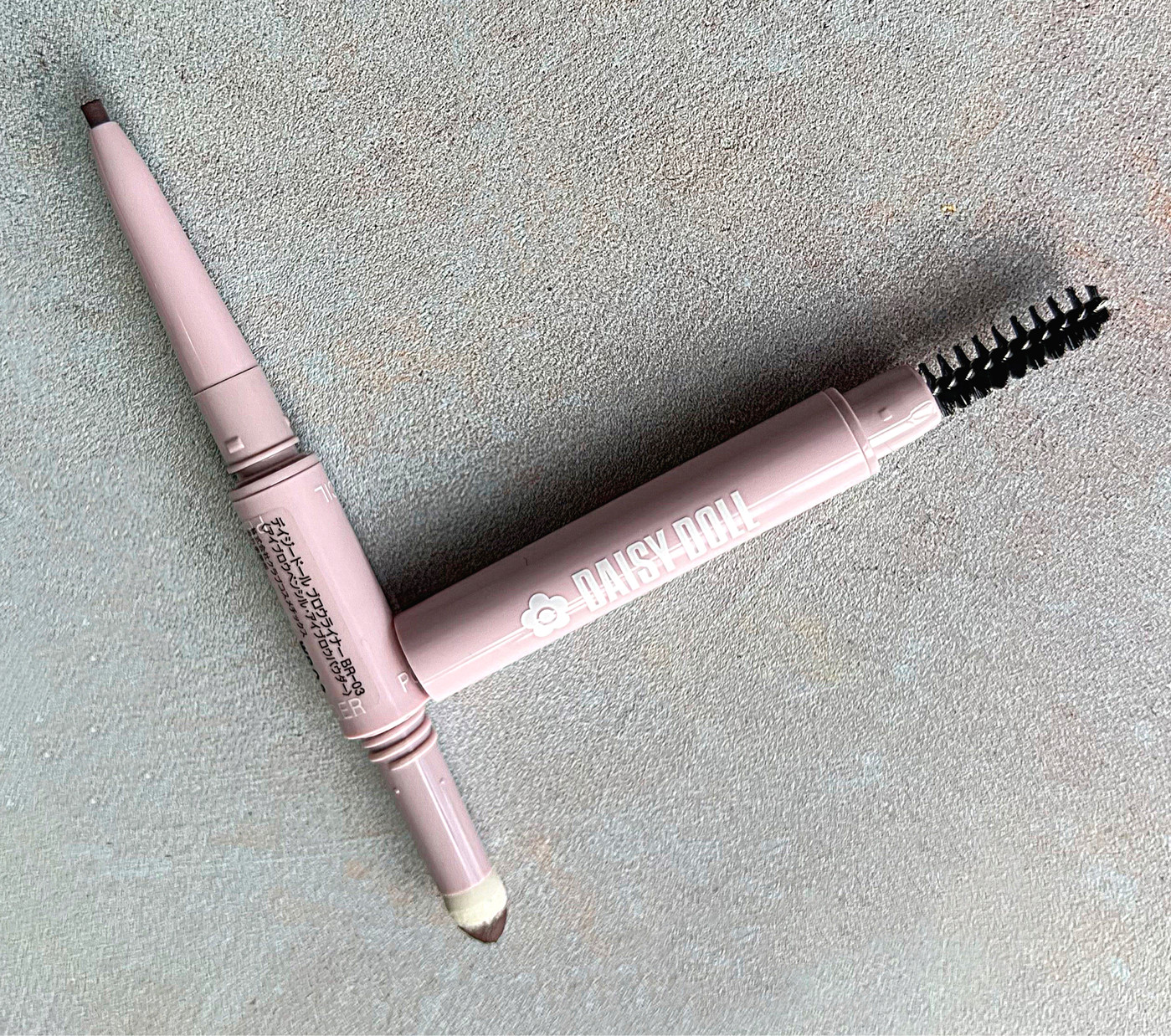 Daisy Doll Universal Eyebrow Pencil is pretty cool!  Not only does this have the twist up ~ yeah!  no sharpener needed! ~ pencil crayon, it also has a Longwear Brow Powder and a spoolie brush.  It is a 3 in 1 product and I really like the powder myself.  These come  in 5 colors 
BK Ash Black

BR01 Camel Brown 

BR02 Natural Brown

BR03  Pink Brown

BR04  Ash Brown

The crayons go on nicely and as I prefer a more natural looking brow, I do not apply it with a heavy hand. I am just trying to fill in any sparse areas on my brow.  I then go in with the powder, using the built in sponge applicator to blend it out and finally, I use the spoolie to try and tame my brow hairs. I normally would finish this with a clear gel to keep my brows in place, but I wanted to show you the look without the final gel product. As far as the shades go, I have dark brown eye brows and all of these shades worked fine for me, because I use a light hand and I also have fuller brows.  If your brows are really thin and sparse or you like a heavier dramatic look, then you should pick the shade that best matches your brow hair.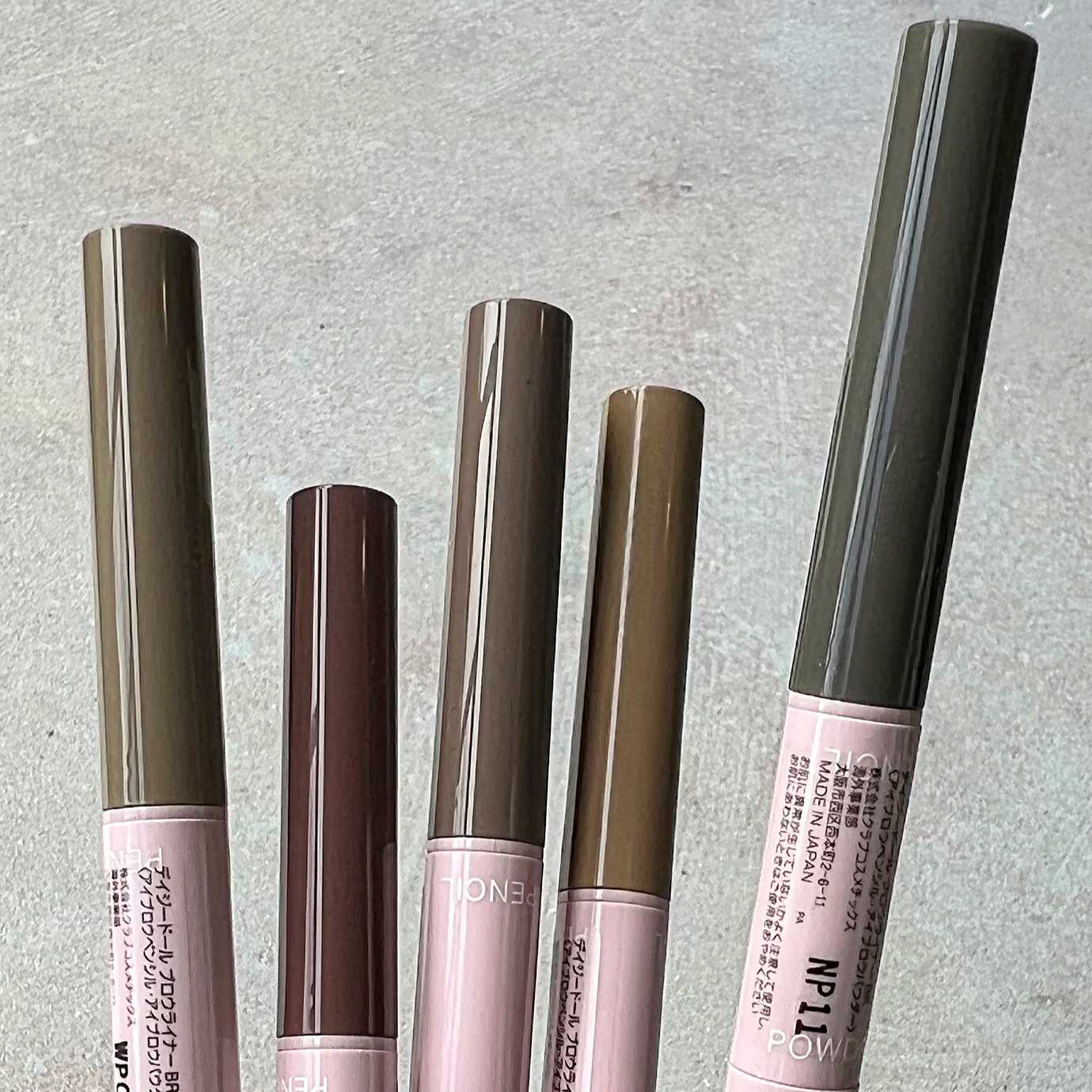 One of things I noticed is that this didn't smear off or smudge off during the day.  I also wore these products during the worst oppressive heat wave here in the Northeast and it also didn't run off my face with all of the oil, sweat and heat.  I would say these do have a long lasting formula that really is water, oil and heat proof and rubbing my face didn't smear it either.  
Eyeliner in Black, Eyebrow Liner Pencil in BK Ash Black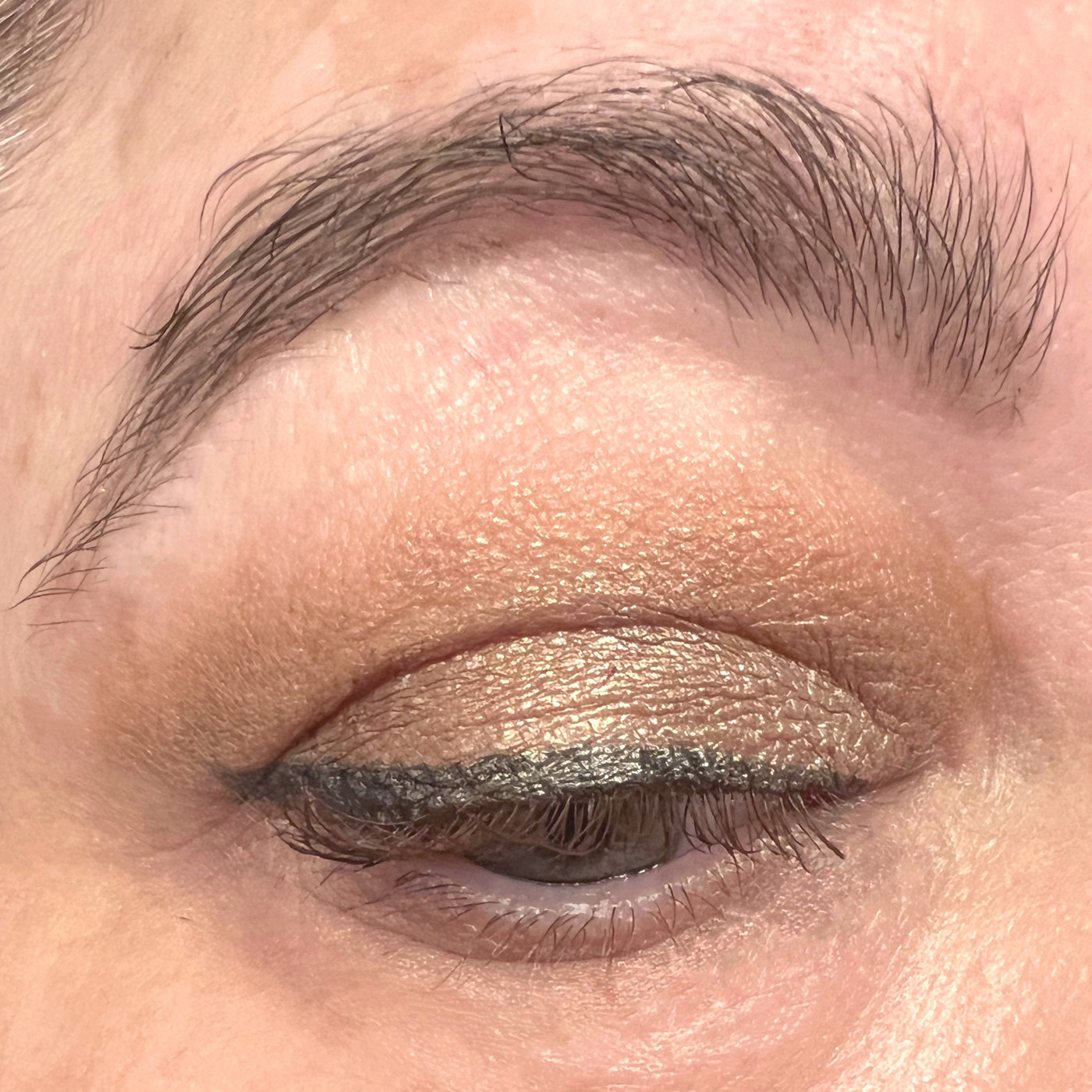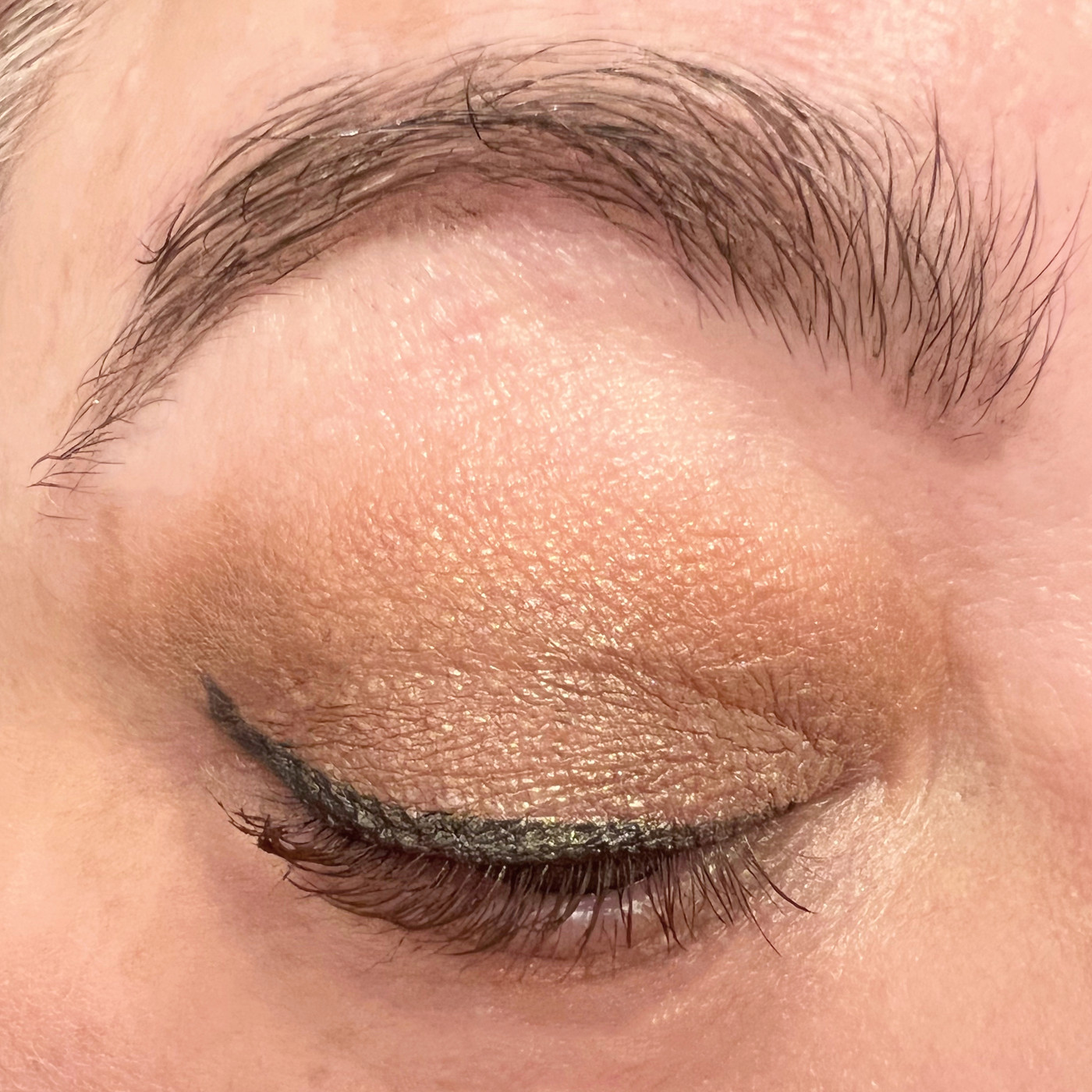 Eyeliner in Brown, Eyebrow Liner Pencil in BR03 Pink Brown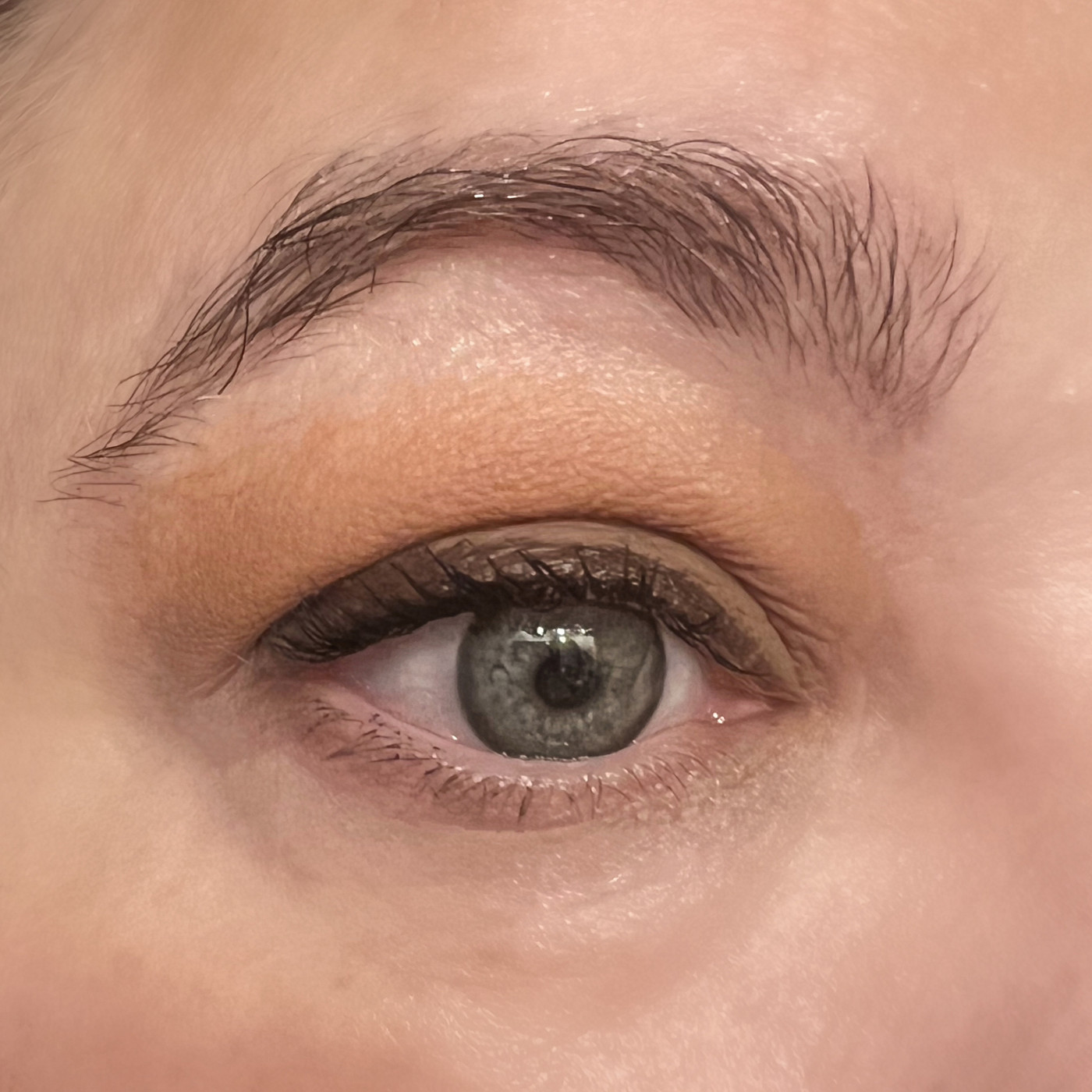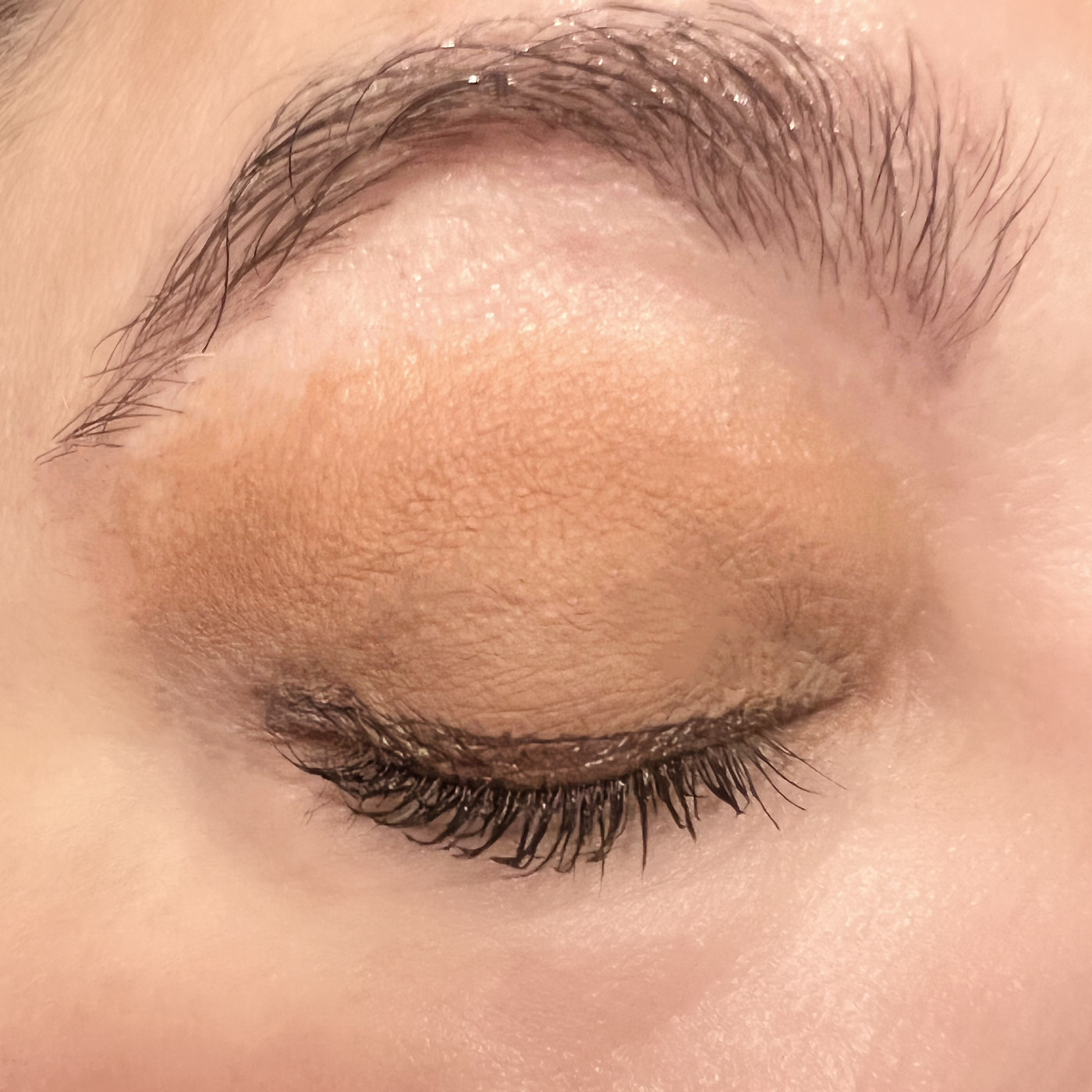 Eyebrow Liner Pencil in BR01 Camel Brown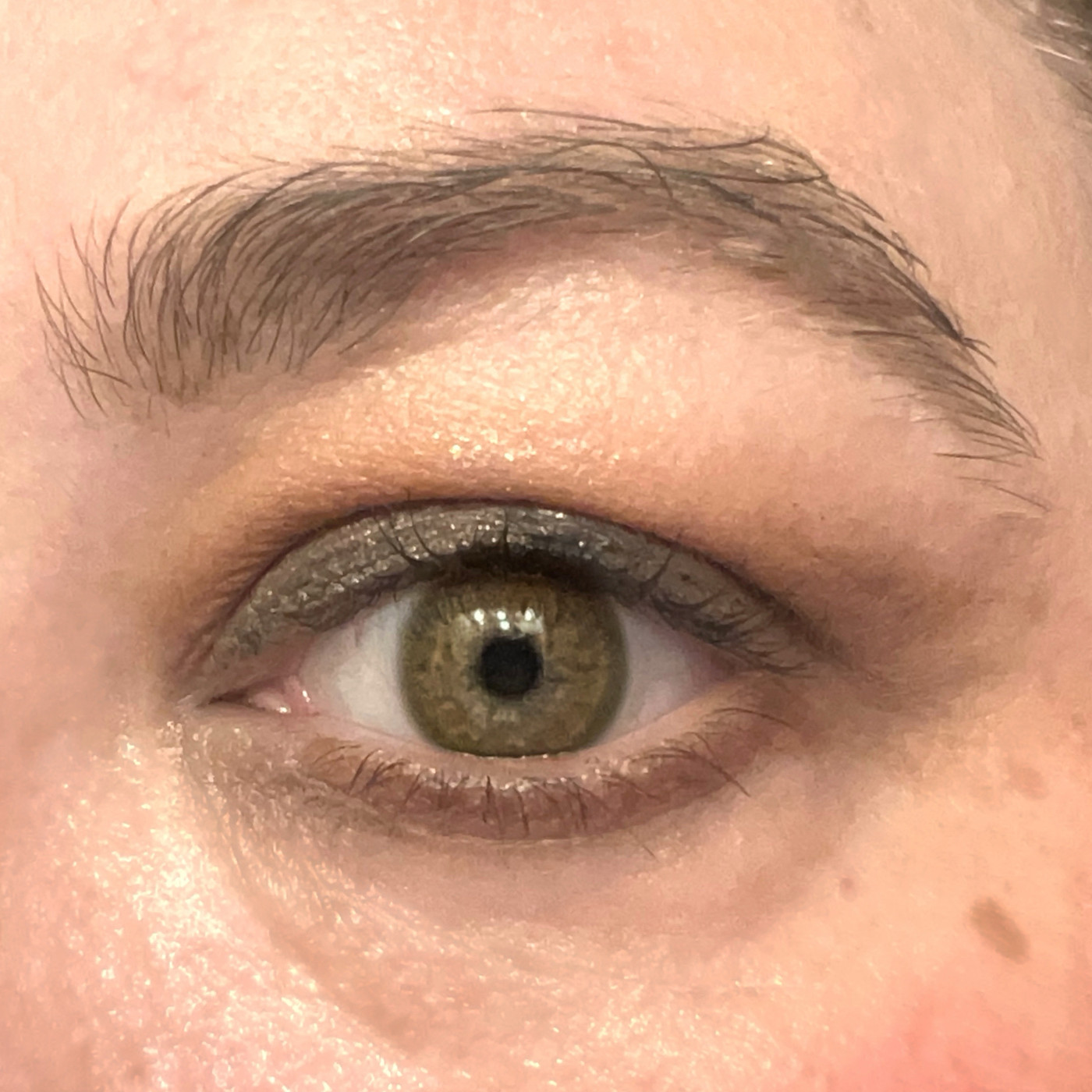 Eyebrow Liner Pencil in BR02 Natural Brown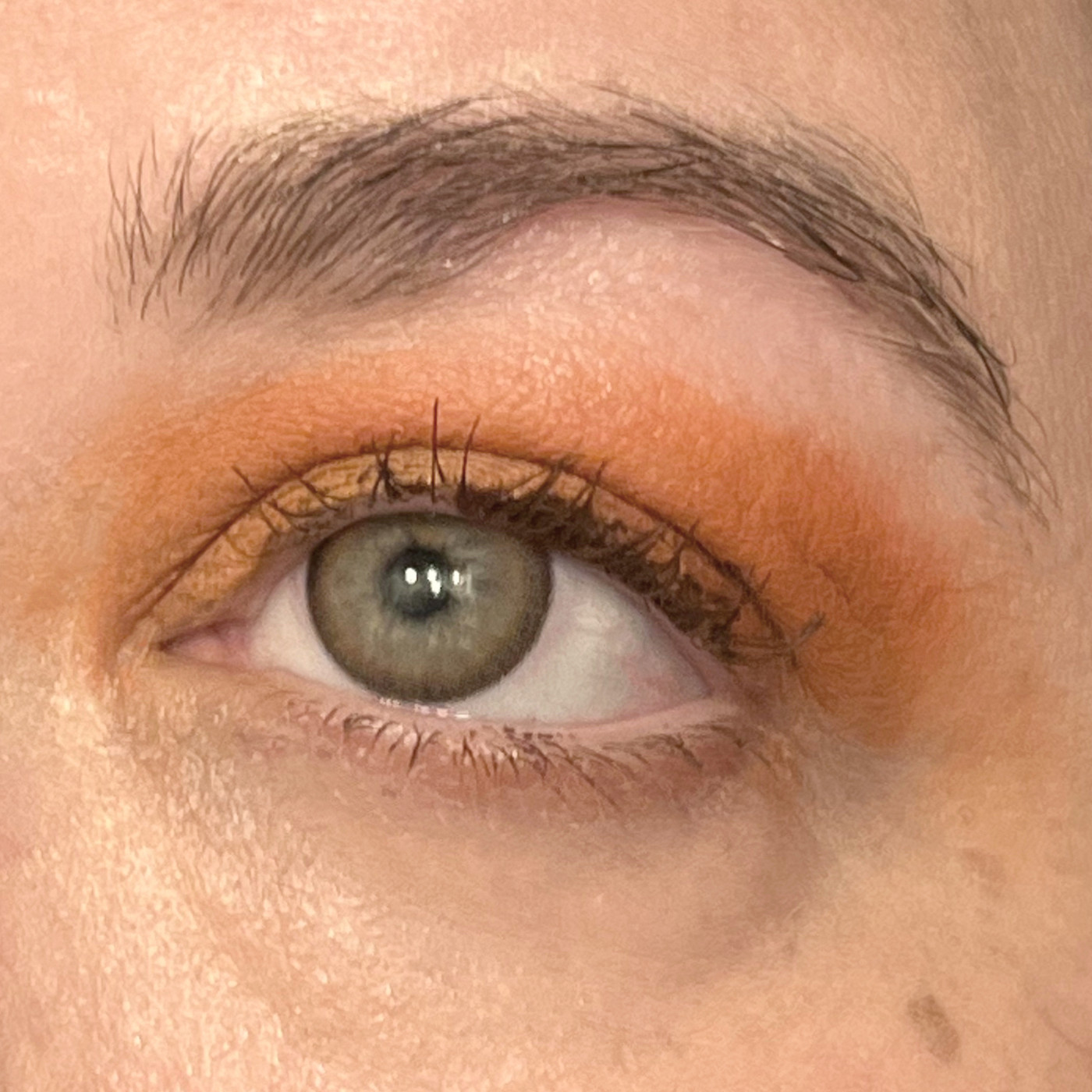 Eyebrow Liner Pencil in BR04 Ash Brown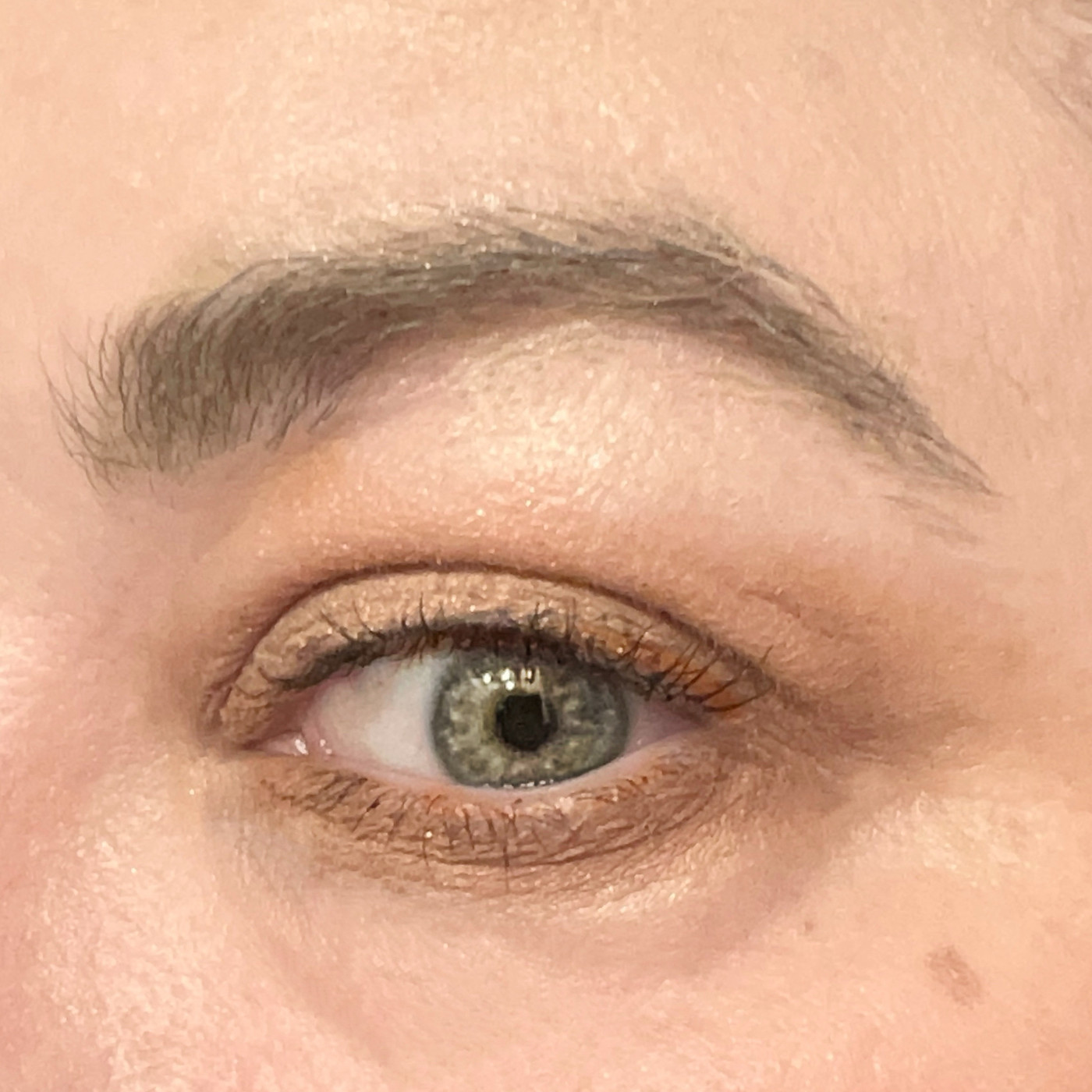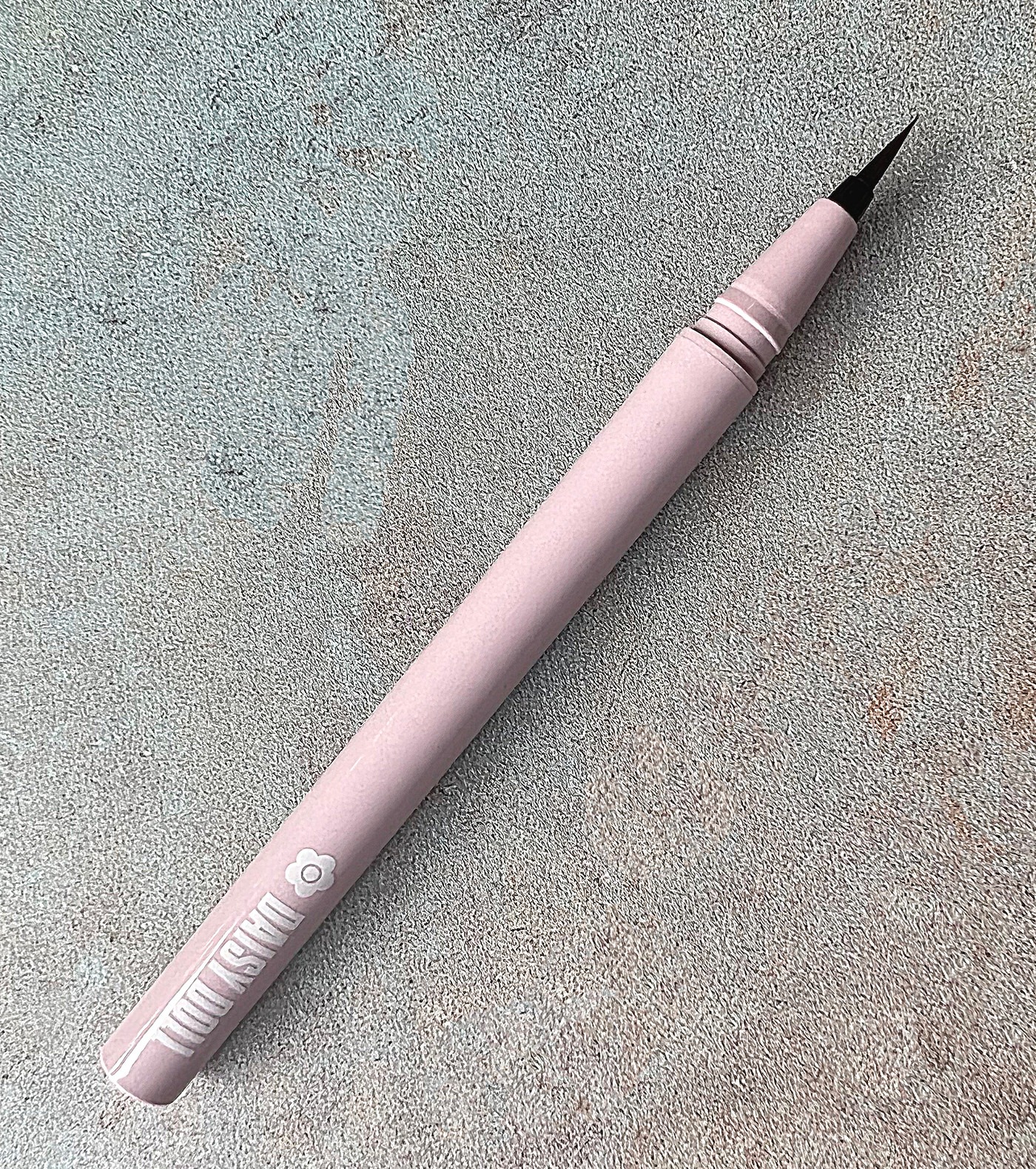 The Daisy Doll Long Lasting Eyeliners I received are brown and black, but I have seen a burgundy one out there, which I need to get  my hands on!  I happen to like brown eyeliner for everyday looks and black for more dramatic looks.  My favorite shade is a gray eyeliner, but not a lot of brands make that.   These have a great calligraphy-like, ultra fine brush tip at .015mm, and since this is Japanese made, you know it will be fine and easy to use.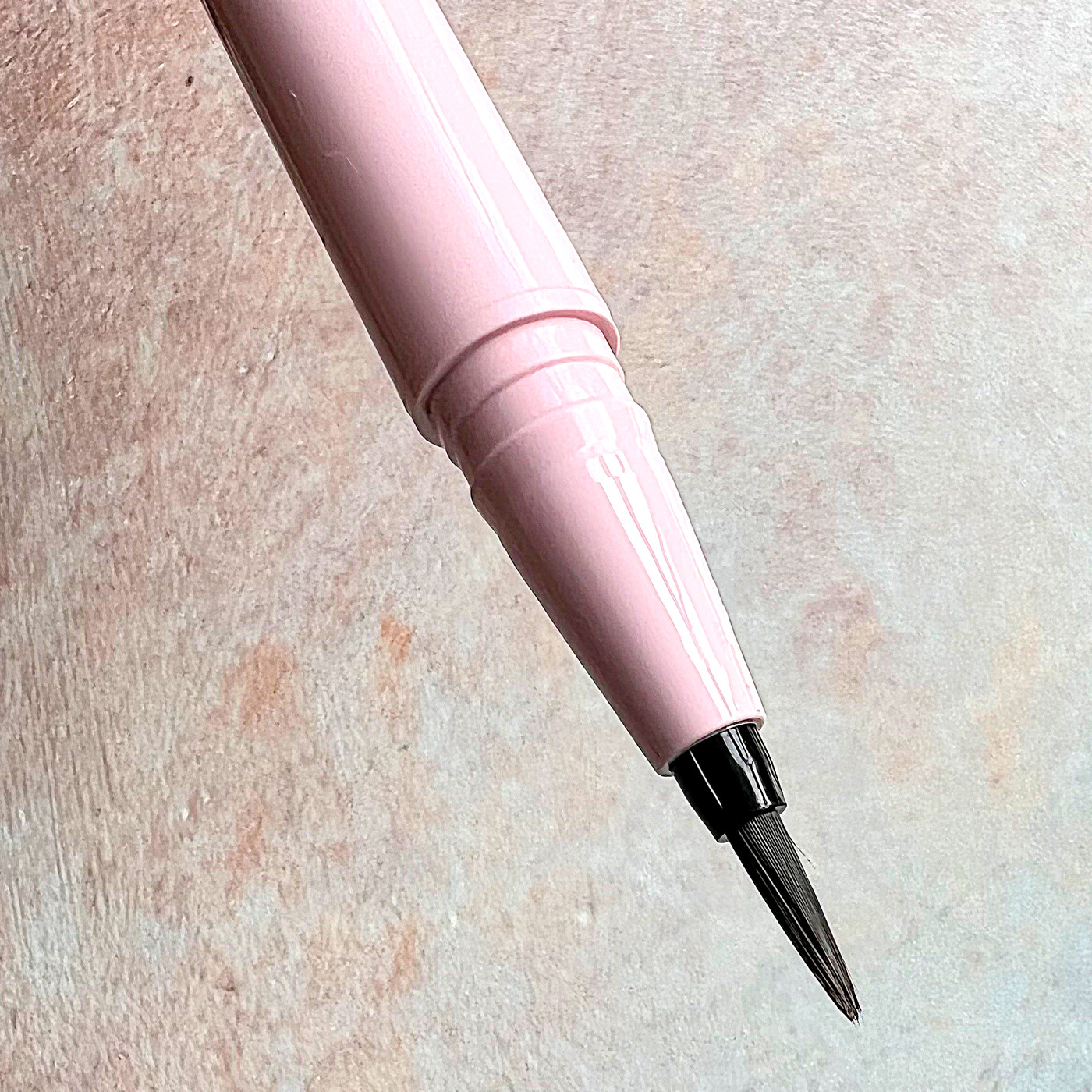 This does take a bit to dry down here as the temperatures are still pretty hot and humid out here in the Northeast, but once it is dry, it is fairly resistant to smudging and has a long lasting formula.   I like that I can either go really thin with this eyeliner or build it up to a thicker line.  I personally LOVE liquid eyeliners and am always looking out for new ones to try.   Like most liquid eyeliners, shake the tube first before applying to mix the product so it flows more freely. 
Eyebrow BK: Powder: tri (caprylic/capric/myristate/stearate) glyceryl, dimethicone, (vinyl dimethicone/methicone silsesquioxane) crosspolymer, octyldodecanol, sucrose triacetate tetrastearate, methyl methacrylate crosspolymer. , (stearoxymethicone/dimethicone) copolymer, hydrogenated castor oil stearate, sucrose tetraisostearate, hydrogenated castor oil, polyethylene, tocopherol, mica, iron oxide, titanium oxide, al hydroxide Pencil: behenic acid, hydrogenated castor oil, coconut oil, hydrogenated palm kernel oil, japanese wax, sucrose tetraisostearate, sorbitan sesquiisostearate, tocopherol, trimethylsiloxysilicate, lecithin, citric acid, mica, iron oxide, titanium oxide , al hydroxide
Eyebrow BR01:  Powder: tri (caprylic/capric/myristate/stearate) glyceryl, dimethicone, (vinyl dimethicone/methicone silsesquioxane) crosspolymer, octyldodecanol, sucrose triacetate tetrastearate, methyl methacrylate crosspolymer. , (stearoxymethicone/dimethicone) copolymer, hydrogenated castor oil stearate, sucrose tetraisostearate, hydrogenated castor oil, polyethylene, tocopherol, mica, iron oxide, titanium oxide, al hydroxide Pencil: behenic acid, hydrogenated castor oil, coconut oil, hydrogenated palm kernel oil, japanese wax, sucrose tetraisostearate, sorbitan sesquiisostearate, tocopherol, trimethylsiloxysilicate, lecithin, citric acid, mica, iron oxide, titanium oxide, aluminum hydroxide
Eyebrow BR02: Powder: tri (caprylic/capric/myristate/stearate) glyceryl, dimethicone, (vinyl dimethicone/methicone silsesquioxane) crosspolymer, octyldodecanol, sucrose triacetate tetrastearate, methyl methacrylate crosspolymer. , (stearoxymethicone/dimethicone) copolymer, hydrogenated castor oil stearate, sucrose tetraisostearate, hydrogenated castor oil, polyethylene, tocopherol, mica, iron oxide, titanium oxide, al hydroxide Pencil: behenic acid, hydrogenated castor oil, coconut oil, hydrogenated palm kernel oil, japanese wax, sucrose tetraisostearate, sorbitan sesquiisostearate, tocopherol, trimethylsiloxysilicate, lecithin, citric acid, mica, iron oxide, titanium oxide, aluminum hydroxide
Eyebrow BR03: Powder: Tri (caprylic/capric/myristate/stearate) glyceryl, dimethicone, (vinyl dimethicone/methicone silsesquioxane) crosspolymer, sucrose triacetate tetrastearate, octyldodecanol, methyl methacrylate crosspolymer, water, castor oil, sucrose tetraisostearate, hydrogenated castor oil stearate, (stearoxymethicone/dimethicone) copolymer, polyethylene, tocopherol, mica, iron oxide, titanium oxide, aluminum hydroxide Pencil:  behenic acid, hydrogenated castor oil, coconut oil, hydrogenated palm kernel oil, Japanese wax, sucrose tetraisostearate, sorbitan sesquiisostearate, tocopherol, trimethylsiloxysilicate, lecithin, citric acid, mica, iron oxide, titanium oxide, water Al oxide
Eyebrow BR04: Powder: Tri (caprylic/capric/myristate/stearate) glyceryl, dimethicone, (vinyl dimethicone/methicone silsesquioxane) crosspolymer, sucrose triacetate tetrastearate, octyldodecanol, methyl methacrylate crosspolymer, water. castor oil, sucrose tetraisostearate, hydrogenated castor oil stearate, (stearoxymethicone/dimethicone) copolymer, polyethylene, tocopherol, mica, iron oxide, titanium oxide, aluminum hydroxide Pencil: behenic acid, hydrogenated castor oil, coconut oil, hydrogenated palm kernel oil, Japanese wax, sucrose tetraisostearate, sorbitan sesquiisostearate, tocopherol, trimethylsiloxysilicate, lecithin, citric acid, mica, iron oxide, titanium oxide , Al hydroxide
Eyeliner Black: water, acrylates copolymer, BG, ethanol, phenoxyethanol, polyglyceryl-3 disiloxane dimethicone, (acrylates/octylacrylamide) copolymer, sodium dehydroacetate, methylparaben, AMP, ethylparaben, carbon black, beheneth-30, pentylene glycol, water Na oxide
Eyeliner Brown: water, BG, acrylates copolymer, ethanol, phenoxyethanol, polyglyceryl-3 disiloxane dimethicone, (acrylates/octylacrylamide) copolymer, sodium dehydroacetate, bentonite, methylparaben, EDTA-2Na, ethylparaben, AMP, simethicone, sorbitan stearate, glyceryl stearate, polyglyceryl oleate-10, cellulose gum, iron oxide, carbon black, beheneth-30, sodium polyaspartate, pentylene glycol, ceteth-20, xanthan gum, sodium hydroxide
Where To Purchase
Amazon USA carries these Daisy Doll products, which have free Prime Shipping
[ all products received complementary for review purposes.  Blog post may contain affiliate links ]