[ disclosure:  products received for review purposes.  all opinions are my own.  contains affiliate links ]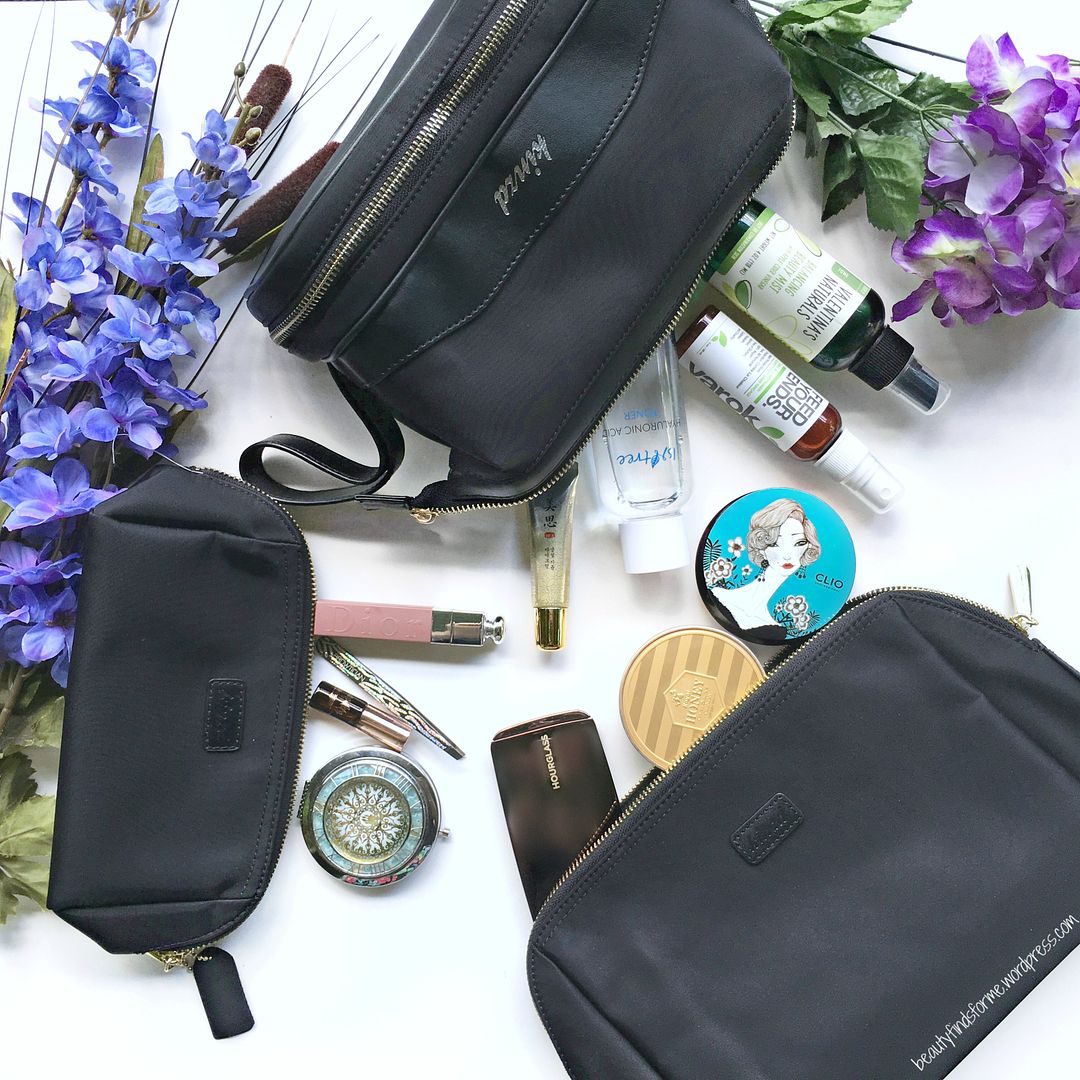 A few weeks ago, Kinzd contacted me to see if I would be interested in trying their wallets.  Kinzd is a Hong Kong company that was founded originally to create affordable slim wallets, using socially conscious materials when possible.  I don't really use a wallet, but I took a look at their website and saw that they made other items besides wallets ~ such as makeup bags!  And since I am a beauty blogger, makeup bags are a necessity.  I asked if I could review their 3 bags that they had ~ the large, small and travel case version and they sent them to me for review purposes.    I figured that anyone reading my blog also enjoys cosmetic bags as well, and would be interested in seeing what this brand has to offer.  I am boring and picked all black ~ these are a nice deep black but I overexposed my photos a bit so you could see the detail inside the bags.   First up, the Travel Cosmetic Bag Organizer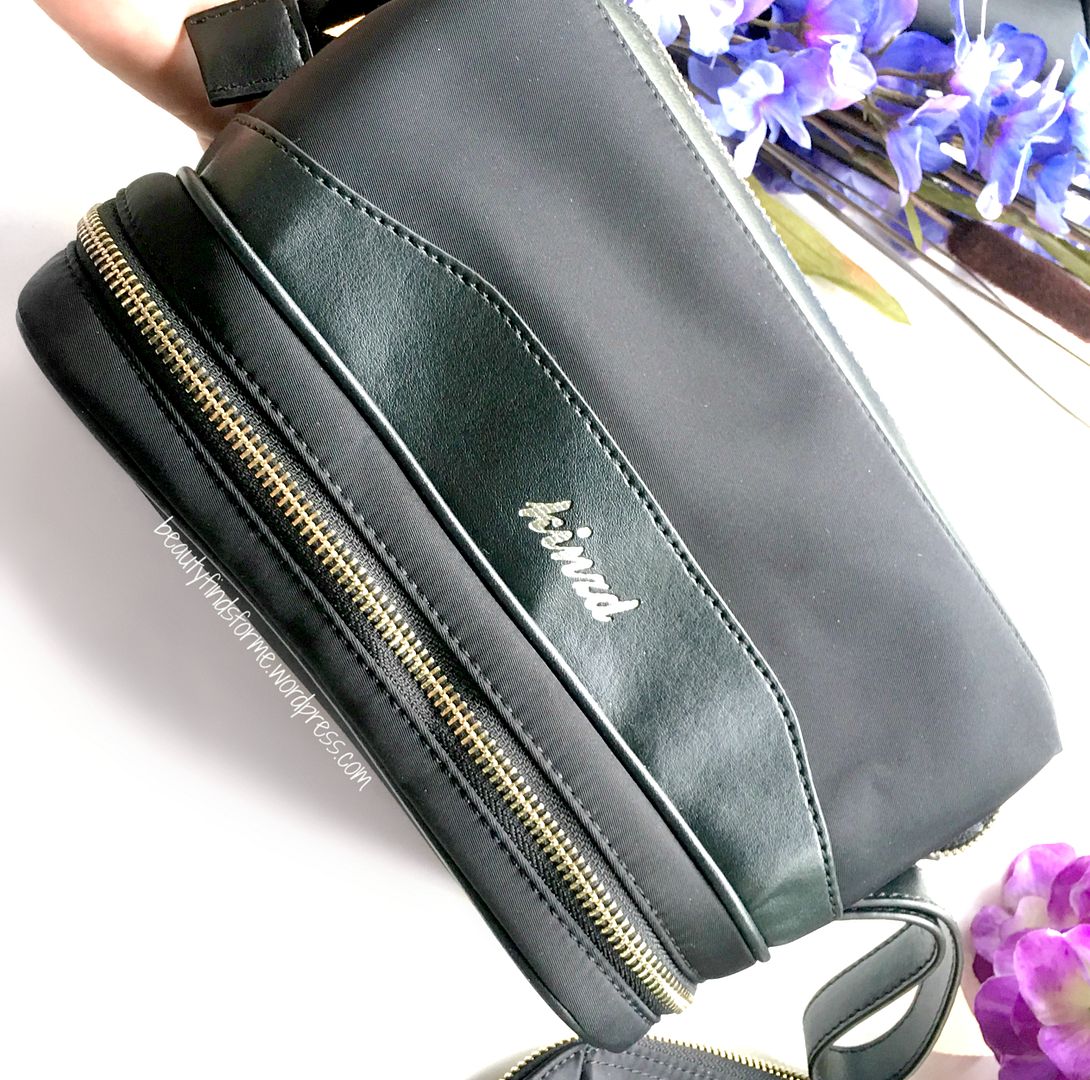 I am really impressed by this one ~ it is made of nylon oxford, with a nice matte twill finish.  It is waterproof and easy to clean.  This bag sits upright and the top compartment reminds me of those old fashioned doctor bags ~ when you unzip the top, it opens up and has a internal wire tube that keeps it open.  The top compartment is nice and wide and it can fit a lot in there!  For those who own items like Urban Decay's Naked Palette and Too Faced Chocolate Bar Palette ~ those fit in here.  I just put in a few full sized items and I am sure I could put in my full size care routine, day and night, with no issues.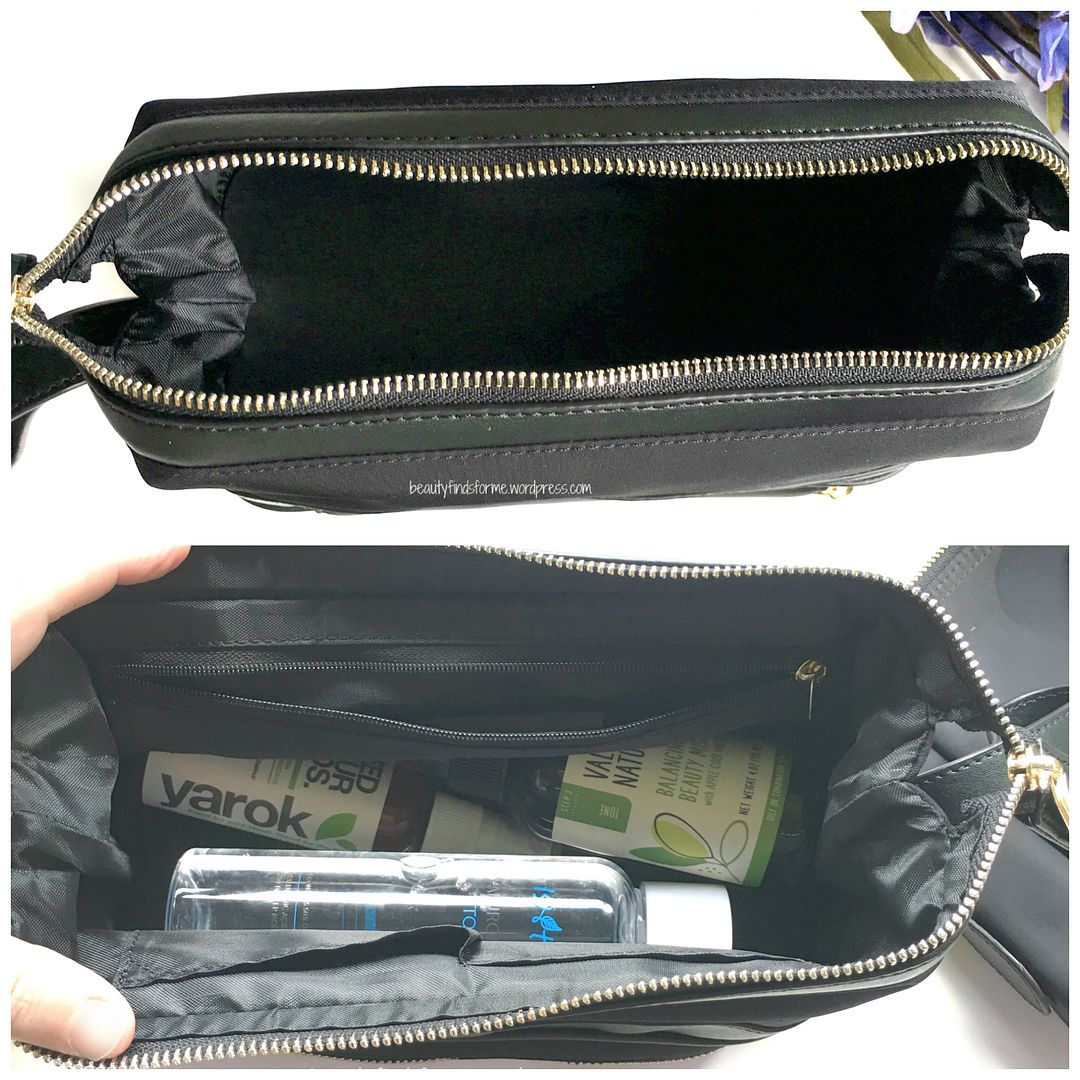 It has a side pockets, one with a zipper and the other side has two pockets that you can slip in your compacts or smaller items.  The zippers are all gold tone and quite sturdy. There is a bottom part of this bag ~ you do need to zip up the top compartment first to access it, otherwise, all of your items in the top will spill out.  This contains a removable makeup organizer ~ it snaps into place and it has 17 slots with plastic protectors ~ you can fit more brushes, eyeliners and lipsticks in there, as they are roomy slots.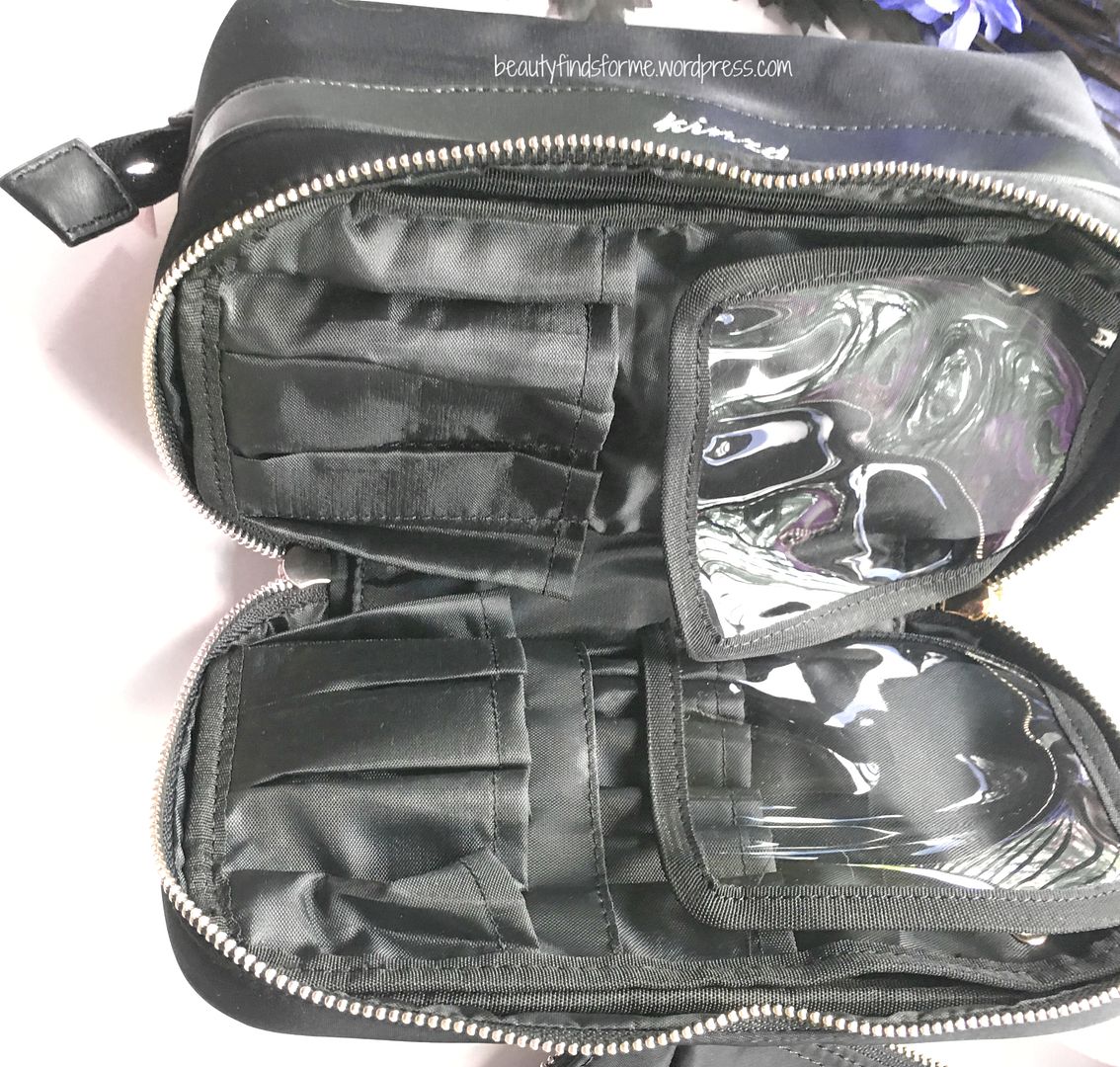 I didn't take a photo of the makeup organizer out of the bag, but this is a stock photo of how it looks. I like how I can just remove this and have more storage space in the bottom section ~ the makeup organizer folds up flat, so that could go elsewhere in your travel luggage.

image credit kinzd
I was really surprised by this travel case ~ it is compact, but very roomy and holds a lot of items ~ it measures 9.53 x 6.69 x 5.1 inches (24.20 x 17 x 13 cm) and it really has a wide expandable mouth on the top section and a full 3 sided zip around on the bottom, so you can really open it up.  The inner fabric lining is made from polyester, so it is also easy to clean inside as well. This also has an strap on the outside, so you can carry and hang it up.  Really great when you don't have a private bathroom and need to lug your skincare and makeup items from room to room.  If you travel a lot or just need a bag where you can carry your skincare and makeup items around from home to work to gym, this is a really nice bag!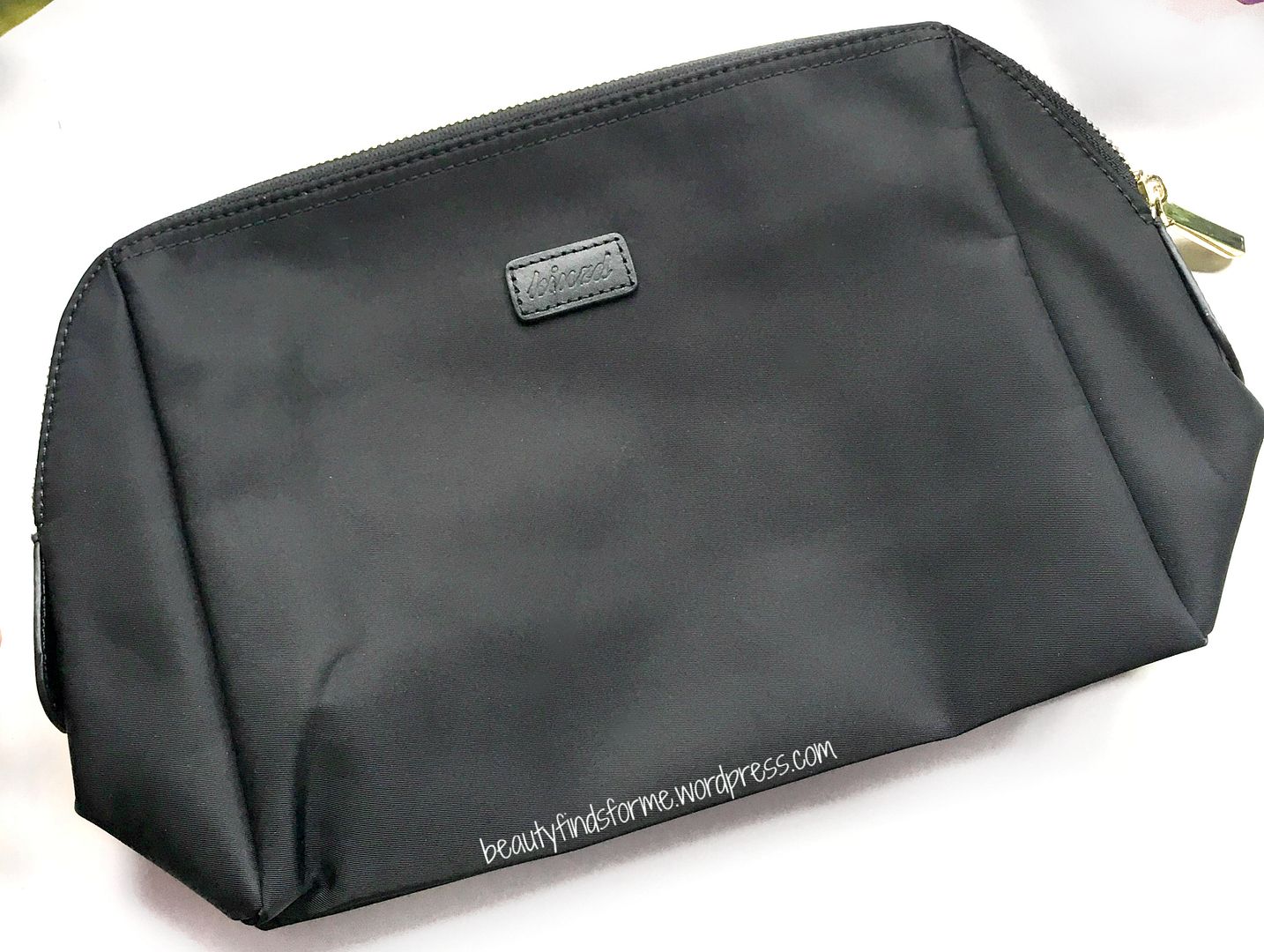 Large Makeup Bag  This is one that I would actually carry to work and back ~ I toss the kitchen sink plus more in my makeup bags.  This bag actually comes in several colors ~ black, red, dark blue and camel-brown.  This is a nice roomy makeup bag made again with the Oxford nylon, which has a nice fine twill weave.  This might fit a smaller pad device, as it measures 12.99 x 7.48 x 3.94 inches (33 x 19 x 10 cm) and will easily fit a phone.  This is very portable despite its size and just like the travel case, it has a side pockets ~ one with a zipper and the other side has two pockets that you can slip in your compacts or smaller items. 

This is really nice and roomy ~ it will fit an UD Naked Palette and ton of other items as well.  It will fold flat when empty but once you start putting items in the bag, the base will unfold so it will sit upright on its own.   This is also really good for the gym or just if you are like me ~ and like to have several different palettes, blushes, brushes and lippies in one bag.  This is also waterproof, with a polyester lining.
Travel (Small) Cosmetic Pouch This smaller version of the larger makeup bag is perfect for your phone, a lippie, credit card/ID and keys!  It can also fit a UD Naked Palette in a pinch, but I don't really recommend it.  This is very similar to the large makeup bag, as it has a top zipper and it opens up nice and wide.  It will also lay and store flat when empty, but will sit upright if it has items in it, as the bottom expands out to sit flat.  It has one internal zippered side pocket as well.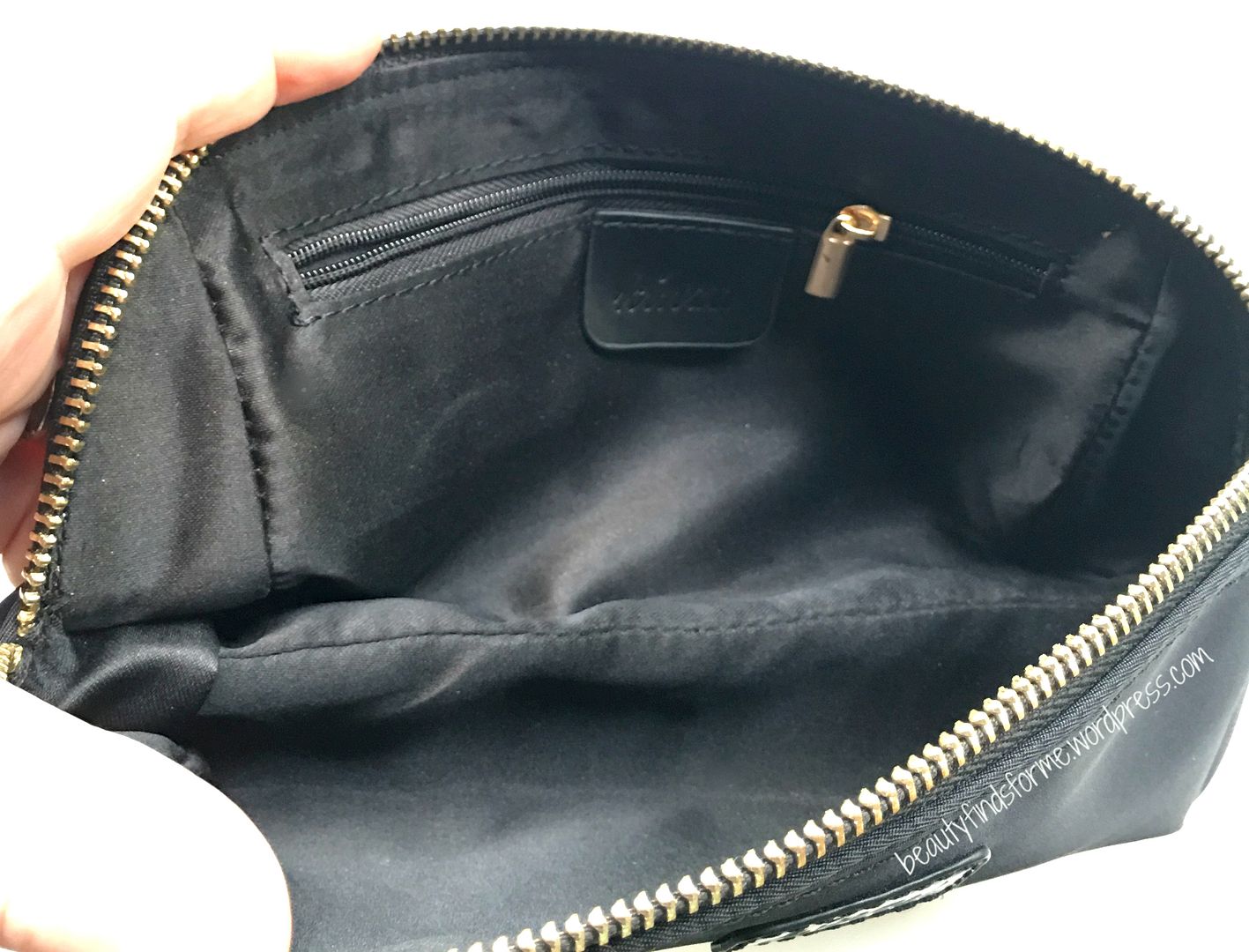 If you use this with the large bag, this one would be great for small items, like skincare tools, brushes, wipes, cotton pads and so on. It is a small bag, but it is quite roomy at  8.66 x 3.54 x 4.33 inches  (22 x 9 x 11 cm) and like all of the cosmetic bags, its external shell is made from Oxford nylon with a matte twill texture and its interior is a polyester lining, all waterproof and easy to clean.  This comes in a variety of colors ~ black, brown, blue, red, purple and gray.
Where to Purchase
For international and USA, you can order from the main Kinzd site with free world-wide shipping and Amazon USA also carries Kinzd with Prime Shipping.  You can use this 20% off coupon for any Kinzd product at either Kinzd or Amazon site ~ use KINOFF20.  Amazon links are affiliate links, where I make a small commission at no cost to you. Read more here about my disclosure and affiliate link policy.
Travel Cosmetic Bag Organizer   RV $22.99
Large Makeup Bag  RV $16.99

Amazon

Make sure to select the color that has the word Large next to it. This listing has both the large and small pouches
Travel (Small) Cosmetic Pouch   RV $13.99
Amazon Make sure to select the color only ~This listing has both the large and small pouches, with the word Large to the right of the color name.
[CLOSED] Giveaway
My winners for this giveaway are @anitapratapsingh, @petrablack007 and @beautyandthecat.  Thank you all for entering!
I am pleased to host a giveaway from Kinzd!  It is open to International and USA and there will be 3 winners.  Each winner will be given a special code to select any in-stock item at Kinzd that they want ~ so if you want a wallet, a belt, one of the makeup bags (I totally recommend the Travel Case!!) ~ you get choose that!  Pretty cool ~ you get to pick what you want from their site and they will ship it to you directly.  
What you need to do to enter
Use the Entry Link below to enter via Rafflecoper.  This will open a new page with the entry form.  This is legit as my copy of wordpress does not allow me to embed the entry form directly into my blog.

All entries will be verified and anyone who has multiple accounts will be disqualified.

Qualified entry will then be randomly drawn.

I will notify the winner within 24 hours of the contest close. The winner will have 36 hours from then to contact me  with the following information:  their full name.

If the winner does not contact me within 36 hours,  another winner will be selected and the original entry is null and void
What you need to know
beautyfindsforme is me 🙂
By entering, you are agreeing to all of the following items:
beautyfindsforme is not responsible for damages due to shipping, lost, stolen packages or any other issues.  
Once beautyfindsforme has the winner's information, beautyfindsforme will contact Kinzd with the information and Kinzd is responsible for the prize, communication and shipping with the winners
The winner is responsible for verifying the products and their contents and to determine the suitability of those products for their own needs.  beautyfindsforme is not responsible for the actual products and ingredients.

This is an international giveaway.  Kinzd is responsible for the shipping of the prizes.

The winner is responsible for any custom and/or import duties in their country.  beautyfindsforme and Kinzd are not responsible for those fees.

You must be 18 years of age or older (or the age of majority in your own country), or must have the express permission of a parent or legal guardian to enter and receive the prize.

Please ~ would love it if you would post photos of your prize on IG and/or Facebook so people know where you got these great products!  And that I am legit in offering giveways! 
To Enter, Click on this link or the image and follow the instructions!  This contest will end on July 23rd,  2017 at midnight.  Some of the entries you can do daily, so enter more often for a greater chance to win!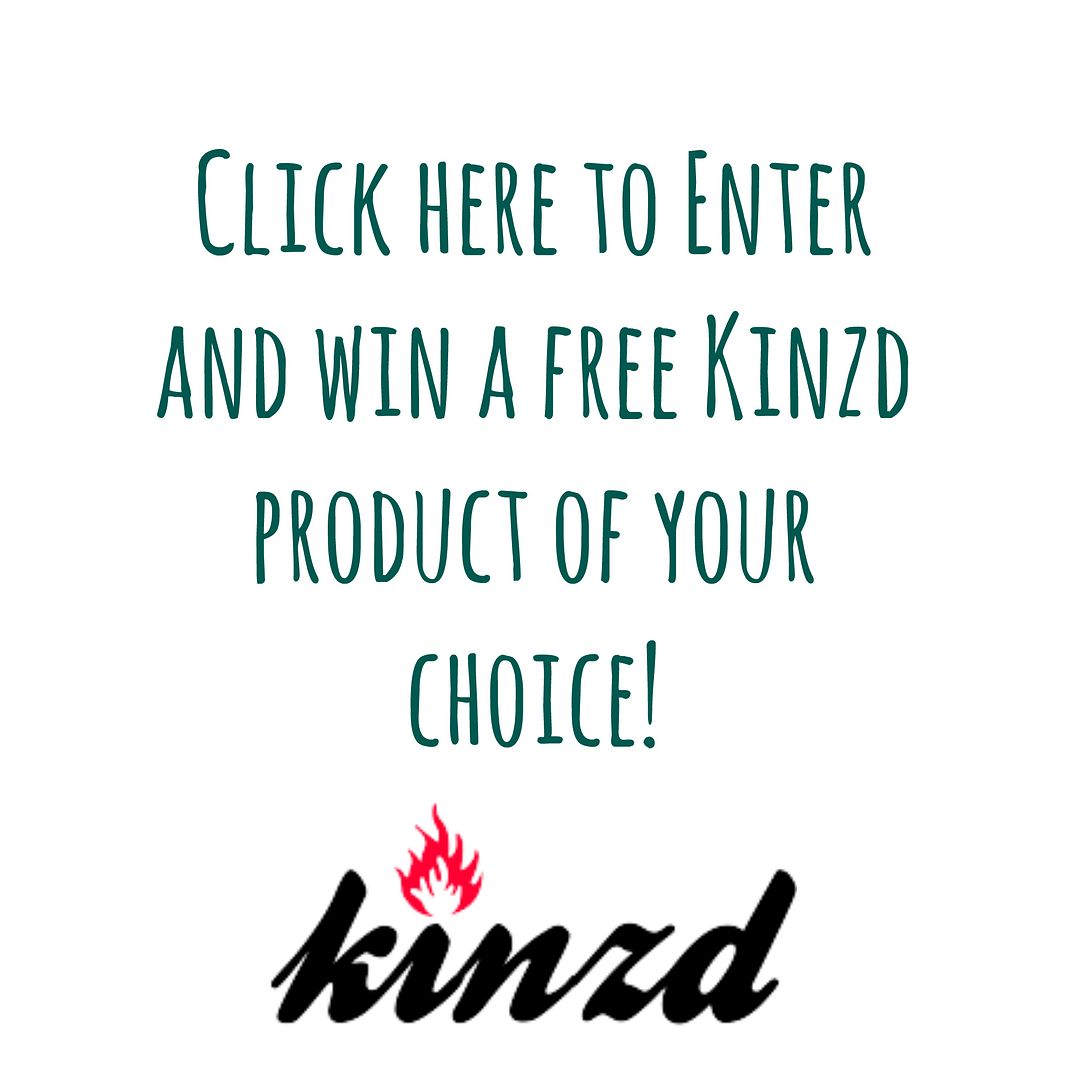 [ disclosure:  products received for review purposes.  all opinions are my own.  contains affiliate links ]