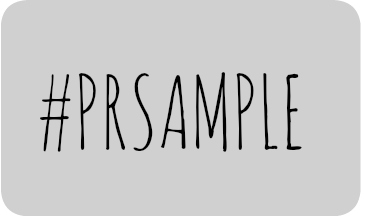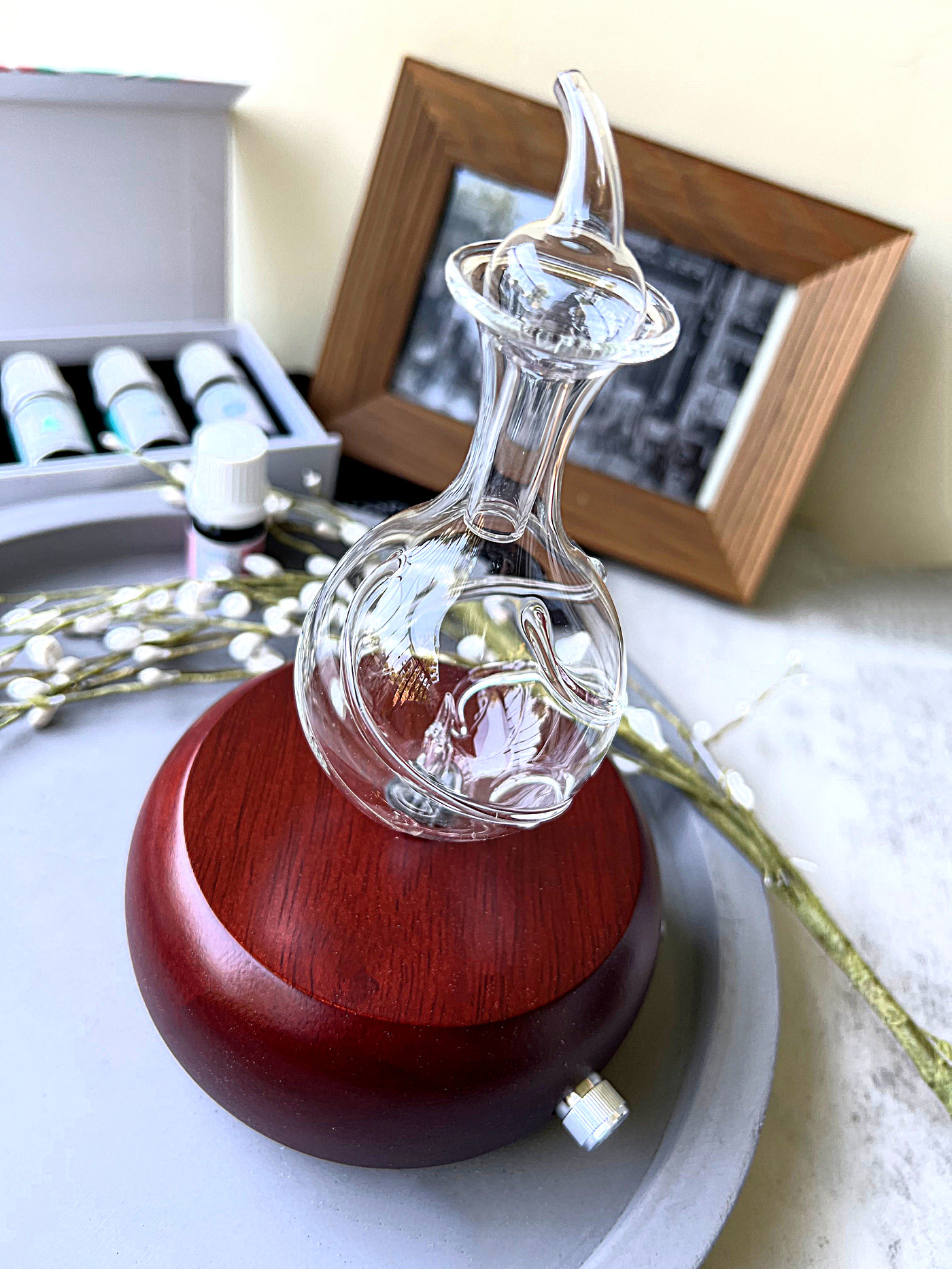 Most of my readers who are into skincare also love lifestyle products!  Organic Aromas are the makers of the world's best Nebulizing Diffuser, using essential oils.   Organic Aromas is a USA company but their diffusers are made in Taiwan, which has become a powerhouse in crafting unique products. Organic Aromas sent me a nebulizing diffuser and aromatherapy oils of my choice for review purposes. 
I received some of these products complementary to review and was not paid.  All reviews are my own honest opinion and  I never have been asked to write copy for a brand.  This blog post might contain promo codes, affiliate and referral links, which using my links will help generate a small commission that helps support my blog at no extra cost to you.
What is the difference between a Nebulizing diffuser and regular diffuser? Regular diffusers uses water particles that have been evaporated to distribute the essential oil out into the room.  A Nebulizing diffuser uses Bernoulli's Principle utilizing high-pressured air stream to atomize the oils ~ creating almost a gas-light state and transporting them  into the air.  Organic Aromas Nebulizing diffusers do not use heat or water, just the oils themselves.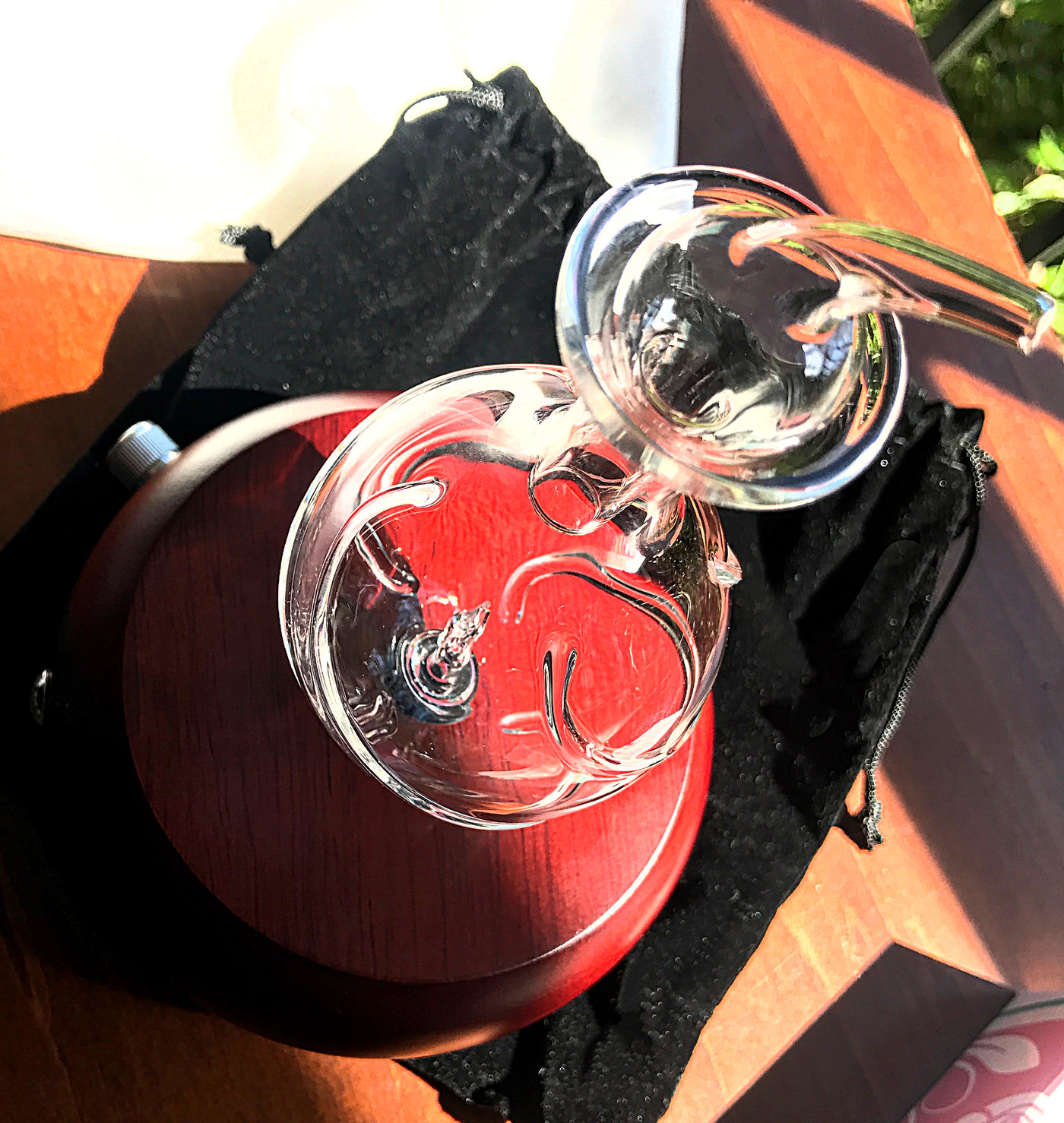 Radiance Nebulizing Diffuser comes in both dark and light wood, and I really loved the cherry color shade of the dark wood, so that is the version I chose.  This is just a stunning looking diffuser ~ the delicate, hand-blown pear-shaped glass reservoir has a unique swirling design that catches the light beautifully.   At the base of the reservoir are micro tubes, which control the essential oil uptake and pressurized air outflow.   The base is made of high quality, hand-crafted imported plantation hardwood.  Radiance also has LED mood lightening, with all of the colors of the rainbow as it operates.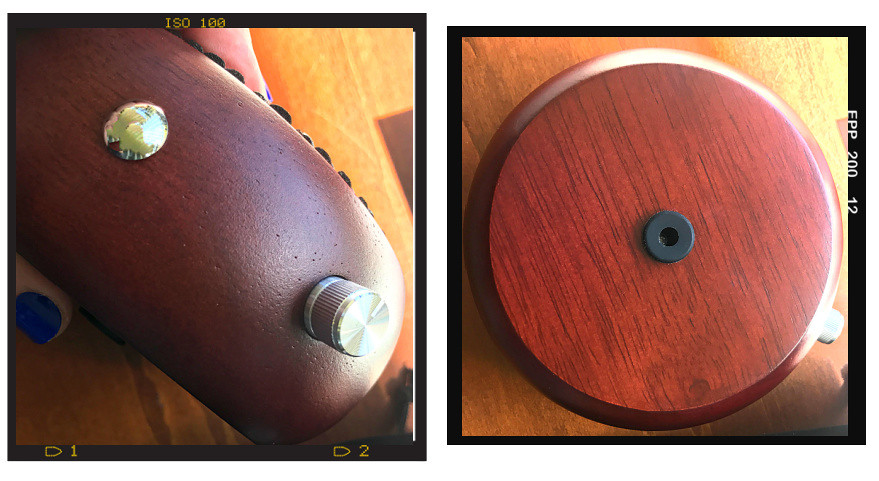 It has a built-in touch sensor light switch, so the LED mood lightening light can be turned off or on with must a brush of your finger.   This also has a "volume" button, where you can control how much oil to diffuse.  Radiance has a low energy consumption, with a usage cycle of 2 minutes on, 1 minute off and will shut off after 120 minutes. Once it shuts down, please wait at least an hour again before using, so the motor is not damaged.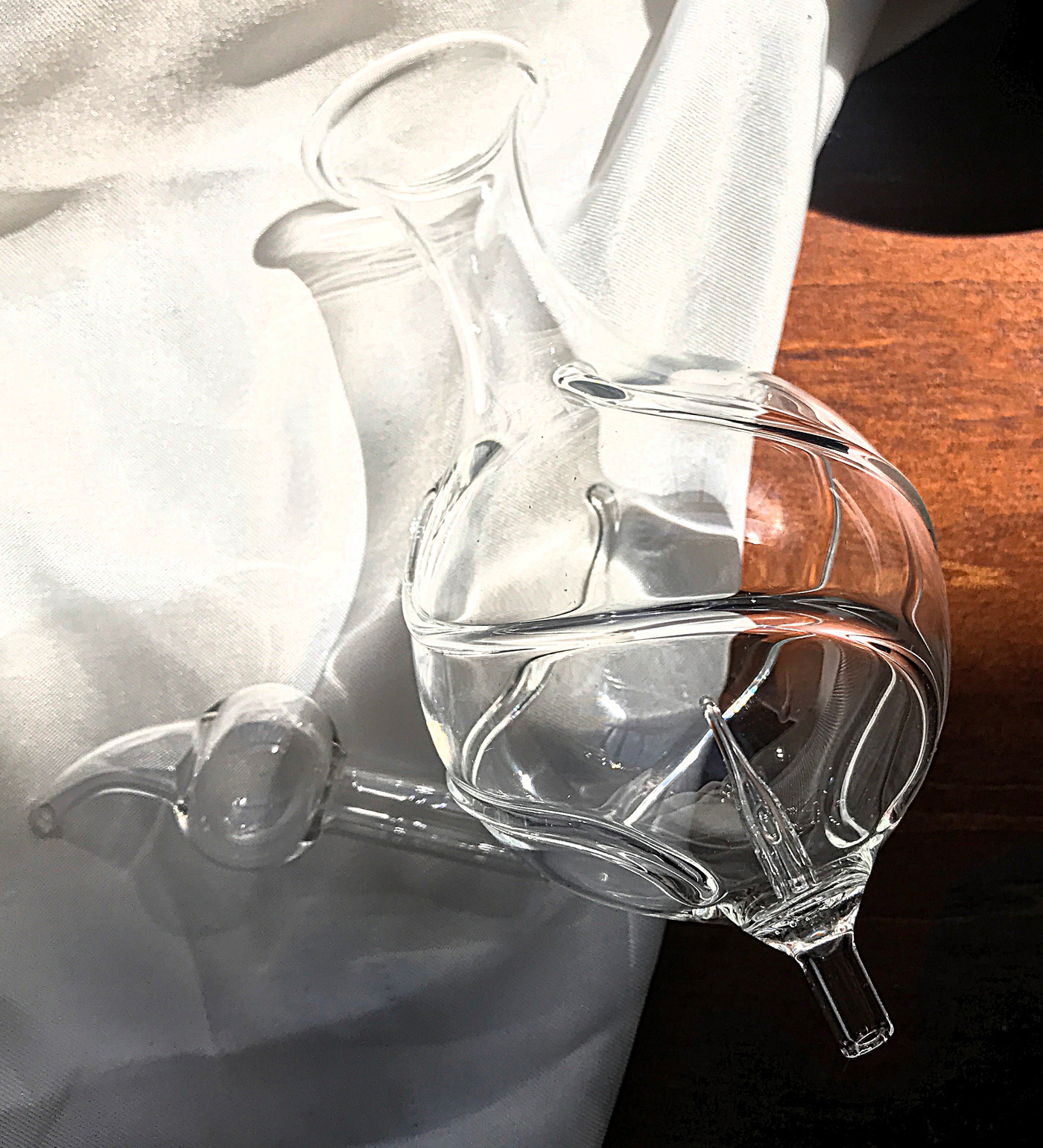 This diffuser might be small, but it can saturate the air quickly in a room up to 800 square feet.    And it is a powerhouse with the aroma!  I did the photos outside, and I immediately picked up the scent.   
You cannot see it in the photos, but as this diffuses, I can see the gas escaping in a vapor from the top of the diffuser.  The mood lighting is hypnotic and this is just a beautiful item.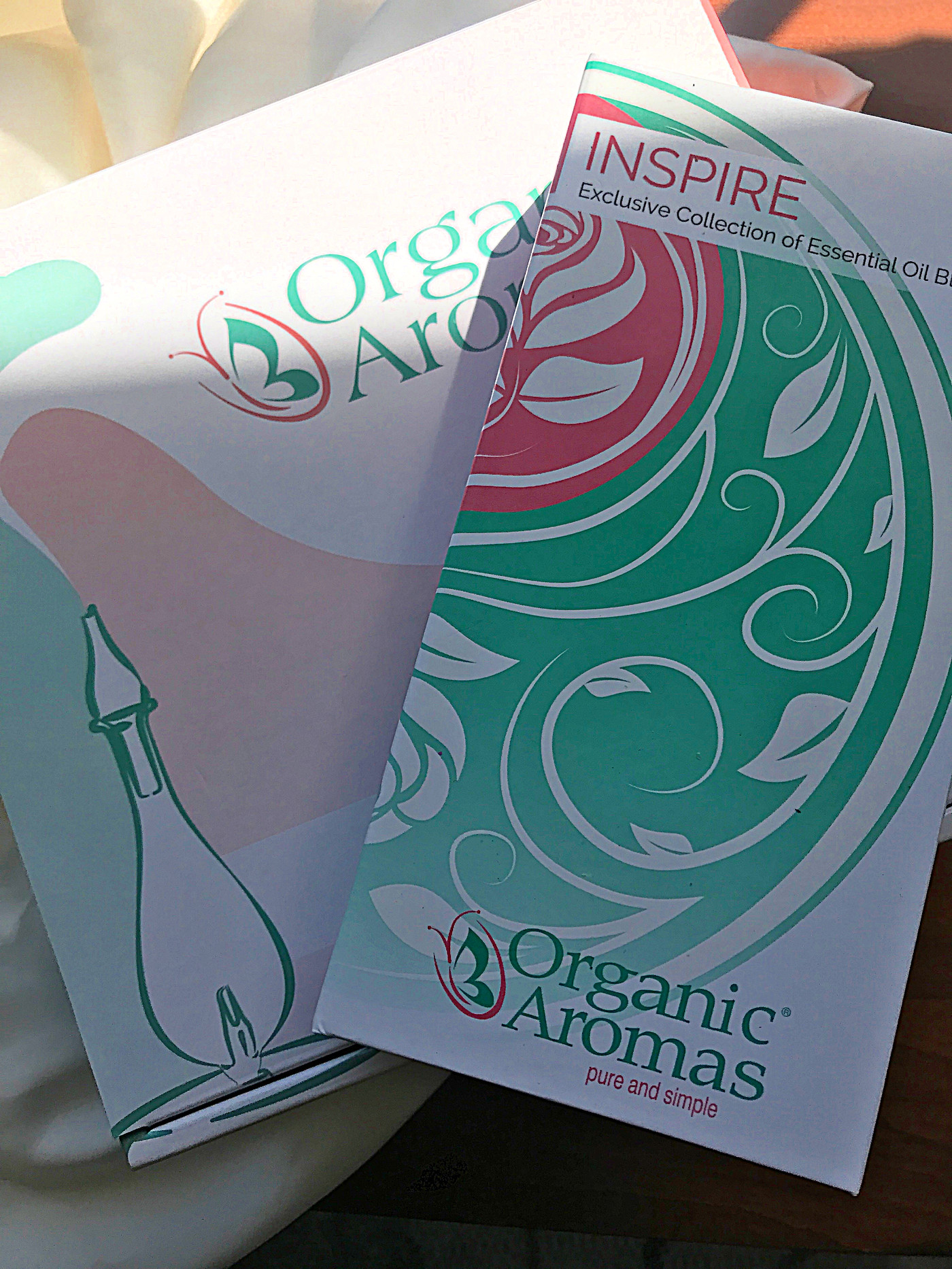 This comes in a box that has taken care that your diffuser gets to you unbroken.  The box is lined with foam padding and the delicate pieces are bubble wrapped individually.  This set includes
Hardwood base

Glass reservoir

Glass cap

Electrical power socket

Glass pipette for oils

2 plastic pipettes for cleaning

Glass pump device 

Mini Essential Oil in Lavender  

Velvet pouch for base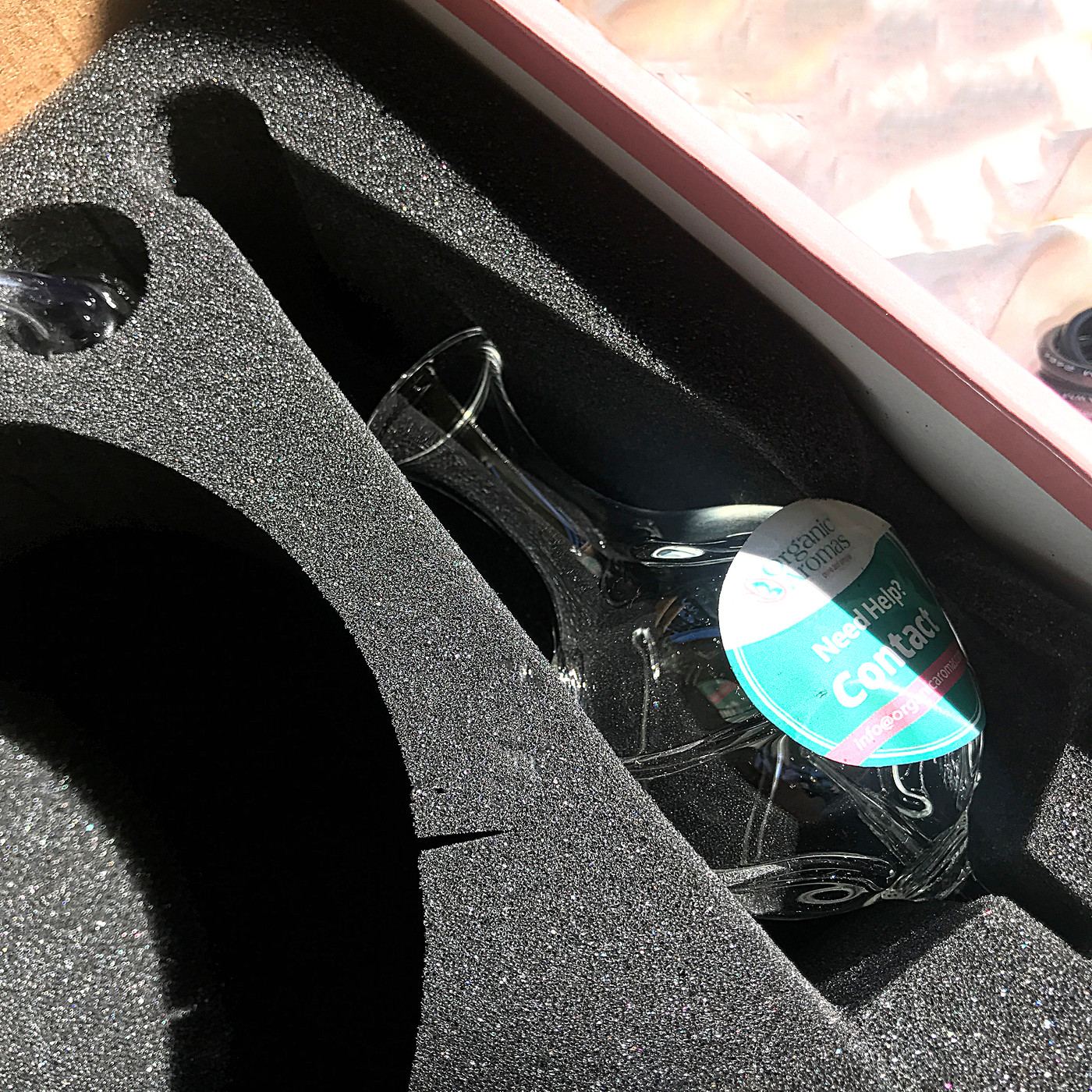 This is so easy to assemble and use.  Just remove the hardwood base and place on a flat surface. Remove any stickers from the reservoir and then gently place it into the rubber grommet  on the base.  Be careful here, do not use a twisting motion;  just gently rock it back and forth when inserting or removing.   Add your essential oils of your chose in the reservoir ~ you only need about 20 to 25 drops.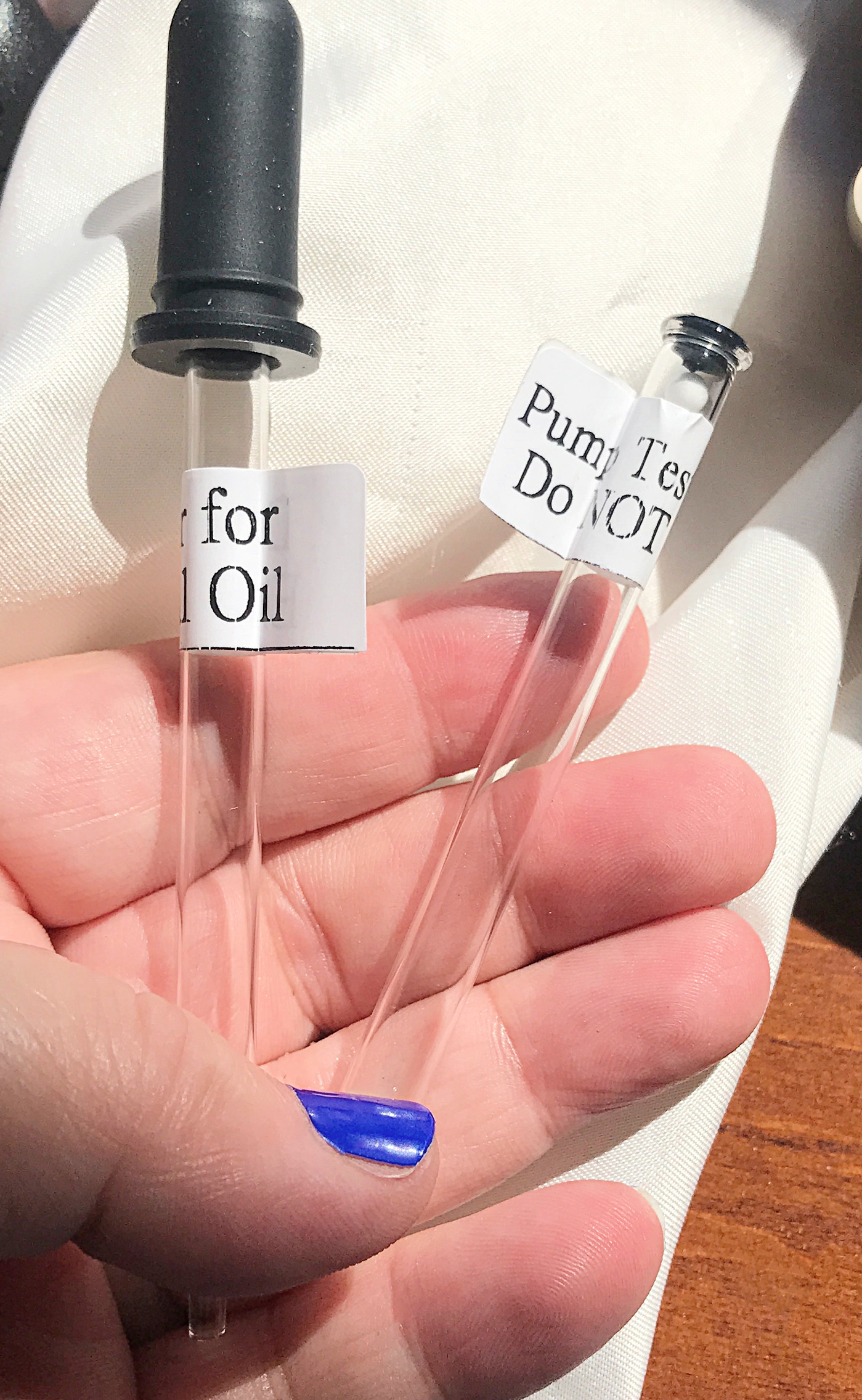 It is important that you do not overfill  ~ keep the oil level about a 1/4 of an inch (.6 cm) below the tops of the micro-tubes. The micro-tubes are what make this diffuser work.  Place the cap onto the reservoir, plug in the diffuser, adjust the oil control and enjoy!  This is quiet so you will never hear any gurgling or noise.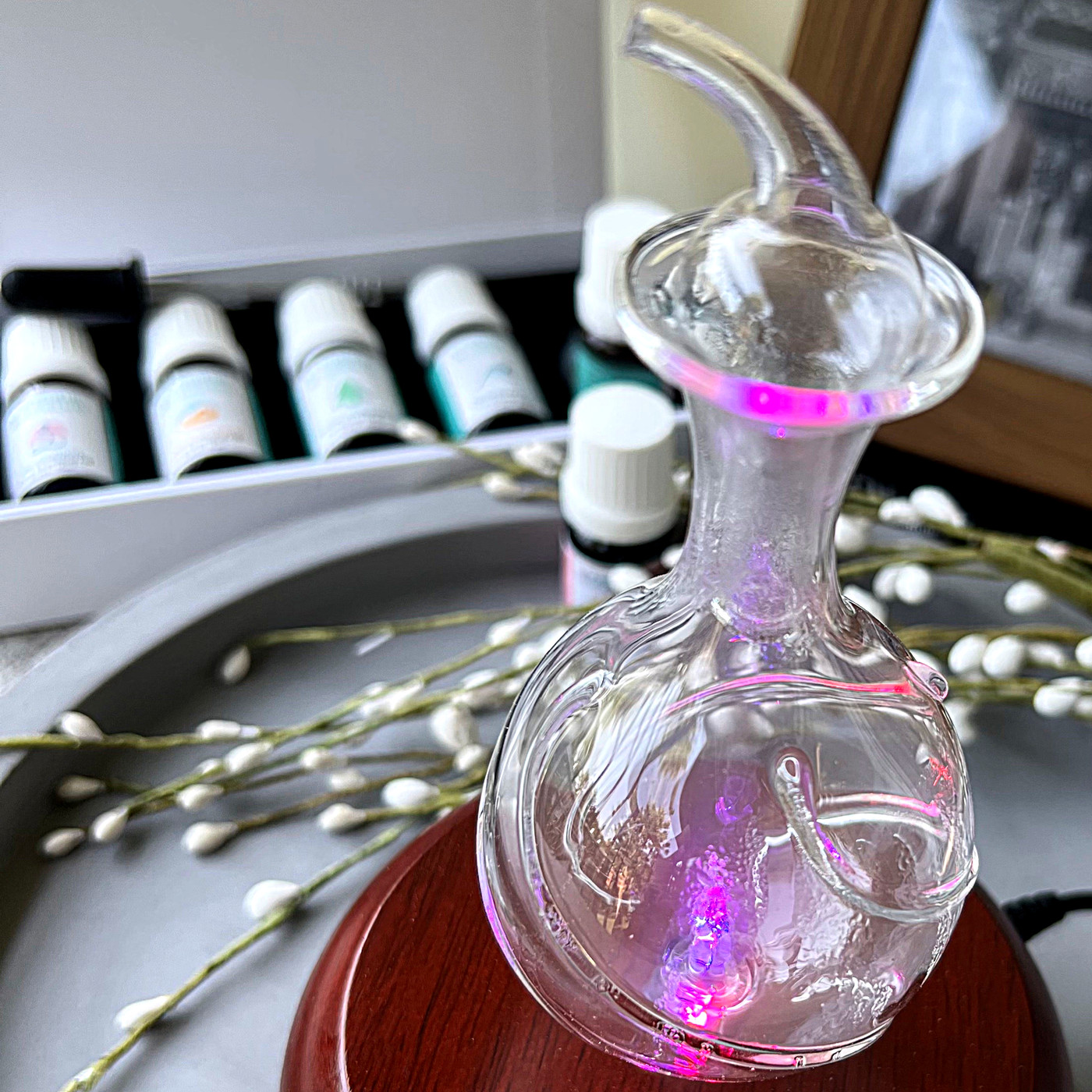 Some precautions as this is not your normal type of diffuser:  Only use pure essential oils.  Do not use perfumes, synthetic fragrances, essential oils that contain a carrier oil (jojoba, almond, grape seed oils).  Do not use thicker oils alone, such as cypress, frankincense, sandalwood.  If you are going to use thicker oils, clean your diffuser immediately after use.   Do not use WATER.   Make sure to keep the micro-tubes unclogged and do not over fill.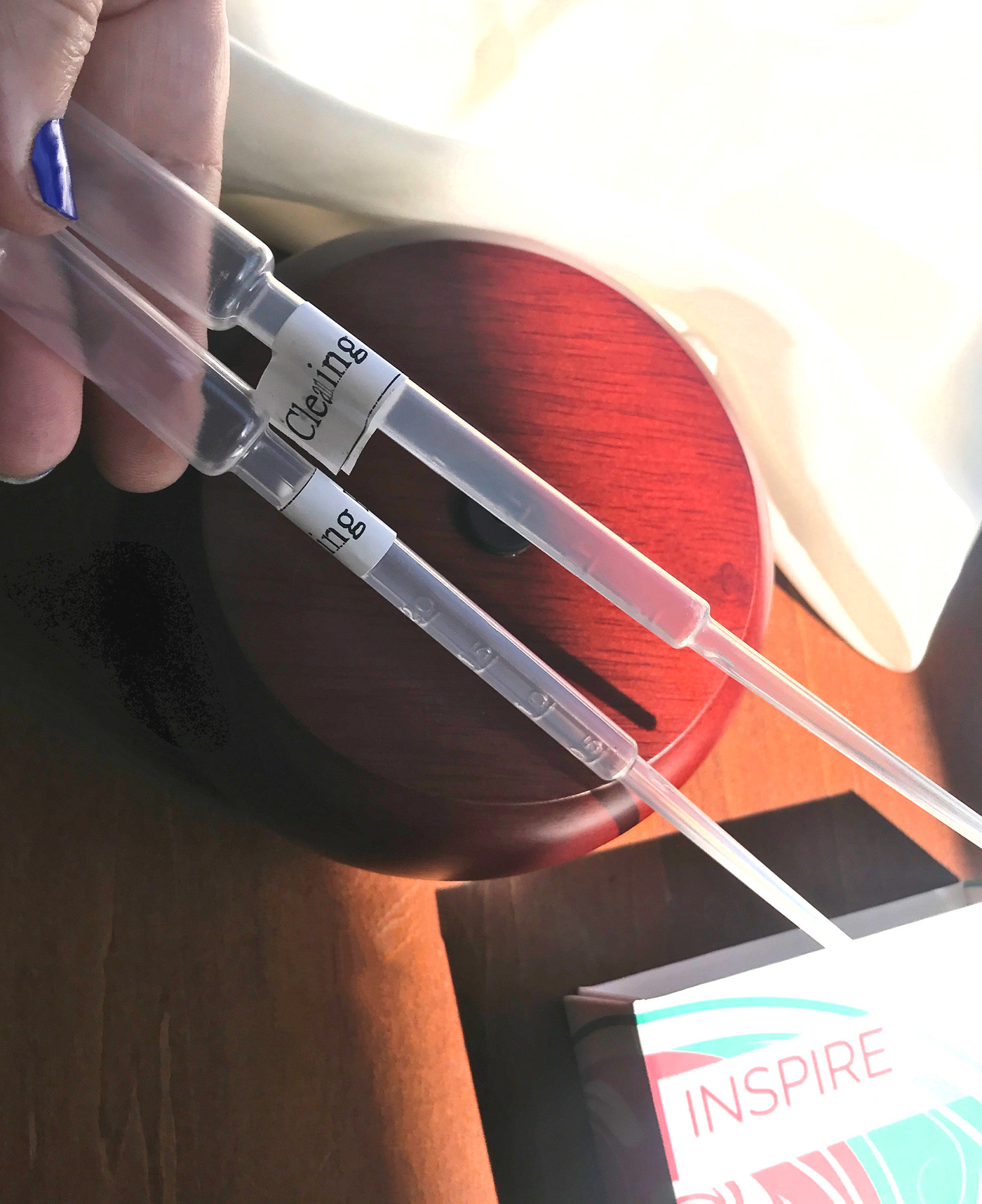 General cleaning weekly is recommended if you use the diffuser daily.  Just remove the glass cap and reservoir from the base ~ again, do not twist the base off.  Using the plastic pipette, add 99%  rubbing alcohol (isopropyl alcohol) to the reservoir and swirl it around.  Using the plastic pipette, flush the alcohol into the micro-tubes to remove any oil residue or blockage ~ do not rinse out the alcohol.  Wipe the bottom of the glass with a tissue and insert back into the base.  Turn the diffuser and let the alcohol cycle through the diffuser for 5 to 10 seconds, being careful not to breath in the fumes or use near an open flame. After  5 to 10 seconds, remove the alcohol from the reservoir and you are ready to diffuse oils again.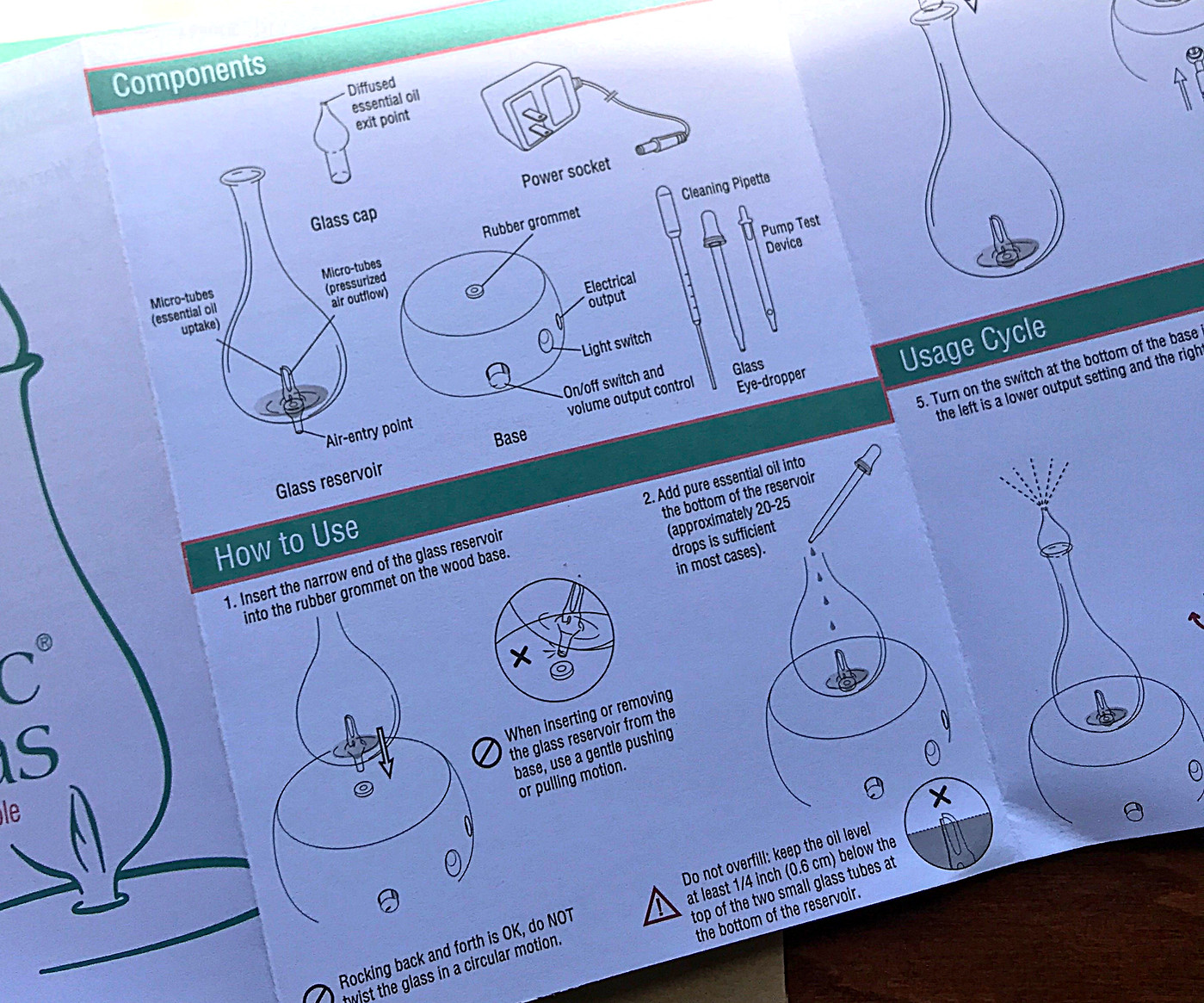 You should deep clean your Nebulizing Diffuser monthly.  To clean, unplug unit first and then gently remove the reservoir from the grommet  in the base ~ again, do not twist to remove. Fill your sink or a container with boiling hot water with dishwashing  liquid and place both the diffuser and cap in the hot water.  Let it soak for an hour, adding hot water now and then to keep the temperate up, before rinsing  and let it air dry.  
Specs
7.5  inches (20 cm) H X 5 inches(13cm) W

Works with either 110v or 220v electrical outlet

Comes with an electrical plug adapter for your country's market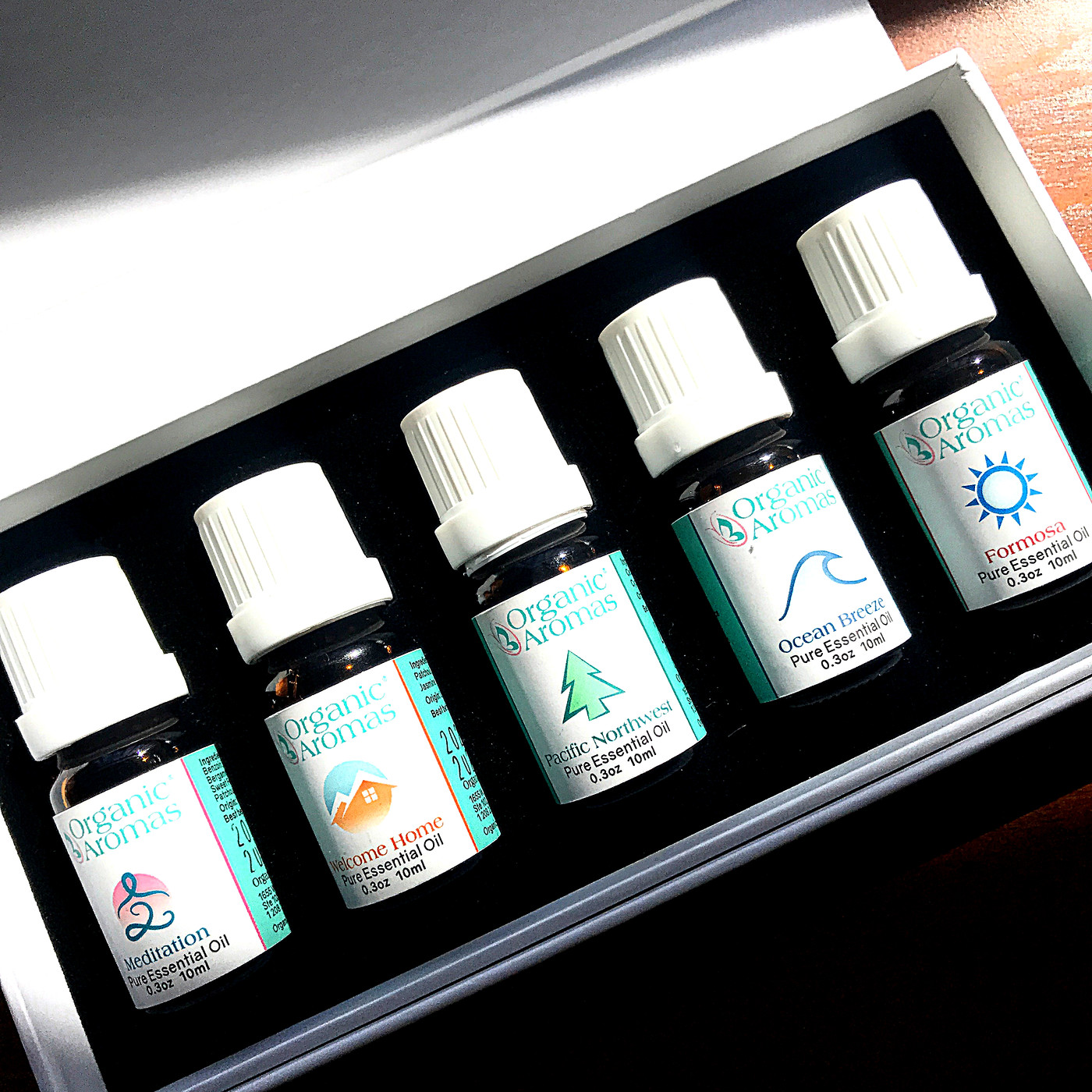 I chose The Elements Premium Essential Oil Blends Collection in Inspire for my oils ~ this five piece set contains skillfully made, complex aromatic combinations of oils that have a specific purpose and intention with their therapeutic benefits.    The Elements has two main components ~ Awaken and Inspire, using over 60 different essential oils and formulated by Organic Aromas' own  in-house aromatherapists. 
You can purchase both of them together or individually.  The "Inspire" portion represents Him, the strength, the poise, the giver and the protector ~ the fragrances are are robust, woody, earthy and fresh. The "Awaken" side, represents Her, the gentle, the vitality, the receiver and the nurture ~ the scents are  sweet, floral, fruity and mild. Now, I am a Her, but I like more woody scents which is why I chose Inspire.  All of us have both yin and yang, him and her qualities.
Pacific Northwest – Pine, Cedarwood, Patchouli, Cypress, Juniper
Ocean Breeze – Peppermint, Sweet Fennel, Cajeput, Lime, Eucalyptus, Rosemary, Coriander
Formosa – Hinoki, Tea Tree, Amyris, Rosemary, Tangerine, Aloeswood
Meditation – Benzoin, Dill Seed, Clove, Rosewood, Bergamot, Myrtle, Amyris, Sweet Fennel, Geranium, Patchouli, Hinoki
Welcome Home – Pine, Cedarwood, Patchouli, Eucalyptus, Lemon, Jasmine, Tagetes, Petigrain
I also chose Inspire due to the Formosa scent ~ Formosa is what Taiwan used to be called, and I wondered at first if this was a Taiwanese brand.   Organic Aromas told me that Formosa is an homage to Taiwan,  where the trademarked nebulizing diffuser was invented and manufactured.  Formosa has hinoki in it, which is a very wonderful and unique essential oil native to Taiwan and Japan and found nowhere else.   So, I was partially correct!  This set is just wonderful for those who like woody, aromatic scents. 
Where to Purchase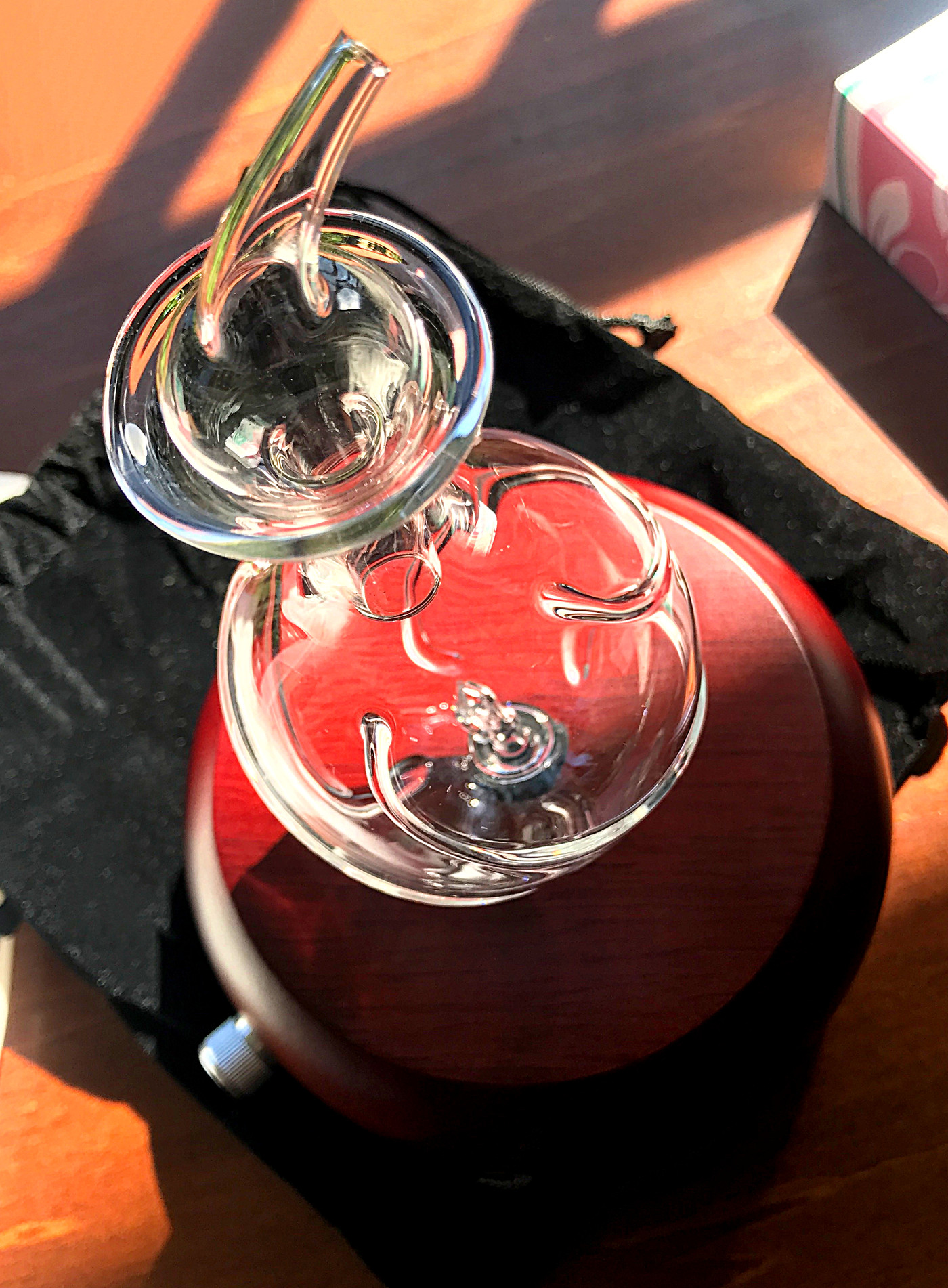 You can purchase Organic Aromas Nebulizing Diffusers at their website.  They have a variety of diffusers, from glass and wood, to ceramic versions, plug in and wireless, rechargeable diffusers, hand-carved, laser-engraved and even color printed diffusers, where you can create the design or give them a photo and have a personalized diffuser.  The Radiance Nebulizing Diffuser is $98.00 (click here to purchase) They have over 40 essential oils, from organic, single, oil blends, roll on and also gift sets.  Some of their gift sets come in a beautiful wooden box as well.   The Elements Premium Essential Oil Blends in Inspire is $55.00 (click here to purchase)  
[ products received for review purpose ]