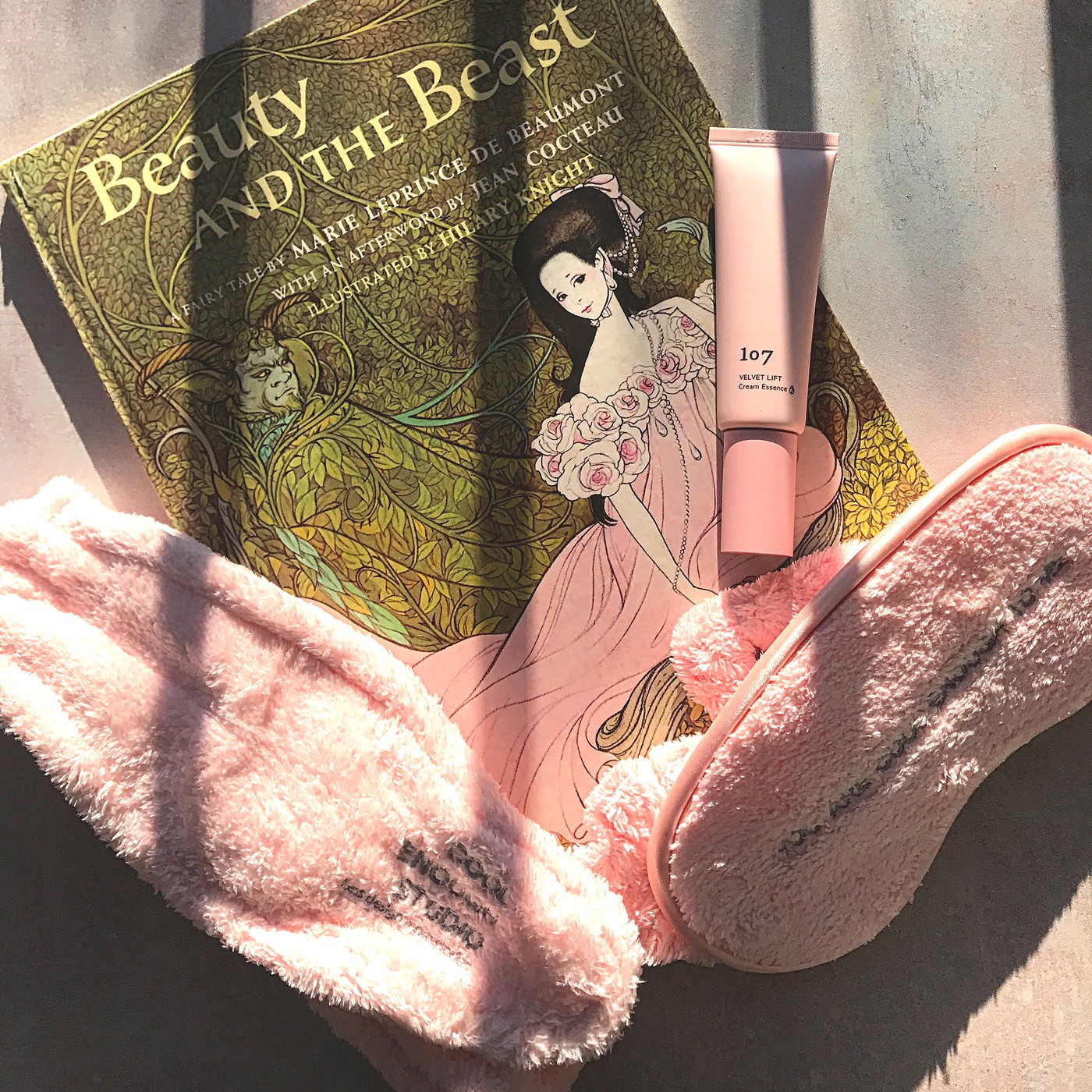 My absolute favorite 107 skincare product was the Core Flex Cream Essence.  I wasn't alone in loving this essence, as many of my readers and followers who loved 107 thought this was one of the best items in their catalog.  107 went thru a redesign last year and slightly reformulated some of their original classics ~ you can find all of my 107 reviews here ~ and they added some new products as well.   However, the replacement for the Core Flex Cream Essence wasn't available for a while and then it was released as  Velvet Lift Cream Essence ~ but it is only available in the South Korean online shop!!   
I was gutted and kept asking about when this product would be released in the USA store, but with no target date.  To my great surprise, I received this product as a gift over the holidays, as Chloe at 107 knew how much I loved the original and wanted to try the new version.   I did get requests to review this and I also can post how you can order it from Korea. 
Skin Type/Concerns: Oily, blemish prone, pores, aging concerns with fine lines/wrinkles and hyper-pigmentation
I received these products complementary to review and was not paid.  All reviews are my own honest opinion and  I never have been asked to write copy for a brand.  This blog post might contain promo codes, affiliate and referral links, which using my links will help generate a small commission that helps support my blog at no extra cost to you.
Brand Intro
107 (One O Seven) is a brand that I truly love and have loved from the beginning.   They are such a fantastic brand, using naturally fermented vinegar as their key ingredients.  107 is a family owned business and they also run Korea's largest naturally  fermented vinegar brand~ Hanega.  Ohk Ran Chung, a pharmacist,  developed a specially aged vinegar with 21 oriental herbs which will produce essential amino acids, which helps rejuvenate and purify your skin.
There are 8 essential amino acids in the award winning 107 fermented Hanega vinegar and they are all natural and organic.  Our body will easily absorb natural nutrients and these essential amino acids are anti-aging, increase the skin's tone and elasticity, while healing and strengthening your skin.  If you are wondering what 107 stands for, it is their 107 secret formulas which have been in their family for 35 generations.
The Cuddle Sheet Masks review is here, and I received these products complementary for review purposes from 107 Skincare. 107 does not use mineral oils, SLS/SLES, synthetic dyes or fragrances, formaldehyde and they test their formulas to ensure that there is no 1,4-dioxane contamination, which is a trace element that can be found in skincare.  It is considered a human carcinogen, causing irritation to skin.   You can read more about it here at the FDA website.  107 is a cruelty free brand and now has recyclable packaging.
Key Ingredient: Vinegar 
107 uses cosmetic grade vinegar that has been naturally fermented for over 7 years and contains 8 essential amino acids, for a total of 17 amino acids, along with glutamic acid and acetic acid.  One of the revamps 107 did to the formula was to use vinegar that had been fermented longer, from 5 years to 7 years ~ as the longer it ages, the higher the concentration of postbiotics.  Okay, we know what probiotics and prebiotics are, but what are POST-biotics?
Postbiotic uses the "non-viable bacterial products or metabolic by-products from probiotic bacteria". * Postbiotics are the by-product from probiotic bacteria fermentation and it isn't a new type of "biotic".   I have never heard that term before, but examples are peptides, enzymes, polysaccharides, acids ~ such as lactic acid. So postbiotic is a proven beneficial ingredient in skincare. * source dermatologytimes  
Vinegar is a natural anti fungal, antibacterial, and anti-inflammatory and it will help restore the pH balance to your skin. It contains acetic acid and is known to kill off bacteria and reduce acne. By restoring pH balance to your skin, it will help make your skin inhospitable for bacteria as well, while helping your skin create essential proteins and fatty acids.  The vinegar used in these products are from wheat grown in the Gurye region in Korea ~ why is this interesting? The Gurye region grows its wheat completely free of agricultural chemicals and it is processed free from preservatives and bleaches.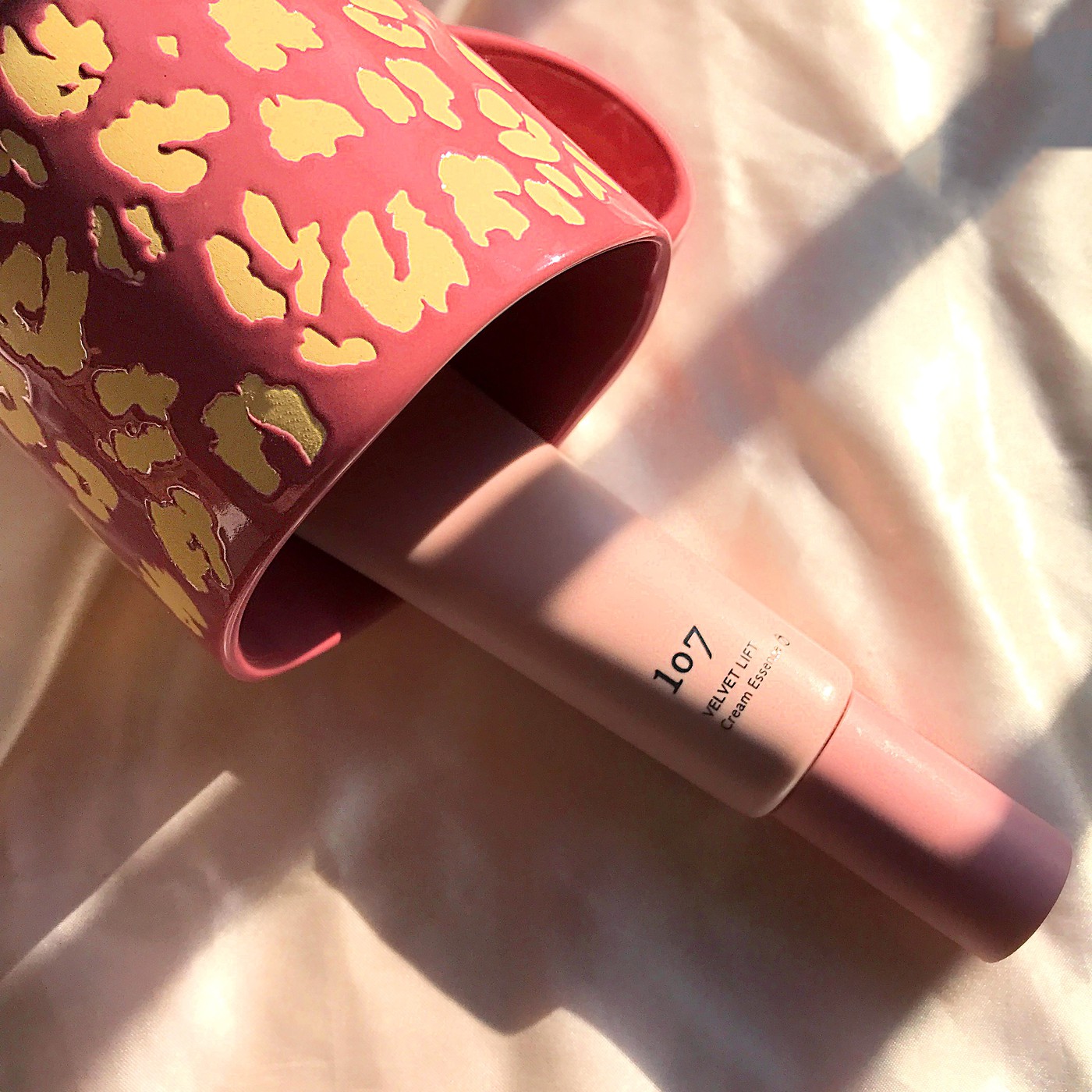 Velvet Lift Cream Essence comes in the new 107 packaging ~ this is a pink tube with a pump applicator.  The size is 50 mL, but the tube is a lot more compact that the original Core Essence bottle.  The new formula has more additions than subtractions as well as keeping some of the favorites, along with the classic vinegar: Squalane penetrates and absorbs rapidly into your skin and has anti-oxidant properties, helping prevent UV damage and hyper-pigmentation age spots, helps cellular growth and is an anti-bacterial. This is an excellent moisturizing ingredient. This ingredient also helps extend the shelf life of other oils, so this product is very stable.
Polyglutamic acid is made from fermented soybeans (natto) and helps moisturize and exfoliate old skin cells. It can penetrate to the deepest layers in your skin, locks in moisture and helps increase the production of NMF (Natural Moisturizing Factor). Retinyl palmitate (derivative of Vitamin A) is a gentle form of retinol and since it isn't as irritating, it is good for sensitive skin types. Retinyl palmitate helps aid in the communicating between your cells so they will renew, regenerate elastin and collagen for firmer skin and prevent some of the damages found with aging skin ~ wrinkles and fine lines.  It also acts as an exfoliator, helping to remove dead skin cells and brighten your skin tone. However, because it is gentler, it takes longer for these effects to be noticed. Arachidyl alcohol is derived from peanut oil and it acts as an emulsion.  It is a fatty alcohol and will not dry your skin.
Arbutin breaks down into hydroquinone, which is a compound that prevents melanin formation and is a common ingredient in skin-lightening products. Arbutin is much gentler and safer than straight up hydroquinone and is a popular skin brightening ingredient.      Allantoin moisturizes, exfoliates and softens skin, making it look smooth and refined, along with reducing and relieving irritation, while yeast derived adenosine provides anti-wrinkle and anti-inflammatory benefits
The new kids on the block are amino acid arginine helping to aid in the healing and detoxing of your skin. It also helps guard against the formation of wrinkles and loss of skin firmness.  Ivy has fantastic benefits in skincare ~ it firms, tones and moisturizes skin while reducing redness, swelling and helps detox your skin.  Additional emollients were added: glyceryl stearate, peanut oil, rosehip oil along with botanical skin conditioning ingredients with melon, peach, pear, anise, vanilla and rose water, which thankfully the last ingredient is far down the ingredient list and doesn't bother me.   
Ingredients: purified water, butylene glycol, squalane, caprylic/capric triglyceride, arbutin, cetearyl alcohol, 1,2-hexanediol, glyceryl stearate, cetearyl olivate, dimethicone, arachidyl alcohol , sorbitan olivate, polyacrylate-13, peg-100 stearate, behenyl alcohol, hydrogenated lecithin, polyisobutene, caprylyl glycol, arginine, allantoin, arachidyl glucoside, acrylate /c10-30 alkyl acrylate crosspolymer, tocopheryl acetate, xanthan gum, ethylhexyl glycerin, retinyl palmitate, scutellaria baicalensis root extract, panthenol,peanut oil, adenosine, polysorbate 20, sorbitan isostearate, polyglutamic acid, sodium metabisulfite, rosa canina (rosehip) fruit oil, pyrus communis (pear) fruit extract, rosa damascena flower water, prunus persica (peach) fruit extract, hedera helix (ivy) leaf/stem extract , pimpinella anisum (anise) fruit extract, vanilla planifolia fruit extract, tocopheryl acetate, vinegar, cucumis melo (melon) fruit extract cosDNA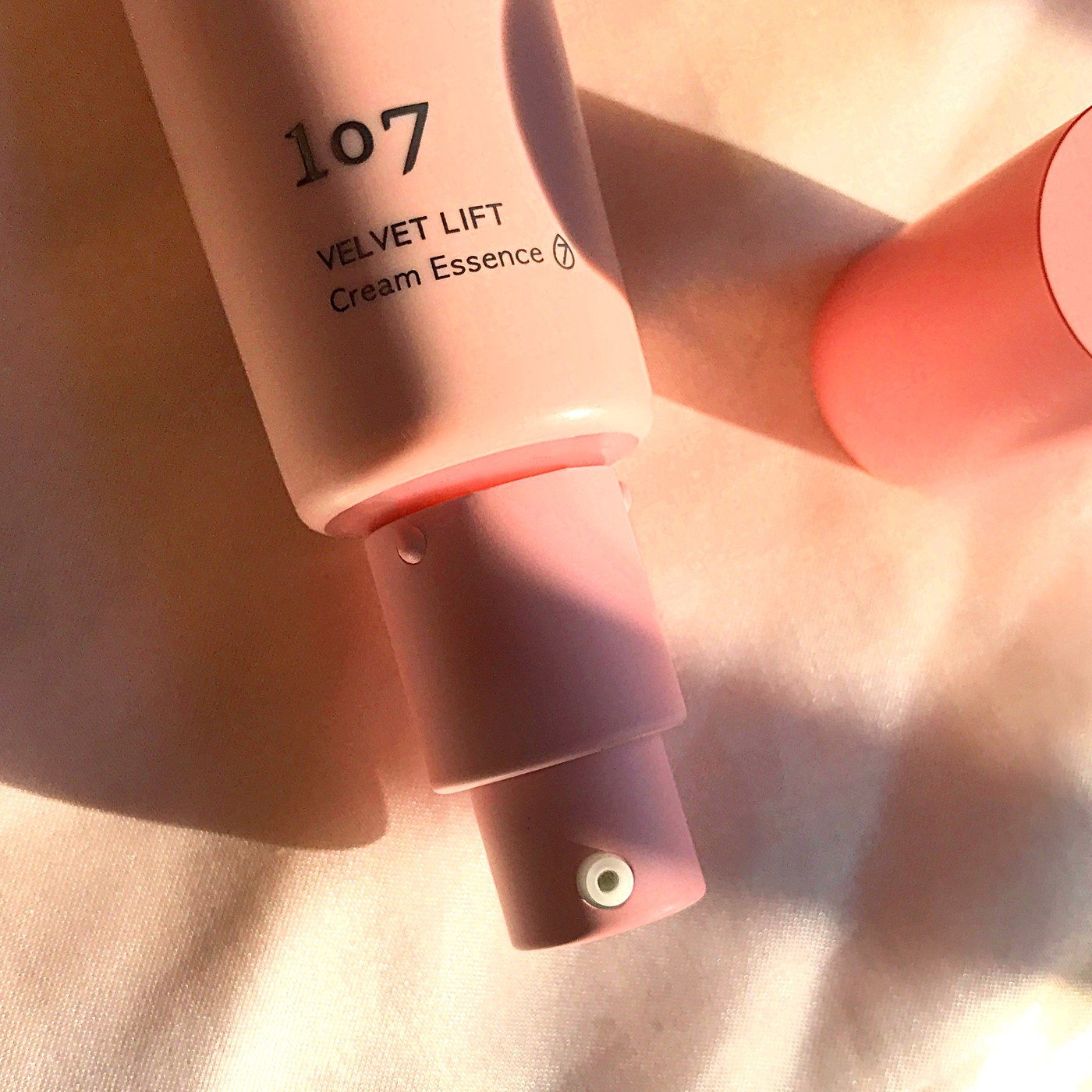 I really like the new packaging ~ the soft pink vinyl tube with the pump applicator makes this easy to carry in a small bag.  It is very travel friendly.  The cream is white and very soft, with no fragrance that I can detect.  It has a bit of firmness to it but it does spread out easily and absorbs nicely in to the skin, without any sticky or tacky residue.  It is not a heavy cream essence at all, but it does lean more to a cream than a lotion texture, yet it is still lightweight.

Just like the old Core Flex Cream Essence, I can use this product as an eye cream as well ~ it really protects and moisturizes the fine lines and wrinkles around my eyes, plumping up the skin nicely.  I find that this little tube carries the same great benefits as the original formula and helps brighten my skin tone, soften the appearance of fine lines and wrinkles and provides a nice velvety finish on my skin, not dewy, not matte, just very natural looking. 
Let's Compare
If you just want to know how to purchase the Velvet Lift Cream Essence, skip over this to the bottom of this blog post.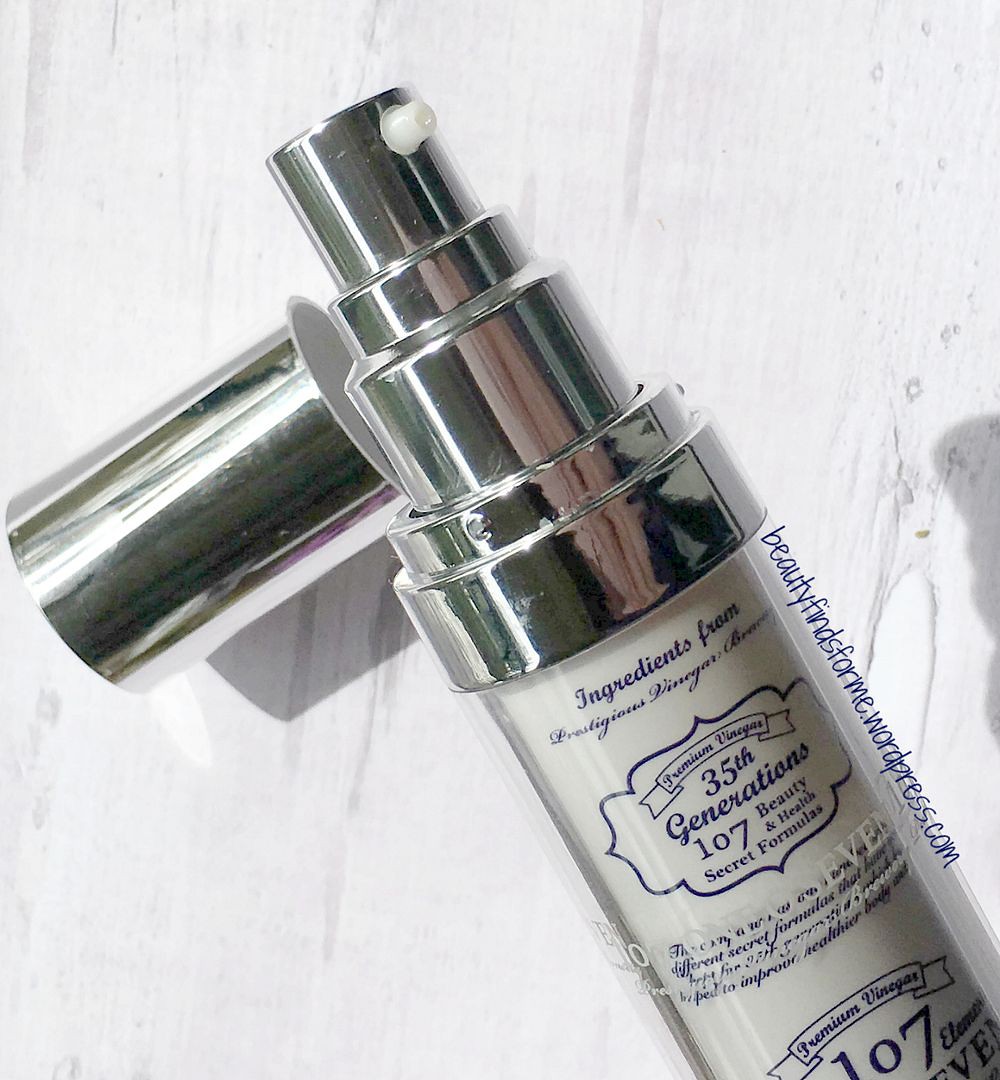 107 Core Flex Cream Essence ~ I no longer have this product, as it is long gone ~ however, this was a repeat purchase for me since 2017 until it was discontinued. I am going by memory and my detailed blog review on the texture.  You can see this came in a tall white bottle with blue lettering and had a pump applicator.  The cream essence was a creamy colored lotion, very silky, smooth and easy to apply.  It was also very lightweight, so it had a more lighter texture than the Velvet Lift Cream Essence. 

I found that the cream left a soft, supply and velvety texture on my skin, it wasn't sticky or tacky and locked in all of my hydrating products that I applied before it.  It never clogged my pores and never caused any skin issues for me.   This was the perfect moisturizer for my oily, dehydrated skin.   
Old Formula Ingredients:  water, squalane, butylene glycol, cetearyl alcohol, 1,2-hexanediol, arbutin, dimethicone, arachidyl alcohol, polyglyceryl-3 methylglucose distearate, polysorbate 60, polyglutamic acid, polyacrylate-13, cetearyl glucoside, behenyl alcohol, cetearyl olivate, hydrogenated lecithin, tocopheryl acetate, rosa canina seed extract, sorbitan olivate, ethylhexylglycerin, arachidyl glucoside, retinyl palmitate, polyisobutene, xanthan gum, allantoin, caprylyl glycol, scutellaria baicalensis root extract, hydrolyzed hibiscus esculentus extract, polysorbate 20, panthenol, dextrin, adenosine, sorbitan isostearate, caprylhydroxamic acid, glycerin, fragrance, sodium metabisulfite, vinegar cosDNA
Differences 
Ingredients, packaging, scent and texture are the differences I found between the old and new formula.  The scent went from a light baby powder fragrance to one that I do not even notice.  The texture is slightly different ~ I found that the Velvet Lift Cream Essence was a bit more firmer than the Core Cream Essence. I did prefer the texture on the Core Cream Essence a lot more, but the Velvet Lift does spread easily and absorbs nicely.  The differences in the ingredients are below and the reformulated version has a lot more additions to it.  The packaging is a much better improvement in the new release, as it is more compact and easy to carry. 
Added
acrylate/c10-30 alkyl acrylate crosspolymer: Viscosity Control
arginine: Antistatic, Skin conditioning, Moisturizer
caprylic/capric triglyceride: Fragrance, Skin conditioning
cucumis melo(melon) fruit extract: Skin conditioning
glyceryl stearate: Emollient, Emulsifier
hedera helix(ivy) leaf/stem extract: Skin conditioning, Anti-inflammatory, Astringent
peanut oil: Solvent, Skin conditioning, Emollient, Plant extract
PEG-100 stearate: Surfactant
pimpinella anisum(anise) fruit extract: Skin conditioning
prunus persica(peach) fruit extract: Skin conditioning, Moisturizer, Plant extract
pyrus communis(pear) fruit extract: Skin conditioning
rosa canina(rosehip) fruit oil: Skin conditioning, Emollient
rosa damascena flower water: Skin conditioning
vanilla planifolia fruit extract: Skin conditioning
Removed
caprylhydroxamic acid: Preservative
cetearyl glucoside: Viscosity Control, Moisturizer, Emulsifier
dextrin: Viscosity Control
fragrance: Fragrance 
glycerin: Solvent, Moisturizer
hydrolyzed hibiscus esculentus extract: Skin conditioning
polyglyceryl-3 methyl glucose distearate: Emulsifier
polysorbate 60: Surfactant, Emulsifier
rosa canina seed extract: Skin conditioning, Moisturizer, Emollient
Where to Purchase
UPDATE: Jolse Cosmetics is now carrying One O Seven products, including this Velvet Lift Cream Essence.  Jolse ships globally, so you no longer have to find a shipping service.  Click here to purchase the Velvet Lift Cream Essence for $43.40/50mL tube.  And check out all of the products from One O Seven at Jolse here. 
Velvet Lift Cream Essence is only available at the 107 Korean online store  at this time.  It normally retails at 62,000 ₩/$51.18 USD, but is currently 5% off for 58,900 ₩/$48.62 USD for a 50 mL/1.7oz tube.   I suggest using a shipping service and ordering from their website ~ if you are in Korea, you obviously can order directly from their site, 107beauty.co.kr
I recommend Korean Buddy (click here) ~ I have used them many times in the past and have always been pleased with their service.  All you have to do is send them the links and they will come up with the product total.  You pay them, they get the products, weigh it and then give you the shipping costs.  If you have never used Korean Buddy before, you can save 50% off the handling fee by using my blog as a referral https://beautyfindsforme.wordpress.com  
If you are interested in the other 107 skincare products, check out my reviews here.  You can purchase them at 107 Beauty (click here), which has free shipping with purchases over $40.00 in the USA.  If you want international shipping, you can contact them directly (see info page here)
Bemused Korea ships globally to most countries, with free shipping on purchases over $75.00 and  you can purchase them here. They currently are having a sale on certain products at 50% off, using promo code SPRING50
  [  products received complementary for review purposes  blog post contains affiliate and referral links ]