By Wishtrend has released a new product that continues on with their Propolis line ~ last year saw the release of Polyphenol in Propolis 15% Ampoule (review here).  I am pleased that they are expanding on this line, as a lot of people LOVE propolis in their skincare.  I received the Quad Active Boosting Essence for review purposes from Wishtrend.
Some products were complementary to review and was not paid.  All reviews are my own honest opinion and  I never have been asked to write copy for a brand.  This blog post might contain promo codes, affiliate and referral links, which using my links will help generate a small commission that helps support my blog at no extra cost to you.
Skin Type/Concerns:  Oily, blemish prone, aging skin with hyper-pigmentation and fine lines/wrinkles
Why is this called Quad Active?  Well, it's because By Wishtrend is focusing on four, aka quad, ingredients or compounds.
There is 10% of willow bark extract in here ~ willow bark contains   naturally occurring BHA, which is great for unclogging pores, going deep to dissolve and remove oil, dirt, dead skin cells and other debris, leaving your pores clean as a whistle. 
9% cornflower (centaurea cyanus) flower water acts as an an astringent, anti-inflammatory and conditions your skin. It has a rich source of flavonoids which contain high concentrations of antioxidants, helping to combat free radicals and maintain a healthy skin. They also have anthocyanins, which helps slow down collagen breakdown by stabilizing it.
There is only 1% of propolis in here ~ propolis (bee glue) is created by honey bees and is a sticky, resinous goo that is used to build their hives. Propolis has been used for medicinal purposes for thousands of years, and is known for its anti-bacteria, antiseptic, anti-inflammatory and anti-fungal properties as well as speeding up the healing time on wounds.  Propolis treats blemishes, moisturizes, is an anti-aging treatment and really helps glow up your skin.
3 Complex Ingredients make up the last compound in this "quad"

8.7%  mulberry bark (morus alba) is rich in antioxidants, combats free radicals and removes dead skin cells. Mulberry contains arbutin, which is a brightening ingredient and helps reduce the appearance of hyper-pigmentation spots.
The second item in the 3 Complex Ingredient list is  8.7% lotus leaf, which is another fantastic antioxidant ingredient, helping to reserve free radical damage, such as fine lines and wrinkles and hyper-pigmentation.  It also helps hydrate and purify your skin, unclogging pores and gently exfoliating your skin, as lotus naturally contains AHA.  Lotus has multi-purpose benefits ~ it is an astringent, an emollient, with anti-bacterial, antimicrobial and anti-fungal proprieties, so it will keep your skin clean, moisturized and healthy.
Finally, the last ingredient in the 3 Complex is 9% schisandra chinensis fruit also known as schizandra berry, Wu Wei Zi and magnolia vine.  This is a bright red medicinal berry that is a key component in TCM.  Applied topically, it helps with skin elasticity, suppleness and toning. 
This also has fermented honey for moisturizing, antibacterial and nourishing benefits along with fermented black tea, which contains catechin, helping to improve your skin's clarity, texture and elasticity, as its prebotiotics focus on anti-aging concerns. All of these ingredients are EWG Rated Green Level 1-2.
Ingredients: Water, Salix Alba (Willow) Bark Extract(10%), Centaurea Cyanus Flower Water(9%), Schisandra Chinensis Fruit Extract(9%), Morus Alba Bark Extract(8.7%), Nelumbo Nucifera Leaf Extract(8.7%), Methylpropanediol, Glycerin, Saccharomyces/Honey Ferment Filtrate, Saccharomyces/Xylinum/Black Tea Ferment, 1,2-Hexanediol, Propolis Extract(1%), Butylene Glycol, Benzyl Glycol, Hydroxyethylcellulose, Citric Acid, Sodium Citrate, Disodium EDTA, Ethylhexylglycerin cosDNA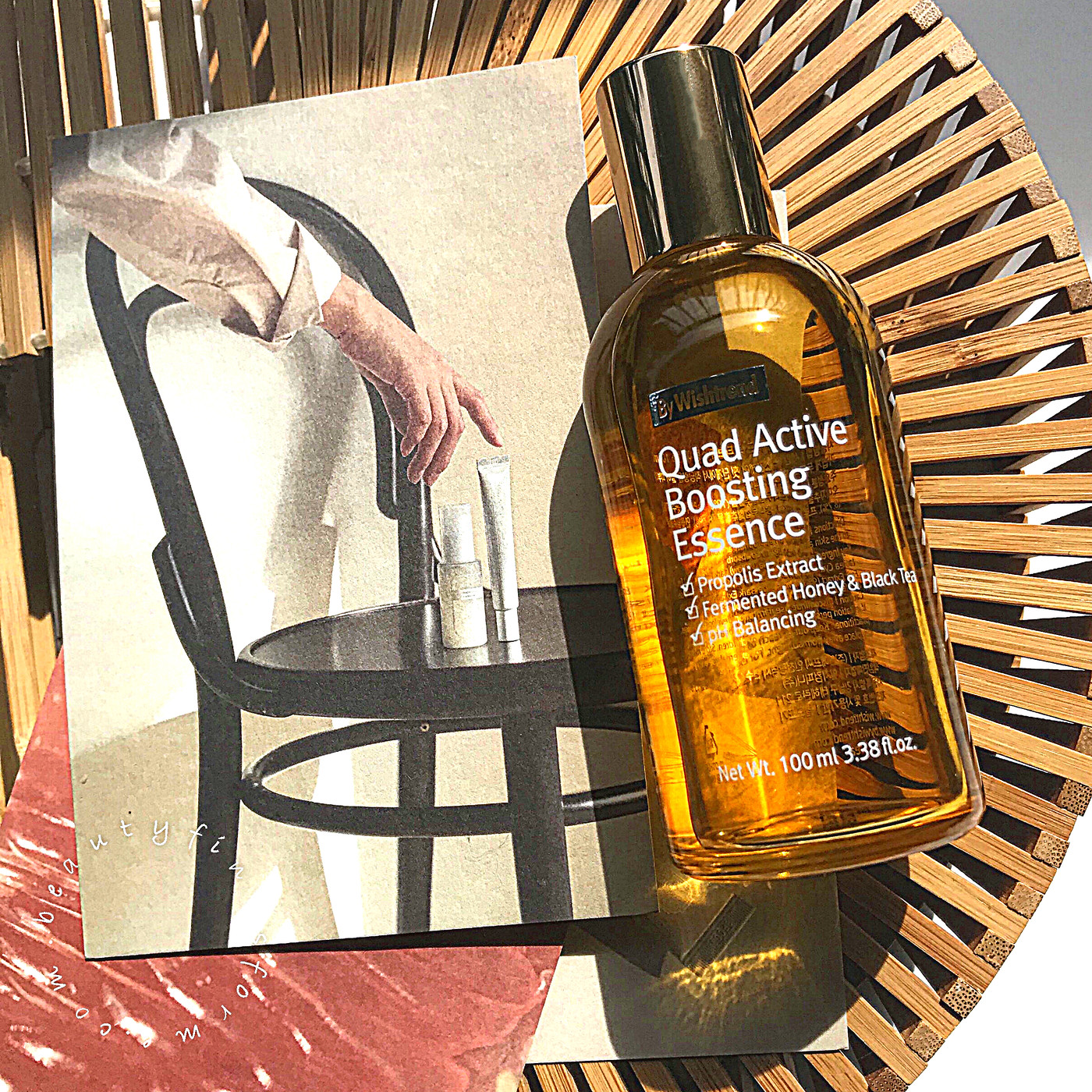 This comes in a clear glass 100mL bottle that is quite elegant looking due to the golden liquid and its golden cap.  This is a very watery essence with a pH level of 5, making it mildly acidic.  With its fermented ingredients, it is almost like an FTE (First Treatment Essence) but not quite. By Wishtrend states this is a serum booster and is to be used after a toner ~ FTE's are used before a toner, so this is a bit different. 

This has a pinhole applicator and the scentless essence comes out nicely.  You only need 3 to 4 drops, but I am a bit more liberal with my skincare products as my skin IS OLD.  So, I like to splash this on my face and neck after my toner step and let dry.  This dries down quickly and sometimes, I will add another layer.   This essence is not irritating and it doesn't leave any greasy or tacky residue.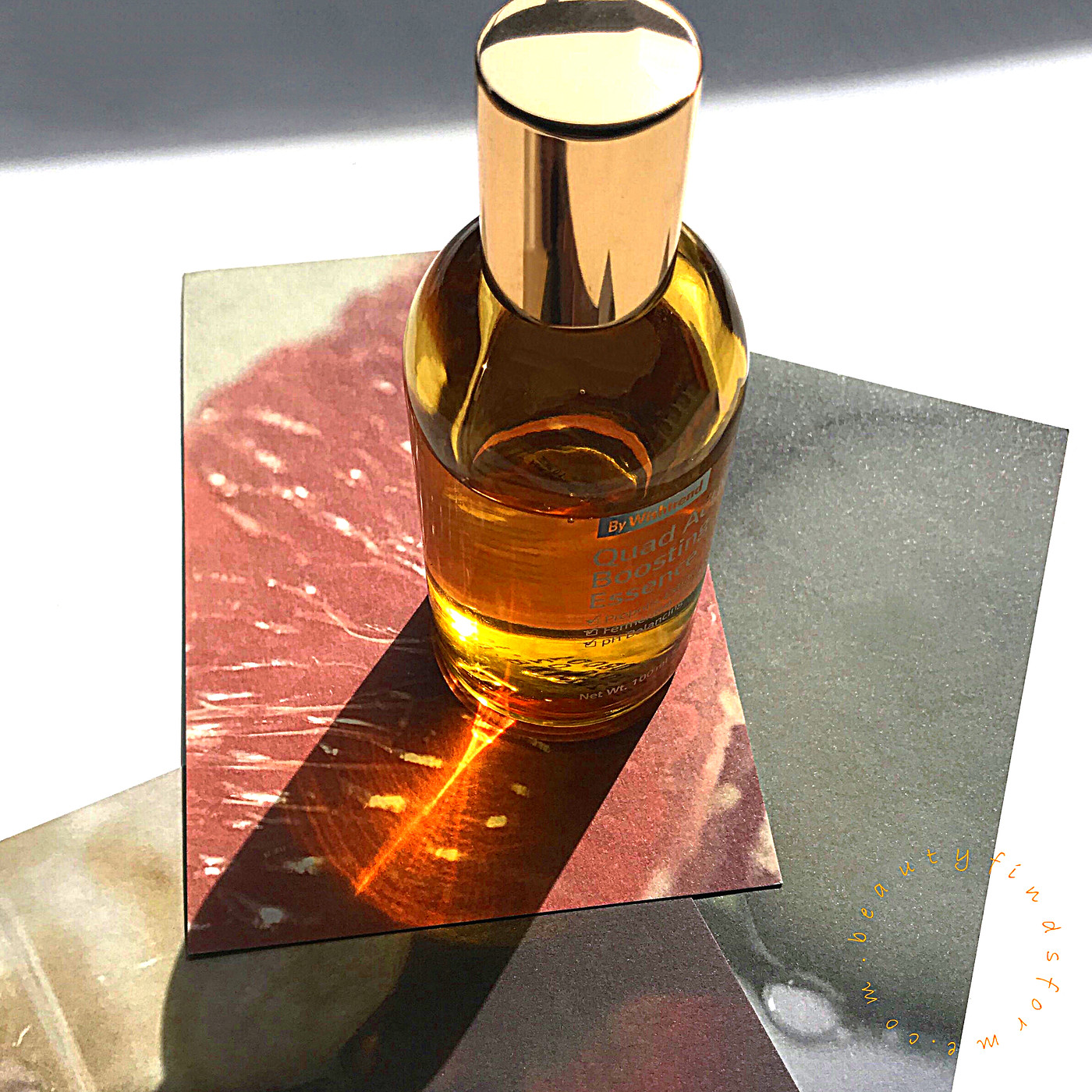 As someone with oily skin, I appreciate that it is hydrating without being too dewy ~ it leaves my skin feeling fresh and moisturized but I do need more skincare products, obviously. This just helps provide an anti-inflammatory and anti-bacterial benefit on my skin, so it prevents blemishes, redness, swelling and also doesn't clog my pores.   I like this product quite a bit and think it is a great summertime skincare product as it is lightweight, hydrating and not greasy with a lot of blemish controlling benefits.   
Where to Purchase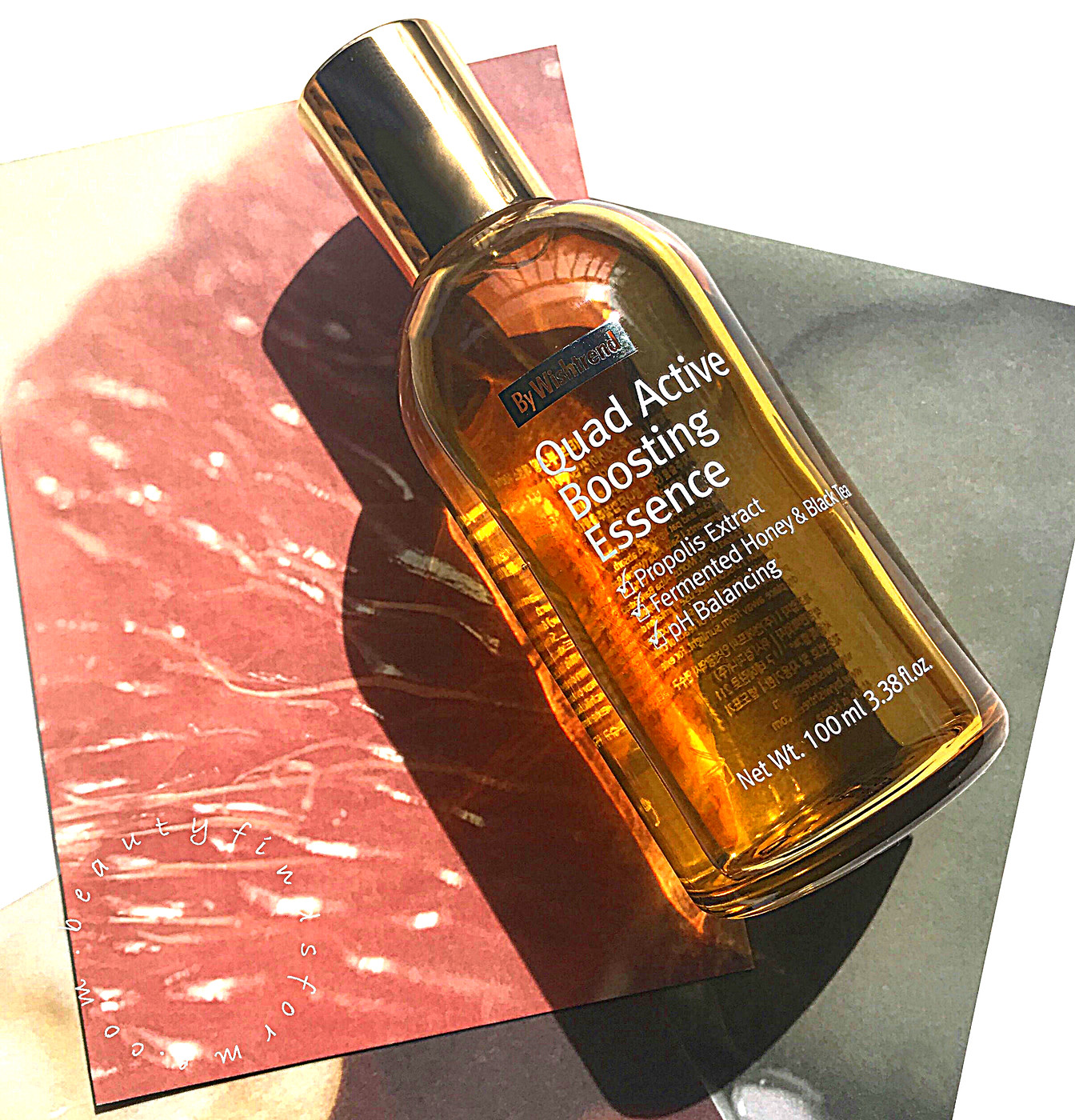 Wishtrend has the By Wishtrend Quad Active Boosting Essence for $23.00 USD  (click here)  and you can use UNBOXINGWISHTREND to get 10% off your purchases  or act quickly and use MICHELE15 to get 15% off your purchases ~ this expires at the end of April.  You automatically receive Free Shipping with purchases $60.00 USD and over.  Wishtrend ships globally and you can pick your own samples now!   
[ product received in exchange for a review. contains affiliate links for a small commission ]