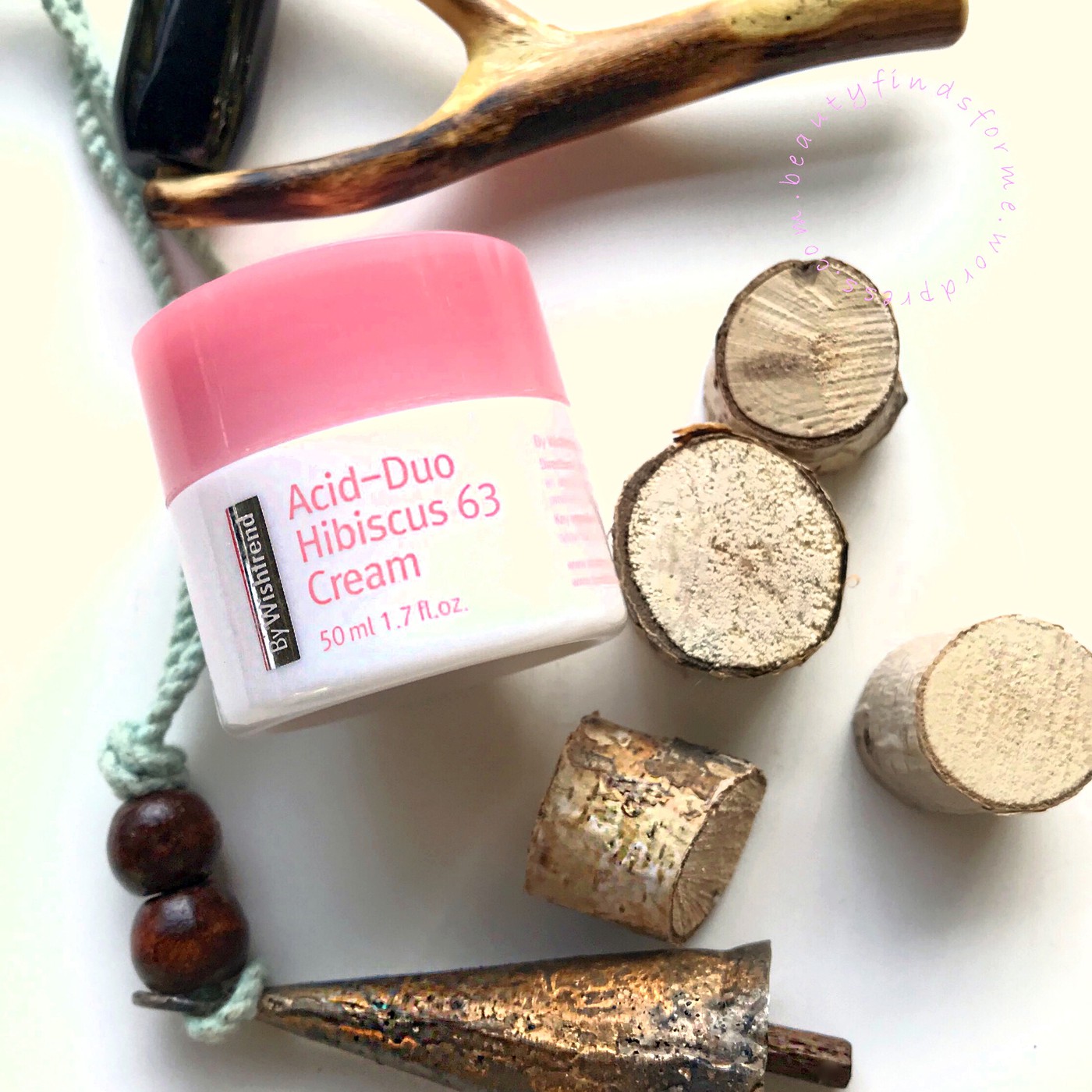 I love and adore By Wishtrend's Acid-Duo 2% Mild Gel Cleanser (review) here and it is on my repeat purchase list.  By Wishtrend's acid treatments have been good for my skin as I also love Mandalic 5% Skin Prep Water  (review) and that one is a HG for me.  Cue in another acid treatment, this time in a cream form!  By Wishtrend is one of several brands that Wishtrend owns ~ they also own Klairs and Jungle Botanics and Wishtrend sent this cream to me for review purposes. 
Some products were complementary to review and was not paid.  All reviews are my own honest opinion and  I never have been asked to write copy for a brand.  This blog post might contain promo codes, affiliate and referral links, which using my links will help generate a small commission that helps support my blog at no extra cost to you.
Skin Type/Concerns:  Oily, blemish prone, aging skin with hyper-pigmentation and fine lines/wrinkles
Ingredients of Note
There is 63% of hibiscus in here  ~ hibiscus is actually an amazing extract with many skincare benefits ~ I had no idea how versatile this ingredient is until I started to do some research on it!  It is anti-oxidant rich, helping combat free radicals to prevent and reverse damage caused by external stresses such as dust, pollution, UV rays.  It contains saponins, a natural cleanser and an organic acid, which will help in removing dead skin cells.  Hibiscus is also an anti-bacterial and will prevent infections and speed up wound healing, which is important if you suffer from blemishes, rashes and other skin issues.
There are two exfoliating ingredients ~ PHA gluconolactone, which acts similar to an AHA, but is more gentle and less irritating and  capryloyl salicylic acid, which is a LHA.  I am seeing this ingredient more in skincare ~ such as Shu Uemura POREfinist2 Sakura Cleansing Oil and By Wishtrend Acid-Duo 2% Mild Gel Cleanser. Salicylic acid is derived from willow tree bard and capryloyl salicylic acid is the a derivative of salicylic acid, so it has all of the anti-bacterial, anti-inflammatory and deep pore cleansing and exfoliating properties as a BHA, but it can be used in lower percentages than salicylic acid.
This has a ton of emollients, moisturizers and hydrating ingredients to help moisturize your skin.  Finally, this has cyanocobalamin, a man-made form of vitamin B12, which  helps with skin issues, such as eczema while soothing and moisturizing.  This cream is free from alcohol, steroids, artificial coloring and fragrance and is cruelty free
Ingredients: Hibiscus Sabdariffa Flower Extract (63%), Butylene Glycol, Water, Glycerin, Cetyl Ethylhexanoate, Caprylic/Capric Triglyceride, 1,2-Hexanediol, Cetyl Alcohol, Gluconolactone, Capryloyl Salicylic Acid, Xanthan Gum, Hydrogenated Lecithin, Ethylhexyl Palmitate, Hydroxyacetophenone, Carbomer, Ammonium Acryloyldimethyltaurate/VP Copolymer, Potassium Hydroxide, Glyceryl Acrylate/Acrylic Acid Copolymer, Dimethicone, Cyanocobalamin cosDNA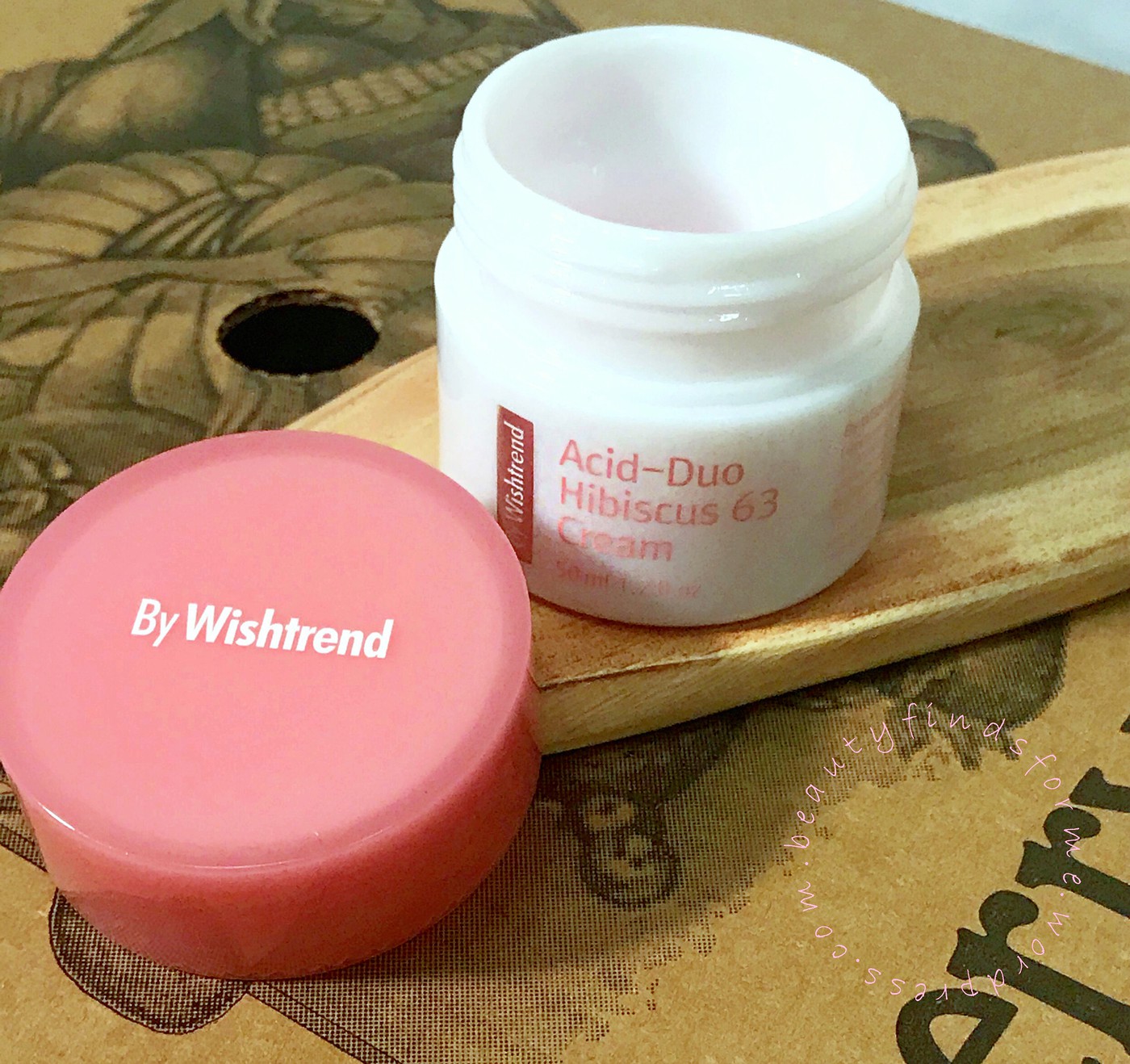 By Wishtrend Acid-Duo Hibiscus 63 Cream  ~ so I have used acid creams before and have had mixed results ~ some were useless and others did a great job exfoliating, but they were quite strong and only could be used at night time.  They were pretty much the same in texture ~ very thick like creams and in some cases, too greasy for me.   However, this cream was described as a light cream type, so I was hoping for a much lighter texture.  OMG, it is ~ it is runny, seriously a light lotiony product in a jar.  I am so happy with this as it means I can use this during the daytime as a moisturizer as well.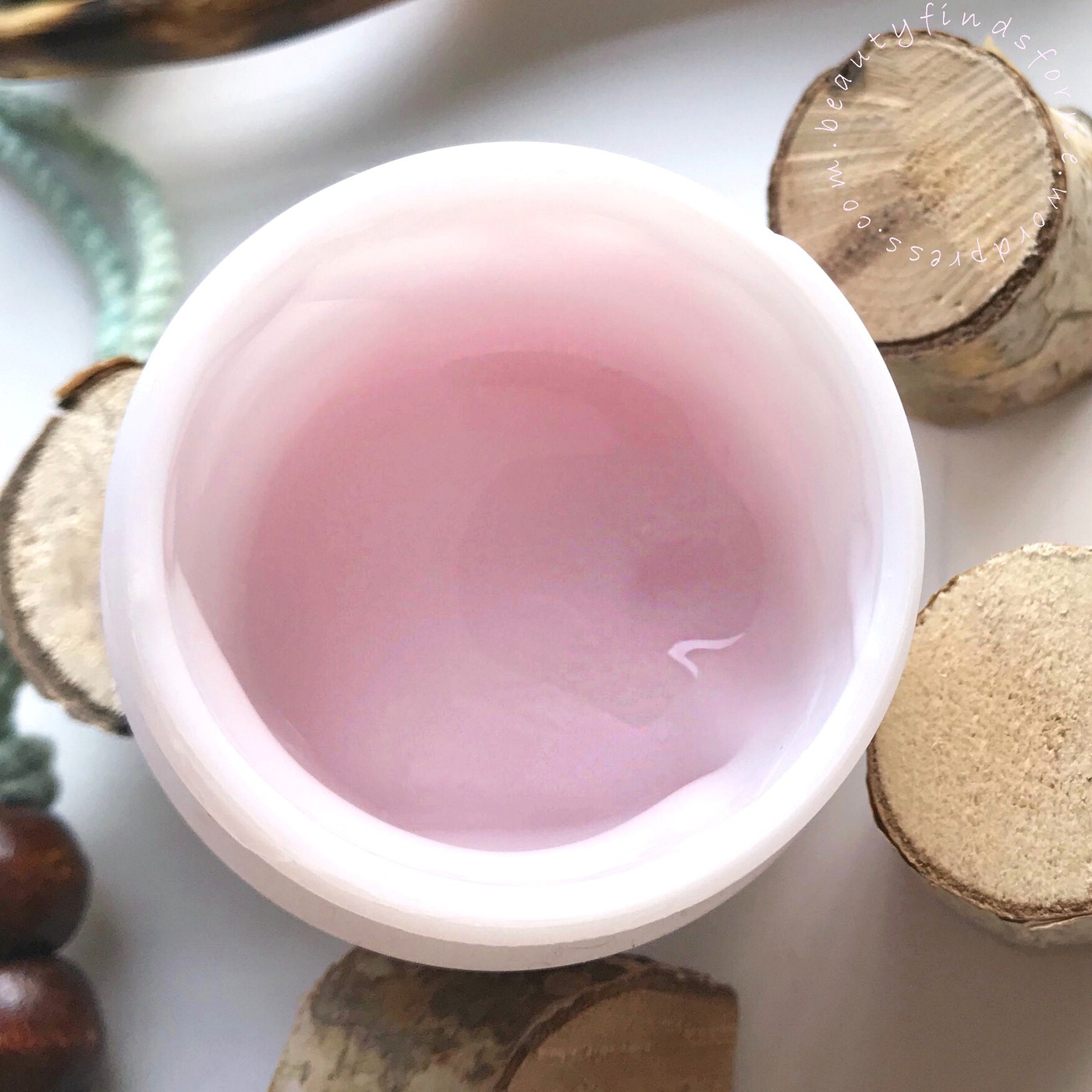 The lotion-cream is a pale pink in color, which is due to the natural coloring of the hibiscus and vitamin B12 ~ B12 is a bright red in color, if you were not aware.  It has a faint bitter medicinal scent that I associate with acid treatments, but it isn't overpowering.  I don't know the percentages of the PHA and LHA, but this does have a pH level of a 5, which falls in the range that By Wishtrend offered: 4.2 to 6.2.  pH level 5 is a nice mild acid, so this is great for day time as well for me.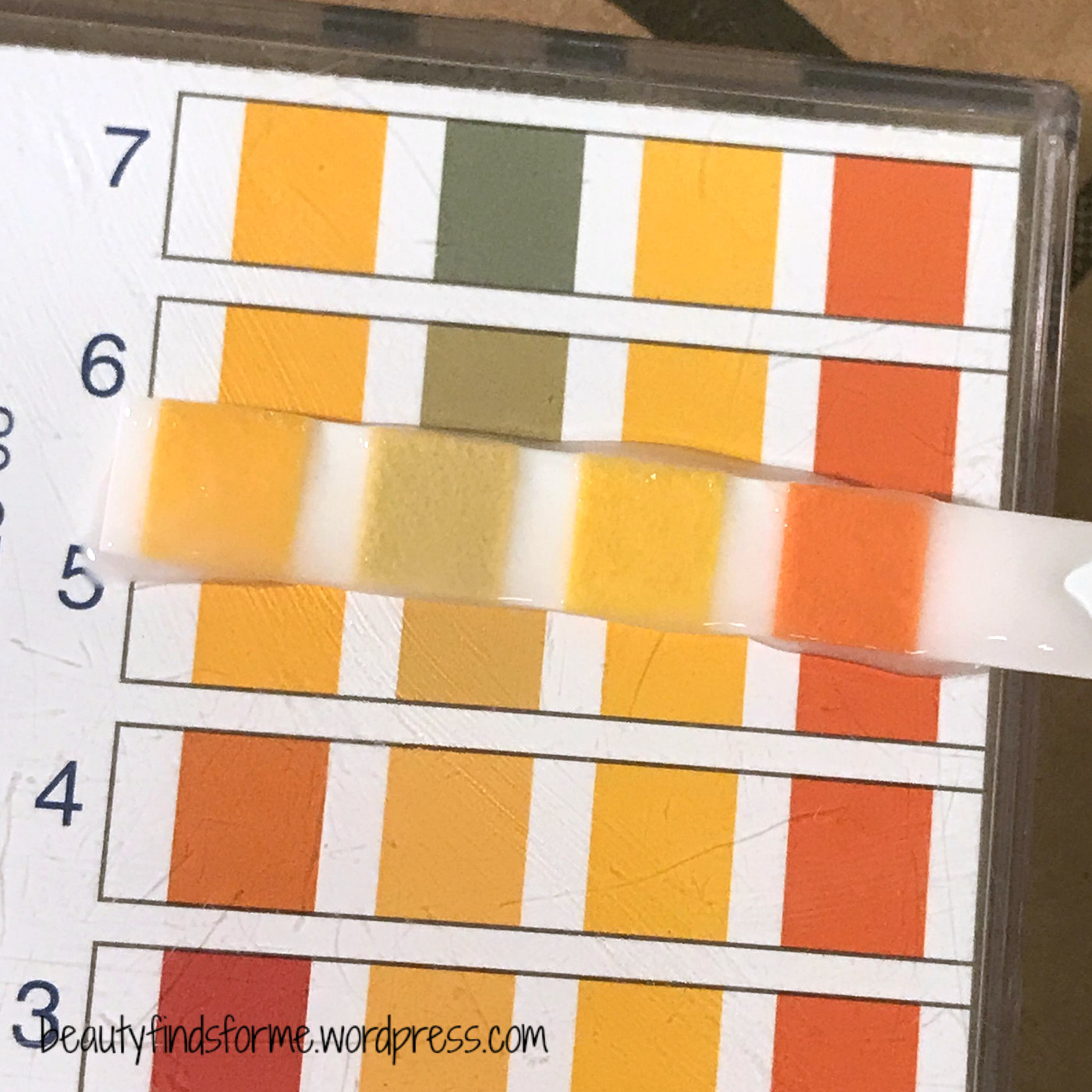 I used this on a daily basis for over a month, in the morning and I also used it several times n the evening.  The addition of a LHA means that excess oil and dirt is removed, so that my pores do not get clogged as much, while PHA will help gently exfoliate the outer layers of my skin.  This is so gentle that I use it daily, as it does not sting or irritate my skin.    

This is very moisturizing, despite the light lotion texture ~ however if you have drier skin, you might not find it moisturizing enough.  I feel this Acid-Duo Hibiscus 63 is more suited for oily and oily/combo types ~ however all skin types could probably use it; you would just need to add additional moisturizing products. 
At first, I wasn't sure what this cream was doing for my skin.  A fellow B-Blogger on Instagram asked me how the cream was and I said, well it's hydrating but I don't notice anything else at this time.  Give it time…. This is an exfoliating cream and it just sneaks up on you.  It unclogs pores and reduces oily skin fairly quickly but then over time, I noticed my skin didn't look so dull and it was more clear.  Now, I have been using other blemish products, but I do notice that when I stop using this cream, my skin seems to not behave as well as when I am using it.
I have and By Wishtrend also states this, use this with vitamin C, niacinamide and other acid products ~ let those products absorb into your skin for about 10 minutes and then apply the cream.  However, I never gave it a wait time, just waited for my skin to dry and I was okay.  They do not recommend applying this cream right after a physical exfoliator.  Always wear SPF, regardless if you use this at night time, day time or both.  
Final Thoughts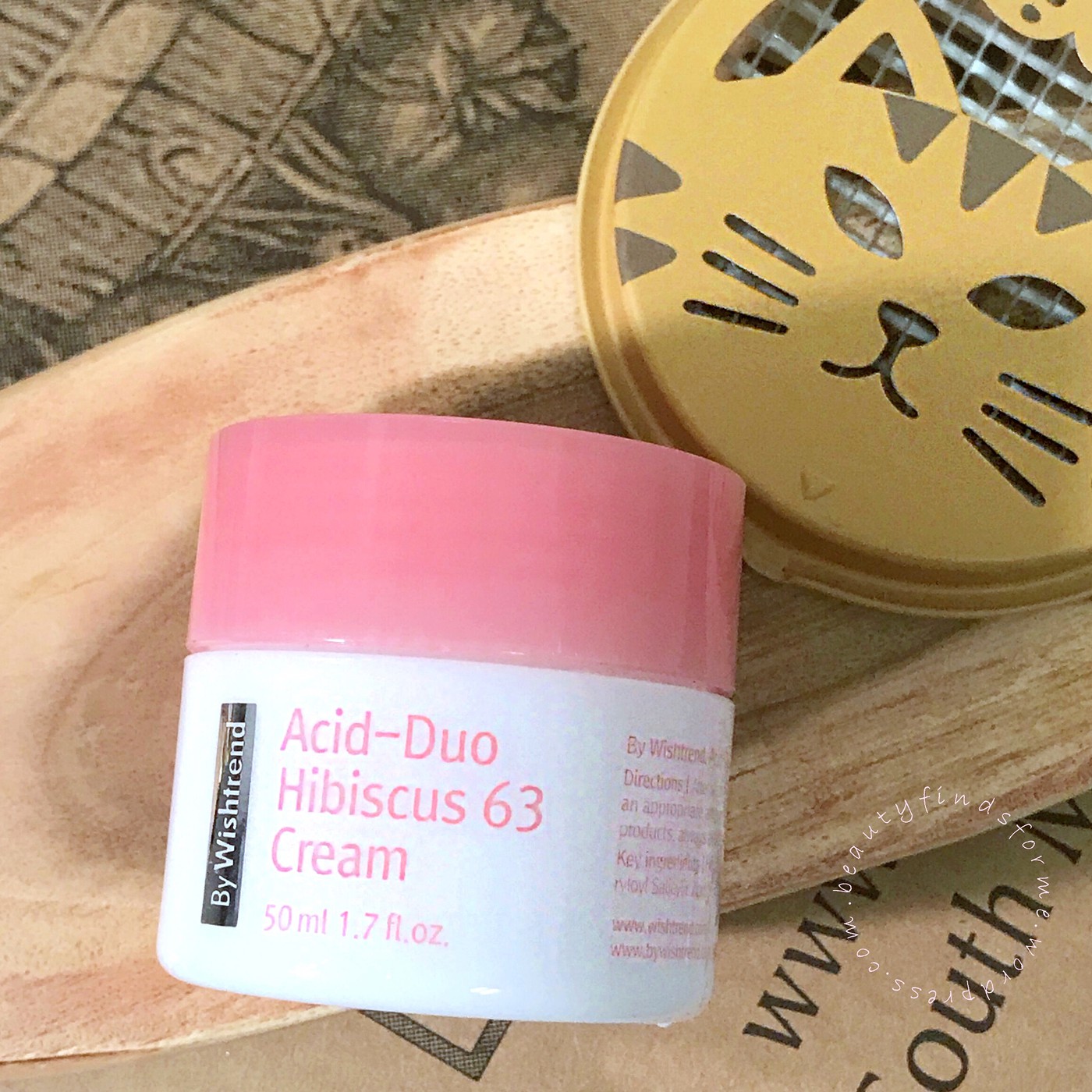 Yeah, I will be purchasing this cream again ~ it is perfect to use with the other two By Wishtrend products that I constantly talk about:  By Wishtrend Acid-Duo 2% Mild Gel Cleanser and By Wishtrend Mandelic Acid 5% Skin Prep Water.  By Wishtrend Acid-Duo Hibiscus 63 Cream really works for oily and oily/combo skin types and it is lightweight, not greasy or tacky and very hydrating while exfoliating on the sly ~ you don't really notice its magic until one day you are wondering why your skin is looking so fine and clear!! 
Where to Purchase
Wishtrend, of course!  I also included links to my favorite By Wishtrend products that I use all the time. 
Wishtrend also bundled their exfoliating products together:  2 Step Acid-Duo Set containing the By Wishtrend Acid-Duo 2% Mild Gel Cleanser and By Wishtrend Acid-Duo Hibiscus 63 Cream  for $39.60 (10% savings)  and 2 Step Gentle Exfoliator Set containing By Wishtrend Acid-Duo 2% Mild Gel Cleanser and By Wishtrend Mandelic Acid 5% Skin Prep Water for $36.90 (10% savings) 
You automatically receive Free Shipping with purchases $60.00 USD and over

Wishtrend ships globally
[ product received in exchange for a review. contains affiliate links for a small commission ]