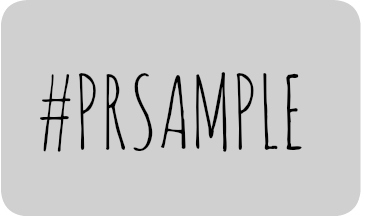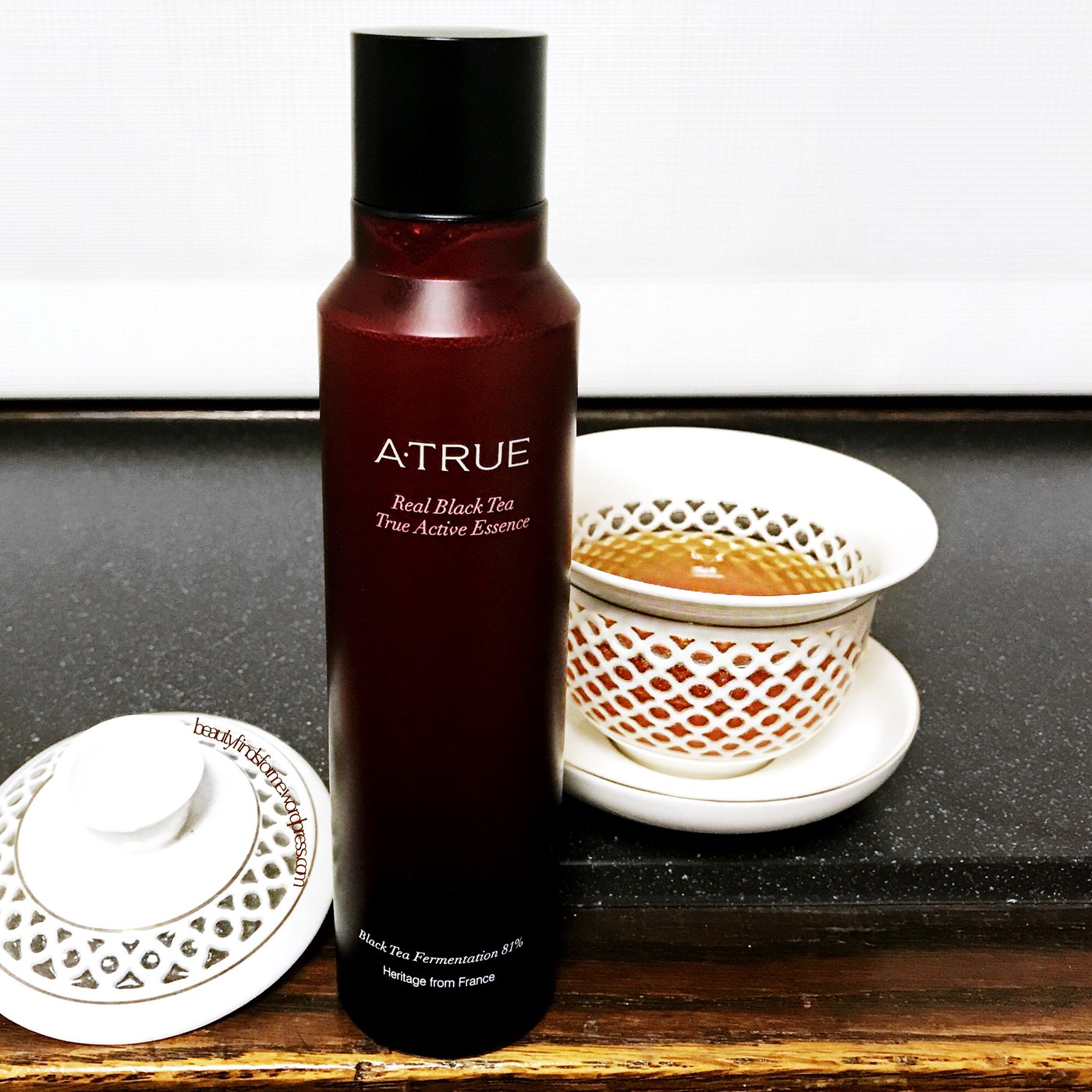 A.True 에이트루 was one of the first brands that sent me products back in 2015.  I loved their tea based skincare line and also their mission statement ~ They are a business that not only upholds ethical management standards but corporate social responsibilities.  They believe in protecting the environment, animal rights and humanitarian causes and they are practice social activism.  I really like that they do not do animal testing and are activists in protecting the environment and are a humanitarian company.  I was really pleased when Cupidrop sent me the 2015 Korea Allure Best of Beauty Award winning essence to review.
I received these products complementary to review and was not paid.  All reviews are my own honest opinion and  I never have been asked to write copy for a brand.  This blog post might contain promo codes, affiliate and referral links, which using my links will help generate a small commission that helps support my blog at no extra cost to you.
Skin Type/Concerns: Oily, blemish prone, pores, aging skin with hyper-pigmentation and fine lines/wrinkles.
What Is This?
A. True Real Black Tea True Active Essence is an FTE :  First Treatment Essence, also known as First Essence, Treatment Essence  and/or Treatment Toners.  These products are very watery concentrated formulas with fermented ingredients, very nutrient-enriched and it preps your skin, while providing benefits that will help reduce/prevent fine lines and wrinkles, dull and uneven skin tones.  These are boosters and provide an instant shot of hydration and nutrients to your skin and prep your skin to accept your other skincare products. 
Key Ingredient
This is made with 81% naturally double fermented black teas ~ This uses the one of the most finest tea grades ~  F.T.G.F.O.P. (Finest Tippy Golden Flowery Orange Pekoe) and the leaves are harvested within Castleton Tea Garden, placed in Darjeeling, India at altitudes of 1,500 meters.  The tea leaves are then processed and fermented in an extensive manner, as illustrated below.
The result is 146,340mg of saccharomyces/xylinum/black tea ferment ~ or kombucha.  Kombucha is supposed to help deliver probiotics to your skin, helping to protect your skin from UV rays and pollution, while aiding in collagen production.  It is full of vitamins, minerals and other skin loving beneficial ingredients.  According to testing Korea Dermatology Research Institute, A.True's black tea water contains 57% more antioxidants than regular green tea and A.True's fermented black tea contained 86% more antioxidants. 
PENTAVITIN® (saccharide isomerate) provides immediate hydration penetrating deep into your skin ~ supposedly, it will "generate a moisture reservoir" that lasts up to 72 hours.  I haven't seen THAT, but this also will reduce flakiness and irritation caused by dry, dehydrated skin, allowing skin to become smooth.   This will bind water to your skin and helps with moisture balance.   Dynalift™ is made from sorghum stalk juice, water, sodium polystyrene sulfonate and glycerin. This compound contains polyosides, helping to smooth and lift, creating a tightening effect.  Its texture is slightly viscous.  Claritea®  is a patented compound made from Paï Mu Tan white tea, propanediol and water.  It is full of polyphenols and will aid in brightening and reducing redness and swelling.  Patented Effipulp® is made of avocado peptides, which helps detoxify your skin, helping simulate the creation of hyaluronic acid while plumping, firming and restoring volume to mature, dehydrated and/or stressed skin types.  Effipulp uses sustainable sourcing from South African plants and is certified by Ecocert.
Other notable ingredients include niacinamide(vitamin B3) is a powerful antioxidant that acts as an anti-inflammatory, improves your skin elasticity, enhance the skin barrier function and also it helps to even out skin tone and reduce post-inflammatory hyper-pigmentation. Trehalose supplies concentrated moisture to your skin and helps retain moisture, preventing your skin from drying out. Panthenol (vitamin B5)helps cellular renewal and is a soothing yet effective moisturizer.  Panthenol is a natural humectant, which retains moisture and hydrates the skin. It also is a good lubricant on the skin, making skin look soft and smooth.  Yeast derived adenosine helps improve the reduction of wrinkles and is also an anti inflammatory.  Shea butter contains a rich source of concentrated natural vitamins and fatty acids ~ oleic, stearic, palmitic, linolenic ~  
Ingredients: Saccharomyces/Xylinum/Black Tea Ferment (146,340mg), Butylene Glycol, Saccharide Isomerate, 1,2-Hexanediol, Glycereth-26, Niacinamide, Diethoxyethyl Succinate, Dipropylene Glycol, Trehalose, Panthenol, Glycerin, Camellia Sinensis Leaf Extract, Persea Gratissima (Avocado) Fruit Extract, Maltodextrin, Propanediol, Caprylic/Capric Triglyceride, Butyrospermum Parkii (Shea) Butter, Hydrogenated Lecithin, Sodium Polystyrene Sulfonate, Sorghum Bicolor Stalk Juice, Adenosine, Tromethamine, Citric Acid, Sodium Citrate, Ammonium Acryloyldimethyltaurate/VP Copolymer, Hydroxyethyl Acrylate/Sodium Acryloyldimethyl Taurate Copolymer, Acrylates/C10-30 Alkyl Acrylate Crosspolymer, Disodium EDTA, PEG-60 Hydrogenated Castor Oil, Water, PEG-40 Hydrogenated Castor Oil, Fragrance cosDNA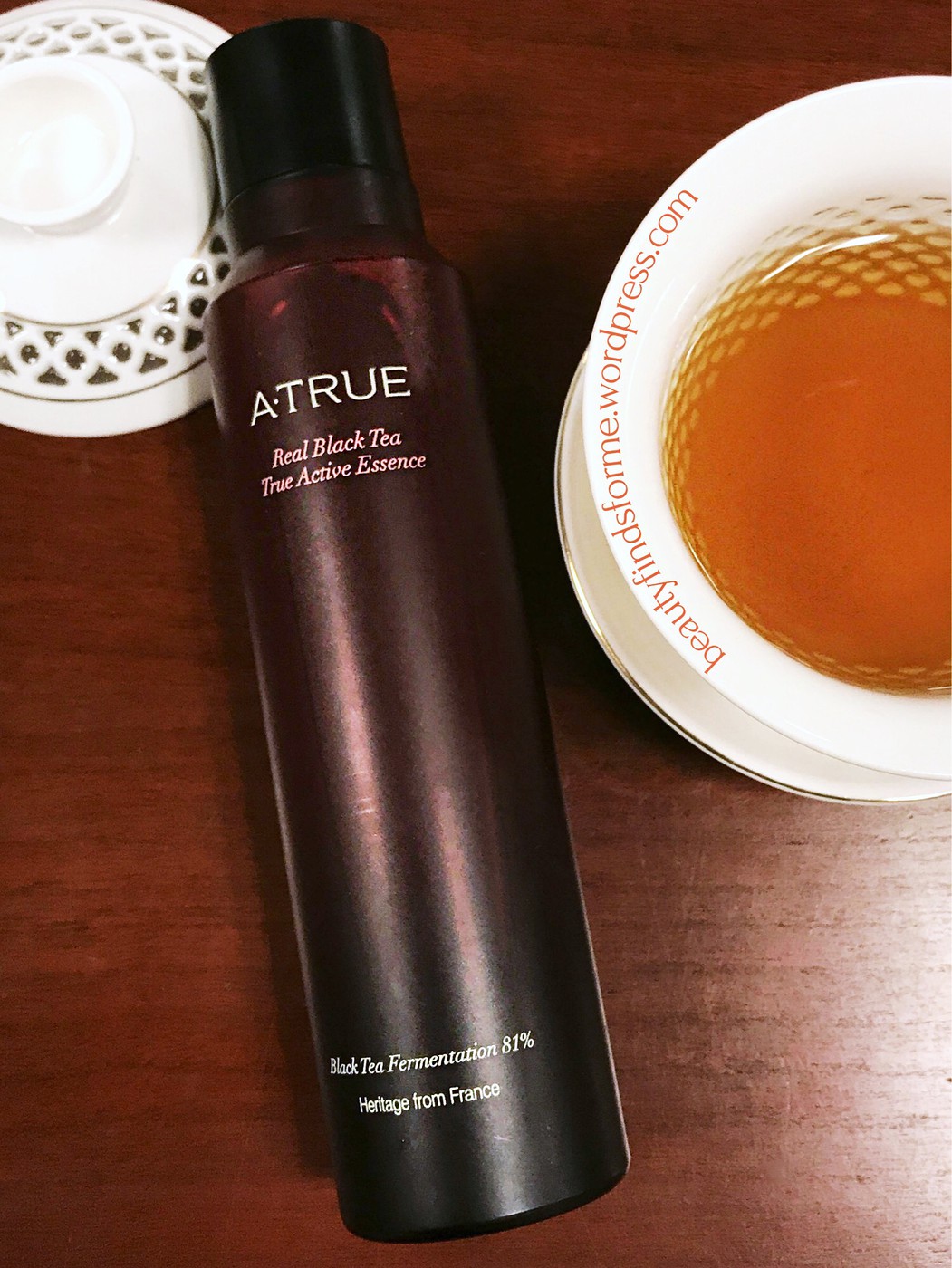 A.True Real Black Tea True Active Essence comes in a minimalist amber-brown frosted plastic bottle, which a black cap ~ the applicator is a pin-hole type, so you just need to tip and shake out the amount you want.  You can use either a cotton pad or pour into your hand, then pat on your face.  With this essence, I like using the latter method.  This has a floral-tea scent to it, not overpowering, but quite pleasant and the very pale yellowish essence looks to be thicker than water but absorbs quickly into my skin.  This has a pH level of 5, so it is balancing while being mildly acidic.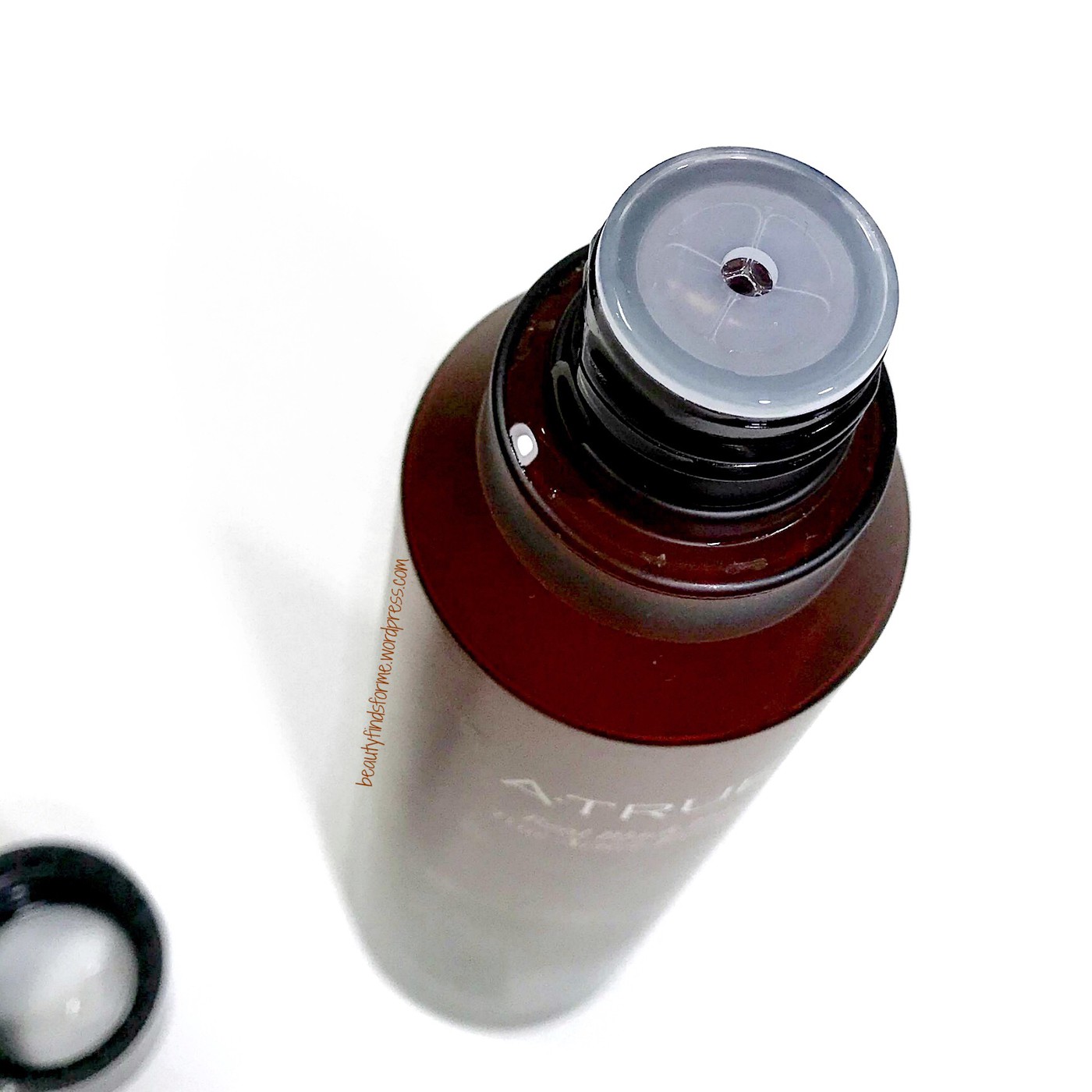 There is a slight tacky feeling on my skin but I can also feel how moisturized it is.  The tackiness goes away as I apply other skincare items to my face.  This has an amazing hydrating and oil reduction benefit ~ it increased my moisture levels by 79% and decreased my oil levels by 62%.  My skin feels very plumped up and I can feel it has a slight tightening effect on my skin as well.  My pores look more smaller (yes, I know nothing can "tighten" your pores) as the Dynalift seems to have astringent benefits.   Despite all of its hydrating properties and shea butter, this does not leave my skin glossy or dewy ~ but beware not to apply too much as that slightly tacky feeling can turn into a sticky mess.   My skin is less irritated, those reddish/purple newly PIH (post inflammatory hyper-pigmentation) spots from blemishes seem to not linger as long and my skin looks brighter overall.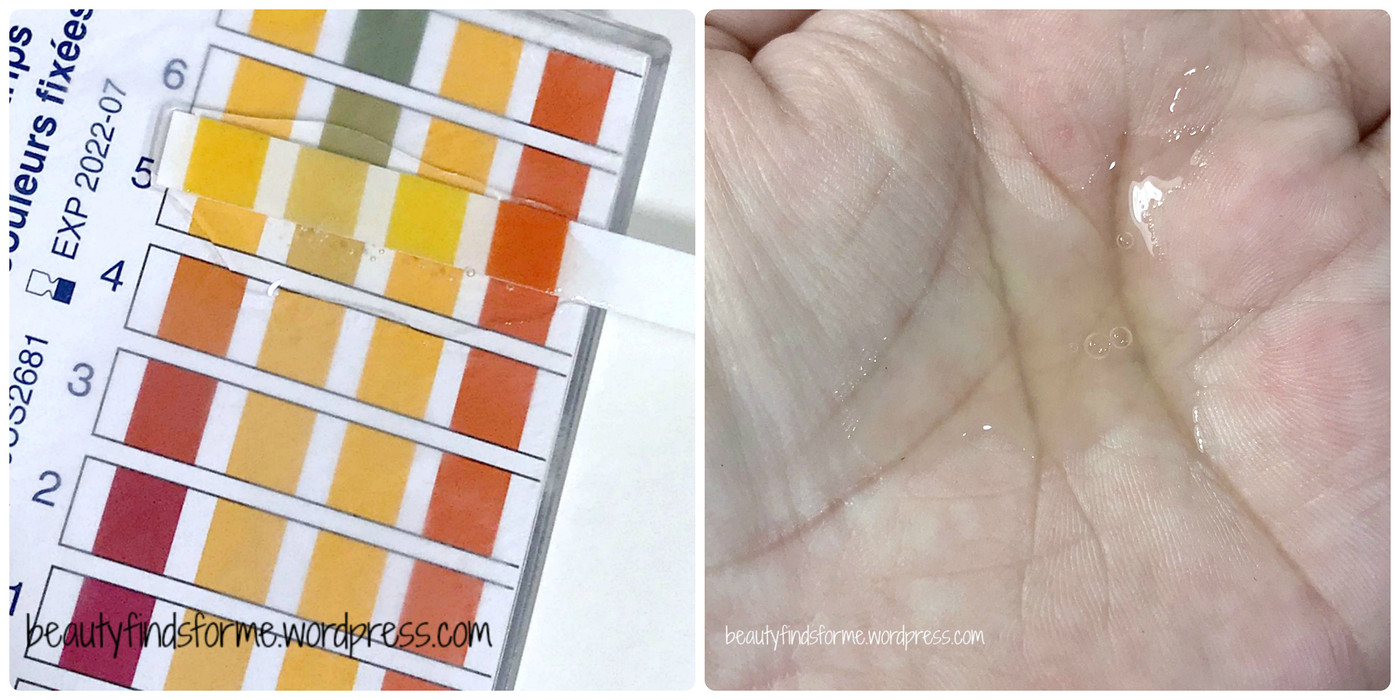 Somewhat Final Thoughts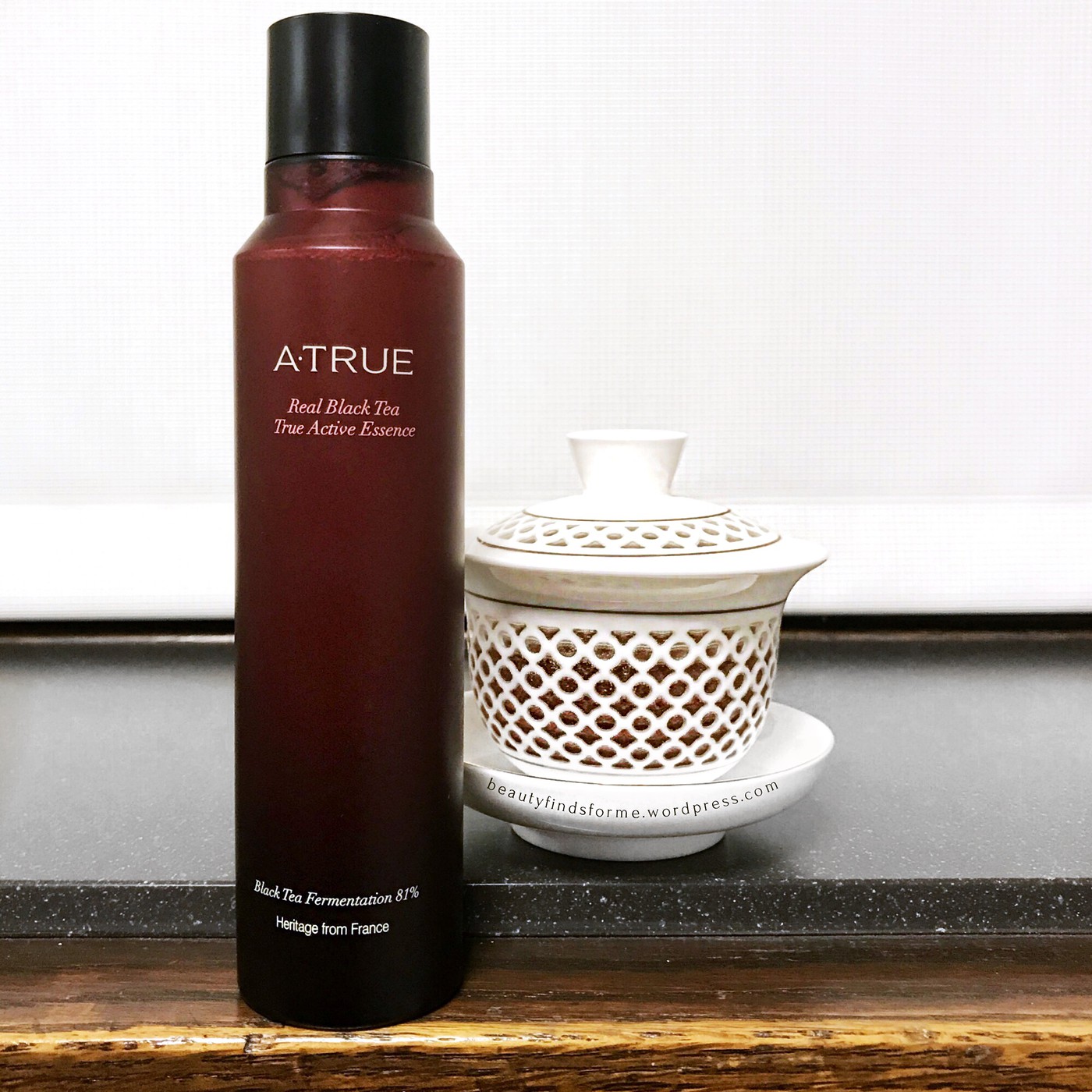 As this is in an initial impressions, I haven't used this long enough to see if A.True's Black Tea True Active Essence has lasting lightening effects on my sun damaged hyper-pigmentation.  I will continue to use this as my first essence treatment as I do love the deep hydration benefits this gives my skin.  It is perfect as a winter time FTE for me, as my oily skin is more dehydrated this time of year and I get use all of the hydration and moisture out there!   It absorbs nicely, smells fantastic and yeah, it has fermented tea in it (SOLD!)  If you have drier skin, this would be great year round, but for me, this is a cold month FTE.   
Where to Purchase

Cupidrop, of course!   Cupidrop carries a nice selection of A.True products including this fermented Black Tea FTE for $45.00 180mL (click here to purchase)  Cupidrop has free USA shipping on orders $40.00+ , along with free samples or sheet mask with every order.  If this is your first time shopping with Cupidrop, you can use my referral link http://i.refs.cc/PGoW20NG?u=1540525967294 to get a $5.00 coupon back!  Cupidrop has CupidPoints ~ you can earn points with your orders which in turn can be redeemed for cash to be spent at their store as well, so the more you buythe more points you get for future purchases! 
[  product provided for review purposes ]