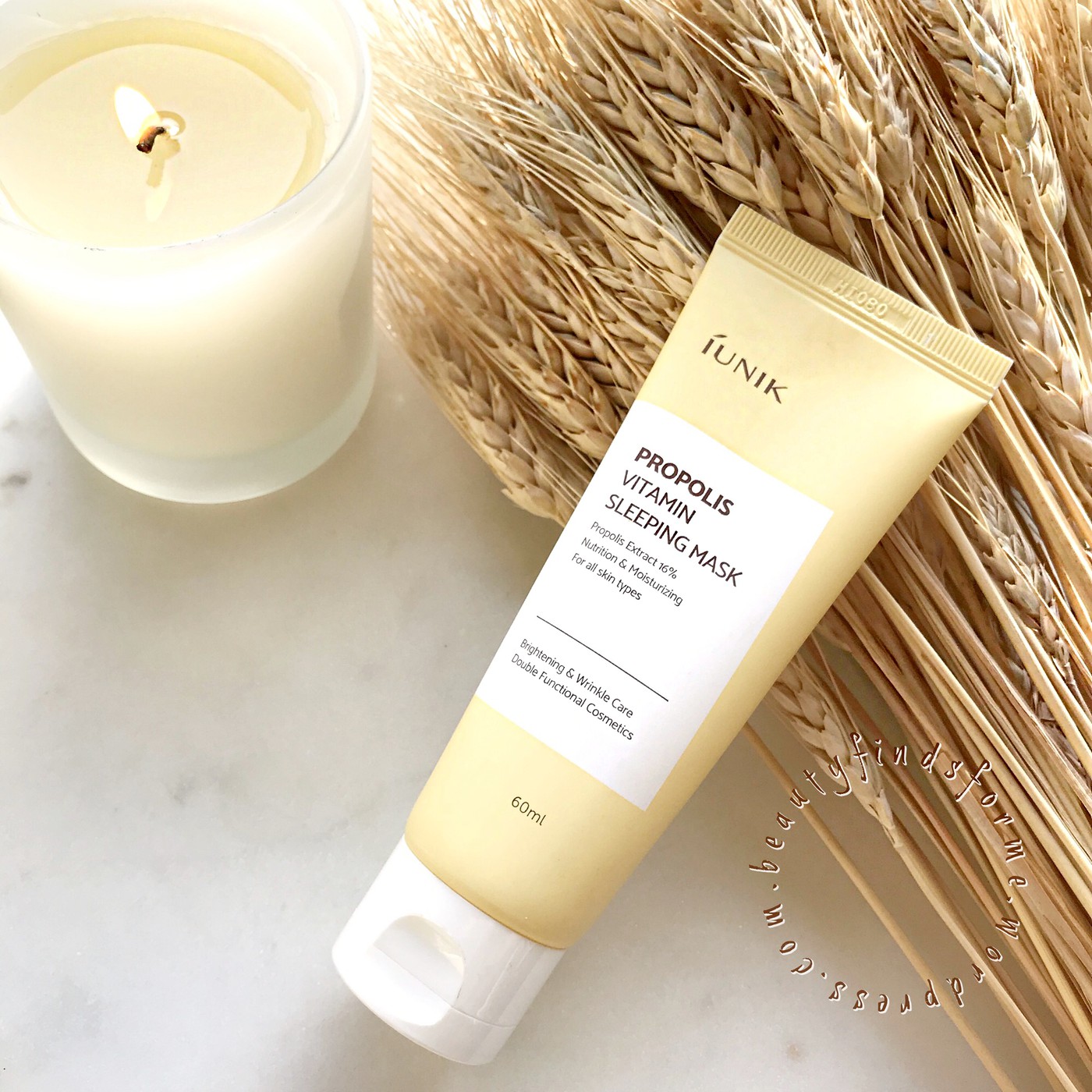 iUnik is a South Korean brand that prides itself on using effective ingredients and affordability.  I have reviewed several of their skincare products and I have been very pleased with this brand. I can highly recommend iUnik for not only its affordability but its effectiveness.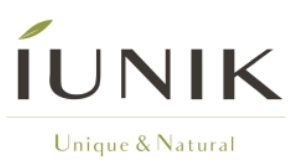 iUNIK is continuing to add items to their lineup right now ~  They have serums, toners, peeling gel and creams. Founded in November 2016, iUNIK stands for
i = Ideal Skin Over Dreamy (I think they mean ideal skin over unrealistic skin goals)
U = Unique products
N = Natural occurring ingredients, mild and raw materials from natural origin.

I = Ingredients ~ less bad and harmful ingredients, more good ingredients
K = Knowhow knowledge to create the best products thru continuous Research & Development
iUnik uses hypoallergenic only ingredients for all of their products and they have continuous innovation and research to provide the skin care solutions.  All of their products are made in South Korea
Skin type/concerns:  Oily, aging, blemish prone, pores, hyper-pigmentation, fine lines and wrinkles. 
I received these products complementary to review and was not paid.  All reviews are my own honest opinion and  I never have been asked to write copy for a brand.  This blog post might contain promo codes, affiliate and referral links, which using my links will help generate a small commission that helps support my blog at no extra cost to you.
Key Ingredients
This sleeping pack mask is is a multi-functional skincare product containing 16% of propolis extract.  Propolis (bee glue) is created by honey bees by using the sap from evergreens or the sap on conifer, evergreens and other trees whose leafs are needle-like. This sap is then combined with beeswax and results in a sticky, resinous goo that is used to build their hives. Propolis has been used for medicinal purposes for thousands of years, and is known for its anti-bacteria, antiseptic, anti-inflammatory and anti-fungal properties as well as speeding up the healing time on wounds. It contains anti-oxidant properties due to its slew of vitamins ~ A, B1, B2, B3, C, bioton (H), bioflavonoids (P) ~ and minerals ~ calcium, magnesium, iron, zinc, silicon, potassium, phosphorus, manganese and cobalt and has over 50 different flavonoids. It also is an emollient, so it is not only a good blemish and anti-aging treatment, it also moisturizes your skin as well.  Eight percent of hippophae rhamnoides fruit water, aka sea buckthorn, contains vitamins C, A and E, beta carotene, minerals, amino acids and fatty acids. Vitamin C is important for brightening and stimulating collagen production. It contains 200 to 800 times more vitamins than apples. Sea buckthorn is known for its antioxidant properties to help slow down aging and to regenerate new skin cells, while penetrating deep into your derma layer and locking moisture inside.  There is 5% of centella leaf water, a common herbal ingredient that is used medicinally to help speed up wound healing, such as blemishes and skin rashes. It also helps minimize the appearance of pores.
iUnik Propolis Vitamin Sleeping Mask pack also contains functional ingredients by KFDA ~ niacinamide and adenosine.  Niacinamide and licorice root for brightening ~ niacinamide (vitamin B3) is a powerful antioxidant that acts as an anti-inflammatory, improves your skin elasticity, enhance the skin barrier function and also it helps to even out skin tone and reduce post-inflammatory hyper-pigmentation. Licorice helps reduce flakiness in skin, and is an anti-irritant and anti-inflammatory which soothes skin while reducing redness. It also is a skin lightener and brightener, preventing hyper-pigmentation.  
Adenosine is an amino acid and it became popular after it was found to help improve the reduction of wrinkles. Adenosine is safe to use day and night. Arginine is another essential amino acid that is an anti-oxidant, promoting collagen production to combat aging.   
Beta-Glucan makes an appearance in here (love my BG) and  it is a compound that is naturally derived from mushrooms, oats, yeast and grains. It helps stimulate the production of collagen, speeds up wound healing, soothes and calms skin due to its anti-irritant and strong anti-inflammatory properties, moisturizes, locks in natural moisture, anti-aging and anti-wrinkle due to its anti-oxidant properties and also helps repair your moisture barrier.  Portulaca extracts helps prevent dry skin, soothes and moisturizes while providing antimicrobial benefits.  Allantoin moisturizes, exfoliates and softens skin, making it look smooth and refined, while reducing and relieving irritation. 
Ingredients: Water, Propolis Extract (16%),  Butylene Glycol, Glycerin, Hippophae Rhamnoides Fruit Extract (8%),  Centella Asiatica Leaf Water (5%), Cetearyl Alcohol, Cetyl Ethylhexanoate, Cyclopentasiloxane, Caprylic/Capric Triglyceride, Niacinamide, Cyclohexasiloxane, Glyceryl Stearate, Cetearyl Olivate, Sorbitan Olivate, 1,2-Hexanediol, Caprylyl Glycol, Acrylates/C10-30 Alkyl Acrylate Crosspolymer, Arginine, Cetearyl Glucoside, Beta-Glucan, Centella Asiatica Extract, Portulaca Oleracea Extract, Allantoin, Ethylhexylglycerin, Adenosine, Dipotassium Glycyrrhizate, Aloe Barbadensis Leaf Extract, Pentylene Glycol, Aspalathus Linearis Extract, Glycyrrhiza Glabra (Licorice) Root Extract, Commiphora Myrrha Resin Extract, Perilla Frutescens Leaf Extract, Yucca Schidigera Root Extract  cosDNA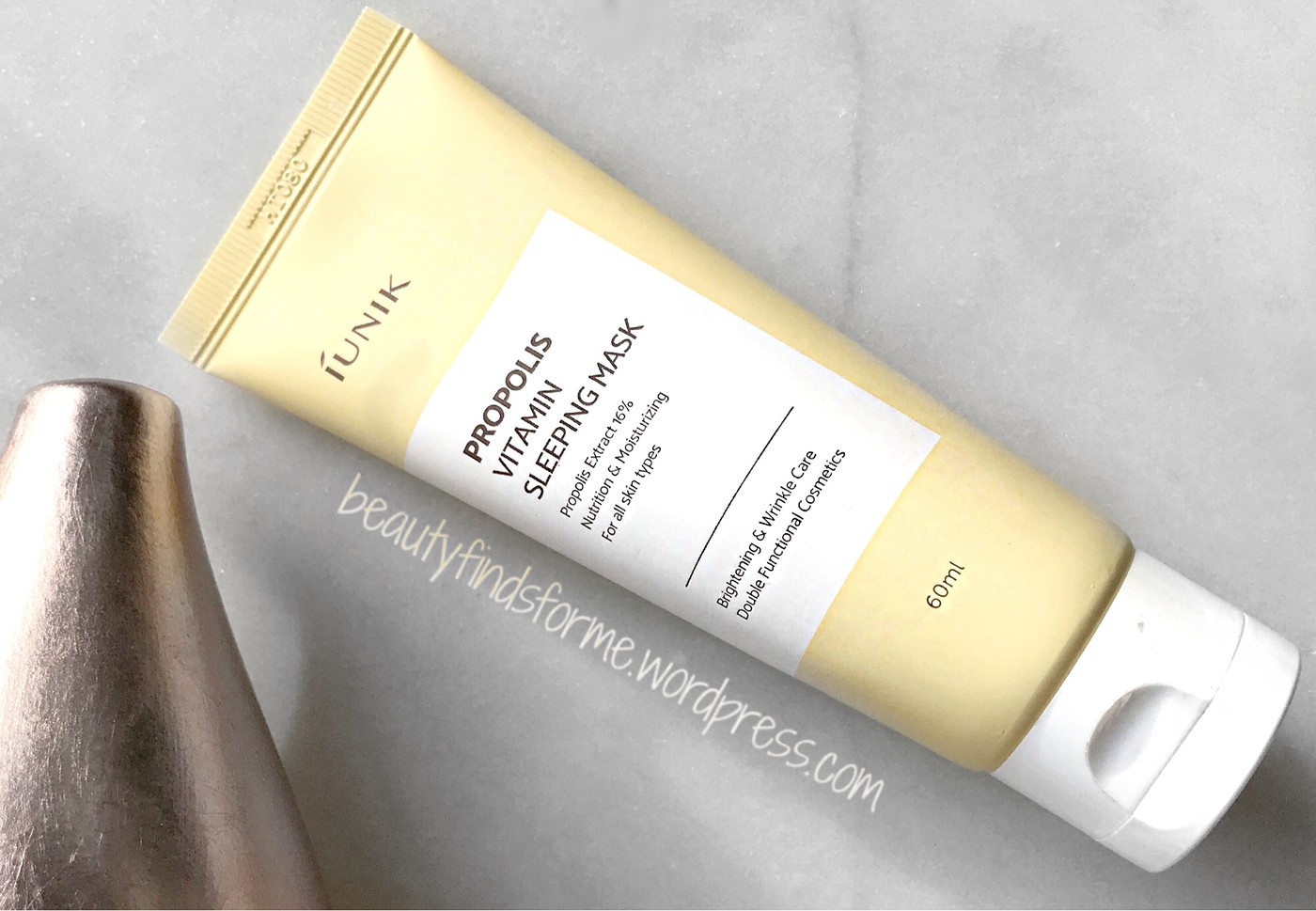 iUnik Propolis Vitamin Sleeping Mask comes packaged in a 60 mL yellow, soft tube, with a flip cap, pin hole applicator.  Nothing fancy here, just a functional tube and the product is easily squeezed out.  My initial impression of this sleep pack is that it was quite thick looking and looks like a cream-balm.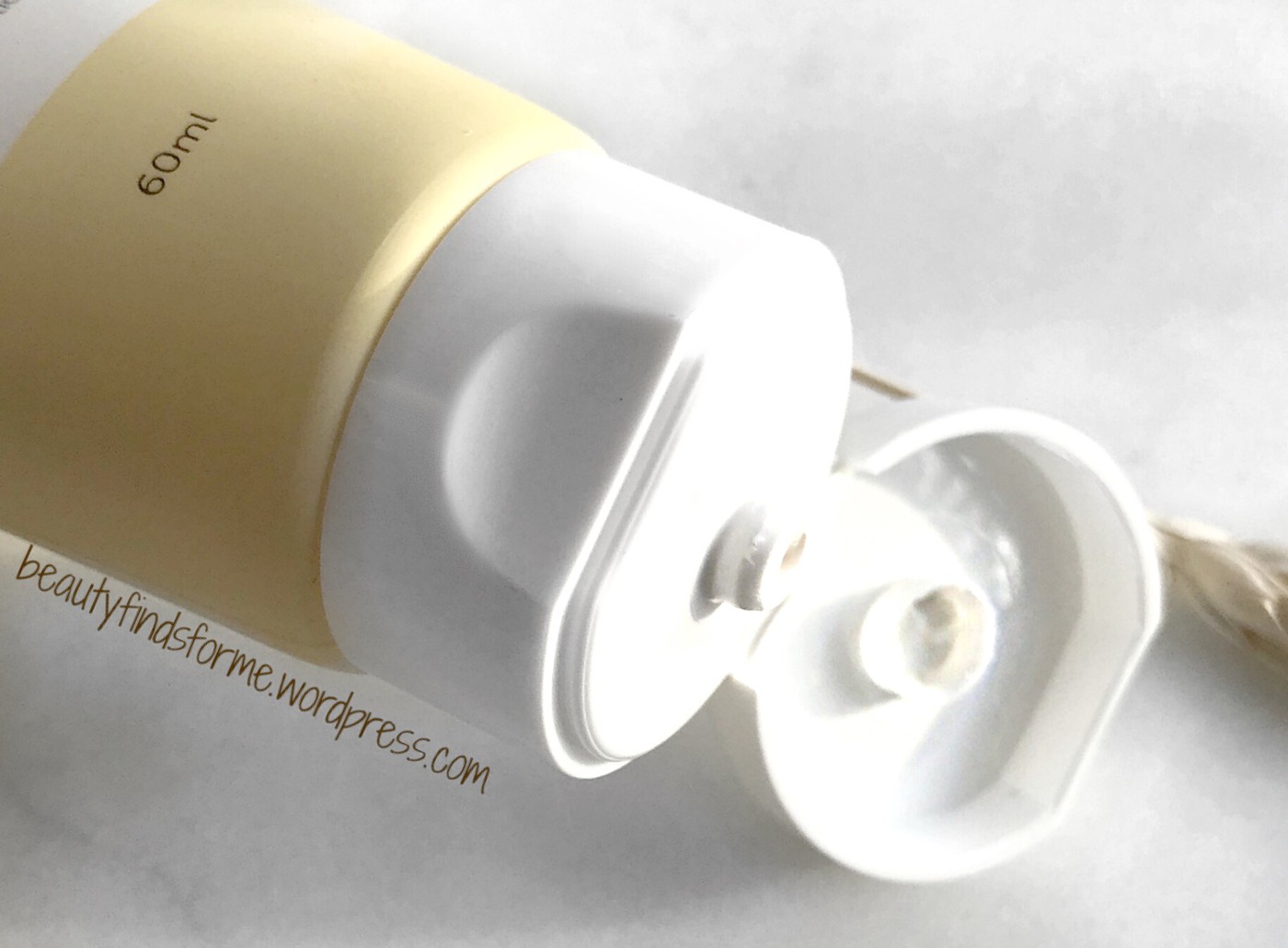 It really does have a waxy-balm like texture  ~ There are a ton of emollients in here ~ cetyl ethylhexanoate, cyclopentasiloxane, cyclohexasiloxane, clyceryl stearate, caprylyl glycol, aloe and licorice ~ as well as moisturizers: butylene glycol, glycerin, caprylyl glycol, arginine, cetearyl glucoside, beta-glucan and ethylhexylglycerin.  I am not sure where the waxy balm texture is coming from ~ perhaps the 16% propolis extract,  as it has a very pliable texture.  I am not sure, as I am no chemist, but this does have a balmy texture, but it is not sticky of viscous.  I do not detect a scent with this and the color is a natural and creamy white. 

This starts out thick as I mentioned, spreads out to a waxy balm and is easily applied, leaving a smooth, supple finish ~ not sticky or tacky and it is lightweight.  I can feel that there is something on my skin, but it doesn't feel filmy. I love using this as a last step, as this really seems to seal in all of my other skincare products with a protective layer. 
I am back to using my some manual skin oil/moisture device as the Susee Nano Spray app is no longer available (so sad).  However, my manual device works just fine (link here).  This increased my moisture by 42% and reducing my oil by 37%.  My level readings were 
Before:  Moisture: 31  Oil: 46
After:    Moisture: 44  Oil: 29
Final Thoughts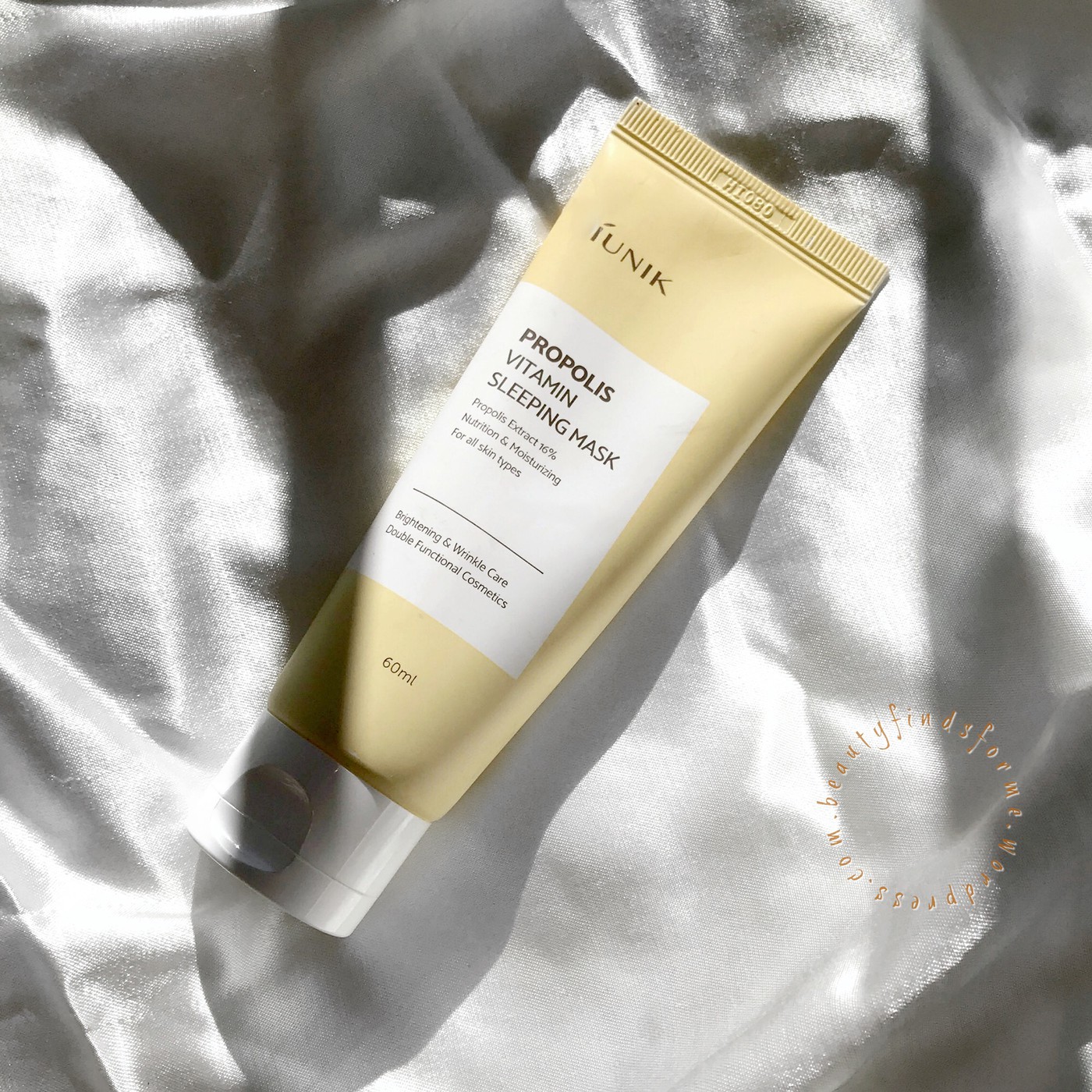 iUnik Propolis Vitamin Sleeping Mask Pack is great for blemish prone skin ~ regardless if you have oily, dry or combo skin. It really locks in all other products and helps promote faster healing time on blemishes.  Despite its initial waxy balm texture, it turned out this was a lovely product that did not "sit heavy" on my face.  Instead, my skin was supple and smooth in the morning and I did notice blemishes were on their way to being healed.  It is not a "sexy" looking product, but iUnik's products are more about what it inside the container than its packaging. This is a great calming, healing and softening sleep pack that really does "seal" in your other skincare products for the night. Have you tried iUNIK Propolis Vitamin Sleeping Mask?  Or any of the iUNIK products?
Where to Purchase 
You can purchase iUNIK from unique4 online shop  and they carry it in several bundles as well.  unique4 has free shipping with purchases of $50.00 or more and give samples with every purchase. They currently have best deal for the Propolis Vitamin Sleeping Mask Pack as you get 1+1 (that means TWO of them) for $15.99  (click here), good until 12/31/2018
RoseRoseShop  $9.30 60 mL Global but not free shipping  (click here) 
YesStyle  $13.90 60 mL (click here)  Global shipping ~ free at $35.00 USD
eBay  Prices vary, but you can find it as low as $10.00  (click here) 
[ disclosure: product received complementary for review purposes.  contains affiliate links ]