I make no bones about loving the K-beauty brand Hanyul. 
Hanyul is part of the Amore Pacific family and you can find their products at BeautyTap, formally W2Beauty.  Hanyul is their line of Traditional Korean Medicine (Hanbang) in skincare
They say mothers know best. We've found this to be true especially when it comes to natural skincare. Hanyul is a brand inspired by the traditional folk remedies and medicinal practices carried on for centuries by women in their homes. In combination with modern technologies and formulas our brand is inspired by these mild, but effective remedies passed down from mothers to their children for generations. Amorepacific's years of accumulated knowledge for creating skincare combine our mother's traditional wisdom with scientific advancements. Our products are made with the same traditional and local ingredients including Korean plants and grains such as rice, brown pine needles, artemesia, baekhwago(Korean mushroom), Korean chrysanthemum, and our native seoritae(Korean bean).  (source)
Some products were complementary to review and was not paid.  All reviews are my own honest opinion and  I never have been asked to write copy for a brand.  This blog post might contain promo codes, affiliate and referral links, which using my links will help generate a small commission that helps support my blog at no extra cost to you.
I have used several of their products and reviewed them here at my blog
Hanyul Optimizing Serum
(full review here)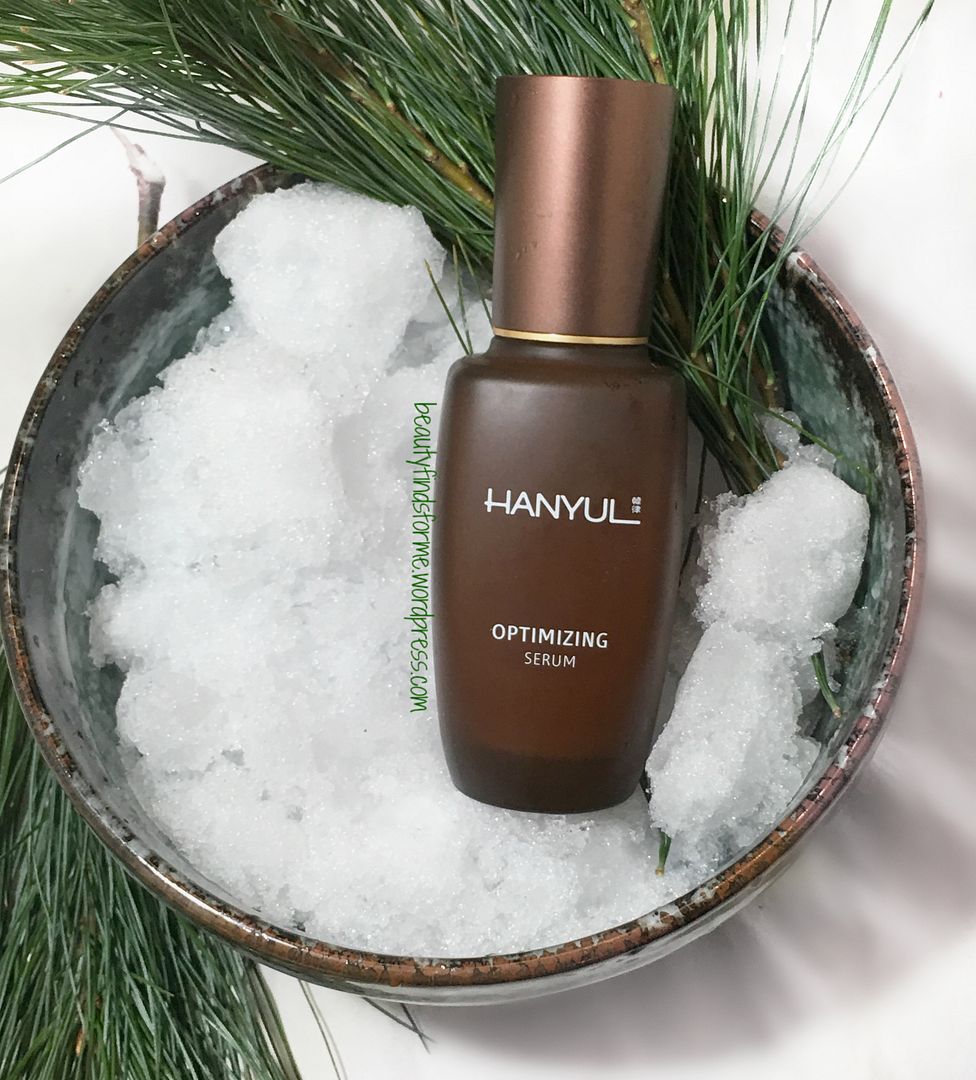 Recap: .  I didn't have "booster" serum in my skincare routine before the Hanyul Optimizing Serum and I think this is the only one I want.   I love the scent, I love the packaging, I love how hydrating and refreshing it is on my skin plus the added benefits of it seems to help keep my blemishes and redness under control.   If you are sensitive to alcohol, I do not recommend this product, but if you don't have issues with it, I highly recommend this. I know I will continue purchasing this as my First Serum.
Hanyul Pure Artemisia Fresh Calming Water
(full review here) 
Recap: The Hanyul Pure Artemisia Fresh Calming Water does what it says it will do ~ it refreshes, soothes and moisturizes, which is perfect for either a step in my skincare routine or a quick refreshing pick-me-up during the daytime.  I can see why this product has won numerous Korean beauty awards ~  GlowPick, 2015 Self Beauty Award winner and InStyle Pick & Beauty Award for 2016. I felt so highly of this watery mugwort mist that I actually have purchased some more items from this line
Hanyul Moist Glow Oil
Hanyul Pure Artemisia Cleansing Oil
(full review here) 
Recap: Artemisia is also known as Mugwort ~ did you know that "Wort" came from an old term that meant a useful plant?  I am a huge fan of the Artemisia line by Hanyul ~ the scent is so lovely… Hanyul states this is a mugwort scent, which has been described as a combination of sage and chrysanthemum ~ I have never smelled crushed mugwort leaves myself, but this mist has a light herbal-floral scent that is so relaxing. Mugwort is traditionally famous for its skin purifying properties and Hanyul's Pure Artemisia line uses artemisia grown along the coastal area of Gandhwa, harvested in early spring, dried and will goes through a twelve hour fumigation period, which the beneficial ingredients and warm energy of mugwort are extracted. I am very happy with the performance of this cleansing oil! Very gentle, smells great and rinses off clean without any residue. It is on the more expensive side, but sometimes, you are worth it!!
I am currently testing their brand new Blemish/Oily skin care line called Mentha and I love it!   Brief impressions and I will review them fully here at my blog
Trouble Foam – lovely citrus-mint scent, lathers up nicely with a dense creamy foam. 
Trouble Toner – no scent, this is an astringent type toner that really helps keep my oil at bay, while providing pore care
Trouble Gel Cream  – this is my favorite item!  This is a lightweight gel cream and it applies smoothly, hydrates and leaves my skin with a nice satin finish
Trouble Spot Gel – bebe Hanyul!!  This is so cute and functional.  The "bottle" portion is a soft vinyl that you squeeze and the thick gel will come out in the long tube applicator.
This week, you can save 20% off all Hanyul items at Beauty Tap and for any regularly priced items, use affiliate code unboxing15 to SAVE 18% off this week!   Free shipping with purchases $60.00 or more.