Sorry for the late unboxing for my January Kloverbox!  I did get this a couple of weeks ago and because I had a bad fall, I fell behind on so many reviews and unboxings!!  Better late than never, though!  January's theme is ringing in the New Year ~ Start the New Year with a New Face Routine. Kloverbox is a subscription box that not only is natural and has a focus on indie brands, but they also find unique and interesting products as well.
Kloverbox is an eco-friendly, organic lifestyle box and I love how they introduce new, unique and innovative products each month.  Kloverbox delivers deluxe and full size products and I have been impressed with their packaging and curating of their boxes. You can subscribe to Kloverbox  either as a month-to-month at $25/monthly, 3 month subscription at $23.75/monthly or a 6 month subscription at $22.50/monthly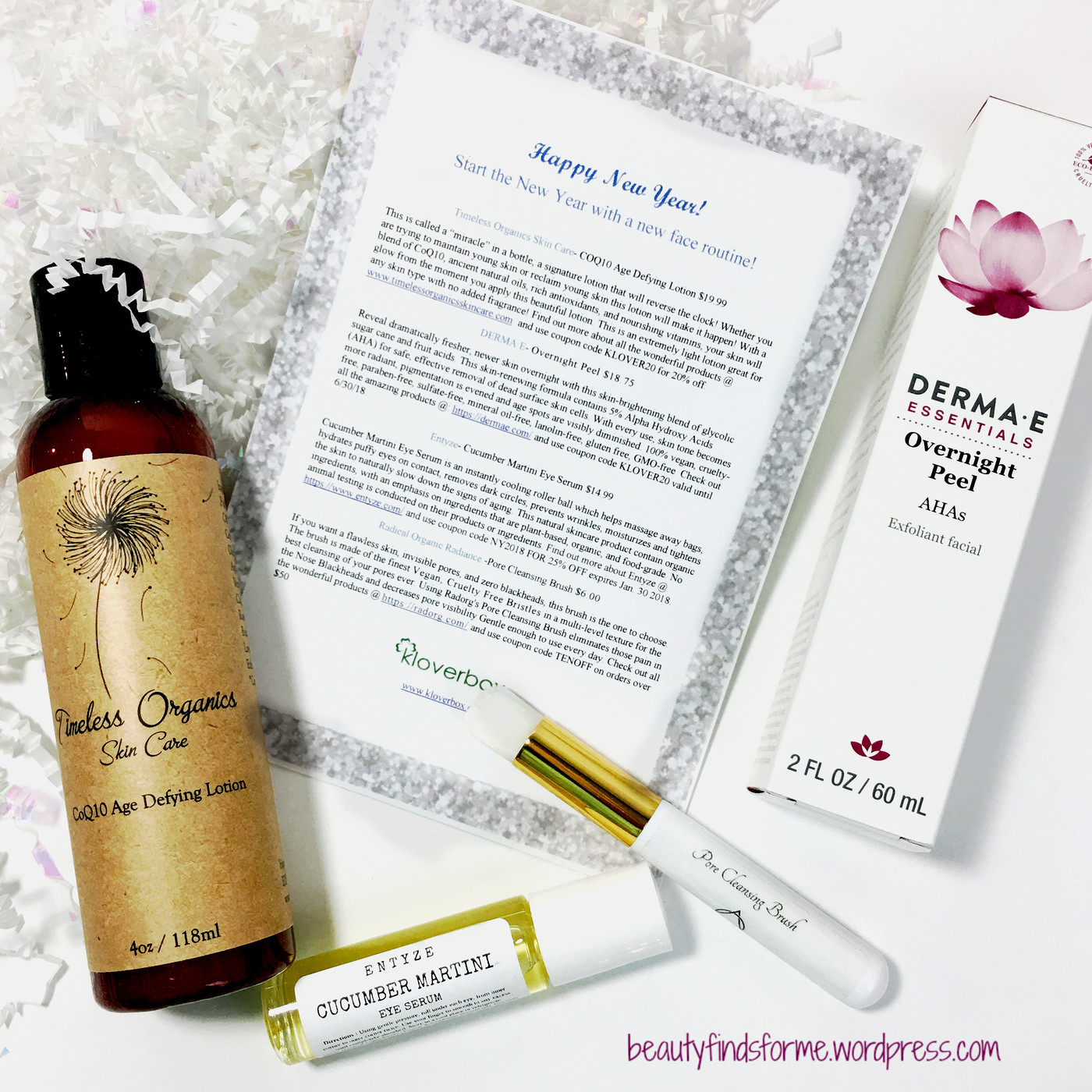 Informational Card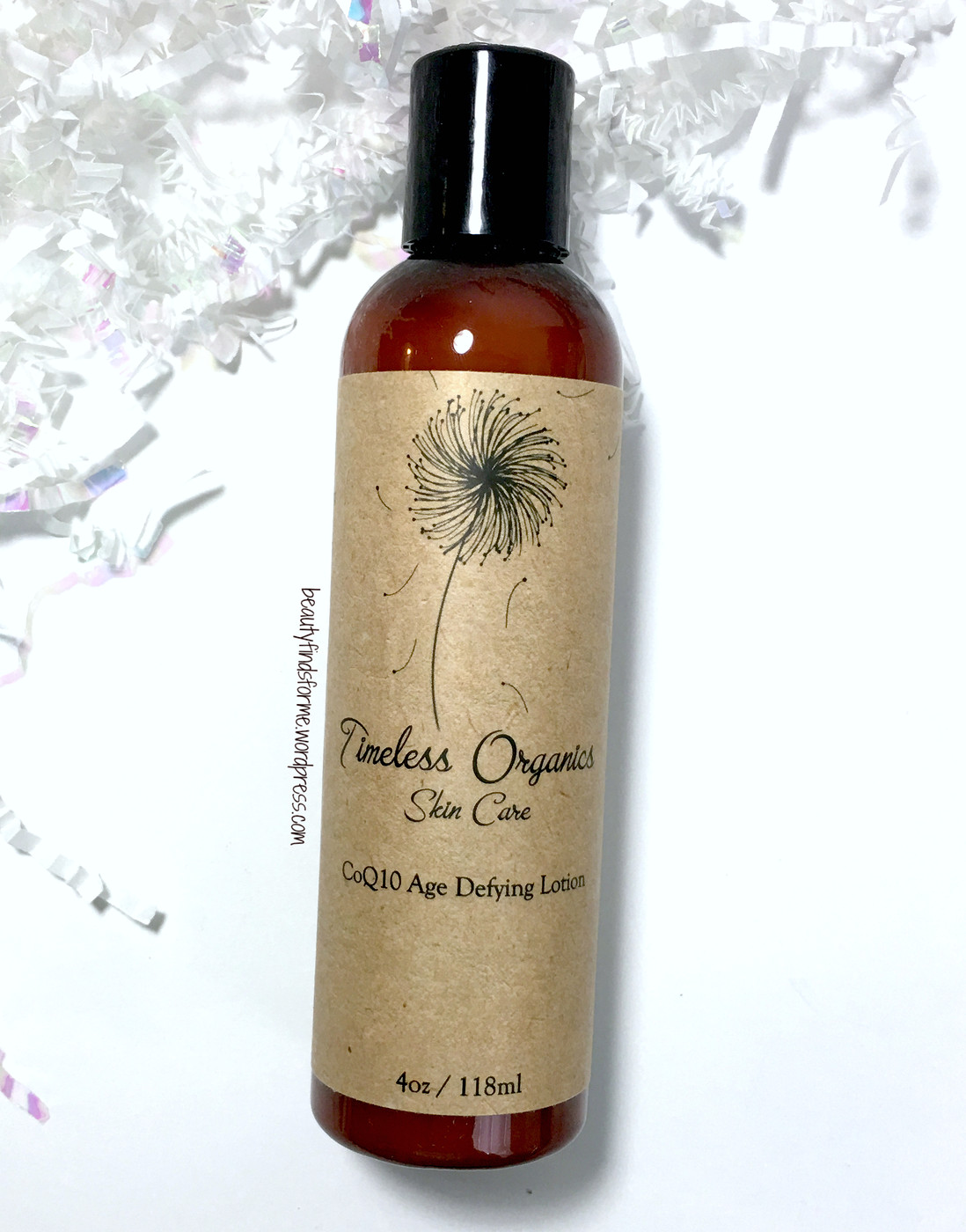 Timeless Organics Skin Care CoQ10 Age Defying Lotion  This is made with a blend of CoQ10, which helps firm and tone our skin, ancient natural oils ~sunflower, coconut, shea butter, tamanu, rosehip, sea buckthorn and apricot ~ full of nourishing benefits to your skin and antioxidants to help combat free radicals, lessening the appearance of fine lines and wrinkles.  This lotion is hand made in small batches, with organic ingredients.  This lotion contains a superior amount of CoQ10 that it is a pale orange/peach shade, but it is colorless when massaged in.  

I discovered that this was a facial lotion but I have been loving it as a neck and body lotion!  lol.  I have very dry skin except on my face and I fear this is too heavy for my facial skin, but it is perfect for the rest of my body ~ it absorbs nicely and leaves my skin glowing and feeling silky smooth without any greasy residue.  Timeless Organics states that this has a unique aroma due to its natural ingredients ~ there is no added scent ~ but I do not really detect a scent with it.  Timeless Organics Skin Care is certified by Leaping Bunny as a Cruelty Free company and this lotion is made with certified USDA organic ingredients,  100% natural, gluten free and vegan.  For every order you place with them, it helps plant a tree thru their TrueTree Initiative and they contribute the Wildlife Conservation Network.  They have some very interesting looking products including a Citrus and Matcha Scrub!  Full Size 4 oz RV $19.99  Promo Code:  Save 20% at Timeless Organics with klover20  and they always have free shipping on every order!

Ingredients: Purified Water, Coconut Oil*, Sunflower Seed Oil*, Cetearyl Alcohol, Coco-Glucoside, Shea Butter*, Apricot Kernel Oil, Aloe Vera Leaf Juice Powder*, CoQ10, Tamanu Seed Oil*, Rose Hip Seed Oil*, Sea Buckthorn Oil*, Vitamin E, Lavender*, Vanilla*, Rose Ether, Citric Acid  cosDNA analysis *Certified Organic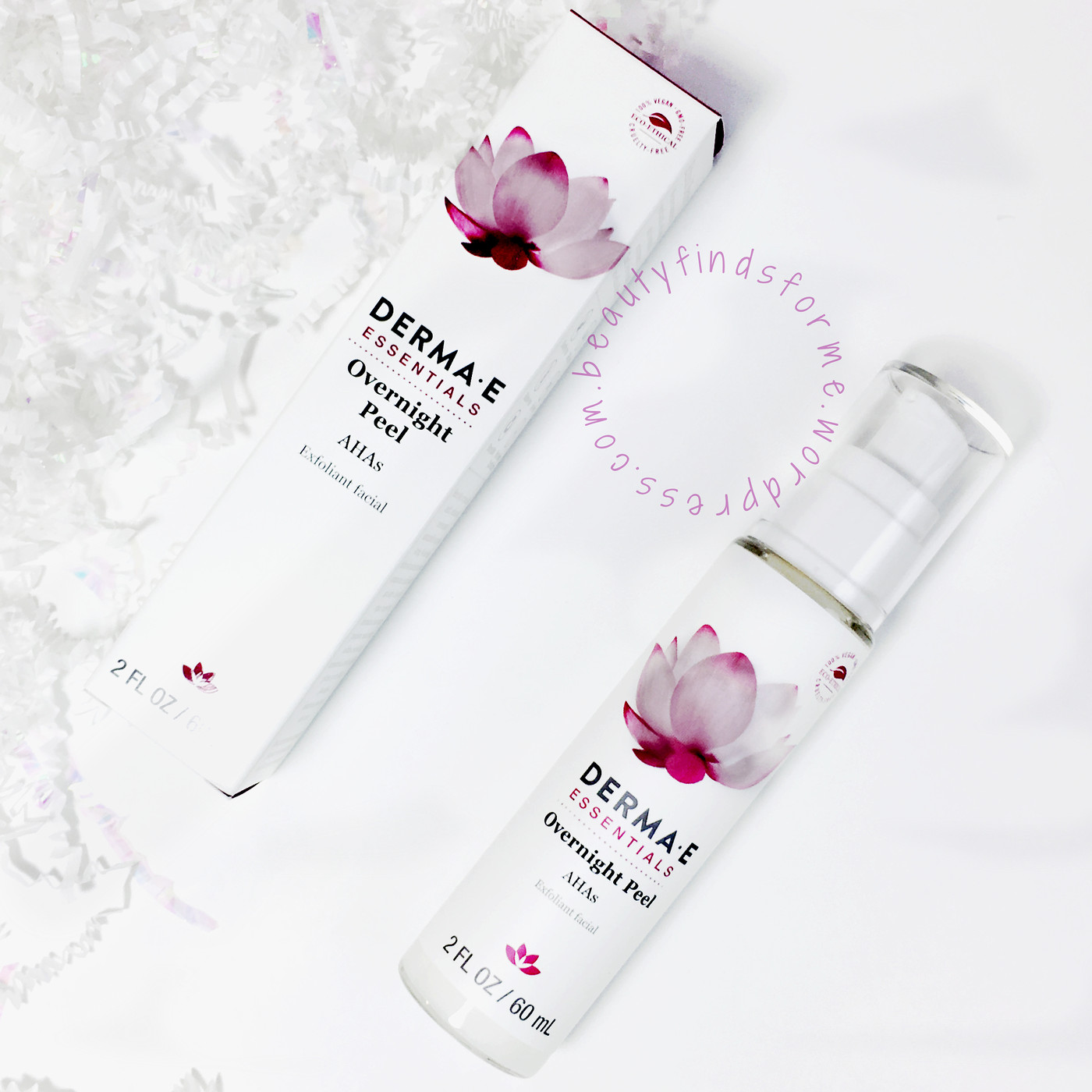 Derma E Overnight Peel with Alpha Hydroxy Acids  This was our spoiler last month and I am really excited to try this.  I have been using overnight acid creams and sometimes, I want a lower percentage than 10%.  This is a 5% glycolic AHA overnight peeling product ~ now, it doesn't PEEL your face.  What it does is it will help exfoliate our skin, unclog pores and remove dead surface skin cells and oil, which will aid in the skin's cellular turnover, revealing newer, fresh skin and hopefully, reduce hyper-pigmentation and lessen the appearance of fine lines and wrinkles.   This is a very gentle AHA peeling cream, with 3 different types of AHA's ~ glycolic, lactic and malic acids ~ so it should be good for sensitive skin too.  I am not expecting miracles with this, as I do use a 10% AHA peeling cream a couple of times a week, but this will be a great maintenance one to use.  This is a lightweight lotion-texture, spreads easily and has that bitter scent that you get from AHA's.  It seems moisturizing on my skin ~ and I read that the pH level is a 3.  I will be doing an IG review on this in about a months time, so I will have more information at that time.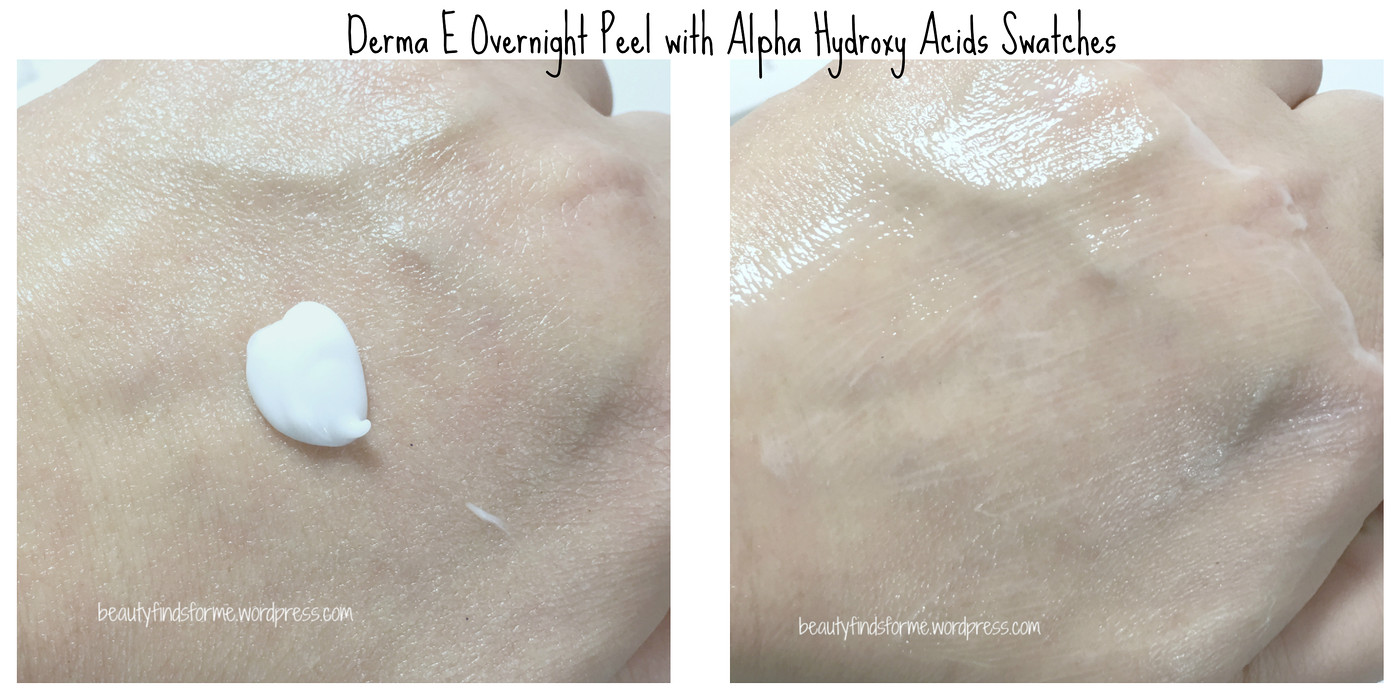 You just apply this to your skin after cleansing at night and rinse off in the morning. Derma E is 100% vegan and free from parabens, sulfates, mineral oil, lanolin, gluten and GMO's.  They are also a cruelty free shop as well.  Full Size 4 oz RV $18.75  Promo Code:  Save 20% at Derma-E with klover20  ~ expires 6/30/2018
Ingredients: Purified Water, Glycolic Acid, Caprylic/Capric Triglyceride, Glycerin, Cetearyl Alcohol, Ceteareth 20, Stearic Acid, Lactic Acid, Malic Acid, Citrus Medica Limonum (Lemon) Fruit Extract, Passiflora Incarnata (Passion) Fruit Extract, Ascorbyl Palmitate (C-Ester), Organic Simmondsia Chinensis (Jojoba) Seed Oil* (.1%), Organic Camellia Sinensis (Green Tea) Leaf Extract* (.1%), Glyceryl Stearate, PEG-100 Stearate, Cetyl Alcohol, Xanthan Gum, Dimethicone, Potassium Sorbate, Phenoxyethanol, Ethylhexylglycerin  cosDNA analysis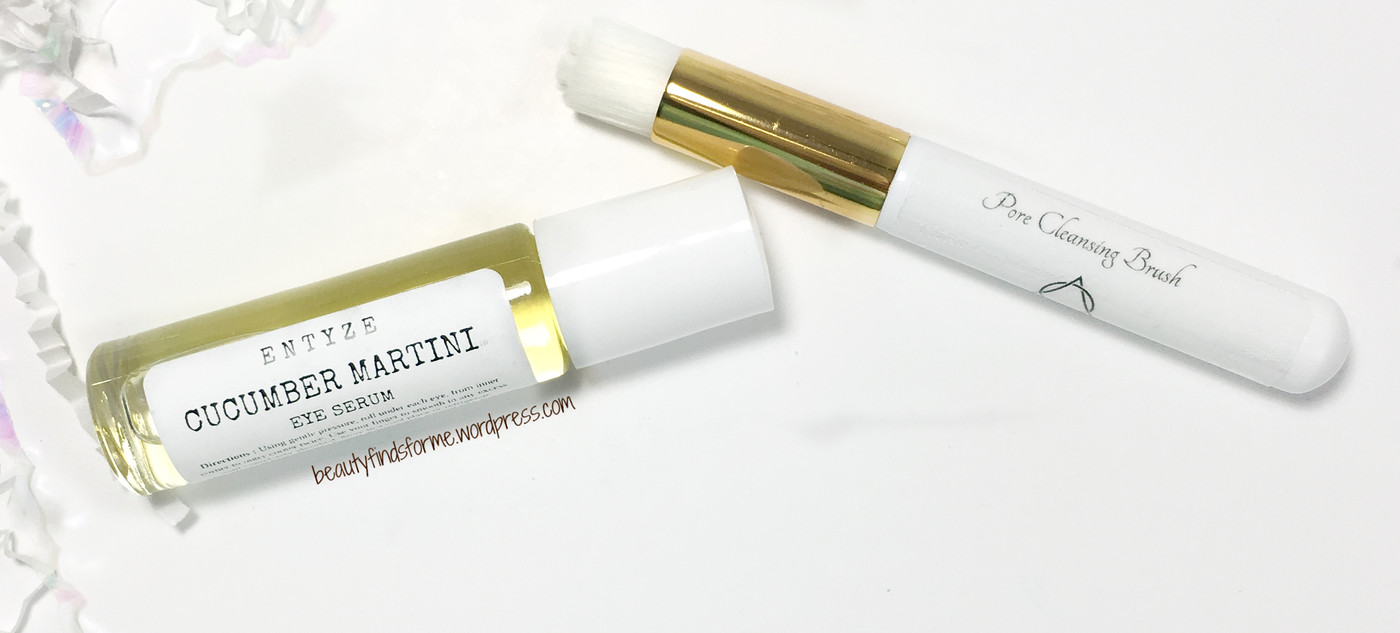 Radical Organic Radiance Pore Cleansing Brush This is a little pore brush made with vegan, cruelty-free bristles of varying lengths to help really get into the pores and get them clean. Clean pores also look smaller ~ you can never really MAKE your pores smaller, but you can reduce the appearance of them if they are clean. Just add some of your cleanser to your face and use the brush around your pore-y area ~ this brush is gentle enough for daily use too! This looks to be a great shop ~ they have makeup, skincare, perfume, even monthly subscription boxes!  RV $6.00 Promo Code:  Save 10% at RADOrg with TENOFF for any orders $50.00+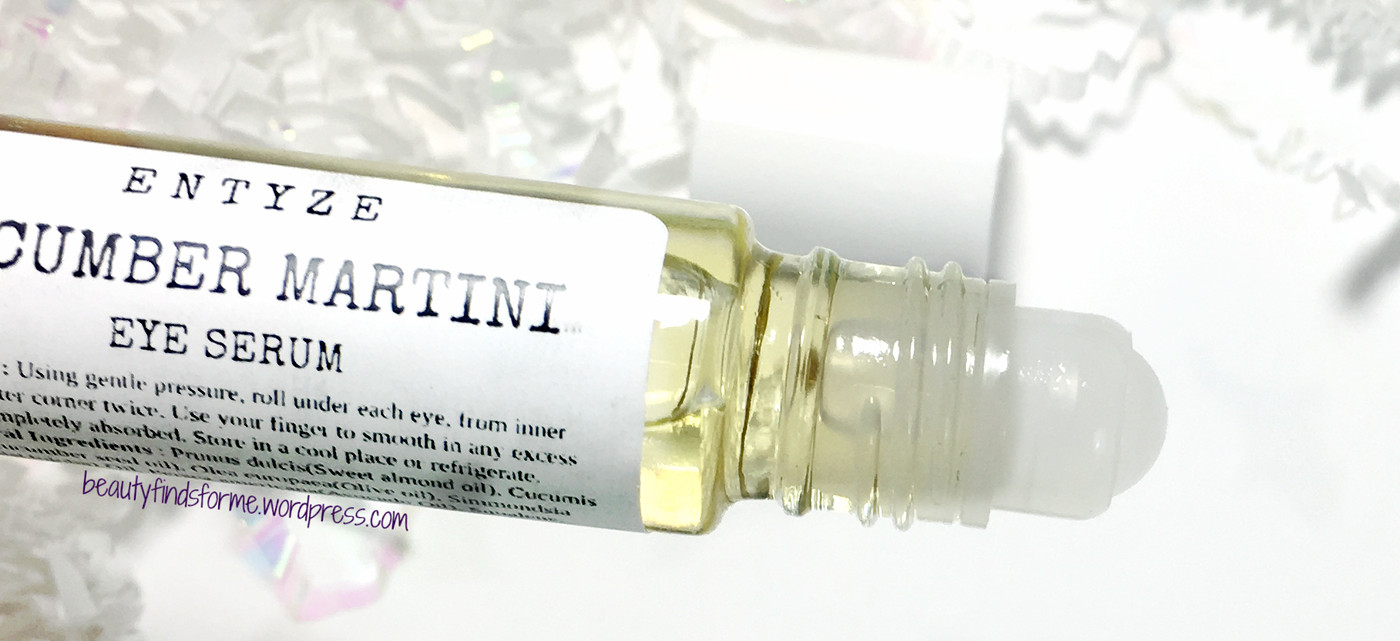 Entyze Cucumber Martini Eye Serum  I love a cucumber scented product and this one does not disappoint!  This is a serum made with just 6 ingredients ~ all moisturizing, nourishing oils ~ including cucumber oil ~ which contains essential fatty acids ~ 14% to 20% of oleic, stearic and palmitic acids along with up to 60% to  68% of linoleic acid.  It is an antioxidant and anti-inflammatory, full of vitamins B-complex and C and minerals such as iron, calcium and phosphorous.  This comes in oil serum comes in a glass tube with a cooling roller-ball applicator that will help massage your skin, hydrates puffy eyes and moisturizes ~ it is all natural, plant based, organic food grade and has a nice oily slip to it.  BUT I LOVE this as a night time lip treatment.  Sorry!!  I am sure this is great under the eyes, but I really love it for my lips.  hahaha.  It doesn't have a taste but it does smell deliciously cucumber-y.  Entyze is cruelty free, free from parabens, sulphates, phthalates and all of their products are made in small batches in the USA.  9mL RV $14.99  Promo Code: Save 25%  at Entyze with code NY2018.  Alas, this expires on 1/30/2018

Ingredients : Prunus amygdalus dulcis (Sweet almond oil), Cucumis sativus (cucumber seed oil), Olea europaea (olive oil), Squalane (Olive derived),  Simmondsia Chinensis (Jojoba) Seed Oil, Persea americana (Avocado Oil) cosDNA analysis
I am always the rebel ~ the facial lotion was used as a body lotion and the eye serum is now a lip treatment!  lol  But I really enjoyed this month's box ~ all of the items in here I will use and I am very excited to try out the Derma-E AHA Peeling Treatment.   I really am quite happy now that I have re-purposed some of the items, as I wasn't sure how I was going to fit that in with my skin type, but I am quite creative! I paid $15.00 due to a Black Friday promo code + renewing 3 month subscription and received a value of almost $60.00.  Do you subscribe to Kloverbox?  What was your favorite product this month?

Current Promo:  Want to save 10% off your subscription?  Use my referral link here    One and three month terms automatically renew, the six month is a one time purchase.   The monthly subscription has an option to skip a month!

Next Month's Spoiler
I am so happy that Kloverbox is doing sneak peeks!!  This spoiler LOOKS AMAZING!  Next month's box is valued at $60.00+
Native Nectar Botanicals Rooibos and Pomegranate Cream Exfoliate $27.00  This gentle but powerful cream exfoliator is packed with antioxidants to protect skin against free radicals and the signs of aging, as well as Alpha Hydroxy Acids which naturally brighten and refine. Biodegradable Jojoba Beads work their magic to smooth and renew dull, dry complexions without damaging sensitive skin. Aloe Vera, Avocado Oil, Vitamin E, and Organic Neem Oil boost moisture and nourish skin for renewed radiance. Modern and luxurious design meets plant-based ingredients that deliver serious results.

---
[ descriptions in italics from linked website.  contains referral link and affiliate links ]