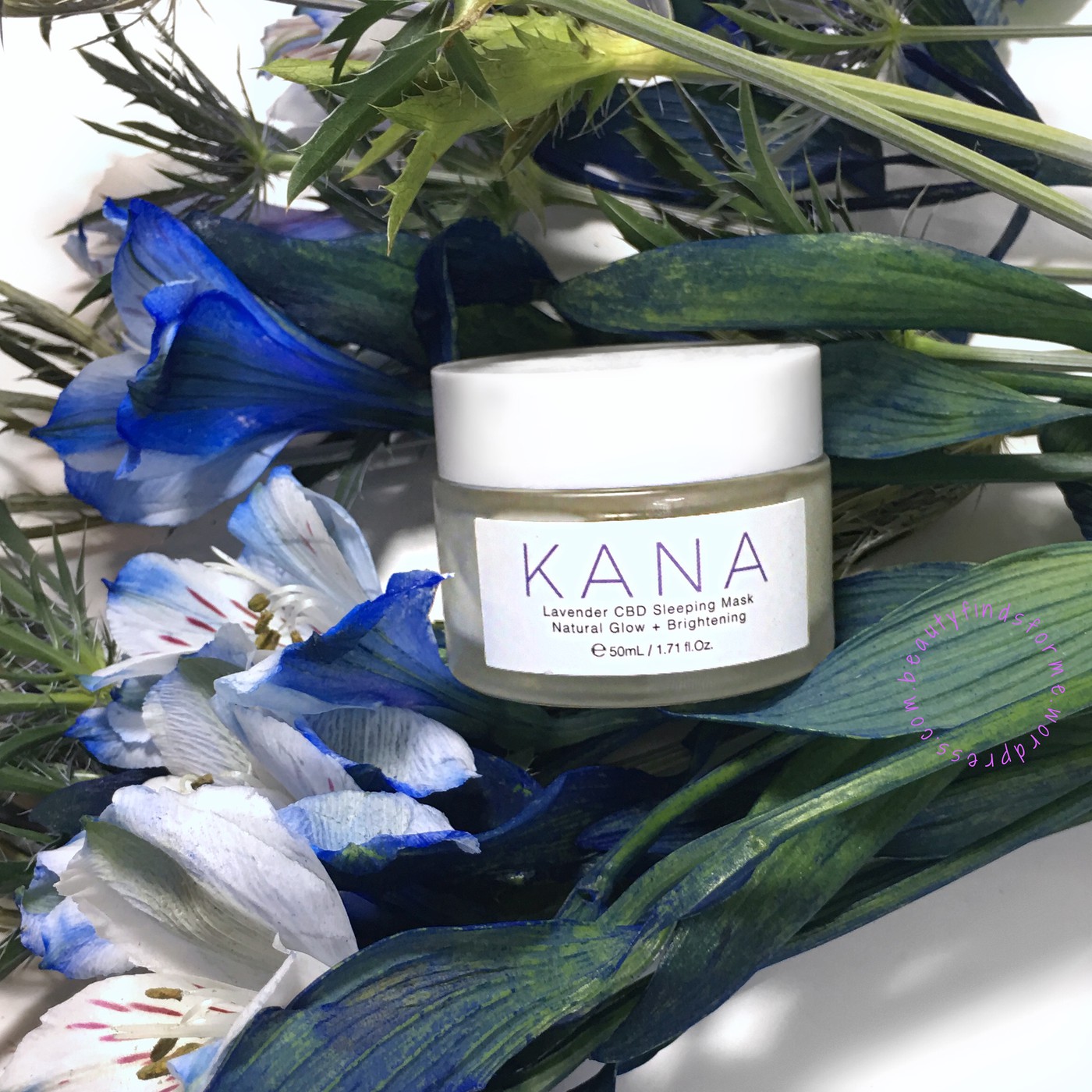 Brace yourself.  This is a long review as I will be getting on my soapbox about hemp!!  Some facts about hemp as so many people think it is pot.  It isn't ~ the following is only a SMALL bit of history of hemp and its uses
Probably the earliest cultivated plant for its textile fibers ~ dating back to 8,000 BC in Mesopotamia

In the 28th century BC, Chinese Emperor Shen Nung created an industry for his people and taught them to cultivate hemp for cloth

In 150 BC, hemp is used for paper by the Chinese. The oldest documents written on mixed medium hemp paper are from the 2nd and 3rd century texts by Buddhists

Different cultures over the centuries has used hemp for medicinal purposes ~ from childbirth, arthritis, convulsions and insomnia.

Hemp was such an important crop during the middle ages, that Henry VII passed a law decreeing that all landowners had to put aside 1/4 of an acre to grow hemp or be fined.

Used to make rope, oakum and canvas ~ canvas comes from the word cannabis ~ it was used on sailing ships as it was 3 times stronger than cotton and salt resistant.

Great paintings were made on hemp canvas and most printed material were made with hemp paper, including famous works such as The Gutenberg Bible, Thomas Paine's The Age of Reason, works from Mark Twain, Alexander Dumas, Victor Hugo and Lewis Carroll's Alice in Wonderland


Hemp reached North America long before Europeans came here.  It was grown in almost every state

In the 17th century, farmers were ordered by law to grow Indian hemp in Virginia, Massachusetts and Connecticut.  You could be jailed by the early 18th century if you weren't. Hemp was considered to be as good as cash in the Americas and for over 200 years in colonial America, you could pay your taxes with hemp.

The first two drafts of the Declaration of Independence was written on hemp paper.  America could not have fought and won its revolution without its hemp production.

President Abraham Lincoln used hemp seed oil in his household lamps

The first Levi jeans were made from hemp

Rudolph Diesel created the engine in 1896 and Henry Ford created a biomass conversion plant producing hemp fuel in Michigan to create "hemp gasoline". Hemp biodiesel produces only water vapors and CO2, which is food for plants!

Henry Ford also created hemp and sisal biodegradable plastic to build car doors and fenders in 1941 and proved that hemp cars were more blow resistant than steel bodied cars.

During WWII,  the USA needed hemp for the war ~ "Hemp for Victory" and in 1942, farmers planted over 36,000 acres of seed hemp

Hemp seed is full of nutritional value

Hemp is nontoxic, biodegradable and renewable, with little effort to grow, doesn't need a lot of pesticides and can grow in many different soil conditions. This is a cash crop that can bring in trillions of dollars.


I could go on for hours but I will stop here.
So, what the hell happened?   Yeah, you guessed it ~ in the 1930's, big companies like Du Pont and Hearst wanted to promote petroleum ~ which was used from fueling cars to creating textiles ~ and started their lobbying to lump hemp in with marijuana, even though hemp is not a psychoactive ~ I am sure we all know that lovely little propaganda film called "Reefer Madness".  They managed to finally get their wish by 1970 when the Controlled Substances Act was passed and hemp was considered to be in the same classification as marijuana.  In 2014, President Obama signed legislation that helped remove barriers for industrial hemp cultivation (Thanks Obama!!)  Hemp is a renewable source and its uses are endless ~ anything that can be made from fossil fuels can be made from hemp and it is only now that we are seeing a reemergence of hemp products in the USA and other countries.

I don't really need to tell you this after that long intro, but I am a big hemp fan.  I think that we can wean ourselves off of plastics and fossil fuels by using hemp products instead.  This was such an important crop for centuries and we should support the hemp industry in all forms.  Which leads me to this review!!   The marriage of using Korean skincare techniques with the power of hemp ~ Kana Lavender CBD Sleeping Mask Pack.   Kana Skincare is founded by sister company Dankgals, and only Dankgals is the distributor for Kana Skincare.  Janice Buu spent almost 2 years of Research & Development before founding Kana Beauty.  After researching with Korean plant based manufacturers and Korean formulators, she produced this natural formula that is infused with organic CBD and made in the USA.  It was a long journey and not an easy task due to the stigma of hemp ~ for a great read and history of this cream's creation, Vice had a recent article that also reviewed this mask pack.
Skin Type/Concerns: Oily, blemish prone, aging, hyper-pigmentation, pores, fine lines/wrinkles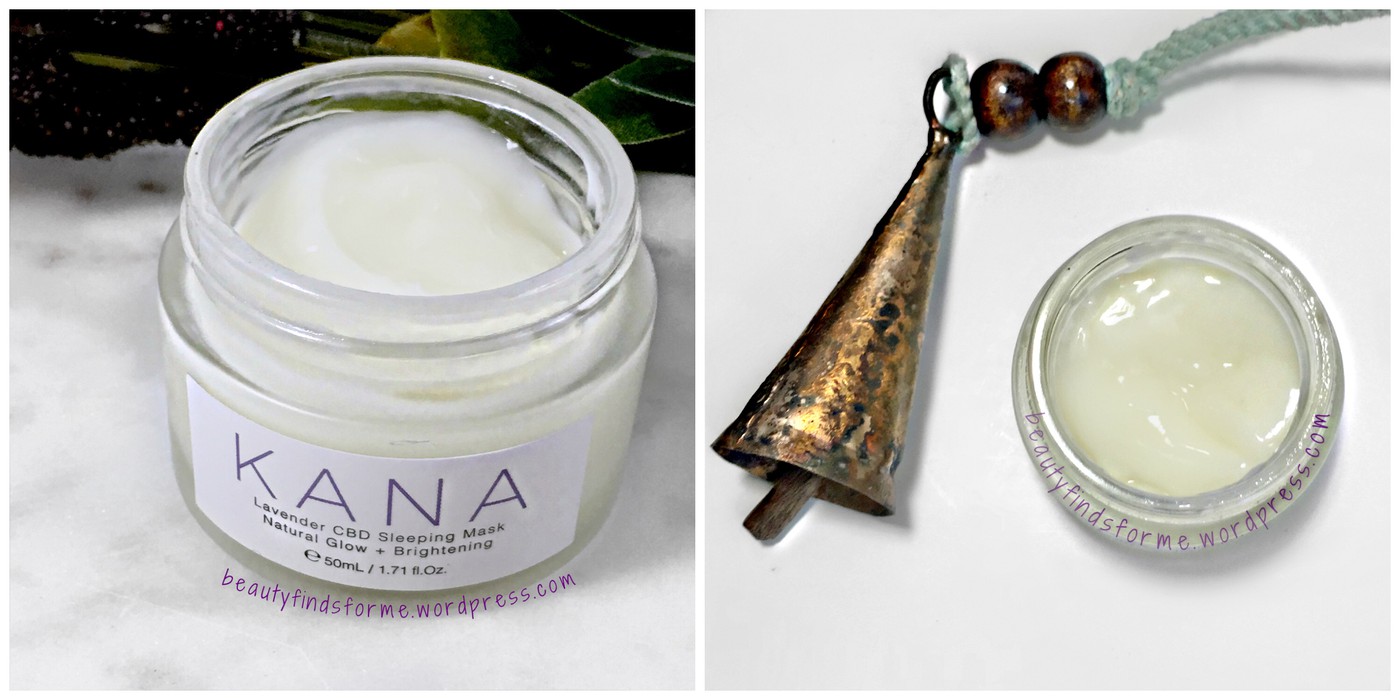 This product has so many lovely ingredients in it and if you are a regular reader of my blog, you know I have covered a lot of the benefits of soothing chamomile, moisturizing and skin softening a-bisabolol, healing, aromatic lavender, aloe, centella, propolis, licorice and hydrating humecant hyaluronic acid all the time.  This not only has 28 active botanicals, it has anti-aging amino acid tripeptide-29, repairing and hydrating beta glucan, nourishing ceramide, phytosqualane, vitamin E and polyglutamic acid! It is packed with so many emollients, anti-inflammatory, brightening, healing and soothing antioxidants.  Kana Skincare provided the ingredient spreadsheet below with the benefits of each ingredient, so I wanted to concentrate on the hemp ingredients instead.
Hemp seed oil is one of the most nutritious oils out there ~ it contains almost 85% essential fatty acids, including alpha-linolenic and linolenic acid. Linolenic acid is one of my favorite types of fatty acids as it is so beneficial for oily skin ~ all skin types, but especially for oily skin, blemish prone skin as our skin types are deficient in this essential fatty acid.  Oily skin produces too much of oleic acid and it starts to clog our pores and that causes blemishes.  By re-introducing more linolenic acid back into our skin, we are helping soothe and heal, balance the sebum production and prevents clogged pores.  It also helps smooth out your skin and soften the appearance of wrinkles.
Cannabidiol (CBD) is part of hemp plant, but it is not hemp oil.  It is not a psychoactive and has many health care benefits, with a focus on anti-inflammatory, antibacterial and anti-oxidants, such as omega 3 fatty acids, vitamins A, C and E.  This is absorbed directly through our skin when applied topically and not into the bloodstream. CBD has excellent hydrating  and softening abilities and due to its antioxidant benefits, it will help protect from free radical damage and repair existing damage to your skin.  CBD helps control your oil production and since it is an anti-bacterial agent, it can help prevent blemishes, while soothing and lessening irritation.  CBD oil is legal in the USA and you do not need a prescription to use it.  Kana Lavender CBD Sleep Mask contains 50 mg of organic CBD, extracted from the stalks of industrial hemp plants and does not contain THC, so it is legal in all 50 states and the UK.

| | | |
| --- | --- | --- |
| Ingredients | Info | Benefits |
| Aqua | Water | catches ions of sodium, potassium, magnesium, and other minerals, which nourish the interior of our skin cells |
| Chamaemelum Nobile Water | Herbaceous perennial; flowers infused in boiling water (aka tea) | practitioners believe it to be a calming agent to reduce stress and aid in sleep |
| Lavendula Angustofolia Water | aq. solution by distillation from the flowers of Lavandula angustifolia. | Natural fragrance ingredient. Masking agent. |
| Glycerin | colorless, odorless, viscous liquid that is sweet-tasting and non-toxic | stable preserving agent for botanical extracts; an "alcohol-free" alternative to ethanol as a solvent in prep.herbal extractions |
| Aloe Barbadenis Leaf Extract | juice extracted from the leaves of Aloe Vera | enhance the appearance of dry or damaged skin by reducing flaking and restoring suppleness; improves skin inflammation. |
| Cannabis Sativa(Hemp) Seed Extract | juice extracted from dried Sativa seeds | It's an Emollient: having the quality of softening or soothing the skin |
| Centella Extract | perennial herb also known as gotu kola (known for medicinal uses) | used to support faster healing of scratches and superficial burns; anti-inflammatory for eczema, minor itching, insect bites |
| Chamomille Recutita (Matricaria) Flower Extract | Chamomille plant extract | well-known medicinal plant used in herbal remedies for thousands of years and it offers a wide variety of benefits |
| Echinacea Angustifolia(Cornflower) Leaf Extract | Plant w/ antibiotic properties. Juice extracted from leaves | activate chemicals in the body that decrease inflammation, which might reduce cold and flu symptoms. Moisturizing, soothing, tonic. |
| Glycyrrhiza Glabra( Licorice) Root Extract | Licorice Root Extracted for its Licochalcone | used as an anti-inflammatory and antioxidant. Licochalcone helps control oil production, & helps calm & soothe acne-prone skin |
| Propolis Extract | resinous material from either bees OR cone shaped trees (like pine) | Bees, in an effort to close gaps in hives, use propolis as a precautionary measure to keep out dangerous microbes & fungi |
| Anthemis Nobilis Flower Oil | volatile oil distilled from the dried flower heads of Anthemis | The essential oil from the chamomile flower in particular promotes soothing and can reduce irritation as well. |
| Cannabis Sativa (Hemp) Seed Oil | volatile oil extracted from the seeds of the Cannabis sativa plant. | multipurpose ingredient. Used widely in skin care for its regenerative ingredients |
| Chamomile Recutita (Matricaria) Flower Oil | volatile oil distilled from the dried flowerheads of Matricaria recutita. | Inflammatory properties; calm sensitive skin. Antioxidant protection. Used to soothe, moisturize & inhibit the growth of bacteria. |
| Citrus Aurantium Amara(Bitter Orange) Flower Oil | Bitter orange oil is made from the peel. | useful for dull, oily, congested and acne prone skin. Good for acne prone skin and to brighten the face. |
| Citrus Aurantium Dulcis (Sweet Orange) Oil | Volatile oil expressed from the fresh peel of the orange fruit. | help promote production of collagen & increase the blood flow to the skin. Beneficial for soothing dry, irritated skin & acne-prone skin. |
| Fusanus Spicatus Wood Oil | volatile oil obtained from the wood of Fusanus spicatus. | Natural fragrance ingredient. Masking agent. |
| Lavandula Angustifolia (Lavender) Oil | Oil extracted from Lavandula Angustifolia by steam distillation | treat various skin disorders such as acne, wrinkles, psoriasis, and other inflammatory conditions. Improves formation of scar tissue. |
| Organic Hemp Derived Cannibidiol | Isolate, 0% THC, hemp derived, water soluble | Absorbed directly through the skin without entering bloodstream. Has essential nutrients that include fatty acids, proteins, minerals and vitamins. It can assist in regenerating the protective outer-layer of the skin leaving it younger and smoother. |
| Persea Gratissima (Avocado) Oil | Oil extracted from Avocado | It can penetrate quickly into the lower skin layers where its high content of vitamins A, C, E, lecithin, phytosterols and Omega 9 fatty acids to promote healing, skin regeneration and protection from the aging effects of UV light and pollution. |
| Allantoin | from the extracts of a comfrey plant. | skin soothing, healing and keratolytic (ability to remove excess skin) properties. |
| a-Bisabolol | colorless viscous oil isolated from German chamomile | Acts as an anti-irritant, protecting the skin from everyday damage. Stimulates and promotes the skin's healing process. Improves the appearance of damaged skin by moisturizing and helping to restore suppleness. Prevents signs of aging with antioxidant benefits. Reduces incidence sunburn. Soothes irritation by acting as an analgesic and relaxant. Helps fight bad bacteria and even some cancer cells. |
| Beta-Glucan | sugars found in the cell walls of microorganisms, plants & barley | used to treat dermatitis, eczema, wrinkles, bedsores, wounds, burns, diabetic ulcers, and radiation burns; anti-wrinkle agent |
| Carbomer | Texture Enhancer | texture enhancers used primarily to create gel-like formulations. |
| Ceramide | Ceramides are a family of waxy lipid molecules in cell membranes | ceramides are used to replenish the natural lipids that are lost from exposure to harsh environmental factors, use of drying products, and during in the aging process |
| Dipotassium Glycyrrhizate | A salt derived from the licorice plant. | works to improve the appearance of dry/damaged skin by reducing flaking and restoring suppleness, and also functions as an anti-irritant with anti-inflammatory and skin soothing capabilities. In fact, clinical tests point to the ingredient as an effective treatment for atopic dermatitis. |
| Ethylhexyl Olivate | Olive oil | promotes better skin hydration levels that, in turn, will increase the mechanical properties of the skin, resulting in skin that is more flexible with better suppleness and resiliency. |
| Hyaluronic Acid | naturally occurring substance in the human body (joint lub) | creates a moisture barrier on the skin, helping to make it smoother and softer. Good for dehydrated skin to make it plump. |
| L-Arginine | α-amino acid that is used in the biosynthesis of proteins | repairs and rejuvenates skin and is anti-aging. Quickens wound healing. |
| Pentylene Glycol | synthetic humectant | forms polyesters that are used as emulsifying agents and resin intermediates |
| Phytosqualane | plant derived squalane; pleasant and silky feel | non-irritating, provides soft, silky skin. non-greasy and promotes the absorption behavior of other cosmetics optimally |
| Polyglutamic Acid | polymer of the amino acid glutamic acid | enhance the moisturizing capability of skin without breaking moisture balance of skin. |
| Polysorbate 80 | nonionic surfactant and emulsifier | helps to dissolve ingredients so that they can more easily blend together. |
| Propanediol | Solvent; Viscosity Decreasing Agent | can enhance the absorption of ingredients (such as salicylic acid) into the skin |
| Sorbitan Tristearate | dispersing agent, emulsifier, and stabilizer | stabilizes an emulsion in processed solutions |
| Tripeptide-29 | three chain amino acid | Increases fibroblast activity for collagen I synthesis by 400%. This increase in support within the skin minimizes the look of fine lines and wrinkles. |
| Vitamin E | Vitamin E | Natural preservatives |
table courtesy of Kana Skincare
Ingredients: water, chamaemelum nobile water, lavendula angustofolia water, glycerin, aloe barbadenis leaf extract, cannabis sativa(hemp) seed extract, centella extract, chamomille recutita (matricaria) flower extract, echinacea angustifolia(cornflower) leaf extract, glycyrrhiza glabra( licorice) root extract, propolis extract, anthemis nobilis flower oil, cannabis sativa (hemp) seed oil, chamomile recutita (matricaria) flower oil, citrus aurantium amara(bitter orange) flower oil, citrus aurantium dulcis (sweet orange) oil, fusanus spicatus wood oil, lavandula angustifolia (lavender) oil, organic hemp derived cannibidiol, persea gratissima (avocado) oil, allantoin, a-bisabolol, beta-glucan, carbomer, ceramide, dipotassium glycyrrhizate, ethylhexyl olivate, hyaluronic acid, l-arginine, pentylene glycol, phytosqualane, poly glutamic acid, polysorbate 80, propanediol, sorbitan tristearate, tripeptide-29, vitamin E  cosDNA analysis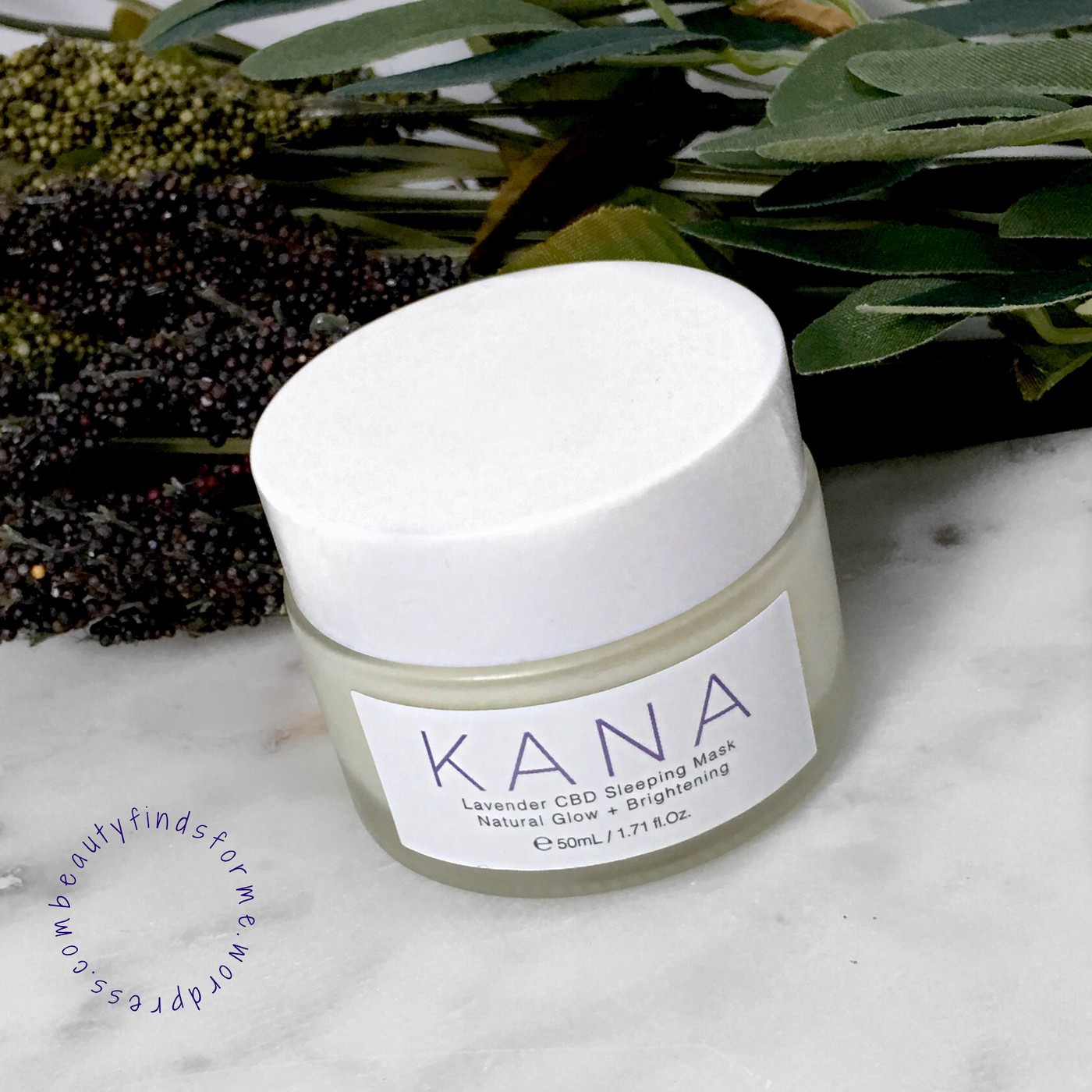 Kana Lavender CBD Sleep Pack comes in a 50 mL glass jar and when I open it up, it reveals an opaque creamy white gel-cream.  It has a light herbaceous scent to it, due to the lavender and chamomile ingredients.  It doesn't smell like a floral lavender, but more of the herbal side of that family.  Its texture is very loose and when I apply it to my face, it just melts into my skin like water ~ but due to all of the moisturizing oils in here, I can feel that it not only hydrating my skin, but moisturizing it as well.

This has an initially sticky texture but after 5 minutes, this cream soaks right into my skin and it doesn't clog my pores. My initial impressions on the moisture level did reveal it increased my moisture level by 39% but it also decreased the oil levels by 35%.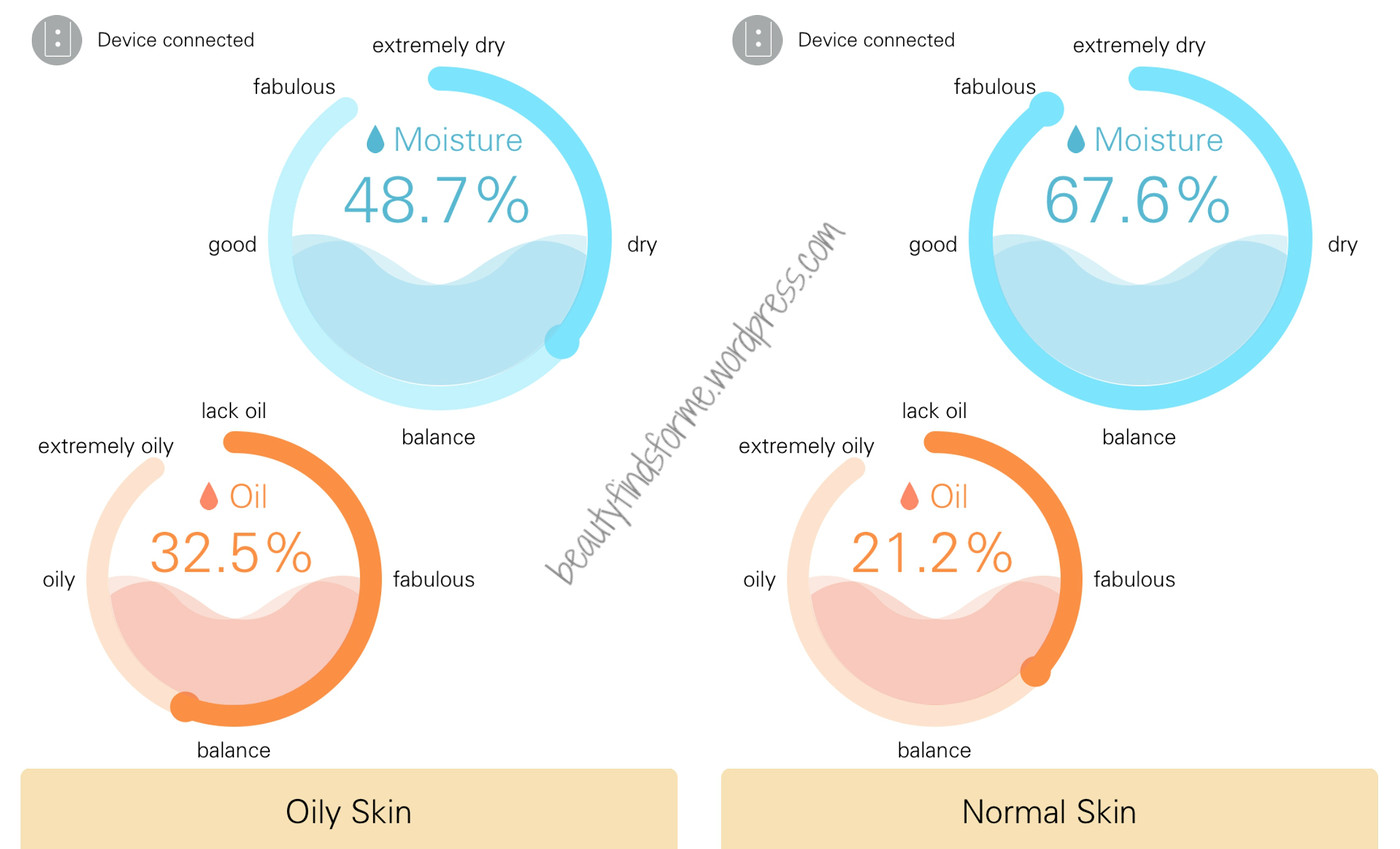 I also did a trio of moisture tests as well ~ before applying the Kana CBD cream (46.6/ 33.2), about 10 minutes later after application (67.4/21.1) and then I went to bed.  I did not use any other creams or lotions, other than an eye cream, on my face just for these tests and I was very pleased with the results.   I did another reading when I woke up (52.8/16.5) ~ you can see the times when I took the readings too.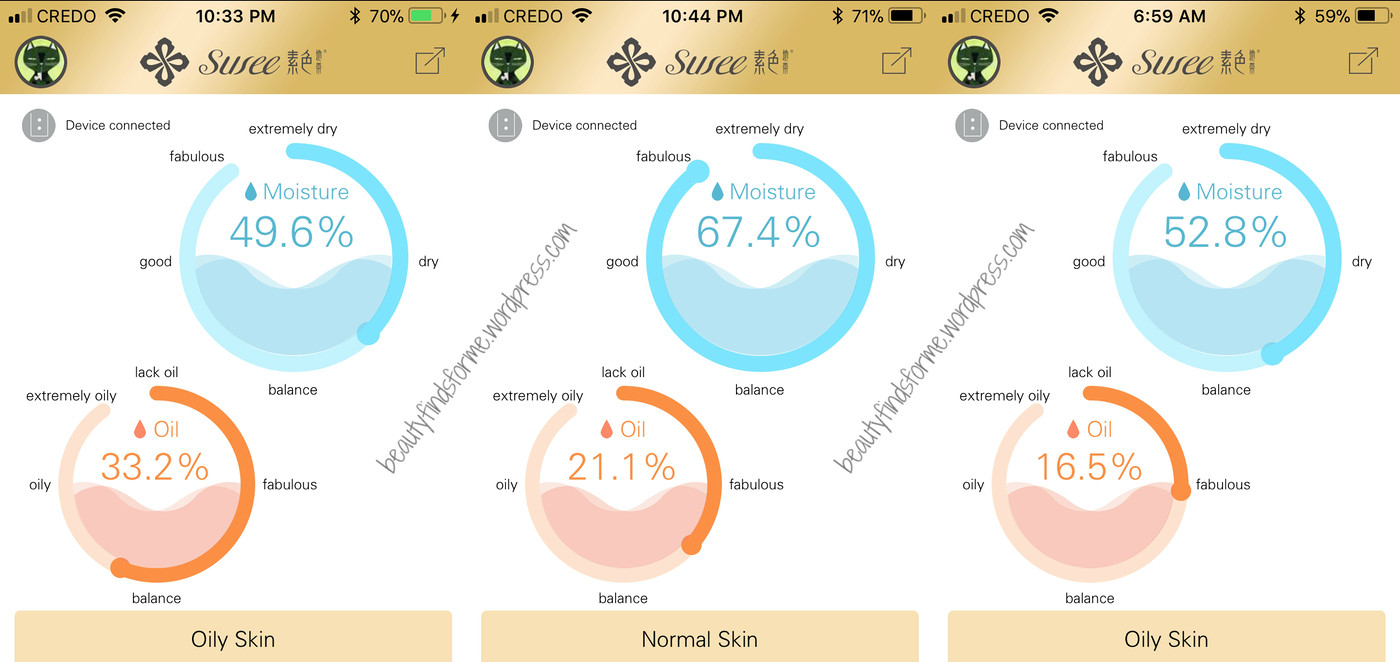 This test was conducted during the wintertime, so I had the heat turned on and as you know, heat normally dries out my skin and makes it more oily overnight. What was surprising was the results…The results from the first two readings are consistent with my initial impressions moisture/oil readings ~  increase of 36% moisture and a decrease of 36%  in oils within 10 minutes of application.  Time to go to bed and watch TV … sleep… toss and turn… wake up around about 8 hours after the application of this sleep pack. Now, I lost about 22% in moisture, but that is to be expected ~ but my moisture levels are still really good at over 50% ~ look at where the line is on the circle.  It is just a tad shy of "balance" and because of that, my skin is called "oily".  The next number is more surprising to me ~ my oil decreased by 22% as well.  What?  That NEVER happens overnight.  Normally I would see numbers in the 35% to 45% range in the morning!

The results?  I have been using this sleep pack for over a month now, three times a week.  I feel this cream has been instrumental in helping clear up my blemishes, redness and irritation while leaving my skin soft, supple and smooth.  My skin does not feel more oilier in the morning which I was surprised ~ this cream seems so lightweight, but it really helped control my oil and lessen it!  My skin is refreshed and not dull looking at all with a nice glow.  If you have drier skin than me, I do recommend that you continue with your previous skincare steps before applying this cream.

When is a sleep pack not a sleep pack?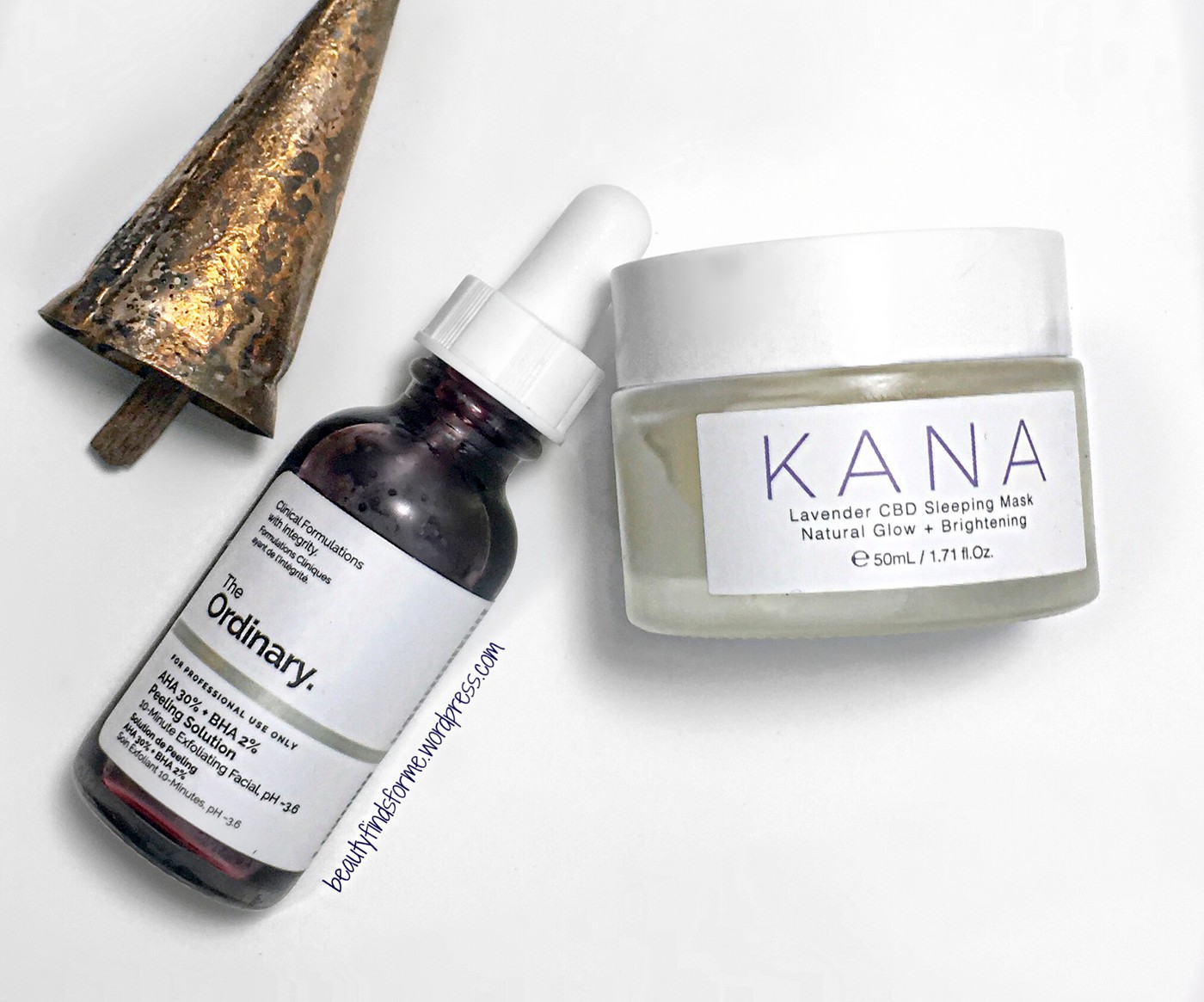 Another great use for Kana Lavender CBD is to use it after you do an acid or laser treatment.  I use The Ordinary's  30% AHA 2% BHA Acid Peel treatment and that product does sting a bit after usage, so using a tip from the lovely ladies at Kana Skincare, I applied this mask on my face and let it absorb in.  It is cooling, refreshing and helps reduce the stinging, redness and irritation that I get when using a higher percentage of an acid treatment.
Final Thoughts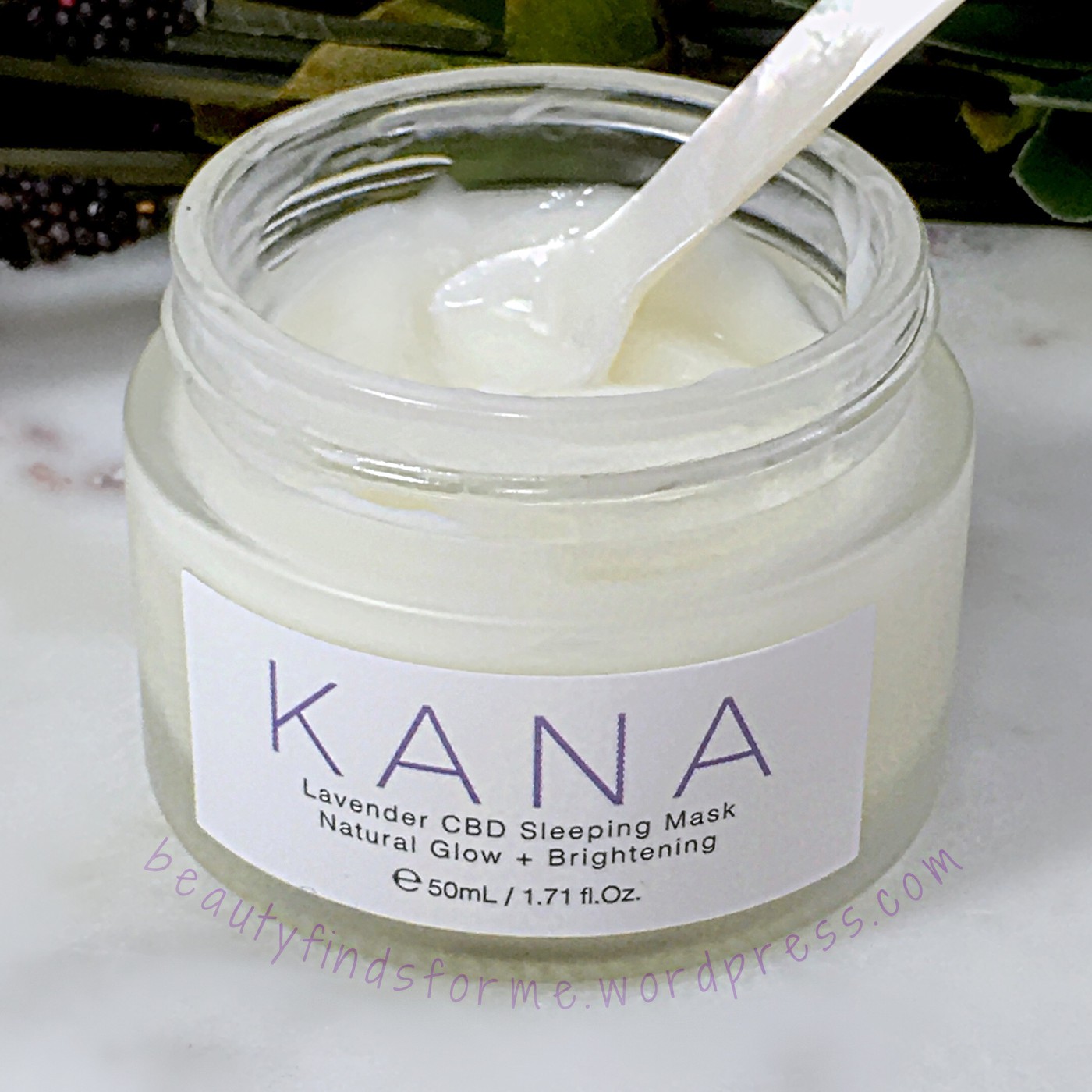 Although I received this complimentary in exchange for review purposes, I would have purchased it anyway. I remember seeing this pop up on my Instagram feed and I immediately started following and asking lots of questions to the lovely ladies at Kana Skincare.  I was fortunate enough to receive this jar and my only complaint is that I wish it came in a bigger jar!  I found this sleep pack really helped heal my skin while hydrating it and reducing my oil production overnight, which is not an easy thing to do.  My skin looks refreshed in the morning, which during the dull grey Boston winter months, is also an almost impossible feat. I had never tried a skincare product with CBD in it before, only hemp seed oils, so it was a really a fantastic experience for me to try it out. 
Would I purchase this product with my own money?  Yes, I certainly would and will!  I am about 3/4 of the way done with this sleep pack as I did share with some friends (hey, you find something you like, you want to share it, right?), so it is almost time for a purchase.  I am also excited because Kana Skincare will be coming out with a serum as well, so I will be looking to try that one as well.  You can purchase this at Kana Skincare and also at Dankgals for a $45.00.    Have you tried skincare with hemp and CBD in it?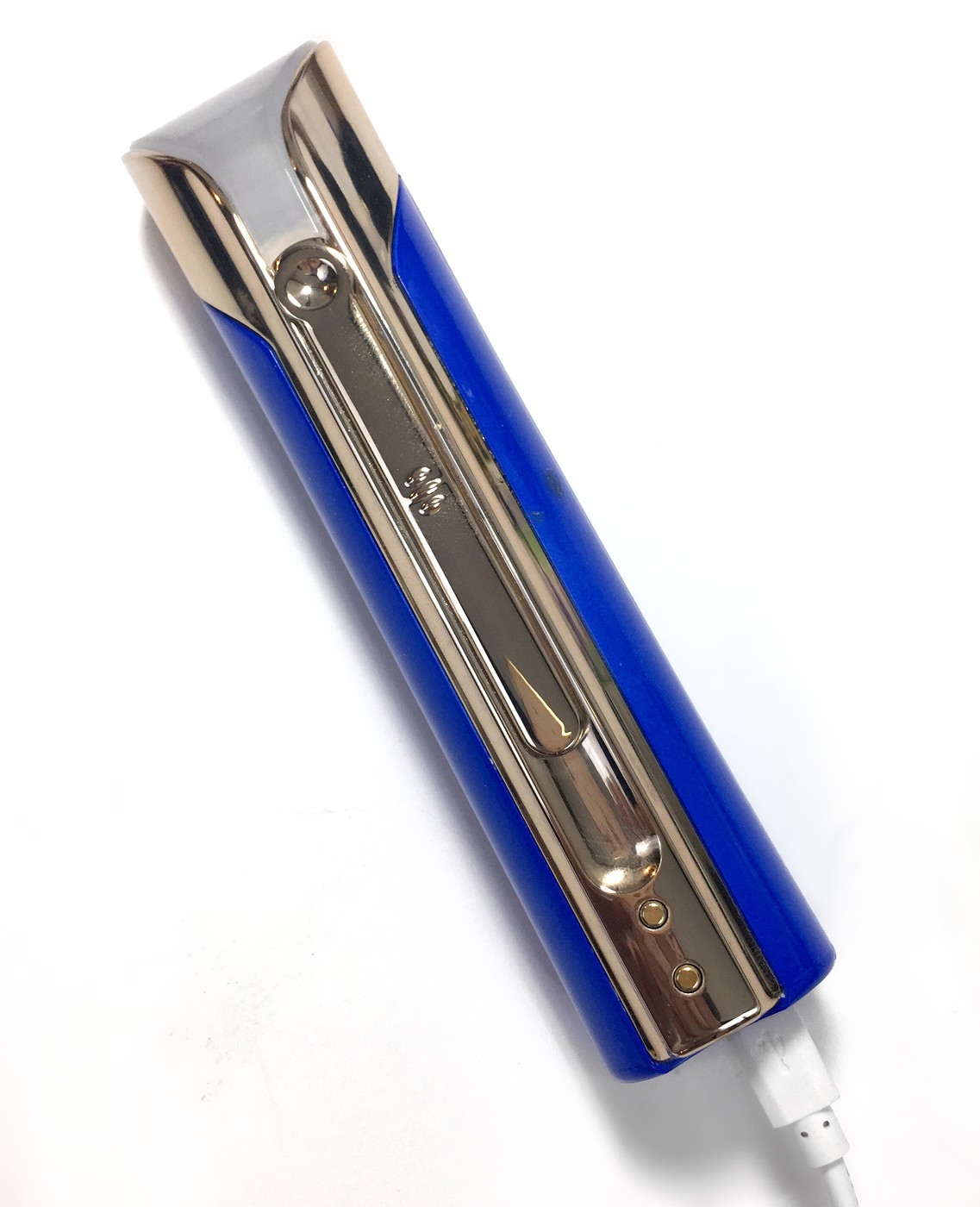 Every time I post those photos of the moisture/oil readings, I always get asked about my skin moisturize/oil device. This is the Susee Nano Spray Device and I have been using it for over a year now.  You do need bluetooth and a mobile device to use this, as it uses an app.  It not only registers your readings, it will save and track them as well.  I have used several different devices and I find this one to be the most accurate for readings, as it solely goes by what is on your skin and not other external factors.  It is that huge because you can use it as a mister too, but I don't use it as one ~ I am only interested in taking the moisture/oil readings. One thing to remember, home devices like this cannot tell the difference between your own sebum(oil) and the oil in a skincare product, so if you have dry skin and the reading states you have oily skin, it is most likely due to your skincare having an abundant of oils in it.  The best way to read these devices is to test over a period of time, know your skin type and pay attention to the percentages in the circles.   You can purchase the Susee Nano Spray at eBay for under $40.00.