This is my fourth month with Nourish Beauty Box, which is an eco-friendly and organic products with some bold makeup items as well as skincare!  I have basically given up on Sephora and Birchbox for now ~ this is 3 times the cost as those boxes, but I find I am more happy with the curation of this box.

Nourish Beauty Box will contain four full sized eco-friendly, vegan, paraben free, cruelty free and organic bio-natural skincare and makeup products monthly.  Three of the brands are mainstays in the box ~ Nourish Nails (house brand for nailpolish), Peony Cosmetics and Seraphine Botanicals. The boxes start out at $29.95 and can be as low as $26.65/monthly for a 6 month subscription.  I recommend for USA addresses to use this link here for the $29.95 as it includes shipping.  For International readers, use this link instead, as it is less expensive that on their main site ~ free International shipping at $34.95/monthly.  I am not sure why they have two different price settings, but hey, you save a couple of dollars using that alternate link.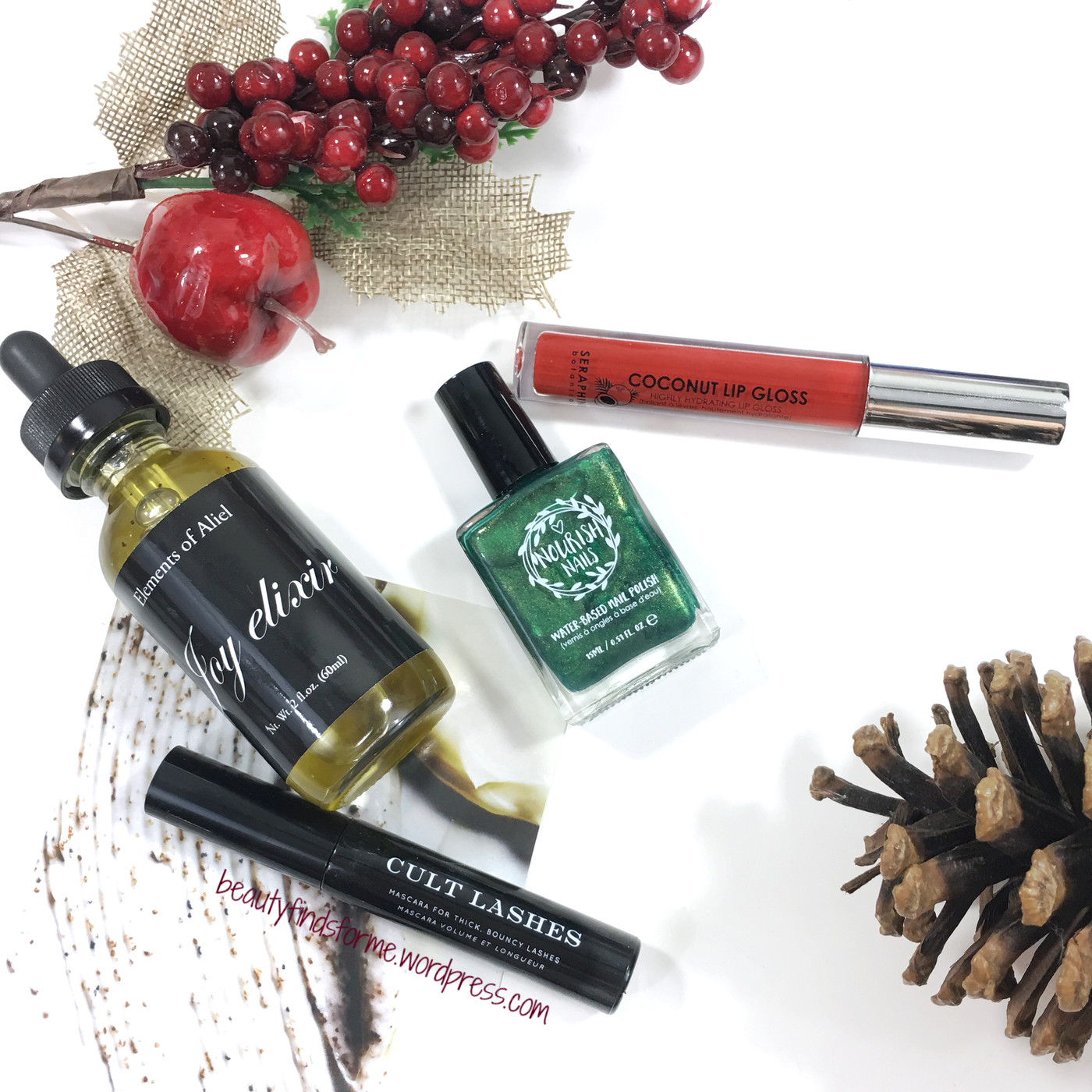 Informational Card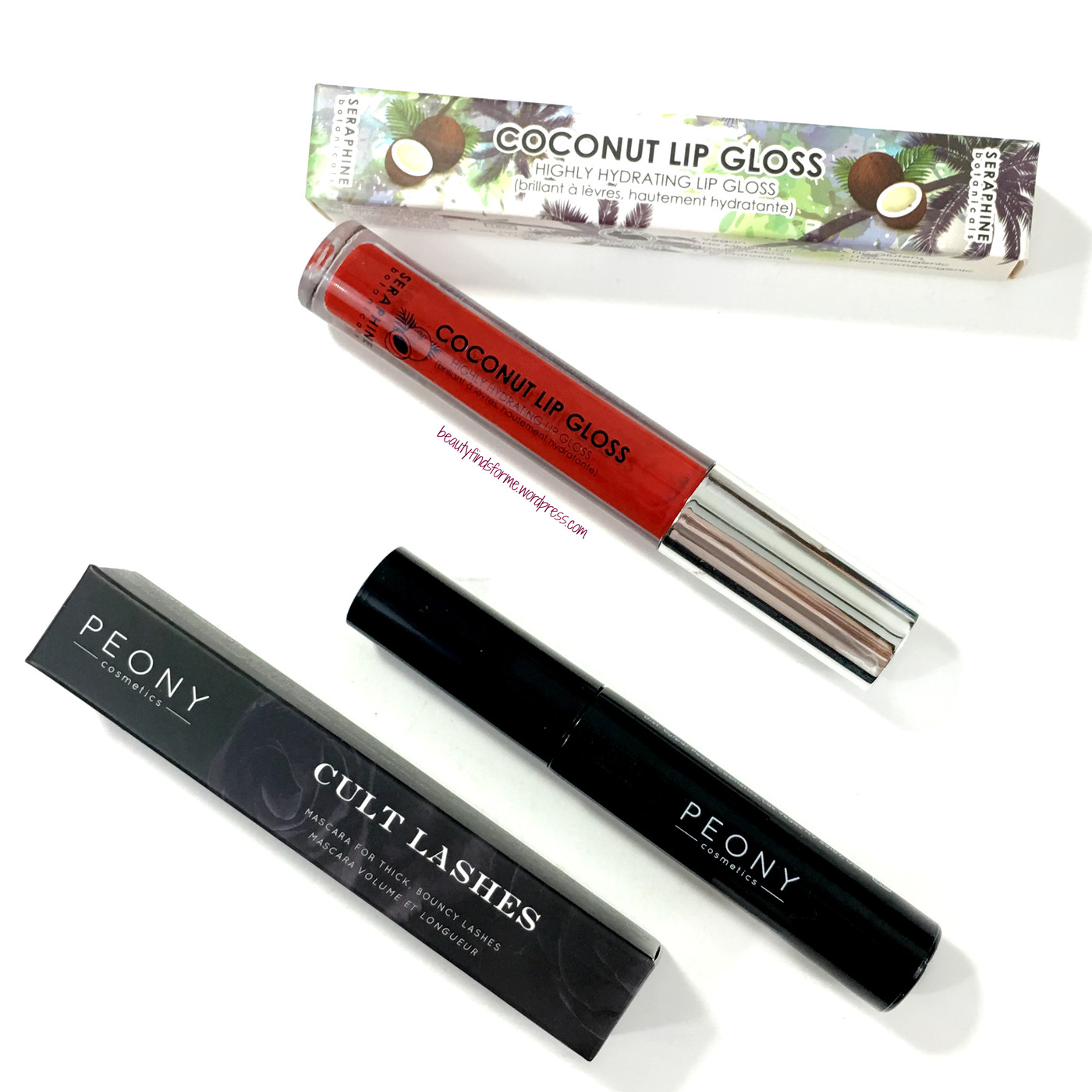 Seraphine Botanicals Coconut Lip Gloss in "Coconut Passion"   WOOO Starting off December's month with a festive tomato red lip gloss, made with cold pressed coconut oil and 3 other nourishing oils ~ dog rose, grape seed and jojoba oil to keep your lips hydrated and conditioned.  This gloss is not sticky once applied and it is highly pigmented ~ so much so, that when I wipe off the gloss, a nice light pinkish-red stain is left behind.  This smells like coconuts too!  However, it is a bit grainy, which I attribute to the coconut oils solidifying a bit due to the cold weather, as once this is on my lips for a few minutes, that grainy texture goes away.  I can assume that the hardened bits of oil have melted into my lips due to my natural body heat.

I actually am happy to get this bright red creme color as I have not had a red gloss in a long time!! There was a time several years ago when I was drowning in red lippies, due to all of the subscription boxes I was sub'd to, but not anymore.  This gloss is contains no mineral oil, parabens, phthalates or gluten.  It is vegan, GMO-free and hypoallergenic with no animal testing ~ cruelty-free.   Seraphine Botanicals also makes 3 other shades in this formula ~ Coconut Craze (fuschia/magenta), Coconut Joy (pink) and Coconut Desire (coral)   4 mL RV $24.00
Vegetable-Derived  Natural 
Ingredients: rosa canina (dog rose) fruit oil,  simmondsia chinensis (jojoba) seed oil, vitis vinifera (grape) seed oil,  dextrin palmitate, silica dimethyl silylate, cocos nucifera (coconut) oil, ubiquinone (coenzyme Q10), fragrance, sorbic acid (acidum sorbicum)  [+/- (may contain) titanium dioxide (CI 77891) , iron oxides (CI 77491, CI 77492, CI 77499), D&C red no. 7 ca lake (CI 15850)]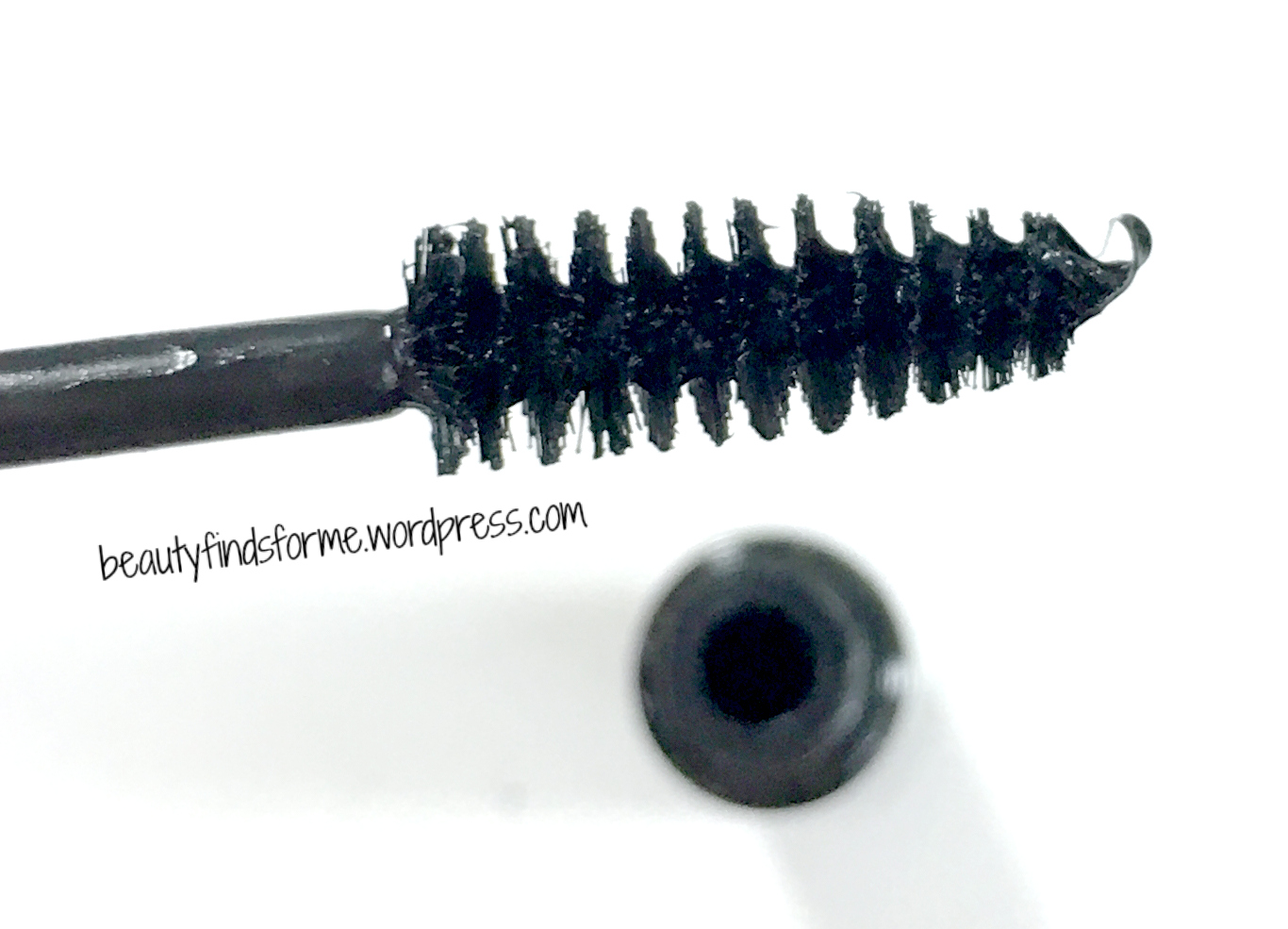 Peony Cosmetics Cult Lashes  This deeply pigmented, black mascara is supposed to help thicken and volumize your lashes.  Most vegan mascaras have a massive problem with the definition of what is volume and Peony Cosmetics doesn't seem to understand it either.  This does not thicken or make my lashes bigger, but what it does do is separate, lengthen and curl my lashes. This is a great every day mascara and I like wand ~ it is not huge, so I won't poke my eye out when I need to coat the harder to reach inner lashes. This is infused with daisy and carnation extracts, which I am unsure why these flower based ingredients are included in a mascara.  Daisy is known for its brightening properties and carnation is an anti-aging ingredient. I couldn't find any benefits for hair or lash care.  But this does have argan oil and wax, which helps condition and strengthen your lashes.   This is vegan, gluten-free and is 100% cruelty-free with no parabens.  8 mL RV $23.00
Vegetable-Derived  Natural 
Ingredients:  : water, ethylhexyl palmitate, mica, simmondsia chinensis (jojoba) wax, euphorbia cerifera (candelilla) wax, argania spinosa (argan) kernel oil, glyceryl caprylate, kaolin, glycerin, bellis perennis (daisy) flower extract, dianthus caryophyllus (carnation) flower extract, PVP (polyvinylpyrrolidone), xanthan gum, sorbic acid (acidum sorbicum)  [+/- (may contain)  iron oxide black (CI 77499)]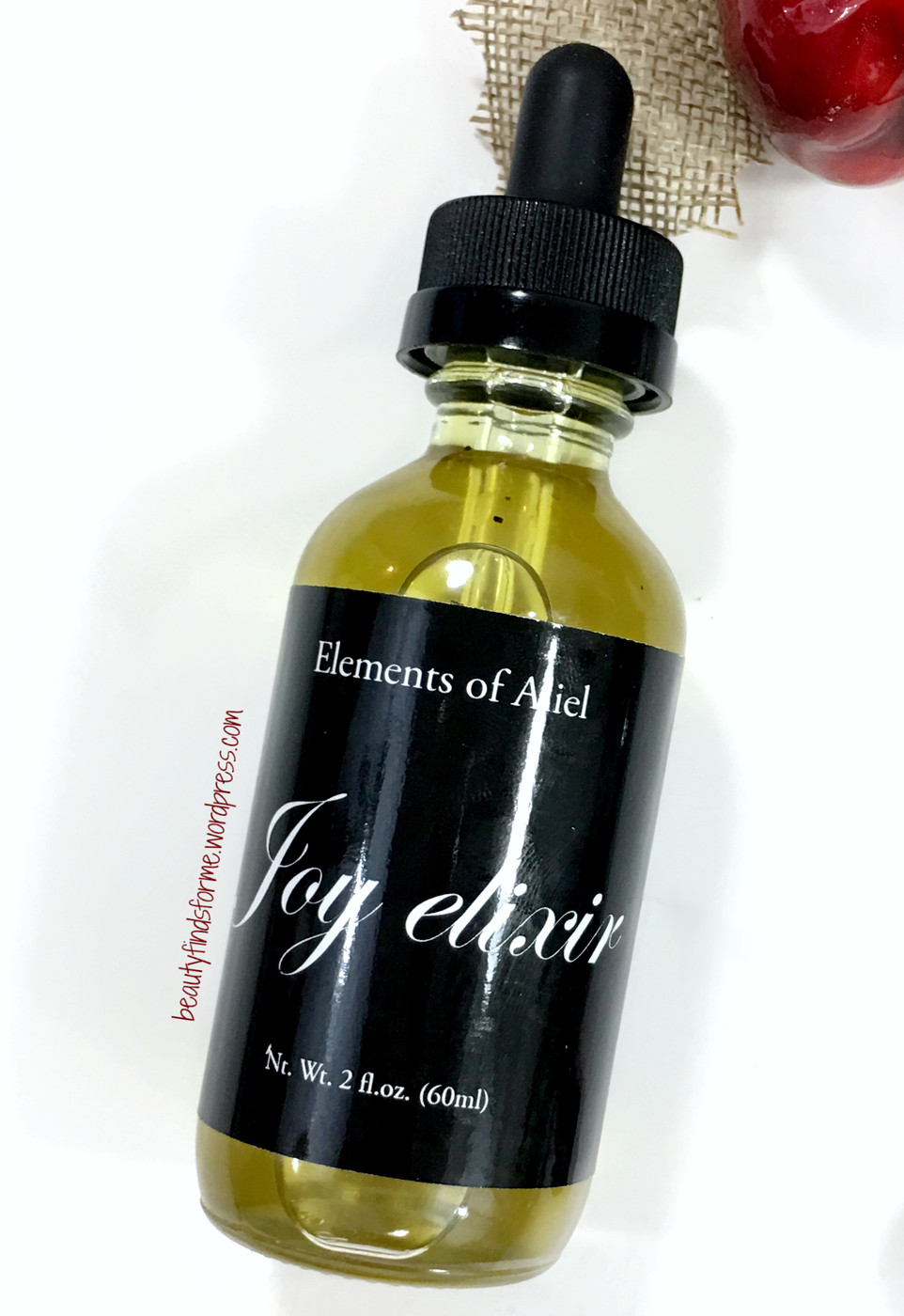 Elements of Aliel Joy Elixir  I actually have tried this brand before in my Kloverbox ~ I had gotten the African black soap Love Cleanser and really enjoyed it a lot.  This is a huge bottle of oil with some simple nourishing and anti-aging ingredients ~ grape seed and rosehip oils, lavender  flowers and green tea leaf extracts.  Alas, despite what they say in the description as a lightweight fast absorbing oil, this isn't that.  This is a heavier oil for me.  This also has little bits of stuff floating in it and I have to assume that is the flowers and leaf extracts that I see there.  I am not for sure that is what it is, but this oil doesn't smell rancid ~ in fact, it doesn't smell much like anything but a light oil.  I was disappointed in its lack of lavender scent.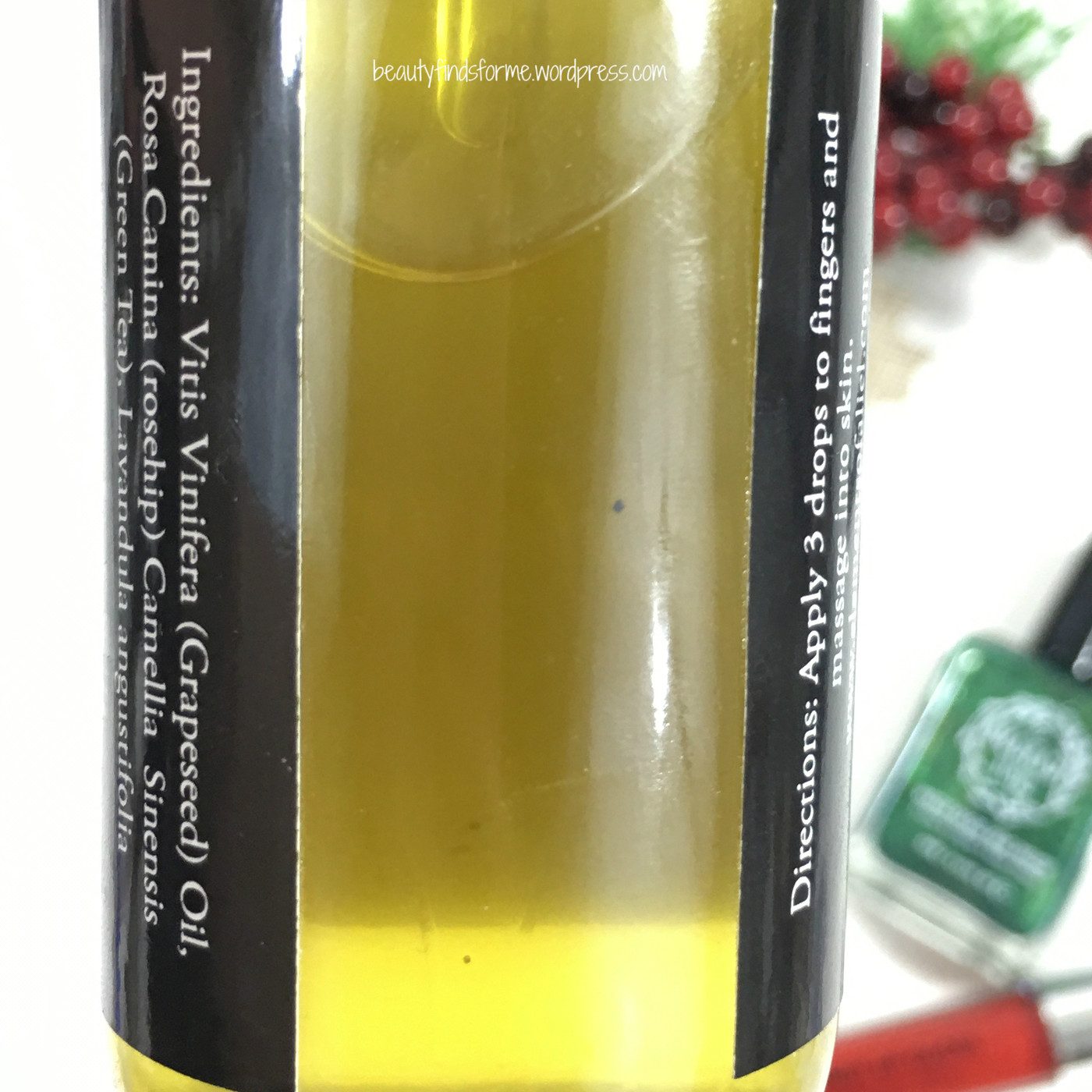 However, I will use this ~ I use heavier oils on my legs when I shave ~ they really help condition and make shaving faster and more nick-free.  I will transfer this oil to a plastic squeeze bottle, so it won't break in the shower.  I wish we just would have gotten something else besides a HUGE bottle of oil as the most expensive item in the box.  2 oz RV $45.00
Description: Give your skin the boost it deserves with this lightweight fast absorbing oil.
Grape Seed Oil Lightweight and perfect for all skin types as it will not clog your pores. This plant oil is known to reduce dark circles and blemishes as well as heal acne.
Rose Hip This skincare super plant contains essential fatty acids, vitamin E, vitamin C and B-carotene which makes it extremely beneficial to the skin. It boosts anti-aging properties as well as protection from sun damage and helps heal scars.
Green Tea Green tea has anti-aging and antioxidant benefits that can help delay sun damage, age spots, fine lines and wrinkles. The polyphenols help neutralize harmful free radicals, which cam accelerate the aging process
Lavender In addition to its aromatic properties, lavender is known to restores skin complexion, reduces acne, slows aging with powerful antioxidants and improves eczema and psoriasis.
Ingredients: Vitis Vinifera (Grape) Seed Oil, Rosa Mosqueta (Rosehip) Fruit , Lavandula Officinalis (Lavender) Flower , Camellia Sinensis (Green Tea) Leaf cosDNA analysis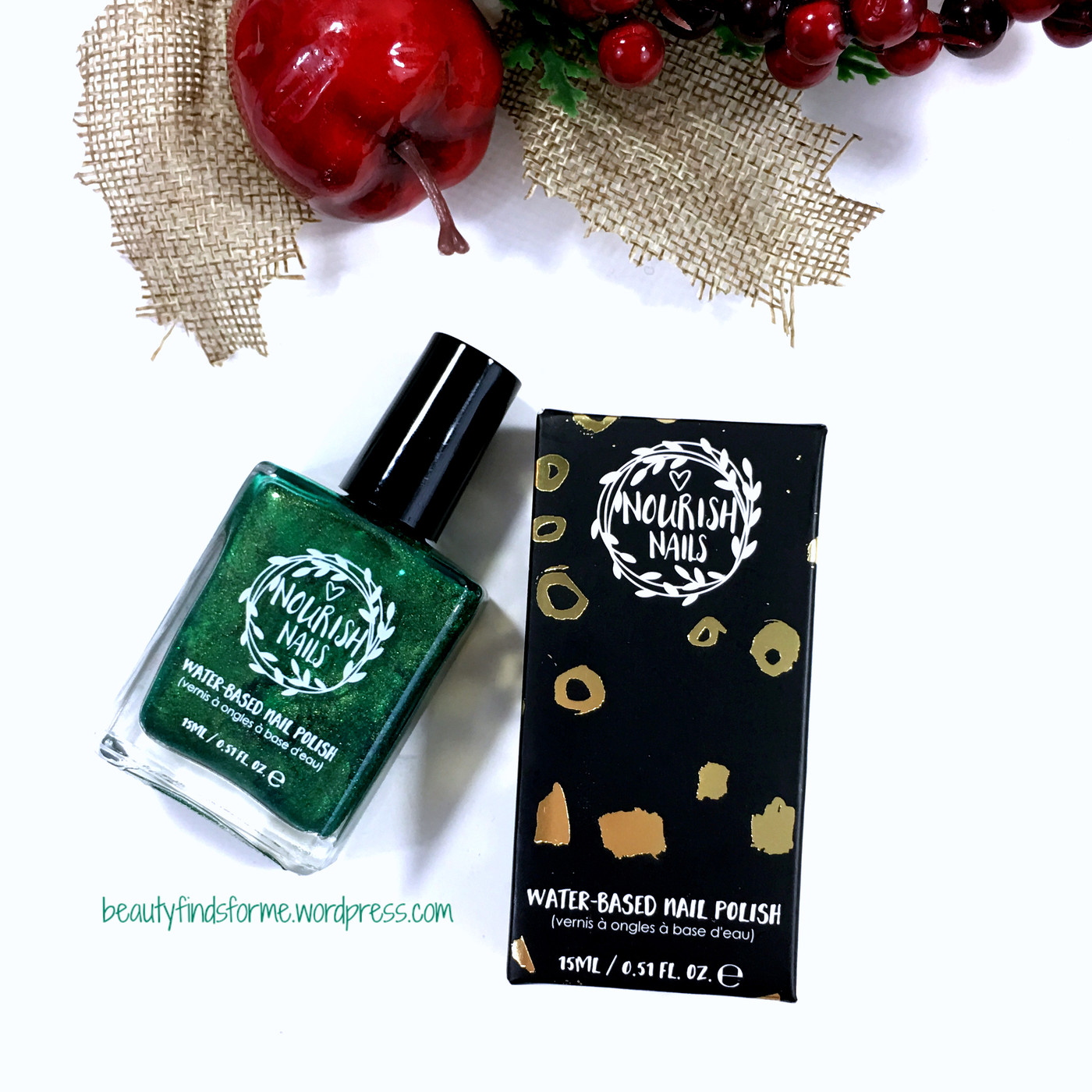 Nourish Nails in "Stay Real"  Every month, Nourish Beauty Box will include one of their own products  ~ Nourish Nails Polish.  Nourish Nails is an eco-friendly, vegan and natural water-based nail polish, formulated free of   formaldehyde, toluene, DBP, formaldehyde resin, parabens, xylene, camphor, mineral oil, phthalates, sodium lauryl sulfates, gluten, phenoxyethanol, lead, nitrocellulose, GMOs and animal-derived ingredients. One of the down sides  with water based nail polishes is that they tend to peel off my nails quickly.  I usually use both a base coat and top coat to handle that, but they do not last as long as other polishes.  I normally use water based polishes on my fingers, because I am a nail polish peeler and my manicures usually do not last that long normally.  I do not recommend water based nail polish for your toe nails.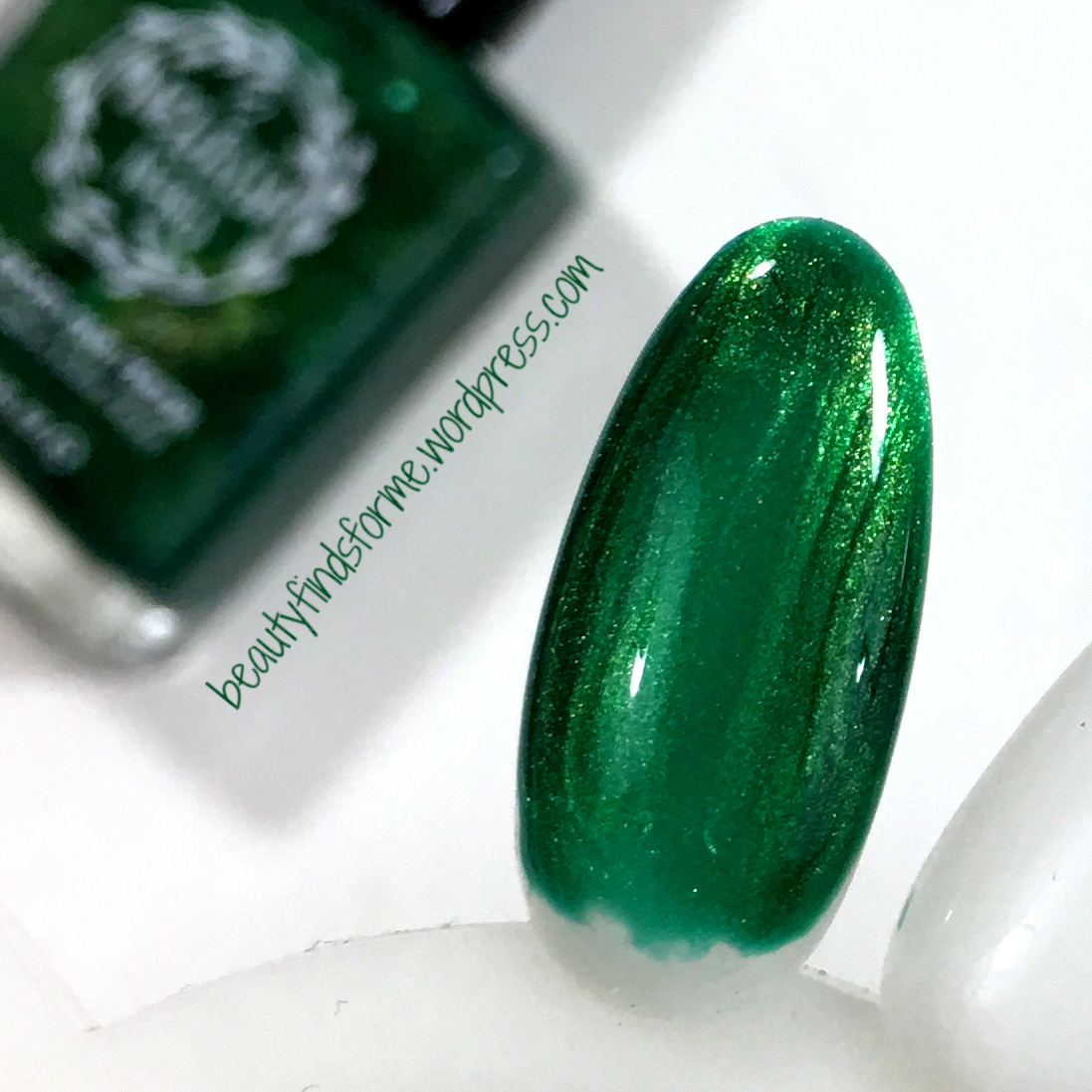 This is much better than last month's nail polish shade ~ this is so appropriate for holiday parties.  Stay Real is a metallic holly leaf green shade that is so festive!   15 mL  RV $12.50
Description: The ultimate, ultra gentle nail varnish formulation with a revolutionary water-based resin that creates a high shine coating that is both air and water permeable. This allows for oxygen and water to reach the nail bed to help nails stay healthy, stronger and to help reduce discoloration. The unique nourishing formulation provides a super high-shine coat, long-lasting color and a fast-drying finish.
Vegetable-Derived  Natural  
Ingredients: water, styrene/acrylates copolymer, acrylates copolymer, PPG-2 butyl ether, sorbic acid   [+/- (may contain) mica, titanium dioxide (CI 77891), iron oxides (CI 77491, CI 77492, CI 77499), manganese violet (CI 77742), blue 1 lake (Cl 42090), red 6 lake (Cl 15850), red 7 lake (Cl 15850), red 33 lake (Cl 17200), red 28 (CI 45410), yellow 5 lake (Cl 19140), yellow 6 lake (Cl 15985), red 40 lake (Cl 16035)]
Final Thoughts
This month, I loved all of the makeup items ~ the mascara really helps curls my lashes, the coconut infused lip gloss and nail polish are perfect holiday colors.  The skincare item, whereas it isn't horrible, is quite the let down for a very expensive oil, that doesn't smell like anything much and is too heavy for my face. It will get re-purposed as a shaving oil, but yeah, it is a bit of a let down as Elements of Aliel has some really lovely products.  That said, I am still loving this subscription ~ I know I won't love every item in every box, but so long the majority of the items are fun and usable for me, I will continue to subscribe!  I paid $29.95 and received a retail value of $104.50.  Now, I mentioned it before but I will say it again ~ This box is a bit more expensive than other beauty boxes, but it contains all full sized products and the quality is amazing.  Sometimes, it isn't about quantity, but quality and I also love that these items are items I haven't received before in a sub box.  I believe December's box is still available here  They do not have coupon or promo codes, alas, but I think that if you are looking for organic, eco-friendly products, I think this might be the box for you.