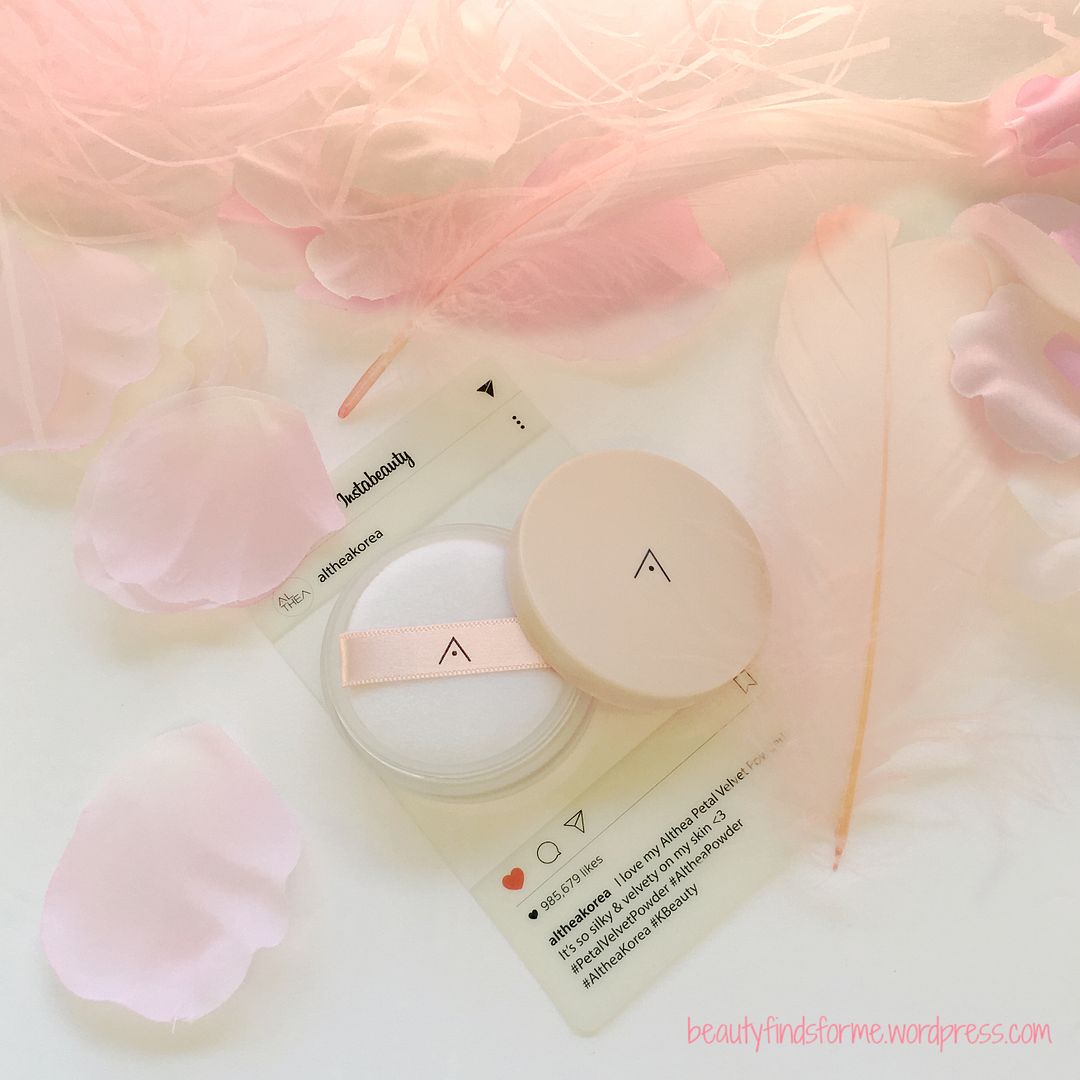 Althea is a K-Beauty online shop that ships globally and they remind me a lot of the original Memebox Global (International) shop.  I have reviewed their store and unboxed some items here and now Althea has released their very first cosmetic product!  Althea sent this to me for review purposes and as I have oily skin, this first Althea branded product was perfect for me ~ Petal Velvet Powder.
Skin Type/Concerns: Oily, blemish prone, aging, hyper-pigmentation, pores, fine lines/wrinkles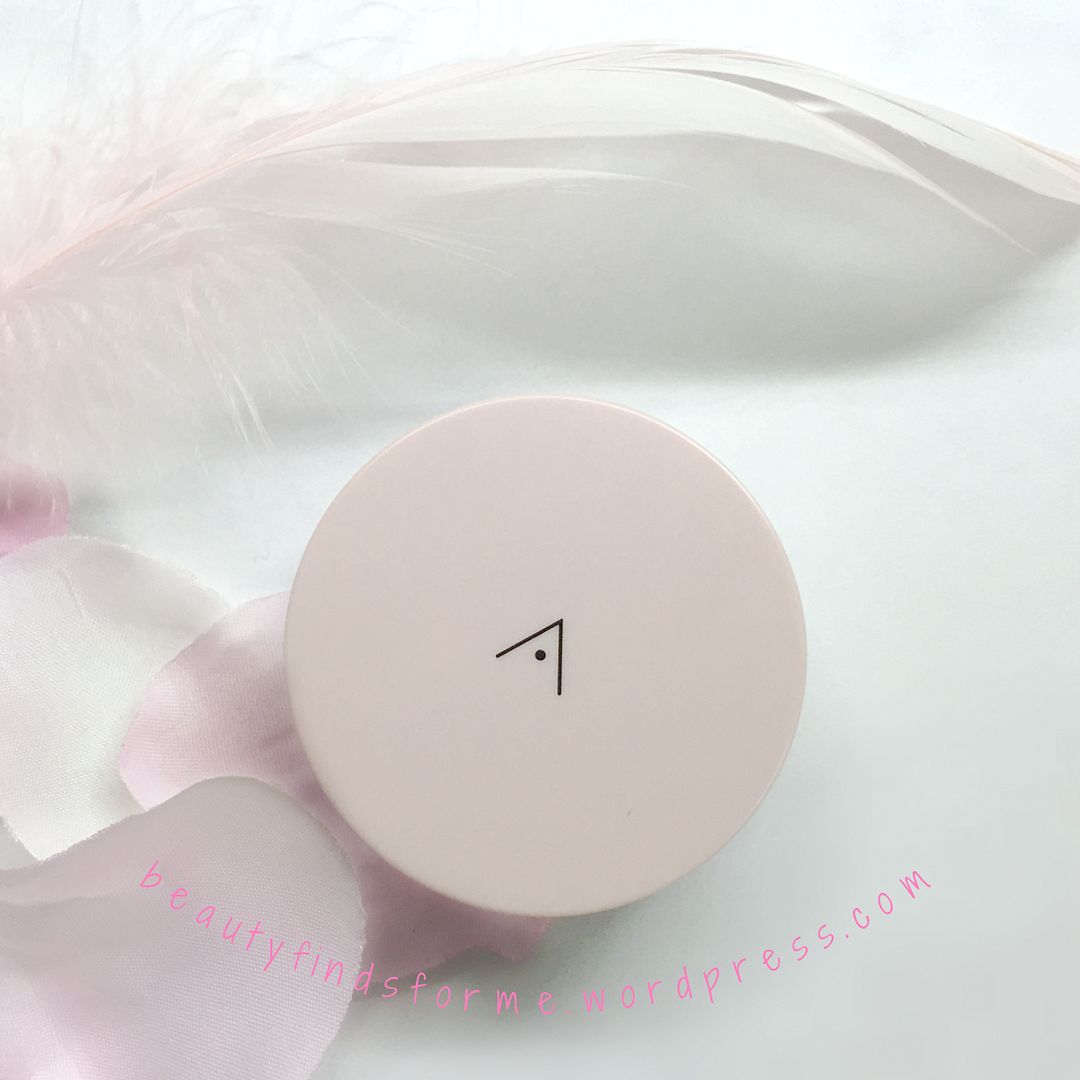 What is this and why would you need it?  This is what is called a setting powder ~ a lot of brands make them, including my favorite Innisfree No-Sebum Mineral Powder (renamed now to Matte Mineral Setting Powder).  These powders can be tinted or translucent, loose powder or pressed and can be inexpensive or really overpriced!  They help with blurring, oil control and setting your makeup .  If you have oily skin, want to create a satin/matte finish or hide imperfections without a lot of makeup, a setting powder might be just want you need!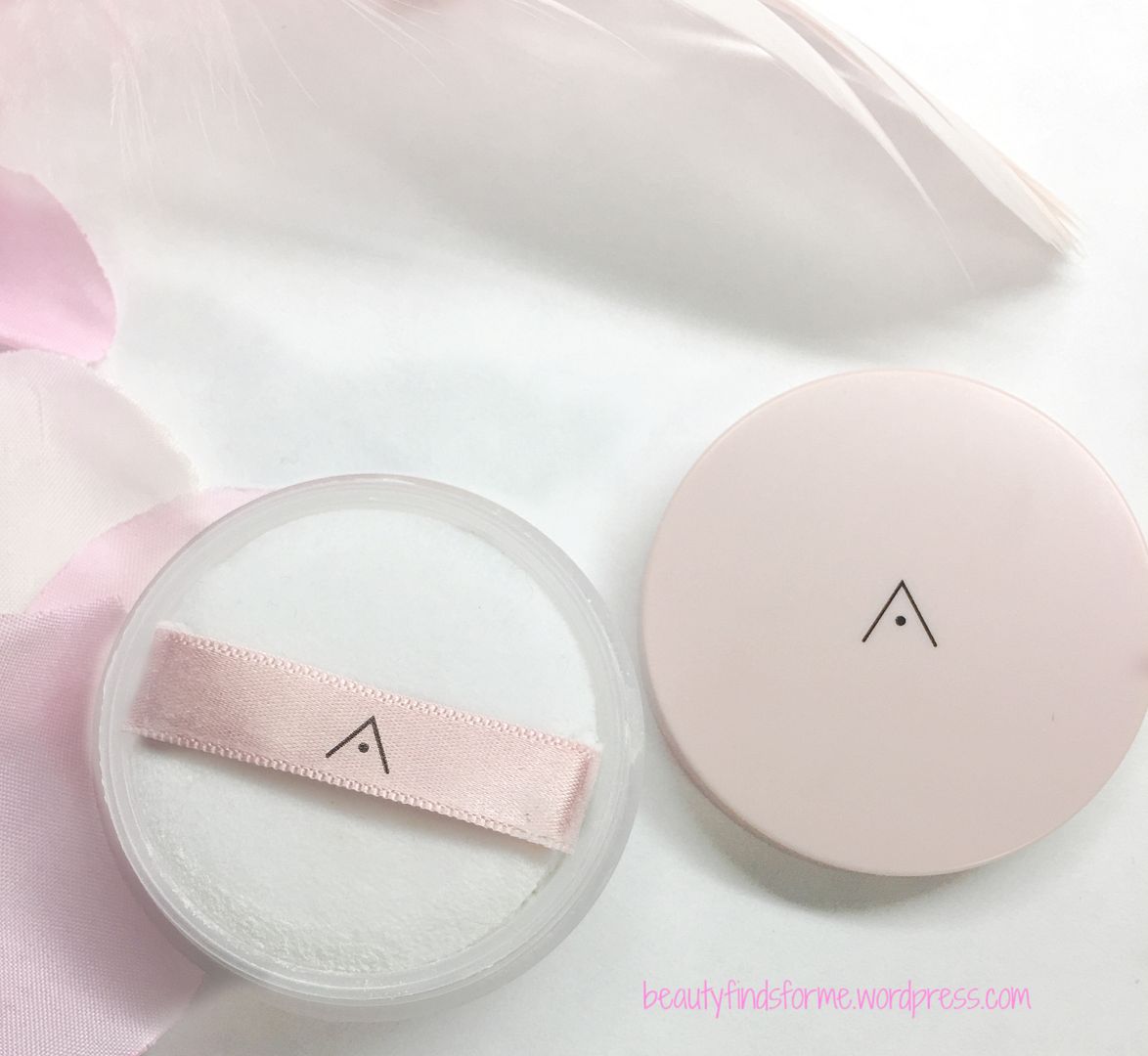 Althea Petal Velvet Powder comes in a small sturdy plastic container, topped with a pink lid and Althea's "A" logo.  It is very minimalist and quite pretty.   This is smaller than many setting powders, at 3 grams ~ Innisfree is 5 grams for comparison, but the price is also lower too.  This size is perfect for tucking into small purses, pockets and fits nicely in the palm of my hand.  This comes with a 13mm thick fluffy white puff with a pink satin finger band, but I dislike using puffs, so I will use my brushes instead.  However, I appreciate there is a puff in here, so that when I don't have a brush handy, I can just use this.
Althea Says: Althea's very own product range is here, and we're starting off strong with the Petal Velvet Powder! This debuting beauty is a translucent powder that sets makeup and leaves behind a silky finish to the touch. Infused with oil from Althea seeds, this powder works to keep sebum production at bay without drying out the skin for a radiant, fresh look, all while giving out a gentle scent. Keep your makeup looking great all day or dust some on to stay shine-free!
Removing the puff reveals the container which has a sifter, so your powder is not getting all over the place.  When you open up your powder for the first time, you will have a thin sticker over the holes in the sifter ~ just peel off and toss that sticker.  It was just there to prevent a huge mess in transit.  I do wish this had a retractable section, so I could cover up the holes when not in use, but for $4.50, I guess that is a cost issue as that would make this more expensive.  The puff keeps the powder down, so don't throw away the puff, even if you don't use it.  It comes in handy.
This is a micro-fine loose 10 μm (micrometer) mineral powder, with a silky finish.  It is made with pure natural ingredients, such as hibiscus (aka althea)  which contains a rich source of anti-oxidants, such as vitamin C and carotene. Hibiscus is also an anti-bacterial and will prevent infections and speed up wound healing, which is important if you suffer from blemishes, rashes and other skin issues.  This also contains silica, which is used in here as an anti-caking agent, along with its properties to absorb oil and moisture and create a satin-matte finish.  Mica is used to help create that radiant glowing look, as its reflecting properties will create a smoother, softer look.  All of the ingredients are cruelty free and natural. 
Ingredients: silica, mica, vinyl dimethicone/methicone silsesquioxane crosspolymer, dimethicone/ vinyl dimethicone crosspolymer, methicone, hibiscus syriacus seed extract, hydrogenated lecithin, 1.2-hexanediol, glyceryl caprylate, maltodextrin, fragrance cosDNA analysis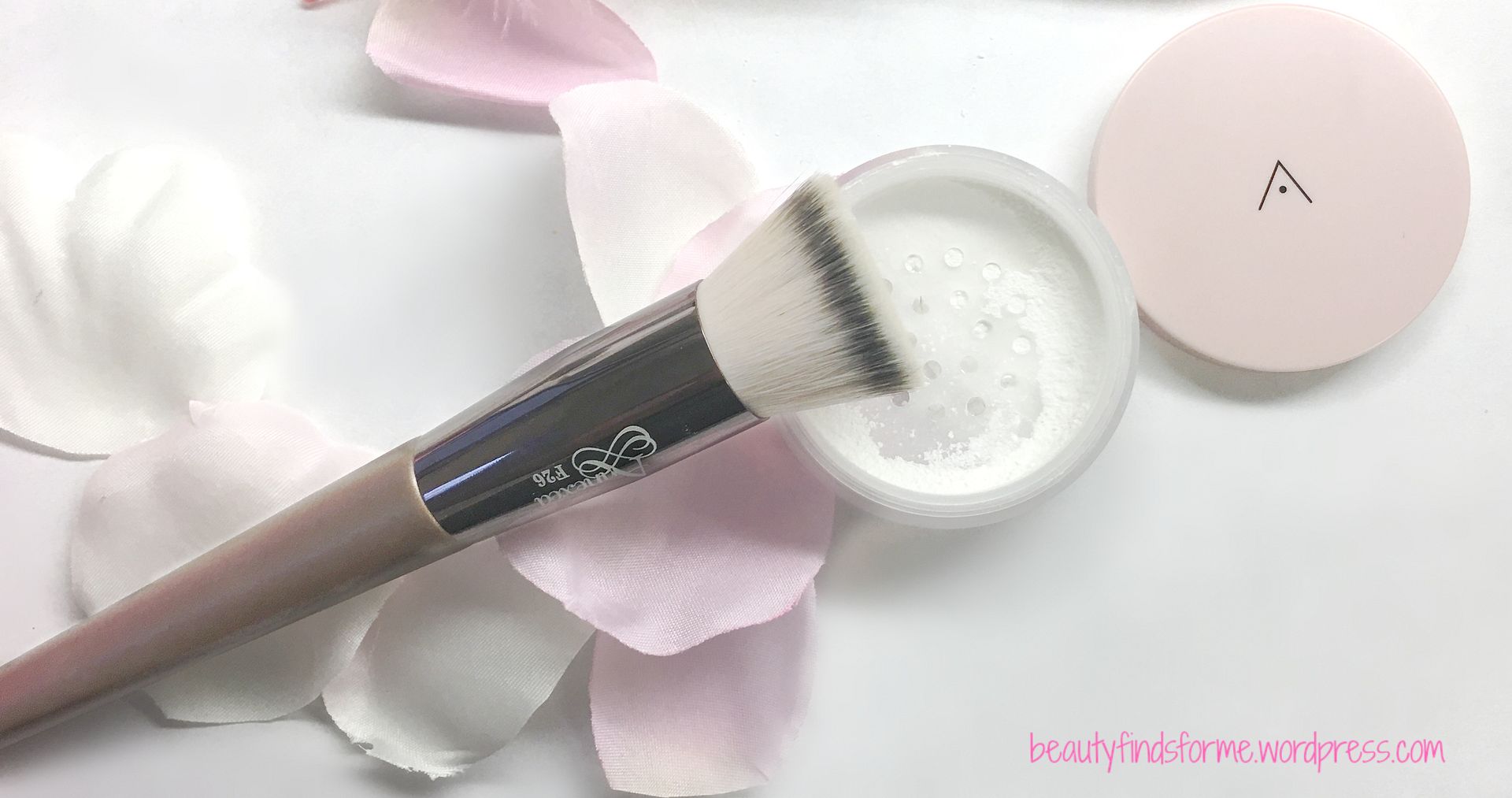 The powder is translucent, which means that a variety of skin tones can use it ~ it is white out of the jar, but once buffed in, it is clear.   There is a light floral scent to it, very nice and pleasant.  The powder grains are SO finely milled and I can feel my skin turn from rough to silky smooth instantly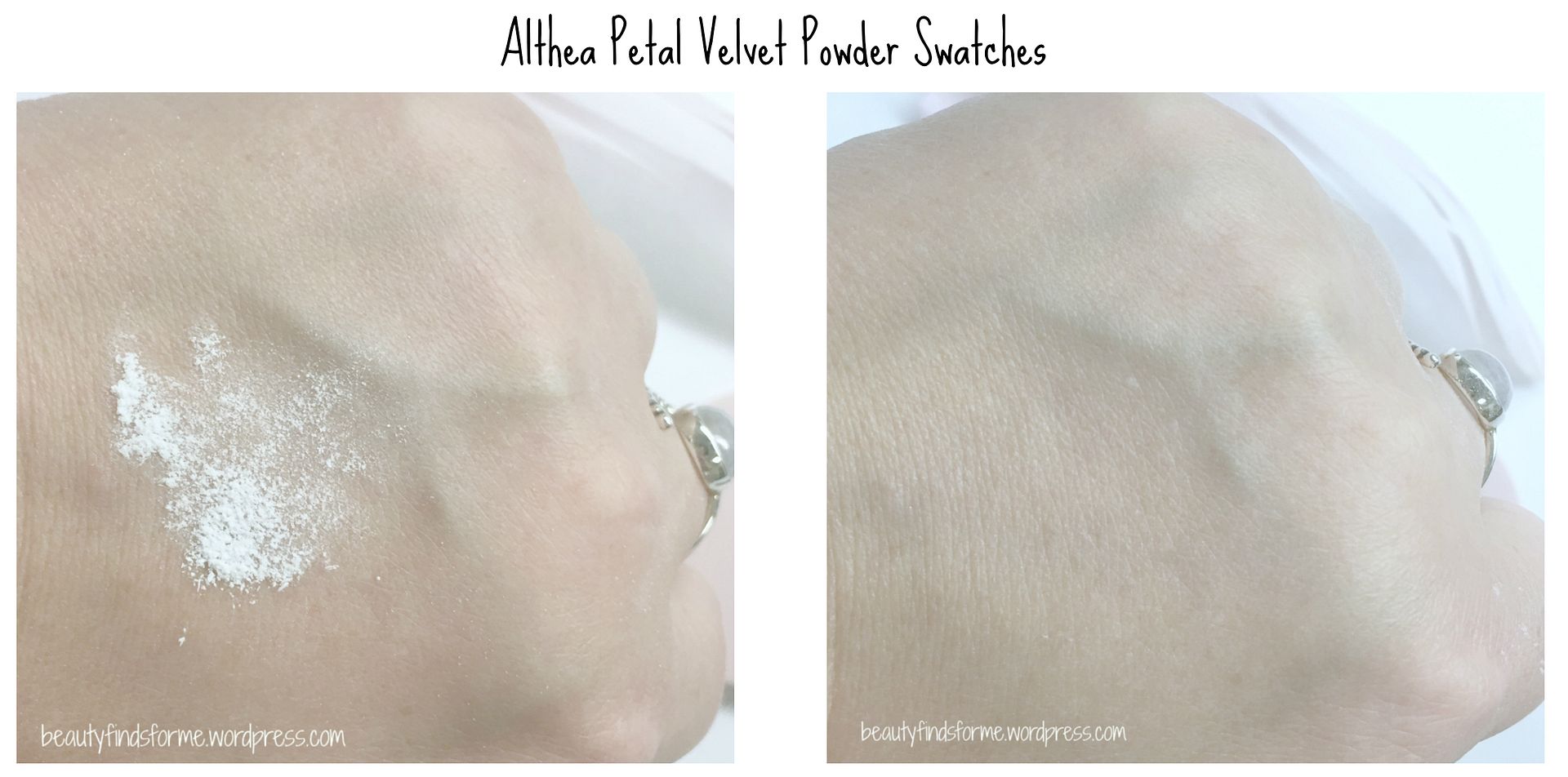 I use this as the last step after all my makeup is on and just dust and buff it into my skin, concentrating on my nose, chin and forehead.  This helps reduce that oily shine I always get within a few minutes after I apply my makeup, leaving a satin finish.  It does have a nice blurring effect too on my skin, helping to minimize my fine lines and especially my pores. Did I mention how SOFT and silky my skin feels?  I can really tell the difference on the areas where I applied this powder vs the areas I didn't.  This is not an all day setting powder, so that is why it is portable ~ I do touch ups every few hours, but the nice thing about this powder is that it doesn't cake up, no matter how many layers I put on. Also, since it is clear, it doesn't oxidize either.  This is not a drying product, despite the fact that it absorbs oil and excess moisture ~ my skin never looks like it is dehydrated or flaky, nor does it clog my pores and cause blemishes

Final Thoughts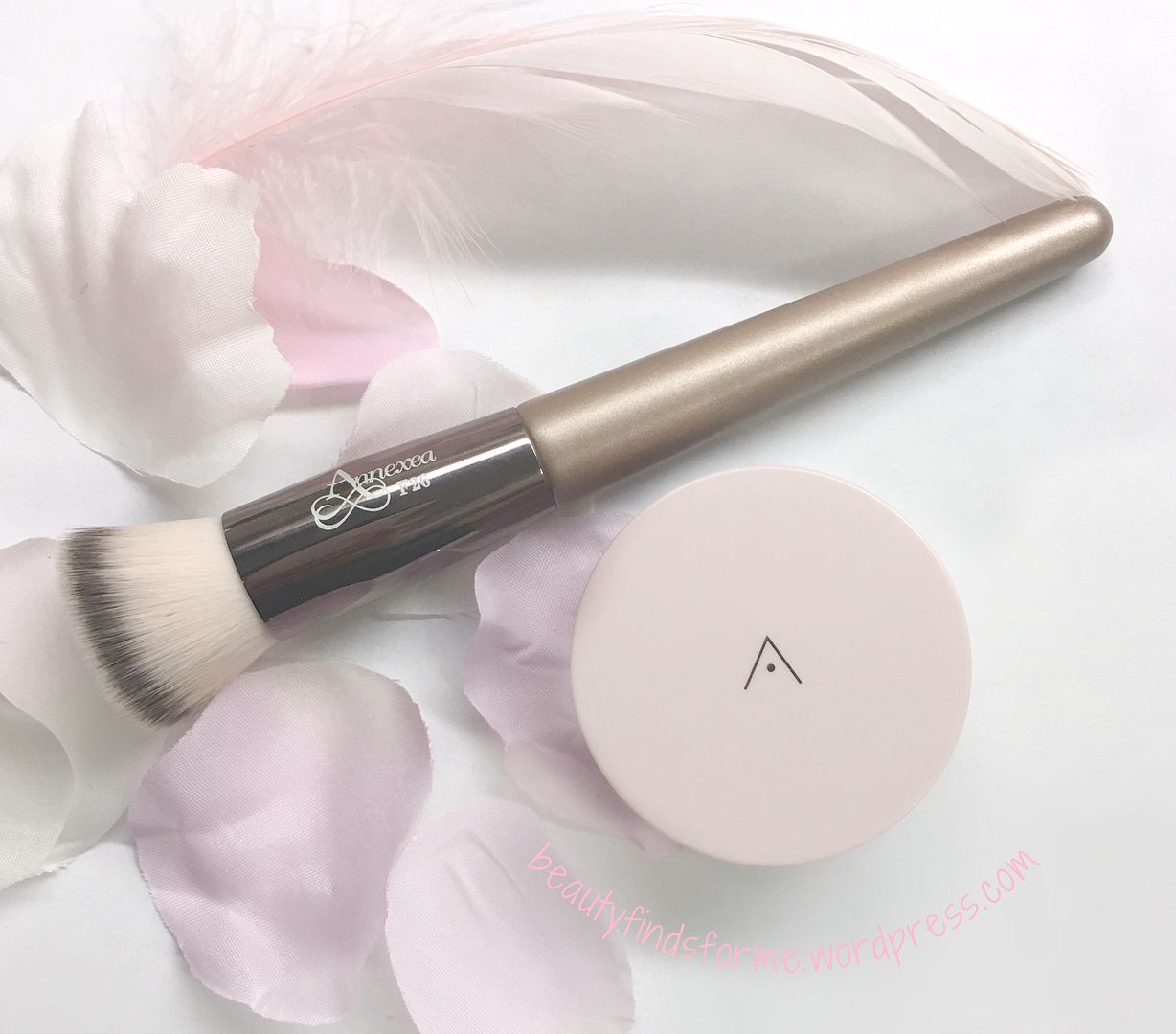 Althea's kick off product is a winner!  I love setting powders and this is a nice, small compact powder that does its job very well.  It controls oil, blurs imperfections, creates a satin-matte finish all without caking or oxidizing.  I would love to see this in a pressed compact as those are less messy and more portable, but this is a great start and I cannot wait to see what other products Althea will create!   If you are interested in this powder, it is only $4.50 at Althea (click here to purchase) and this is a great one to toss in your cart if you are trying to get to free shipping.  I don't know of too many people who would not appreciate a setting powder!  In fact, I have purchased some to go into giveaways, as that is how much I really like this one.  Have you tried this powder yet?  What is your favorite setting powder?

Althea offers a huge variety of products and brands at really reasonable prices, ranging from Swanicoco, Innisfree, belif, Dr Jart+,Sulwhasoo, IOPE, The Saem, among others.   When you first go to their site, you will be directed to the "Country Tunnel" page, where you select either Malaysia, Singapore, Philippines, Indonesia, Thailand, US  or the "Rest of the World" and they do ship to 235 countries.  They have free shipping for orders $50.00 USD or more and they offer both regular shipping and EMS.  Shipping times:  EMS is  3-7 working days whereas regular shipping for USA is 10-15 working days and Registered Airmail (rest of the world) 10-35 days.  Althea also have a 30 day unconditional refund policy and while you have to pay for the initial postage fee upfront, Althea will reimburse you up to $10.00 of your return shipping cost.   Save $15.00 on your first purchase by using my referral link here

If you are interested in the brush shown here, I received that from Annexea and will be reviewing a few of their brushes and tools soon.  That is from their French Lilac line (100% synthetic bristles, cruelty free) and it is a really quality made brush.  You can save 20% off your entire purchase at Annexea with promo code UNBOXINGBEAUTY20 
[ disclosure: products received complementary for review purposes. contains referral links ]