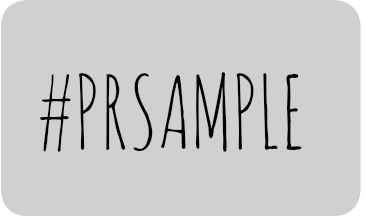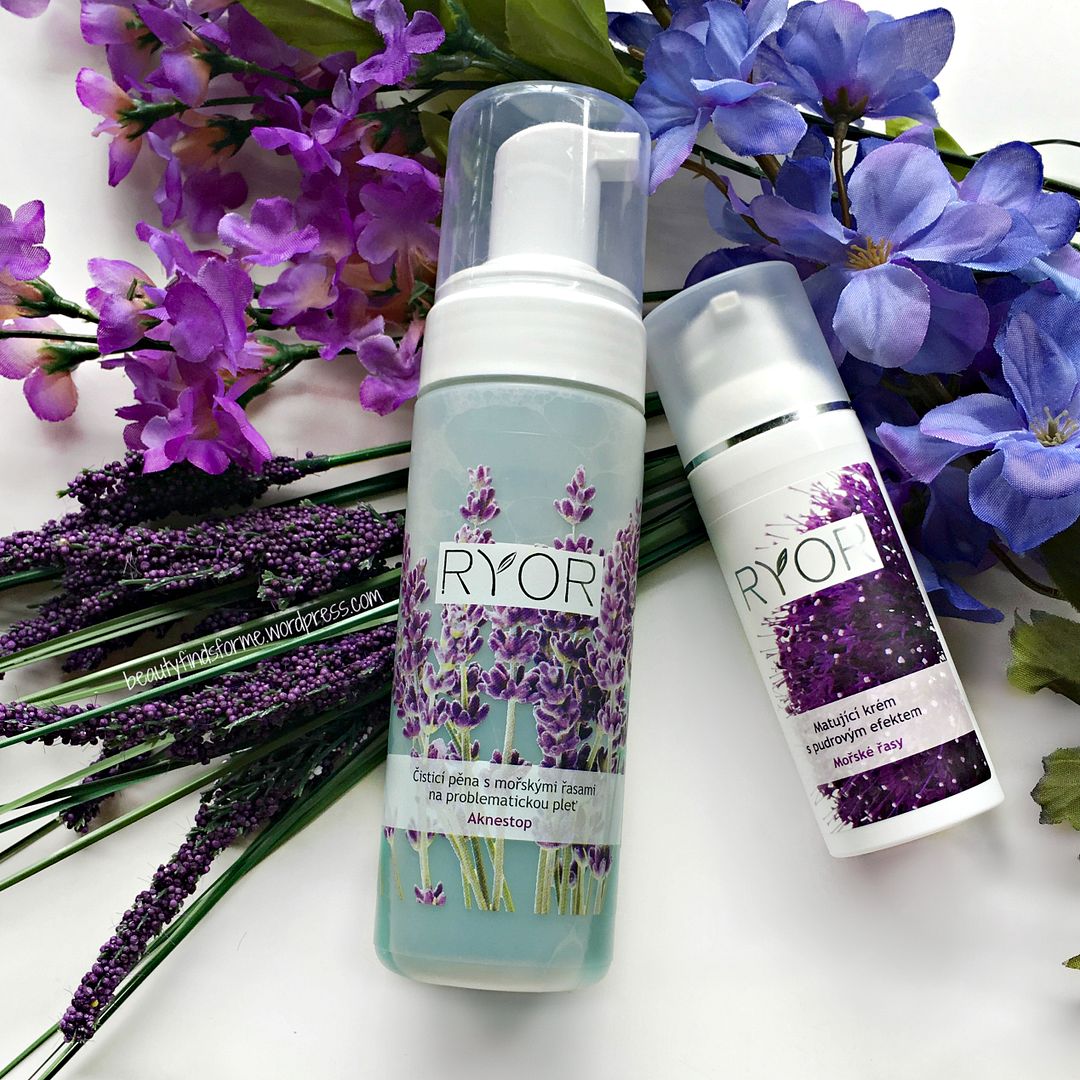 I am so thrilled to showcase some products from Our Happy Box, an online store that not only carries natural skincare products, but whose mission statement includes giving back to charities ~ They carry beauty essentials while giving back to the community.  Our Happy Box has a "You Buy, We Give" program, where they choose one product and donate 100% of the proceeds from that product to the given charity for that month.  The first line of products they are carrying is Ryor, from the Czech Republic and it is a well recognized brand. Ryor is dedicated to creating natural skincare products and they also have a charitable history as well. 
Our Happy Box let me pick out a few items to try, and I was very interested in skincare for oily skin plus eye care products.  I want to thank Christine and her generosity in sending me these products for review purposes.

Skin Type/Concerns:  Oily, blemish prone, aging, fine lines/wrinkles, hyper-pigmentation.
Marine Algae Care Cleansing Foam  This soapless cleansing foam is from Ryor's Aknestop Series:  This is a series of products for acne and problem skin. They can be also used for the treatment of oily skin. With this particular type of skin, greatest accent is laid on regular skin cleansing, an important condition of proper skin care. These products contain extracts of sage, juniper and tea tree as well as seaweed extracts, plus active substance phytosphingosine, which is known for its antibacterial and anti-inflammatory effects.   This cleansing foam contains anti-microbials ingredients ~ bronopol, and sodium lactate along with laminaria saccharina, sugar kelp, which is an anti-inflammatory, remove excess oil and will help fight bacteria on your skin, making this an effective cleanser for those with blemish prone skin.  This also contains some nice brightening ingredients ~  niacinamide is a powerful antioxidant that acts as an anti-inflammatory, improves your skin elasticity, enhance the skin barrier function and also it helps to even out skin tone and reduce post-inflammatory hyper-pigmentation.  Citric acid (AHA) will gently exfoliate and promote cellular turnover, so it will help brighten and smooth your skin. 

Glycine, an amino acid, helps repair damaged tissue and to speed up healing, perfect for blemish prone skin. Sodium PCA makes an appearance in here and this ingredient is already part of skin's NMF (natural moisturizing factor)  and it helps prevent moisture loss in our skin, while reducing swelling and redness.  Sodium PCA, along wih urea, helps bind moisture to our skin cells.   This has sodium laureth sulfate, which should not be confused with sodium lauryl sulfate. It is a gentle, mild cleansing agent and is quite safe.
The packaging on this 150 mL pump bottle is so beautiful ~ the liquid cleanser is a beautiful aqua green color and the label has these pretty purple flowers (lavender?), so the purple against the aqua-green is just so pretty and soothing.  Just a pump or two and the liquid comes out of the pump as a whipped, light cloud of foamy goodness, which SMELLS AMAZING.  It took me a long time to place the scent, but it reminds of a fresh grassy smell ~ like when you just cut your lawn.  This does have fragrance added, but it also has citronellol in it, and that ingredient does have a grassy scent.  At any rate, it smells wonderful and it feels so soft and luxe on my skin.
I also did a pH test and it comes out 5.9, so for those who want a lower pH cleanser, this one is under 6.  My face never feels dry or stripped when I use this cleanser.
My skin is also not oily or greasy either after I use this cleanser and there is no filmy residue either.  It does a great job cleansing my skin, removing dirt and oil, while smelling great and hydrating my skin. Since this cleanser is soapless, this is also great for those with sensitive skin ~ but please note that the bronopol ingredient does trigger a 7-9 on cosDNA.  This is used as a preservative and  anti-microbial ingredient and it is a preference to use it ~ just like with parabens, phenoxyethanol, polysorbate 20 and so on ~ some people don't have issues with it and some are sensitive to it.  I am not sensitive to this ingredient and it works fine for me. 
My cleansing test is really successful!  I used some stubborn , long wearing makeup and applied a pump of the foam on my hand.  I just used my hands to massage the cleanser around and then rinsed off.  Marine Algae Care Cleansing Foam removed all traces of my makeup except for a slight stain on the lower part of my hand, where I had swatched my Chosungah 22 lip tint.  I am very pleased with the performance and results from this cleanser!
Ingredients: Aqua, Sodium Laureth Sulfate, Cocamidopropyl Betaine, Lauryl Glucoside, PEG-7 Glyceryl Cocoate, Glycerin, Propylene Glycol, Laminaria Saccharina Extract, Sodium Lactate, Sodium PCA, Glycine, Fructose, Urea, Niacinamide, Inositol, Citric Acid, Panthenol, Benzophenone-4, Parfum, Citronellol, Linalool, Chloroacetamide, Sodium Benzoate, 2-Bromo-2-Nitropropane-1,3-Diol (Bronopol), CI 42090   cosDNA analysis
Ryor Mattifying Cream with Powder-Effect This is part of Ryor's Marine Algae Care Series:  "Sea plants are not afflicted by extraneous substances, containing considerably more cosmetically and nutritionally important substances than land plants. These substances include proteins, phytoceramides, enzymes, vitamins – mainly C, A, E, group B, antioxidants and more than 20 minerals. Thanks to the prevailing conditions, seaweeds are a source of highly concentrated regenerating substances. Effects: skin hydration, delaying production of lines and wrinkles, calming, smoothing and softening of the skin."
I must admit, I was most interested in this cream for my very oily skin ~ you know how people talk about their T-Zone?  I use that term as well, but what I really have is greater than a T-Zone.  Think of splitting your face into thirds, vertically.  That middle third is my oily grease pit and the two flanking thirds are oily but not greasy. It's that middle section that causes me the most grief and where I break out too.  This cream uses organogels,  which is a "semi-solid systems in which an organic liquid phase is immobilized by a three-dimensional network composed of low molecular weight or polymeric component"  Whew, well what that means is that the liquid is surrounded by a solid gel mesh network, preventing the liquid from flowing out.  This is the same principle as hydrogels, with the difference that the liquid is water and the gel is a polymer in hydrogels and in organogels, it is an organic solvent for the liquid and the gel is small molecules.  Now, one of the side effects of organogels is that they have a mattifying effect ~ in some cases, that is not desirable, but for this cream, it is a benefit.  (source)  This cream has a high content of microparticles that will give your skin a matte and powdery finish, while absorbing excess  oil and moisturizing skin.
This contains tripleurospermum maritimum (sea mayweed)  and it is rich in amino acids, providing hydrating, calming and soothing benefits  while softening and smoothing your skin.   Caprylic acid is found in coconut oil and it is a fatty acid, with antibacterial, anti-inflammatory and anti-fungal benefits.  This ingredient is very helpful in treating skin issues, such as blemishes and rashes.  Hydrating humectant glycerin helps with healing of wounds and seals in moisture, maintaining the skin's water balance on an intercellular level, which makes the skin look healthy, moist, soft to touch and leaving your skin looking radiant and supple. Xylitol will reinforce your skin barrier function, limiting water loss in your skin and preventing skin dehydration on a cellular level.  Helianthus annuus (sunflower) seed oil is a lightweight oil that has a high concentration of Vitamin E, which is a powerful anti-oxidant and may also help protect the skin from UV rays. It is known for its hydrating and moisturizing properties and it contains omaga-6 fatty acids.
This cream comes in a pump applicator bottle ~ it has some purple flowers against a white background and it is so pretty.  The cream is really an emulsion or lightweight lotion ~ it is a gel hybrid and it has a soft, powdery floral scent which does disappear quickly (we all know by now how I feel about floral scents ~ lol)  This spreads quite easily across my skin, without any tugging or pulling. 

After I apply this to my skin, at first it feels like it is just going to be a moisturizing cream ~ I didn't notice any effects yet on my skin.  Give it another minute… My skin felt very cool to the touch and smooth ~ and I could feel a difference in my skin's texture ~ I am not going to say it was "powdery" but it was mattified.  I applied this to my vertical third on my face and whereas my skin wasn't MATTE, this lotion really dampened down my greasiness and oiliness. When I was testing out how effective this cream was, I made sure that I was not using a lot of mattifying makeup ~ I used a normal BB cream and no setting powder.  I will say that my oily bits didn't really get an oily shine until several hours later, when my oil finally broke through.  Now, you might say, well, that is normal ~ no, it isn't for me!  My oil usually breaks thru within an hour, if not less, if I do not use powders to set my skin.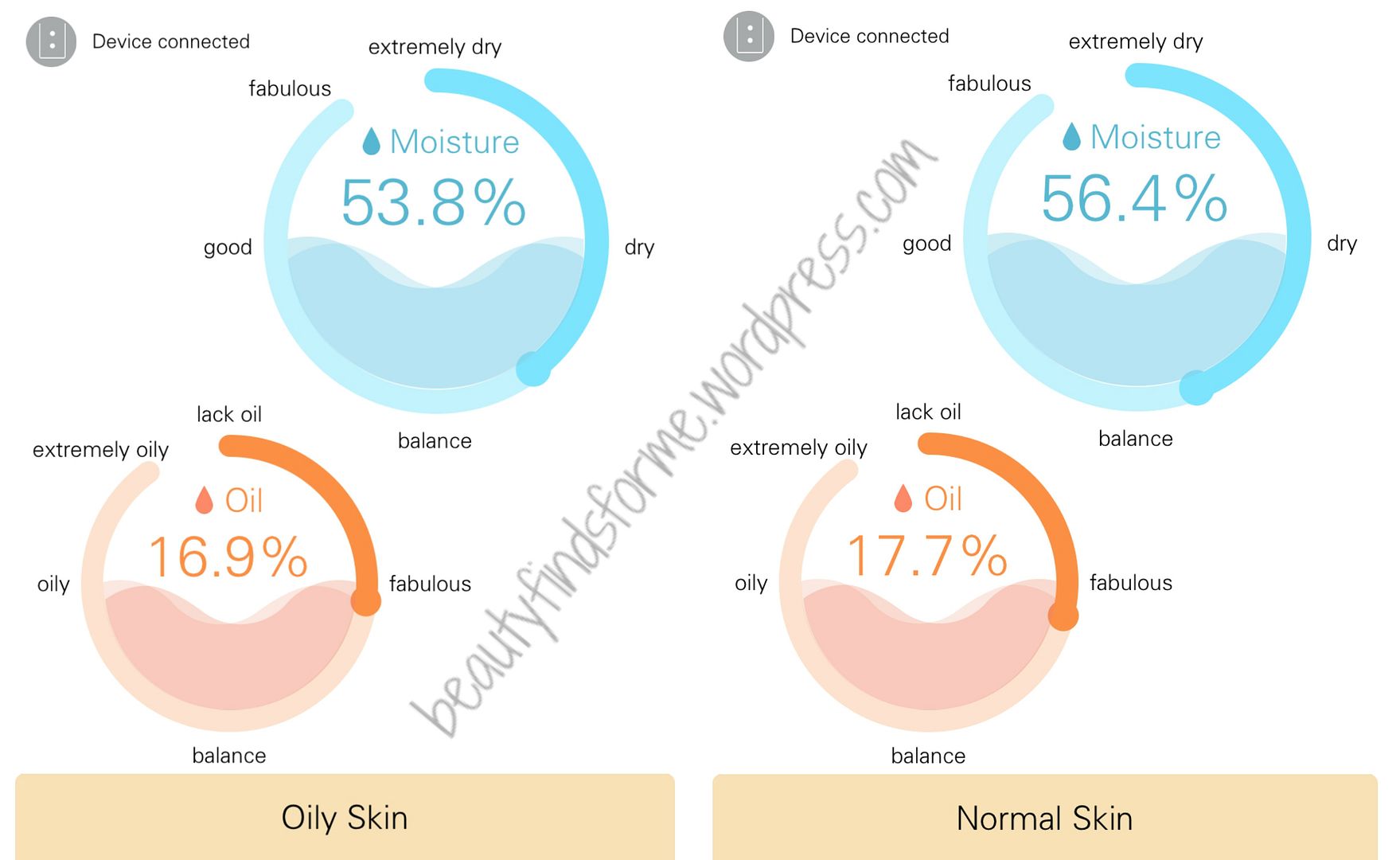 What I liked with this cream was how my skin looked ~ it had a nice normal healthy looking glow ~ my oil was trying to break through, but it was translating into a radiant glow that was not oily or dewy.  As I said earlier, this cream didn't provide a powdery finish, but it really helped dampen down my oiliness and moisturize my skin.  When I used this with other mattifying products, such as powder toners (review coming soon!) and setting powders, this cream's mattifying benefits were enhanced even more.
Ingredients: Aqua, Triethylhexanoin, Hydrogenated Polyisobutene, Helianthus Annuus Seed Oil, Sodium Polyacrylate, Xylitol, Caprylic Acid, Glyceryl Stearate, Polymethylsilsesquioxane, Methyl Methacrylate Crosspolymer, Glycerin, Sodium Caproyl Prolinate, Dimethicone, Phenoxyethanol, Methylparaben, Ethylparaben, Propylparaben, Butylparaben, Tripleurospermum Maritimum Extract, Parfum, Alpha-Isomethyl Ionone, Benzyl Salicylate, Butylphenyl Methylpropional, Citronellol, Geraniol, Hexyl Cinnamal, Linalool, Limonene  cosDNA analysis

Final Thoughts
I think these two products are a fine addition to any one with oily skin!  The cleanser feels really nice on the skin and it smells fabulous, while providing oil controlling benefits and the mattifying cream is a dream!  I was a bit skeptical about its claims, but it really does provide a nice healthy glow without excess oil on my face and I bet if you are normal to oily, it would really dampened down the oiliness even more. I am pretty excited about Ryor products and I have been looking at both the Aknestop (acne stop – get it?) and Marine Algae Care lines for new products to try out. 
Where to Purchase
You can purchase these Ryor products plus more at Our Happy Box.  They ship to USA and several international countries, including Canada.  Our Happy Box provides free USA shipping with any orders $35.00 USD or more and they also provides a ton of samples too!  I have some that I am really looking forward to trying out, like the blackhead peeling mask. They just added a new brand to their store, Seoul Mamas, which make facial sheet masks.  Use HAPPY20 to save 20% off your next order.

[ CLOSED ] Unboxing Beauty Finds For Me X Our Happy Box GiveAway
[ GIVEAWAY IS CLOSED ]
Congratulations to the Winner ~ Flora at @flotatoskin
I am so pleased to announce that I have teamed up with Our Happy Box to giveaway the Ryor Marine Algae Care Cleansing Foam and Mattifying Cream with Powder Effect to one lucky reader!  This giveaway is open to USA and Canada only.   The products in the photo are my items, but you will get your own brand new products directly from Our Happy Box.
What you need to do to enter
Use the Entry Link below to enter via Rafflecoper.  This will open a new page with the entry form.  This is legit as my copy of wordpress does not allow me to embed the entry form directly into my blog.

All entries will be verified and anyone who has multiple accounts will be disqualified.

Qualified entry will then be randomly drawn.

I will notify the winner within 24 hours of the contest close. The winner will have 36 hours from then to contact me  with the following information:  their full name and mailing address as it should be addressed for their country

If the winner does not contact me within 36 hours,  another winner will be selected and the original entry is null and void
To Enter, Click on this link or the image and follow the instructions!  This contest will end on August 13th, 2017.  Some of the entries you can do daily, so enter more often for a greater chance to win!

What you need to know
beautyfindsforme is me 🙂
By entering, you are agreeing to all of the following items:
beautyfindsforme and Our Happy Box are not responsible for damages due to shipping, lost, stolen packages or any other issues.  

Once beautyfindsforme has the winner's information, beautyfindsforme will sent that information to Our Happy Box, who will ship out the products. 

The winner is responsible for verifying the products and their contents and to determine the suitability of those products for their own needs.  beautyfindsforme and Our Happy Box are not responsible for the actual products and ingredients.

This Giveaway is for USA and Canadian Residents ONLY.  Our Happy Box will ship the products out to you.

The winner is responsible for any custom and/or import duties in their country.  beautyfindsforme and Our Happy Box are not responsible for those fees.

You must be 18 years of age or older (or the age of majority in your own country), or must have the express permission of a parent or legal guardian to enter and receive the prize.
Please ~ would love it if you would post photos of your prize on IG and/or Facebook so people know where you got these great products!  And that I am legit in offering giveways! 
[ disclosure: products received complementary for review purposes ]