[ disclaimer: products received for review purposes. all opinions are my own & unbiased.  ]
Swanicoco is a South Korean cosmetics company that began making naturally fermented soaps back in 2005.  They have been producing eco-friendly skincare, makeup and body care products, using their trademarked anti-aging fermentation process.  Swanicoco uses organic herbal and botanticals from all over the world ~ Korea, Europe, Australia and United States, and these ingredients are selected to create their products, which range from Pore Care to Anti-Aging Care lines.  The brand name combines elegance ~ swan ~ with natural botanical ingredients ~ coco.    
I received several items from Swanicoco, tailored to my skin type and my issues.  Many thanks to Kevin, who patiently worked with me to come up with a routine and answering all of my questions.  I started using several of the products right away and I have already reviewed some Swanicoco products (click here).   This review is on a night time treatment with a third generation exfoliator ~ PHA.

Skin Type/Concerns:  Oily, blemish prone skin with aging concerns  ~ fine lines and wrinkles around the eyes, hyper-pigmentation
Before I get into this review, this jar did have a pretty logo on it and was not all rubbed off.  I must have super strength acids on my hands because I have managed to rub off most of the blue logo on the jar!!  You can see the jar on the left which was before I started using it and the jar on the right is just from a few days ago!
I have used a PHA peeling cream before ~ it was Skinfood's Freshmate Pineapple Peeling Cream (review here), which I had mistakenly thought it was a Peeling GEL ~ the type that you use to dry exfoliate your face and then rinse off.  It was during this time frame that I became acquainted with PHA's and what these peeling creams were designed to do.  As it was, I was already familiar with the concept when Swanicoco sent me their version of a PHA cream.  This product will help brighten your skin tone, while reducing fine lines and wrinkles and remove dead skin cells and excess oil

Ingredients of Note

Poly Hydroxy Acids (PHA)  Swanicoco PHA 10% Soft Coco Peeling Cream contains two PHA ingredients.  PHA is a third generation peeling/exfoliating ingredient, like AHA and BHA, but it is less irritating.  It is just as effective as an AHA, but it is gentle and mild, as the molecules in PHA are larger and do not penetrate deeply into the skin.   PHA's take longer to show results, but if you use a product for about a month or so, you should see some skin tone and texture improvement.   PHA's also have hydrating and moisturizing benefits that can help strengthen your skin barrier function and they contain anti-oxidant properties, making it a good choice for anti-aging skincare products.  PHA's also can be used with other products such as retinol and skin lightening hydroquinone.  PHA products can be used on all skin tones as well and help reduce photo-aging.  (source)

The Star PHA ingredient and second in the list of ingredients, 10% of gluconolactone.  Gluconolactone is dervived from glucuronic acid, which is a sugar acid and it is suitable for sensitive or mature skin.   It functions like an AHA and will help improve your skin's texture by aiding in cellular turnover, unclogging pores and removing dead skin cells.  Recent studies show it might be effective in treating blemishes, due to some anti-bacterial properties.  
Lactobionic acid  is also extracted from sugar and is also a gentle PHA.  I am familiar with this one, as Skinfood's PHA product contained this.
The first ingredient is superfood blueberries, which are rich in antioxidant anthocyanin, will help product your skin against oxidation and skin damage caused by UV light.   Blueberries have powerhouse compounds, such as vitamin A and C and flavonoids.  The  soft, light spreadability and slickness of this cream comes from neopentyl glycol diheptanoate, an emollient that is an alternative to silicones.  Hydroxypropyl bispalmitamide MEA is a pseudo-ceramide and will help repair your skin barrier function.  Don't worry about the term pseudo ~ ceramide 3, ceramide NP and so on, are all pseudo-ceramides and these are intense, repairing moisturizers that will keep your skin soft, supple and help reduce fine lines and wrinkles. 
This also has some soothing skincare ingredients in witch hazel, centella asiatica and green tea, as well as brightening with niacinamide.  Along with PHA's, allantoin will moisturize, exfoliate and soften skin, making it look smooth and refined, while reducing and relieving irritation.  There are also 3 very nourishing and antioxidant rich oils in here ~ sunflower, macadamia and argan ~ which will also help keep your skin supple.

That said, despite all of the moisturizing ingredients, this cream is not that moisturizing the day after.  I will talk about that later on.
Ingredients: vaccinium angustifolium (blueberry) fruit extract, gluconolactone (10%), glycerin, caprylic/capric triglyceride, niacinamide, 1,2-hexanediol, neopentyl glycol diheptanoate, glyceryl stearate, PEG-100 stearate, cetyl alcohol, potassium hydroxide, lactobionic acid, hydroxypropyl bispalmitamide MEA, stearic acid, behenyl alcohol, sorbitan sesquioleate, tocopherol, hamamelis virginiana (witch hazel) water, centella asiatica extract, camellia sinensis leaf extract, juglans regia (walnut) seed extract, allantoin, hydrolyzed hyaluronic acid, polyacrylate-13, polyisobutene, polysorbate 20, polyacrylamide, C13-14 isoparaffin, laureth-7, helianthus annuus (sunflower) seed oil, macadamia integrifolia seed oil, argania spinosa kernel oil, citrus aurantium bergamia (bergamot) fruit oil, pelargonium graveolens oil, rosa damascena flower oil cosDNA analysis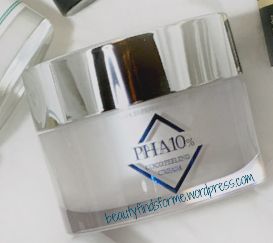 This comes in a clear 50 mL glass jar that has a metallic blue diamond logo with the name of the cream.  I managed to remove a lot of that blue ink with my super human acidic hands!  I had to go back to older photos where I captured the nice new jar so you can see that it is very classy looking.  It has a silver top and comes with both an inner lid and a spatula.   The cream is a white, slick-feeling, gel-cream hybrid and has a nice texture to it ~ it feels good under my fingers.  I didn't really notice a scent with this cream at all.
Since this is an acid, I want this cream close to my skin and not have other thicker moisturizers between it and my skin. I would still apply my hydrating and lightweight toners, lotions and essences, but I did not add any heavy lotions or emulsions after the watery steps.  I would apply this directly after those watery products as to let the PHA work its magic on my skin.  When I apply this cream to my face, I have to massage it in a bit, otherwise it will not absorb properly.   It does take a while to dry down, but it never really loses its tacky, sticky feeling on my skin.   What is curious is how the initial moisture test found this really increased my moisture level by 60%, which is amazing and perfect for a sleep pack…  BUT….
I have oily skin and so I used this nightly.  Despite it being sticky after I applied it, this cream caused my oily skin to be on the drier side when I woke up in the morning, even though my skin was nicely hydrated and moisturized the night before. It is like all the moisture got sucked out of my skin while I slept.  It also would kind of "crust" up, so that in the morning, I would have little balls of dried up cream on my face.  Oy.  So I then decided to actually translate the user manual that came with the cream.

In a nutshell, they warn that this product contains PHA and salts, which can be somewhat irritating. You should start out with a small amount and gradually increase until you find the correct amount suitable for your skin type.  They recommend using this product with a moisturizing cream on top of it and this will help calm and improve your skin tone.  Since this cream may increase your sensitivity to sunlight, make sure to apply sunscreen during the day.   Okay ~ Got it.  So, I added Hanyul Optimizing Sleep Pack Mask over this PHA 10% cream, which not only took care of the dryness issue in the morning, but also removed the sticky and tacky feeling from the PHA cream.  Problem Solved!  I also learned that PHA's are drying, which is something that I really didn't know until Swanicoco mentioned it in their user manual.
I also did a pH test, as this is an acid.   Based on a PHA vs AHA Clinical Study I read (source), a 10% gluconolactone night cream that they used had a pH level of 3.6.  
When I tested this cream, I found it to be around a 4, so it looks like this is in the proper range for a 10% PHA cream and should provide exfoliating and brightening effects.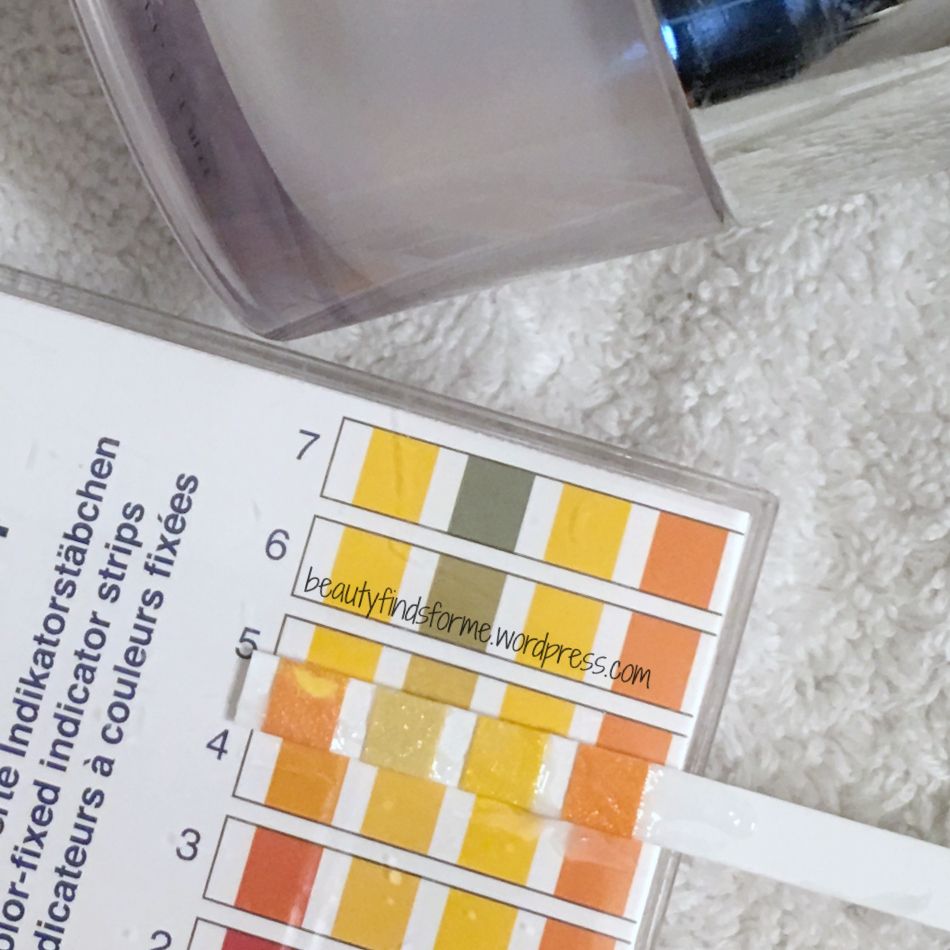 And does it brighten?  Yes, once I was using it properly, with a moisturizer over the PHA cream, I noticed two things right away ~ my skin felt smooth and looked brighter.  My skin texture is more refined when I use this cream and my pores are clear without any gunk stuck in them.   My sun damaged hyper-pigmentation is still hanging around, but my overall skin tone is more bright, radiant and clear, despite the sun spots.

Final Thoughts
So, personally, I think this PHA cream is superior out of the three of I have used ~ Skinfood Pineapple Peeling Cream and recently, I have tried cosRX PHA Moisture Renewal Power Cream (initial impressions here).   I find that PHA creams seem to be drying on my skin, but only Swanicoco told me that and recommended that a moisturizer should be added on top.  None of the other two brands even mentioned that and I appreciate that Swanicoco did.  The overall brightening effects were apparent with Swanicoco and my skin's texture was refined and smooth.  If you have sensitive skin, PHA's are the way to go ~ they are very gentle and can be used nightly.  I do think, however, that I should try the AHA 10% Impact Peeling Cream as I do not have sensitive skin and I felt that I could use more exfoliation and really work on lightening my hyper-pigmentation, instead of just brightening my skin tone.  I will continue to use this, but I am now very interested in the AHA product, as I think that might be better suited for my oily and not-sensitive skin type. Many thanks to Swanicoco sending me this product to test and review!

Have you tried any PHA peeling creams yet?   Which ones and what did you think about them?  Let me know in the comments below as I would love to read your thoughts!
Where to Purchase
Currently, YesStyle is the authorized retailer and they do ship internationally.   Currently, W2Beauty is now the authorized retailer and they do ship internationally.  They carry a huge line of Swanicoco ~ not just the skincare lines, but body and makeup lines as well.
[ disclaimer: products received for review purposes. contains affiliate links. all opinions are my own & unbiased.  ]