Peaches & Petals is fairly new subscription service that seems to be focused on lifestyle and beauty products.  From their website  "Experience our world of fun, flirty and fashionable vintage-modern lifestyle in a hand-curated box delivered to you each month. "  I received this box complementary from Peaches & Petals for review purposes.  Many thanks to Peaches & Petals for their generosity 🙂

 Informational Card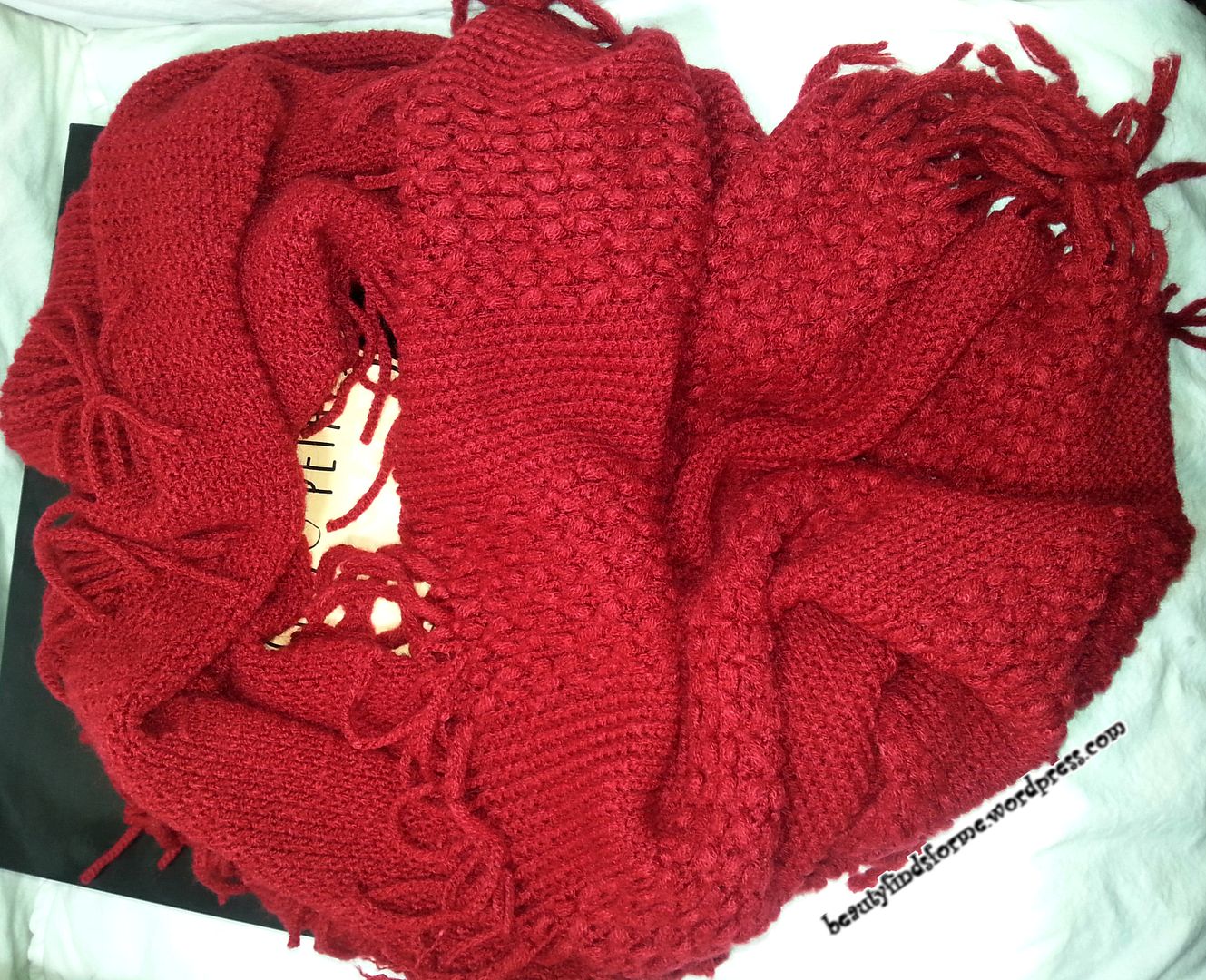 Fringe Infinity Scarf in Cranberry  (shades were randomly selected) This is the showstopper item of the box.  I received it in a rich cranberry color and it is very soft and plush.   I had to grab this away from my kittahs as they wanted to sleep on it 🙂    This is a perfect shade for fall and winter and I really love it.  According to last month's preview, this has a RV of $25.00
Tea Infuser (randomly selected design)  After seeing what designs we could get in the box
I am so glad I got this one!!  I am a sci-fi nerd at heart and this robot tea infuser is so cute.   It reminds me of a cross between  Bender from Futurama and Robot from ComicBook Girl 19
I do drink tea, not a lot of loose tea, as I am always misplacing my infusers, so this is nice to have on hand.   This is stainless steel and also comes with a drip tray which is very handy ~ this is used to place your dripping wet tea infuser after your tea has been steeped. RV $4.99
Pantene Pro-V Smooth & Sleek Shampoo (Travel Size)   Not exactly what I had imagined would be in here, but this is okay. I do travel, these are a nice size and Pantene is a decent drugstore brand.  1.7 oz each RV $2.00
Carlton Thank You Notes (10 cards/10 envelopes)  These are very nice looking and I like the distressed feel on the print, with the washed out black background with yellow, aqua and white lettering and designs.   I do use 'Thank You' cards quite a bit, when sending out gifts and such, so these will be used.  In fact, I am out of Thank You cards, so this came at the right time!   I couldn't find this exact design, but one very similar at Target that sells for $3.99
This is where the box fell down, imho.
Sweet Treat Dessert Candle (randomly selected design)  The box that this candle came in was very beat up and scuffed.  The candle, which is supposed to be a chocolate doughnut, actually looks like something else!! haha  However, I could over look the dark brown poo-looking candle if it had smelled like a luscious, wonderful rich chocolate sweet.  Instead, the candle smelled like old, funky wax and it looks like it has been sitting in a warehouse for several years.  Now, I could be wrong about that, but I am correct in saying that this is not a nice looking or nicely scented candle.    This is actually something I would think would be found at the Dollar Store, so I will give it that price  RV $1.00
Infinity Bracelet   This gold-tone bracelet is also a bit out of touch here.    This looks to be something that a very young girl (tween or younger) would wear.   Or maybe this is just a personal taste thing ~ I am not a huge fan of delicate jewelry unless it is an interesting design/texture.  This is not an interesting design ~ this would have looked so much better with a suede-like cord wrapped around the infinity, instead of the chain ~ like this 
I would have worn that one!   There are a lot of nice inexpensive jewelry items out there and this is not one of them, imho.    RV $4.00
Peaches & Petals monthly subscription boxes are $14.99 a month and that includes shipping.   My box came in a large black glossy box with their logo on the top of the lid.  November's box looks to be of a retail value of almost $40.00, with the beautiful scarf taking up the bulk of the value.    I really love the plush scarf in the rich cranberry shade (I've already worn it)  and Robot tea infuser ~ the cards and shampoo/conditioner are useful items and are good to have on hand.  
The items that I was most disappointed with were the candle and bracelet.    I think what would have made this box a standout would have been a small candle in a terrific seasonal scent ~ like pumpkin, apples, cloves or some spices and instead of the bracelet, a really pretty paper or fabric bookmark, again in a seasonal design.  Those items would not cost that much and you would have some nice, classy items to go along with the other solid items in the box.  
That said, Peaches and Petals are new to the subscription box world, so perhaps they are just needing to shake out some issues with stock.   I read past reviews on My Subscription Addiction (reviews here)  and it seems that one month is great, one month is awful and so on.   It will be interesting to see what they offer in the upcoming months.

Next month's spoiler is a Peacock Kimono Robe.  If you are interested in subscribing, use promo code PEACHFIND and get 50% off your first box with Peaches and Petals.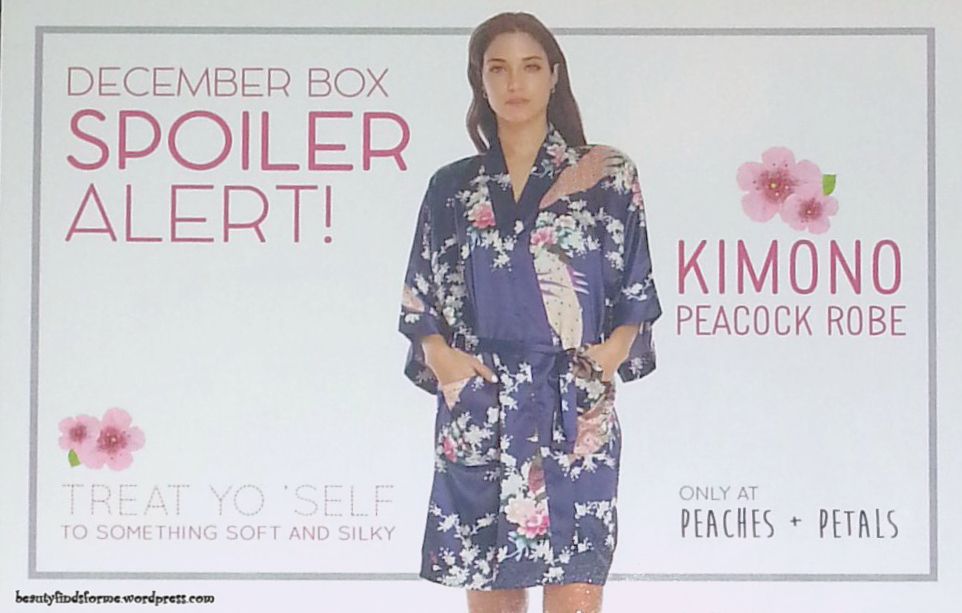 [ products were received complementary for review purposes.  All opinions are my own and are unbiased ]