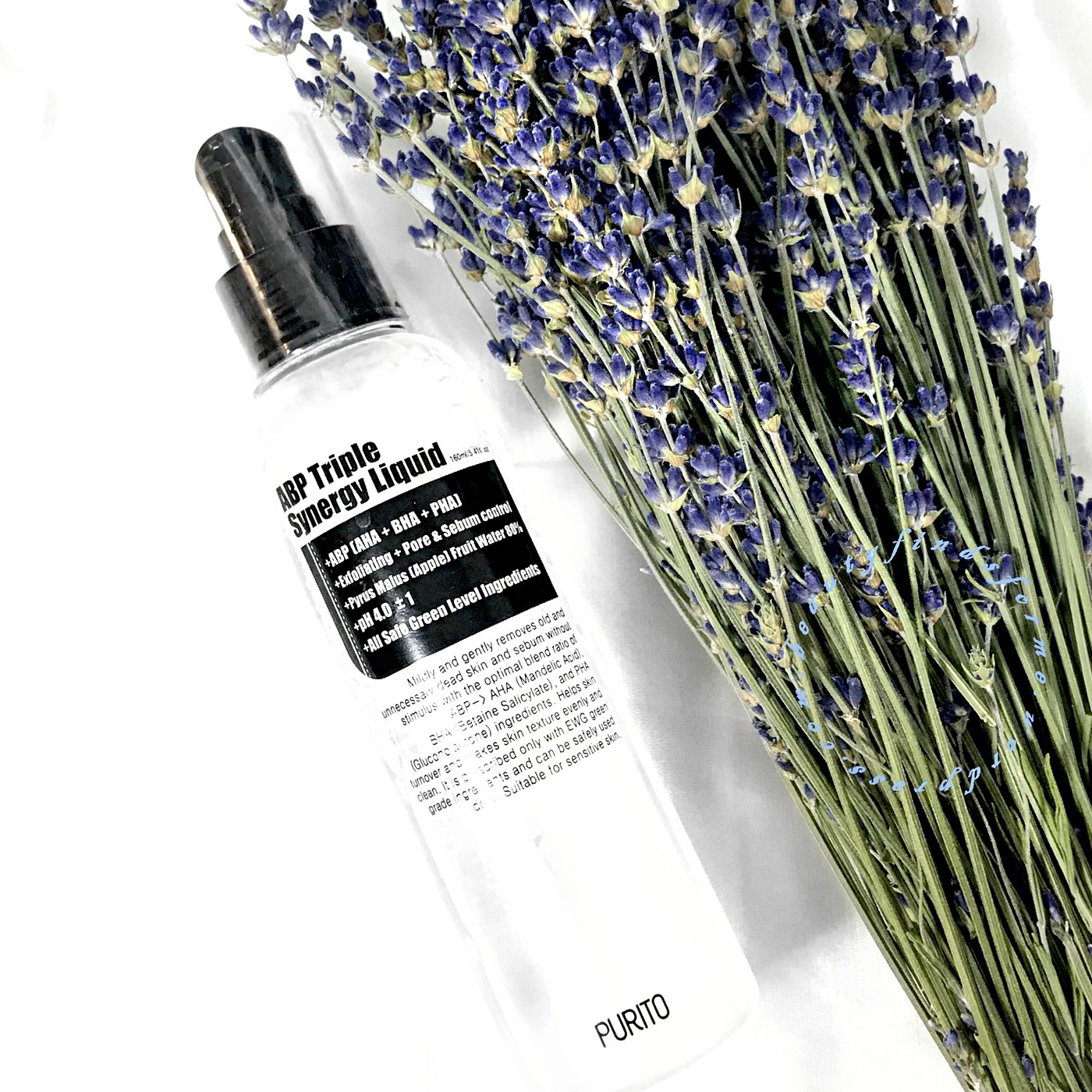 This is one of the latest items from a "green" Korean Skincare brand called Purito.  I have tried many of their items and I find them to be a solid, no-nonsense brand that delivers on its claims.  You can read all of my reviews here.  The brand name "Purito" means "purify" and "soil", emphasizing the pure and natural ingredients used in their skincare. Their philosophy is to be honest and make safe, natural products, without artificial fragrances, preservatives, surfactants and PEG's. Purito strives to make products safe enough to use with both adults and children and conforming to EWG Green Level ingredients. Their packaging is also eco-friendly when possible, and they spend more time on the formula than packaging as they believe it is what is inside that counts (I totally agree with this!) and they do not conduct animal testing.
Skin Type/Concerns: Oily, blemish prone, aging skin with fine lines/wrinkles, hyper-pigmentation, pores
I received these products complementary to review and was not paid.  All reviews are my own honest opinion and  I never have been asked to write copy for a brand.  This blog post might contain promo codes, affiliate and referral links, which using my links will help generate a small commission that helps support my blog at no extra cost to you.
Claims
image credit purito
The following are the claims behind this product from Purito:
"Chemical exfoliation with AHA and BHA uses acid to gently release layers of dead skin, helping to naturally remove built-up dead skin. This means that it has less irritation than physical exfoliants such as scrubs and peels. However, if that chemical exfoliant is too acidic or concentrated, it can cause skin trouble [ irritation ] and as moisture is loss through the [ removal ] of dead skin, it can trigger dryness or tightness of the skin.
Purito makes up for the standard shortcomings of chemical exfoliants by using a balanced blend of EWG 1 rated AHA+BHA+PHA components that can be used comfortably and without irritation [on all skin types ]. Because the product contains naturally derived supplementary ingredients [such as] panthenol and sodium hyaluronate, [ the ] skin remains moist and without tightness, even after exfoliation."
So basically, in a nutshell, the ABP Triple Synergy Liquid is mild enough to be a chemical exfoliator but doesn't leave your skin dry or tight.
Key Ingredients
image credit purito
AHA (Alpha Hydroxy Acid) used in this product is one of the most gentlest AHA's due to its larger molecular size and my favorite ~ mandalic acid.   You want an acidity of 3 to 4, with a 5 to 8 percent concentration of AHA.  The AHA ingredient should be one of the top 3 ingredients in the list and since AHA's need time to absorb into your skin, you should not really bother with products that will be rinsed off, like cleansers.  You should pick AHA's if your skin is not prone to breakouts or you really want to lighten hyper-pigmentation and tone and firm your skin, as they can stimulate collagen and elastic production in your skin.
Mandalic acid doesn't irritate your skin like glycolic acid does and it is made from bitter almonds and was discovered back in 1831 by a German pharmacist ~ Mandel is German for almond. Mandelic acid is more gentle, so effects will not be immediate, but it is safe to use for long terms and will help refresh your skin over time. Mandelic acid helps reduce hyper-pigmentation (malesma), which evens out your skin tone and complexion ~ unlike other AHA's which can be irritating and stimulates the cells to create more melanin ~ which is defeating the purpose of using an AHA.  Mandelic acid has less of a problem with this issue, and it not only reduces hyper-pigmentation, but also restores your skins texture and has anti-bacterial and anti-inflammatory properties, making it effective for those with acne prone skin as well.  It helps reduce acne breakouts as it regulates oil production and it is beneficial for cystic acne too.
PHA (Poly Hydroxy Acid) are a third generation peeling/exfoliating ingredient, much like AHA and BHA, but it is less irritating. It is just as effective as an AHA, but it is gentle and mild, as the molecules in PHA are larger and do not penetrate deeply into the skin. Now, don't confuse gentle and mild with a lesser percentage of acids or a higher pH level.  That isn't what that means ~ it just means that it is gentler on your skin than an AHA or BHA, not that its acid level is higher ~ the higher the acid level, the less effective it is ~ or that the percentage is lower ~ the lower the percentage of acid in the product, you guessed it ~ the less effective it is.
PHA's take longer to show results, but if you use a product for about a month or so, you should see some skin tone and texture improvement. PHA's also have hydrating and moisturizing benefits that can help strengthen your skin barrier function and they contain anti-oxidant properties, making it a good choice for anti-aging skincare products. PHA's also can be used with other products such as retinol and skin lightening hydroquinone. PHA products can be used on all skin tones as well and help reduce photo-aging. (source)
The PHA in here is gluconolactone. Gluconolactone is derived from glucuronic acid, which is a sugar acid and it is suitable for sensitive or mature skin. It functions like an AHA and will help improve your skin's texture by aiding in cellular turnover, unclogging pores and removing dead skin cells. Recent studies show it might be effective in treating blemishes, due to some anti-bacterial properties.  To be effective for brightening skin tone and exfoliating, you need 4% for daytime products to 10% for night time products.
BHA (Beta Hydroxy Acid)  in here is betaine salicylate ~ this BHA will actually go into your pores, dissolve and clean out the dead skin cells and excess oil.  BHA needs a lower concentration, around 1 to 2 percent, and should have a pH level between 3 and 4 to work effectively.  Also, BHA ingredients should be in the lower half of the ingredient list. BHA's are usually less irritating than AHA's and unlike AHA's, BHA' are lipid/oil soluble, which means they can dissolve in fats and penetrate sebum filled pores much better than AHA's.   BHA's are best for oily skin and blemished skin.  If you have combination oily/normal, you can use BHA's, barring any sensitivities.
This contains 80% apple fruit water, which is a vitamin-rich, anti-aging ingredient that contains antioxidants, promote cell health, moisturizes and helps heal sun-damaged skin. This also has hydrating sodium hyaluronate and glycerin as well, which will attract and bind moisture to your skin.
Purito does not list the percentages of the acids here, so based on the performance and pH testing, I feel this is less an exfoliator but more of a hydrator.  With daily use, you can get benefits of gentle exfoliation, but it is very mild. This is made with EWG green grade level 1 ingredients and can be used daily. It is made without preservatives, so Purito does recommend storing this in a refrigerator.  I never do that, and my toner is just fine, but YMMV.   
image credit purito
Ingredients: Pyrus Malus (Apple) Fruit Water (80%), Butylene Glycol, Dipropylene Glycol, Glycerin, Gluconolactone, 1,2-Hexanediol, Mandelic Acid, Betaine Salicylate, Arginine, Poncirus Trifoliate Fruit Extract, Allantoin, Caprylyl Glycol, Polyglyceryl-10 Laurate, Xanthan Gum, Sodium Hyaluronate, Portulaca Oleracea Extract, Polyglyceryl-10 Myristate, Panthenol, Disodium EDTA, Hydroxyethylcellulose, Perilla Ocymoides Seed Extract cosDNA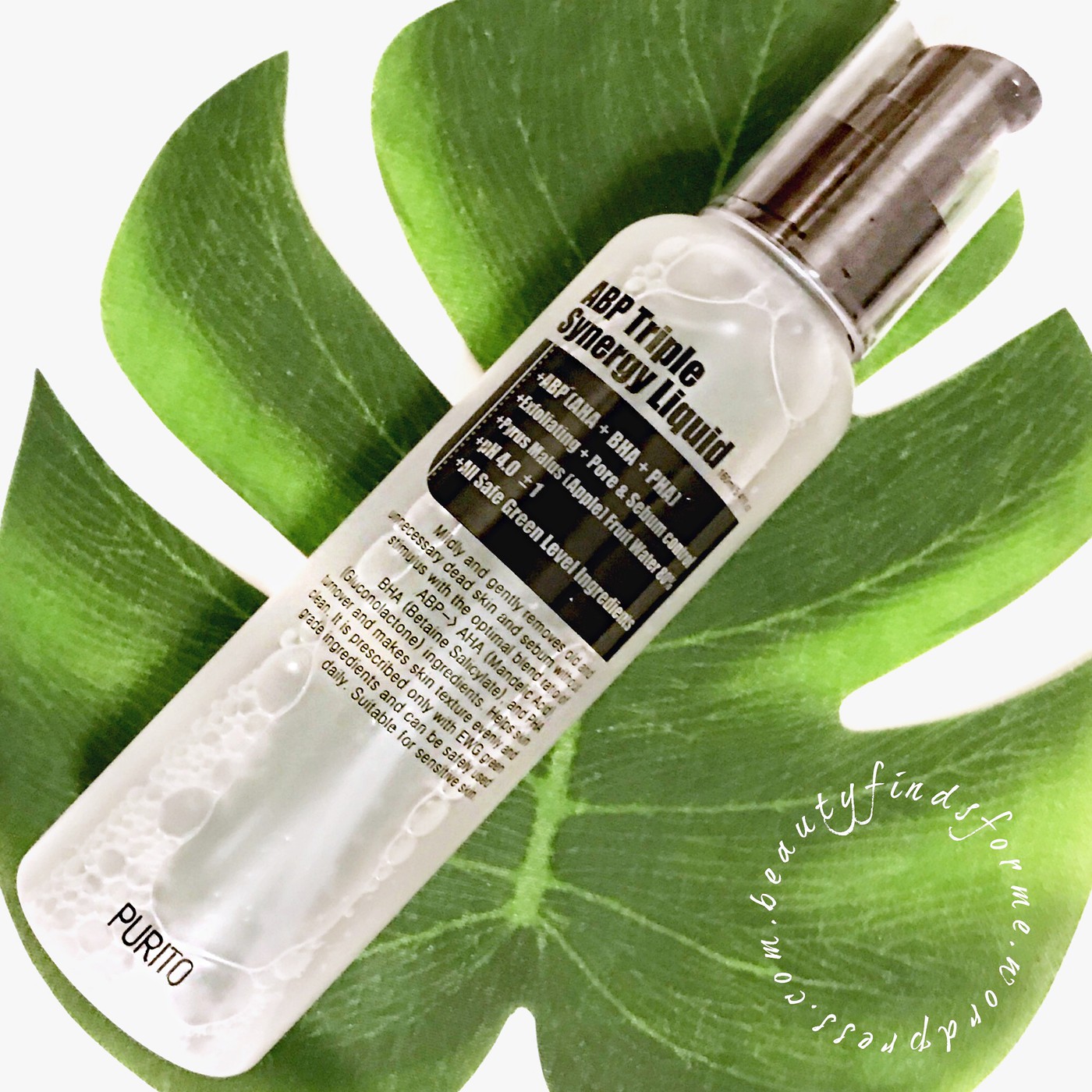 Like all Purito products, the toner comes in a plain bottle ~ it is not lux packaging! However, Purito focuses more on what is inside the bottle, not its exterior ~ so I do not mind more functional packaging, as it also keeps the cost down.  ABP Triple Synergy Liquid has a pump applicator that makes it easy to apply ~ I can either use a cotton pad, which will provide me with physical exfoliation or just pat it on my face with my hands.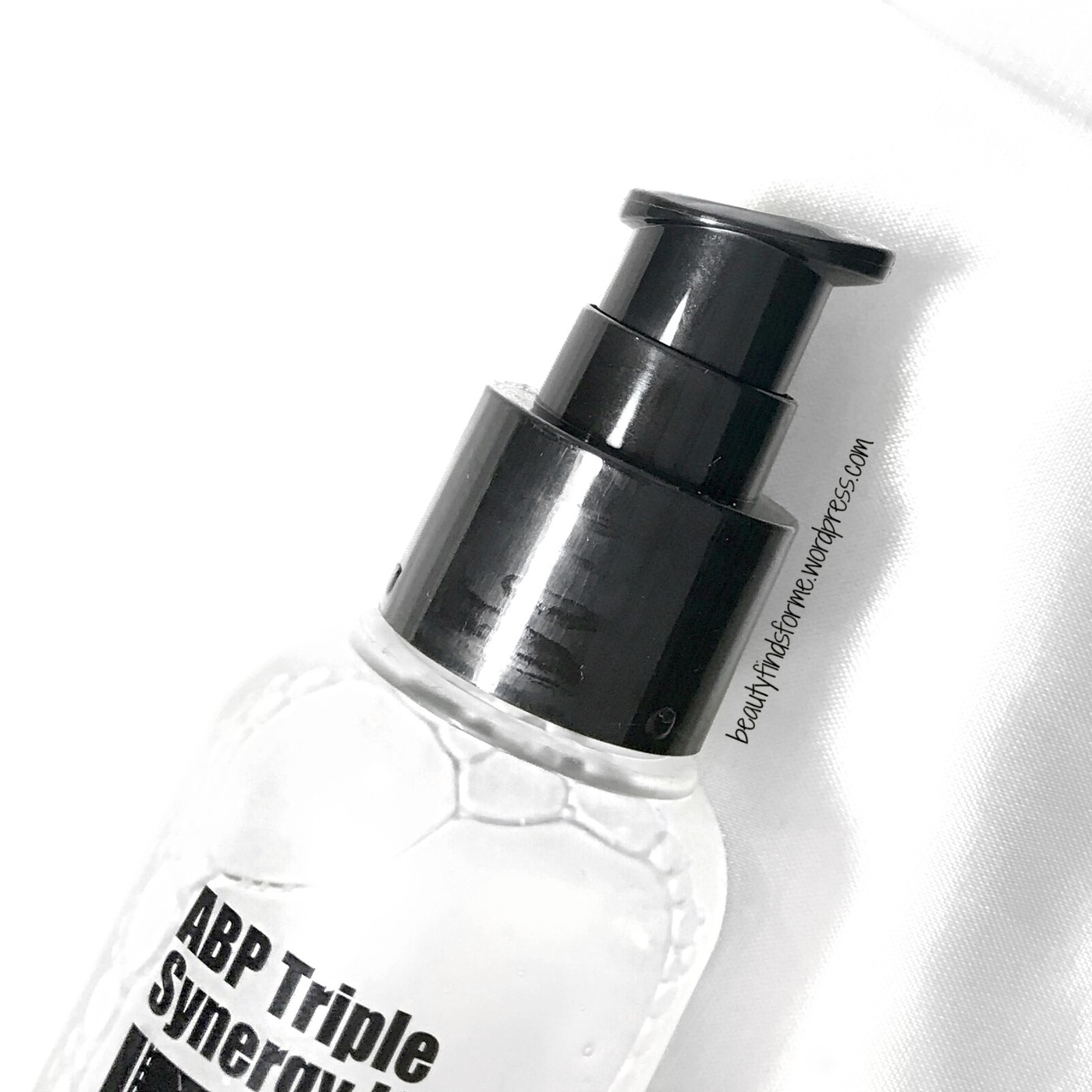 I actually like to do both ~ first swipe my face with a cotton pad soaked with this toner and then reapply, using my hands only.   This toner ~ and I am calling it a toner, because that is what it is ~ is what I like to call a "bouncy toner" ~ other bouncy exfoliating toners are Benton's BHA Aloe Skin Toner (review) and cosRX  Two in One Poreless Power Liquid (review).  What I mean by "bouncy toner" is that it has a thicker-than-water texture and has a good slip and viscosity.  Purito's toner falls into that category and it doesn't have a greasy or oily feel to it.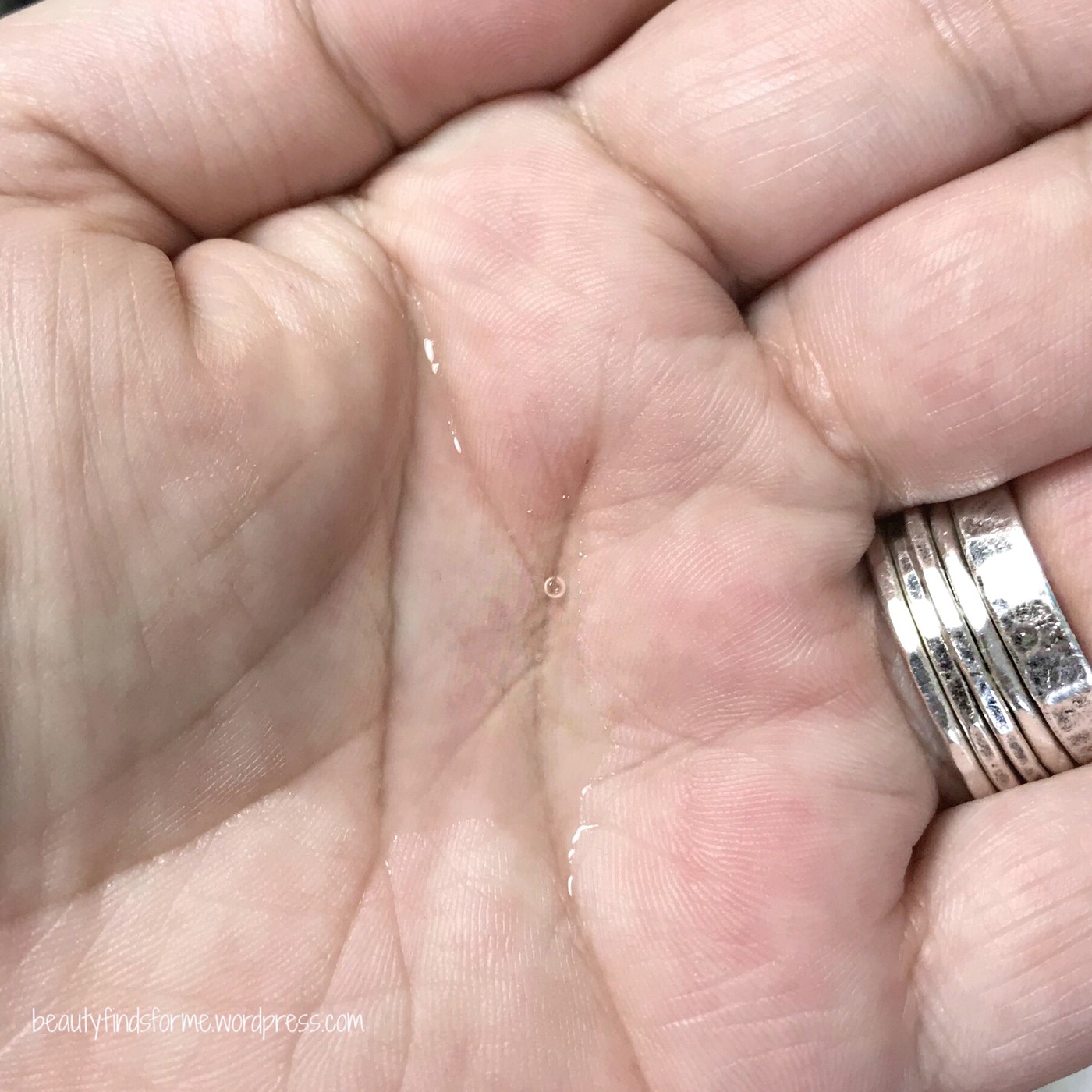 It is colorless and has no added fragrance, but it does have that slight bitter medicinal scent that I associate with chemical exfoliators.  It isn't strong and disappears quickly.   This has a pH level of about a 4, which meets Purito's claims of a ±4 pH level.  This means, based on AHA/PHA/BHA pH levels, that is very mild as an AHA/PHA exfoliator and sits on the very edge for a BHA exfoliator. This doesn't sting my skin at all, so it is very gentle.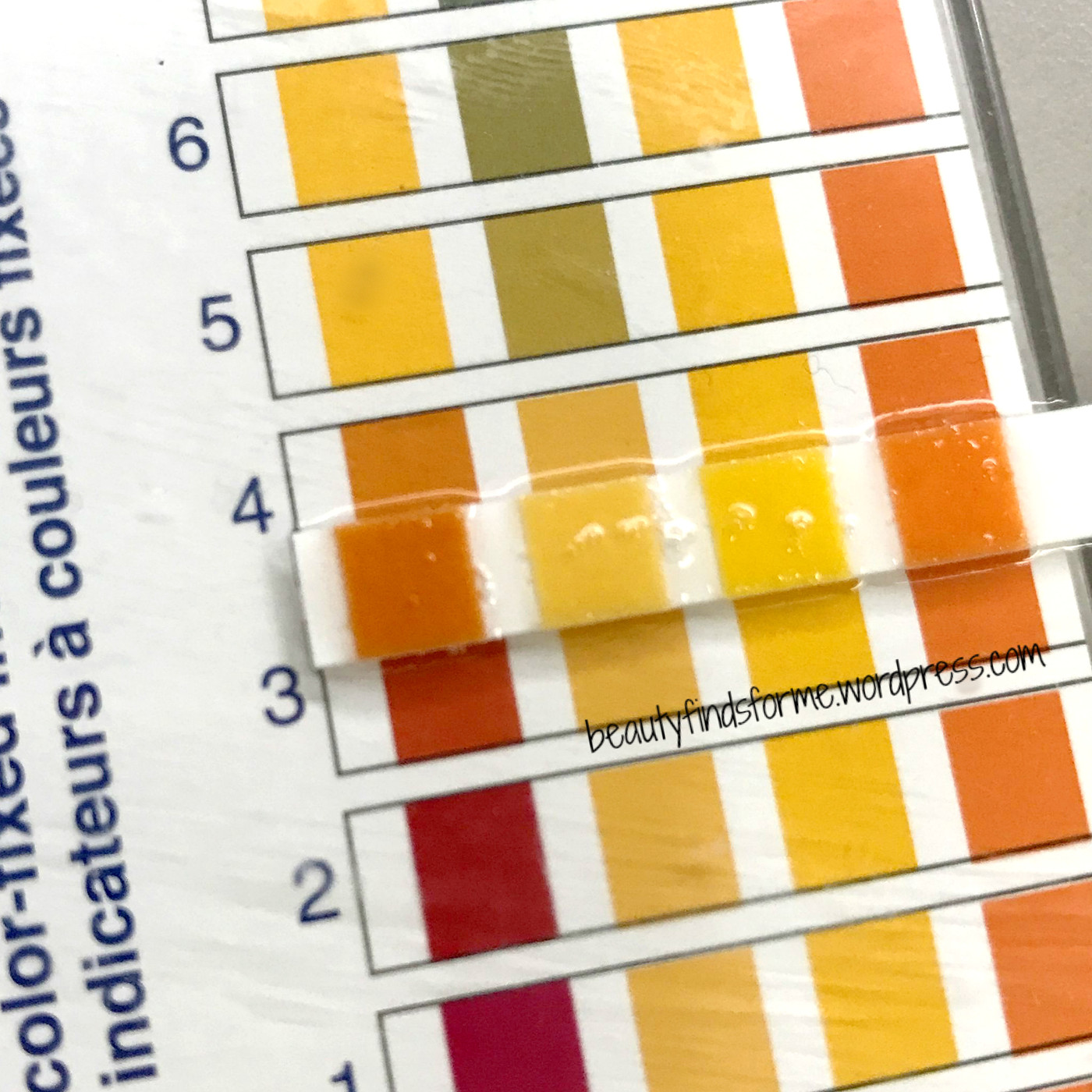 It does take a few minutes to dry down and I can feel that bouncy feeling being transferred to my skin ~ my skin feels very moist and hydrated and I do feel this is a great toner to use to layer.  It does hydrate and reduce my oil levels nicely ~ 42% increase in moisture and 33% reduction in oil levels.  However, this is not a mattifying toner ~ my skin does have a slight dewy finish to it. 
Before:  Moisture: 36%  Oil: 24%
After:    Moisture: 51%  Oil: 16%
This does seem to help smooth and soften my skin, but I didn't see my pores looking more "tight" with this.  All in all, this gave my skin a great boost in hydration, while smoothing and hydrating my skin. 
Final Thoughts
This is the type of product that someone who is new to acid exfoliators or has sensitive skin would really benefit from.  It is gentle for daily use and does not irritate the skin.  I did not experience any redness or sensitivity using this product twice daily.  It absorbs nicely, perfect for layering and it does hydrating and smooth skin.  I think if you do not have sensitive skin or are used to chemical exfoliators at a greater strength, then Purito ABP Triple Synergy Liquid is probably way too gentle and mild for your skin type as an acid treatment.  Instead, you would use it as a hydrating product.  I like to use this after I use a stronger peeling liquid, as it is mild and will help whisk away dead skin cells without causing additional irritation. 
Where to Purchase
The prices range from $17.00 to $22.00 for a 160 mL bottle. 
[  products received  complementary for review purposes. contains affiliate links ]