[ disclosure: products received complementary for review purposes.   blog post contains affiliate links for a small commission at no cost to you ]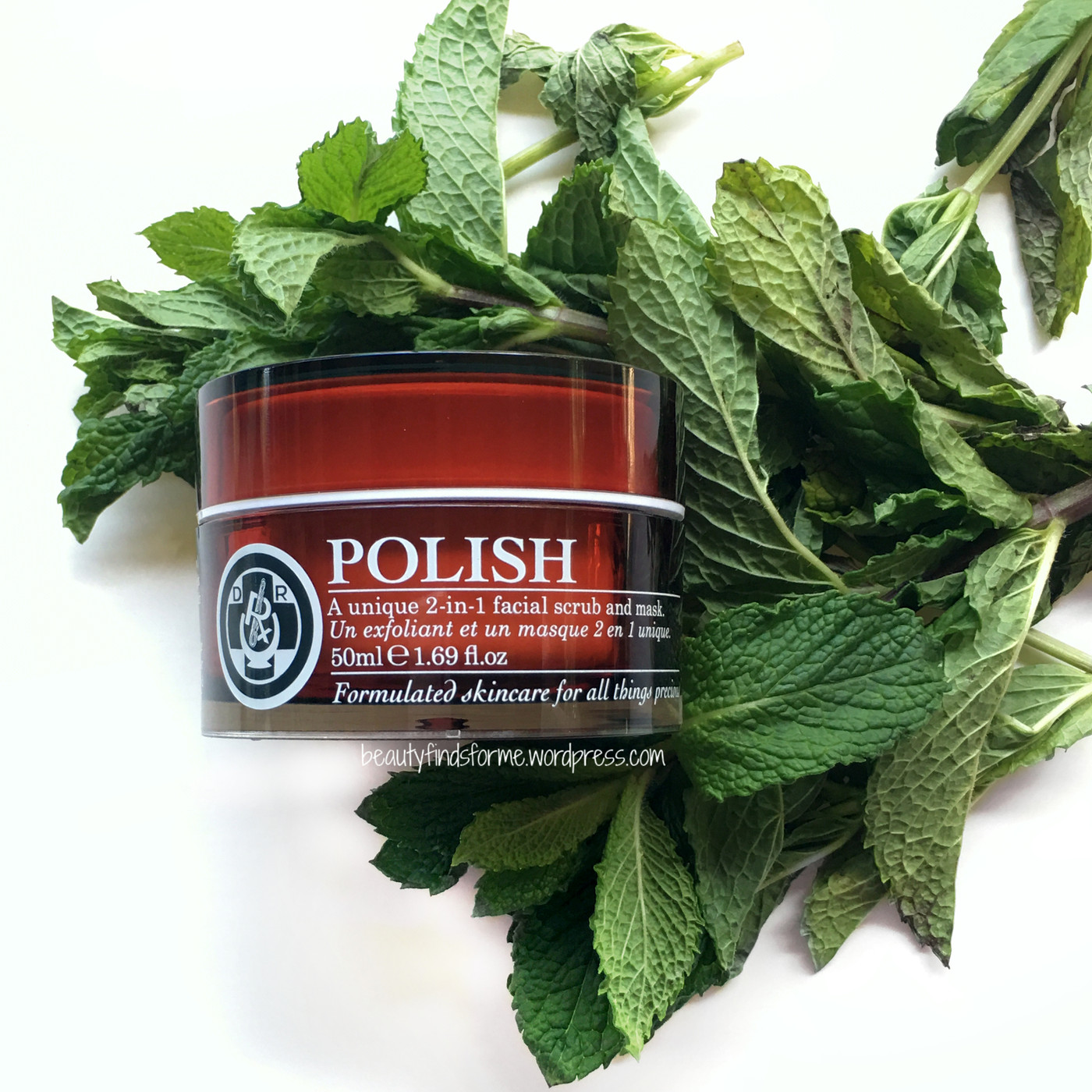 I love scrubs and I love masks ~ I also love trying out new brands too!  Dr Roebuck's is a new brand to me and they sent me a couple of their items to try and review!   I am pretty happy with the products I received ~ POLISH 2-in-1 Facial Scrub and Mask and Ultimate Hydrating Serum.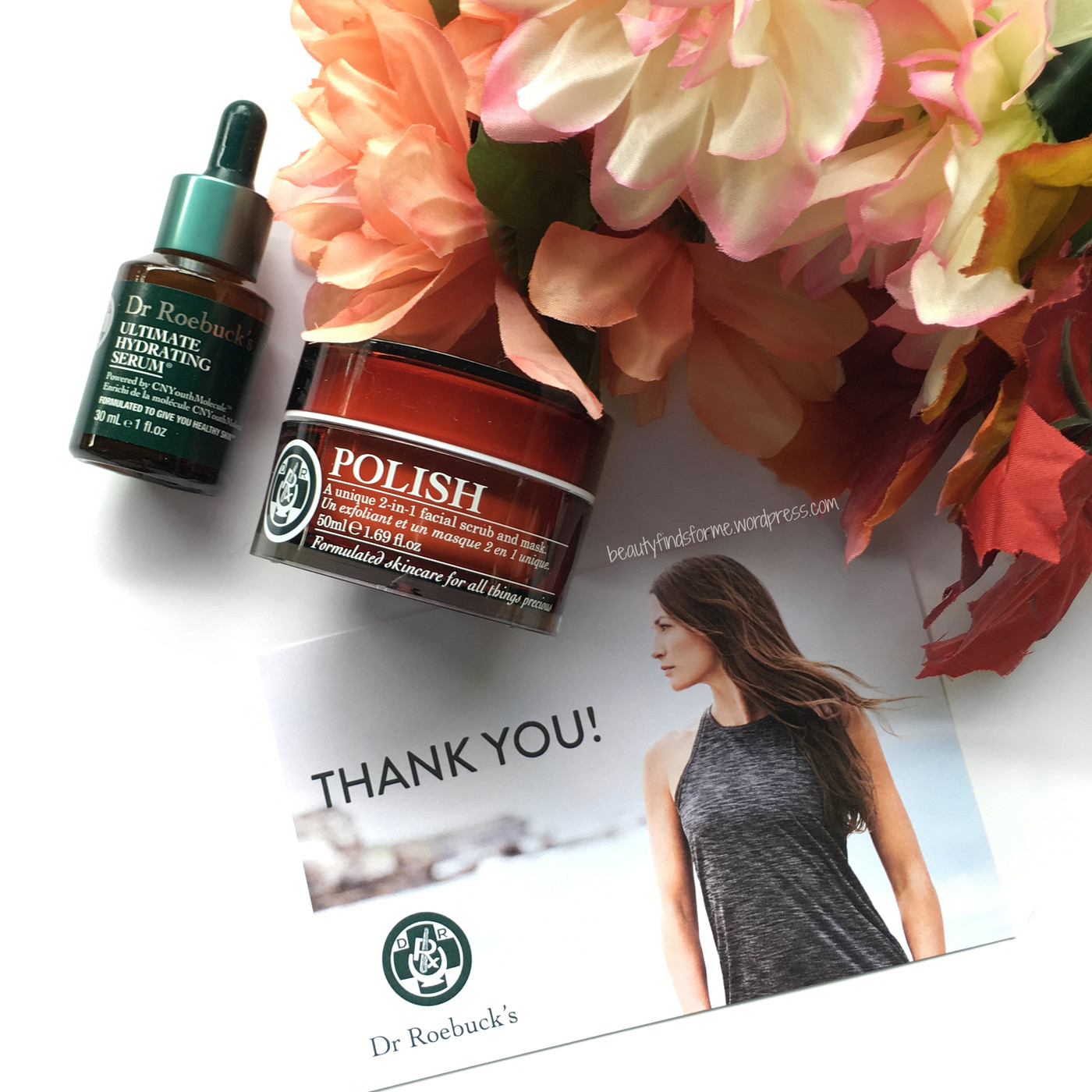 Dr Roebuck's is a company that comes from the Land Down Under ~ you know, Australia!  This is a family business that actually started out back in 1978, when the physician parents of identical twins, Kim and Zoe Roebuck, developed a cream to help treat their eczema.  Kim and Zoe have expanded on the Dr Roebuck's skincare line, using quality ingredients, formulated in Australia.  Dr Roebuck's philosophy is minimal ingredients with maximum results ~ their products do not contain harmful fillers, chemicals, parabens or BPA and they are cruelty free.
I am going to give you a review of the POLISH scrub and also my initial impressions on their Ultimate Hydrating Serum as well.
Skin Concerns:  Oily, blemish prone with aging concerns, pores, fine lines/wrinkles and hyper-pigmentation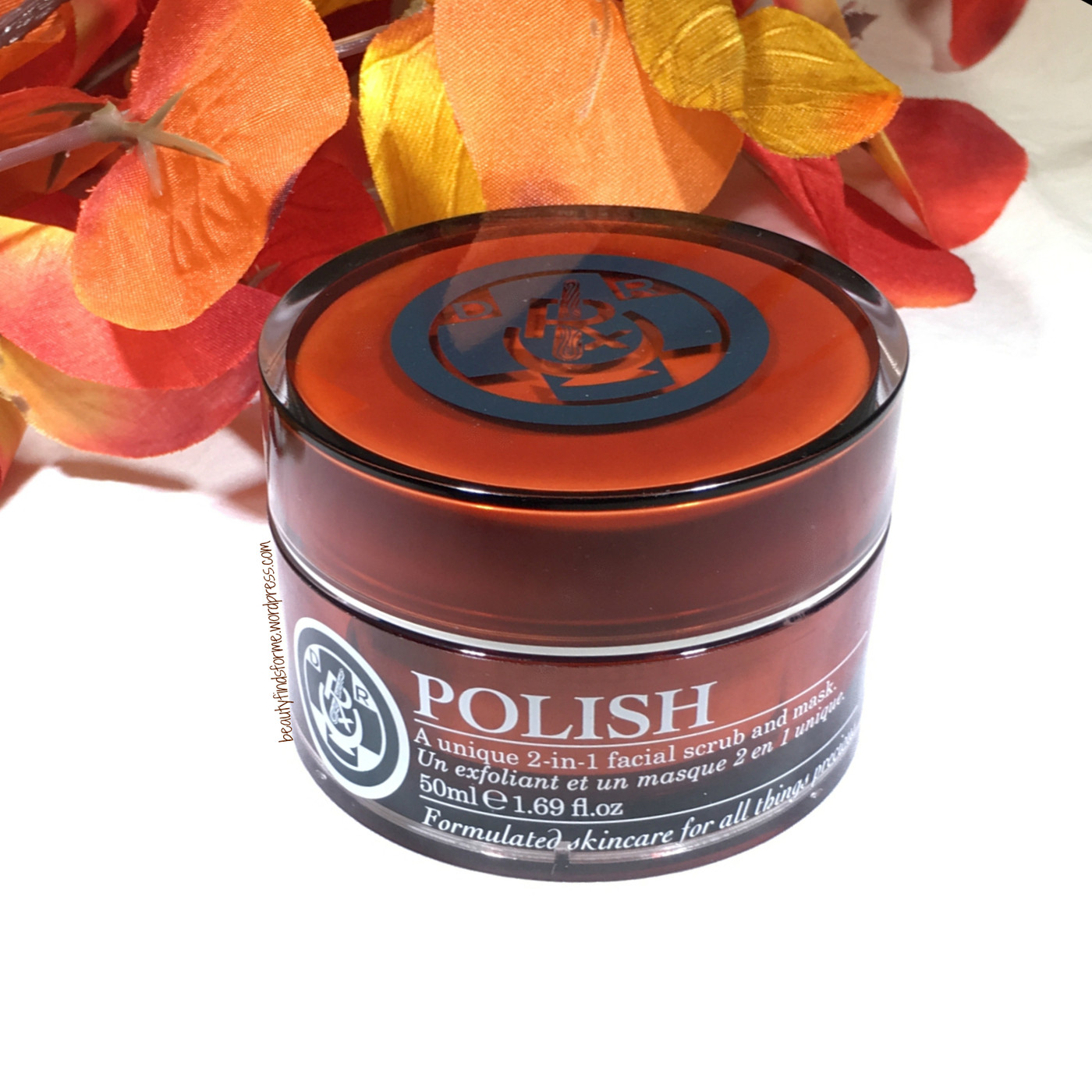 Polish is a 2 in 1 product ~ it not only acts as a scrub, but is designed to be worn as a wash off mask pack. This is a gentle scrub as it contains non-abrasive biodegradable jojoba ecobeads, which won't cause micro tears in your skin, while exfoliating and unclogging pores and toxins.  It also is a clay mask pack as it contains kaolin, which is a white clay that helps remove dirt and debris on your skin, while absorbing excess oil and reducing shine. Kaolin is very good for oily and blemish-prone skin.   This scrub-mask will help soften and moisturize your skin, while providing anti-oxidant benefits with vitamin E, white tea and macadamia oil ~ combating free radical damage.  This also has a couple of organic essential oils in here ~ grapefruit and peppermint.  I happen to love essential oils in my skincare as I am not sensitive to them and I find peppermint to be especially refreshing on my skin ~ providing a cooling effect as well as invigorating my senses with its sparkling scent.   This scrub does not contain parabens, sulfates, phthalates, fillers, petrochemicals, perfumes or colorants.
Ingredients: Purified Water, Glycerin, Emulsifying Wax, Kaolin, Jojoba Beads, Macadamia Oil, Glyceryl Caprylate, Vitamin E, White Tea Extract, Grapefruit Oil, Peppermint Oil  cosDNA analysis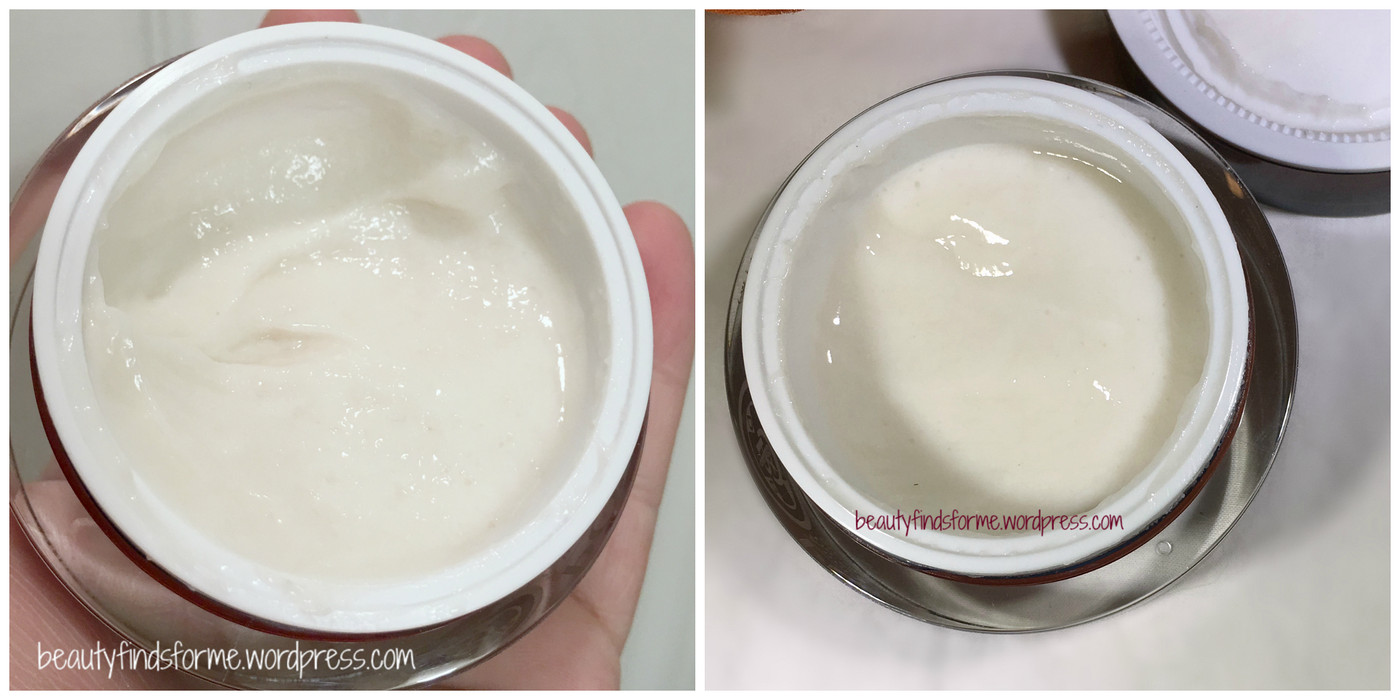 This comes in a beautiful burnt orange 50 mL jar and it has a lot of weight to it, despite being plastic. The scrub-mask is a creamy white color and I can barely see the little jojoba beads in the jar, but once I start applying the mask, I can certainly see and feel them.  They have rounded edges so they are not harsh on my skin.   The texture of this mask is like a thick cream ~ if kaolin wasn't in the ingredient list, I would have never guessed it was a key ingredient due to the way they have formulated this mask.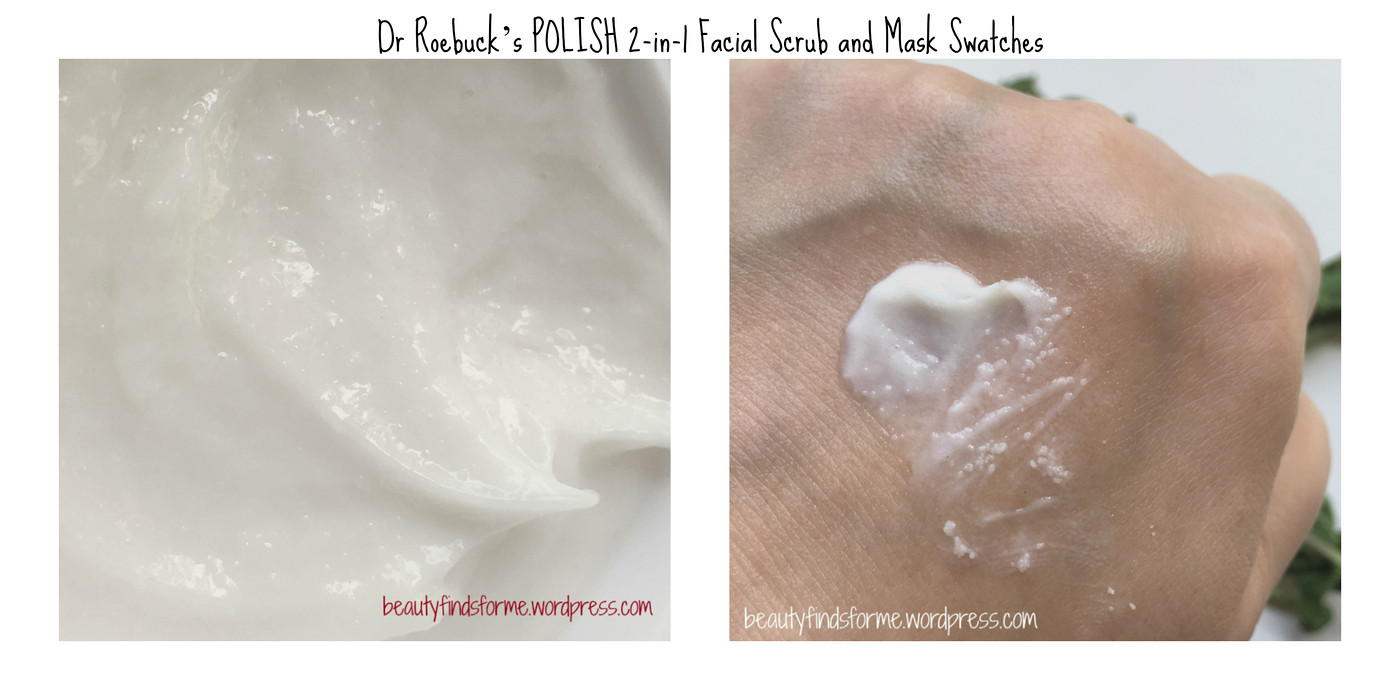 This smells like peppermint and right there, Dr Roebuck's has won me over!  I applied a thin layer on my  damp face and was treated to a cooling sensation on my skin ~ not uncomfortable at all in this early summer heat and quite refreshing.   I leave on for about 3 to 5 minutes ~ it doesn't really dry down or tighten on my skin, due to its moisturizing ingredients ~ then I rinse off, massaging in circles.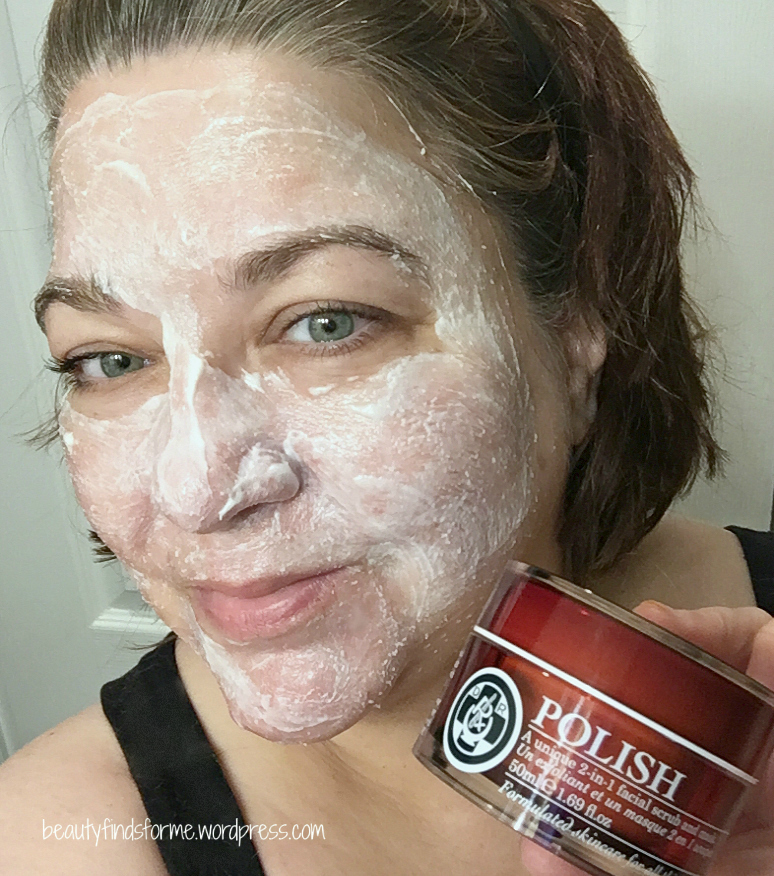 My skin feels very soft, smooth and quite refreshed ~ the refreshing feeling is due to the grapefruit and mint oils.  The first time I used this, I did not use it as a mask but just as a scrub. I was initially disappointed as I felt that it didn't clean out my pores as good as I had hoped ~ but then I used it as a mask first.  That is the key here ~ leave it on your face for 3 to 5 minutes, then massage and rinse off.  The extra time on my face allowed POLISH to act as a deep cleaning detox and clay mask pack, so it lifted up dirt and debris stuck in my pores.  My face did not feel dry or stripped and I feel that all skin types can use this scrub-mask pack, barring any issues with the ingredients.  This is going to be my "need to detox and cool down" mask pack for the summer!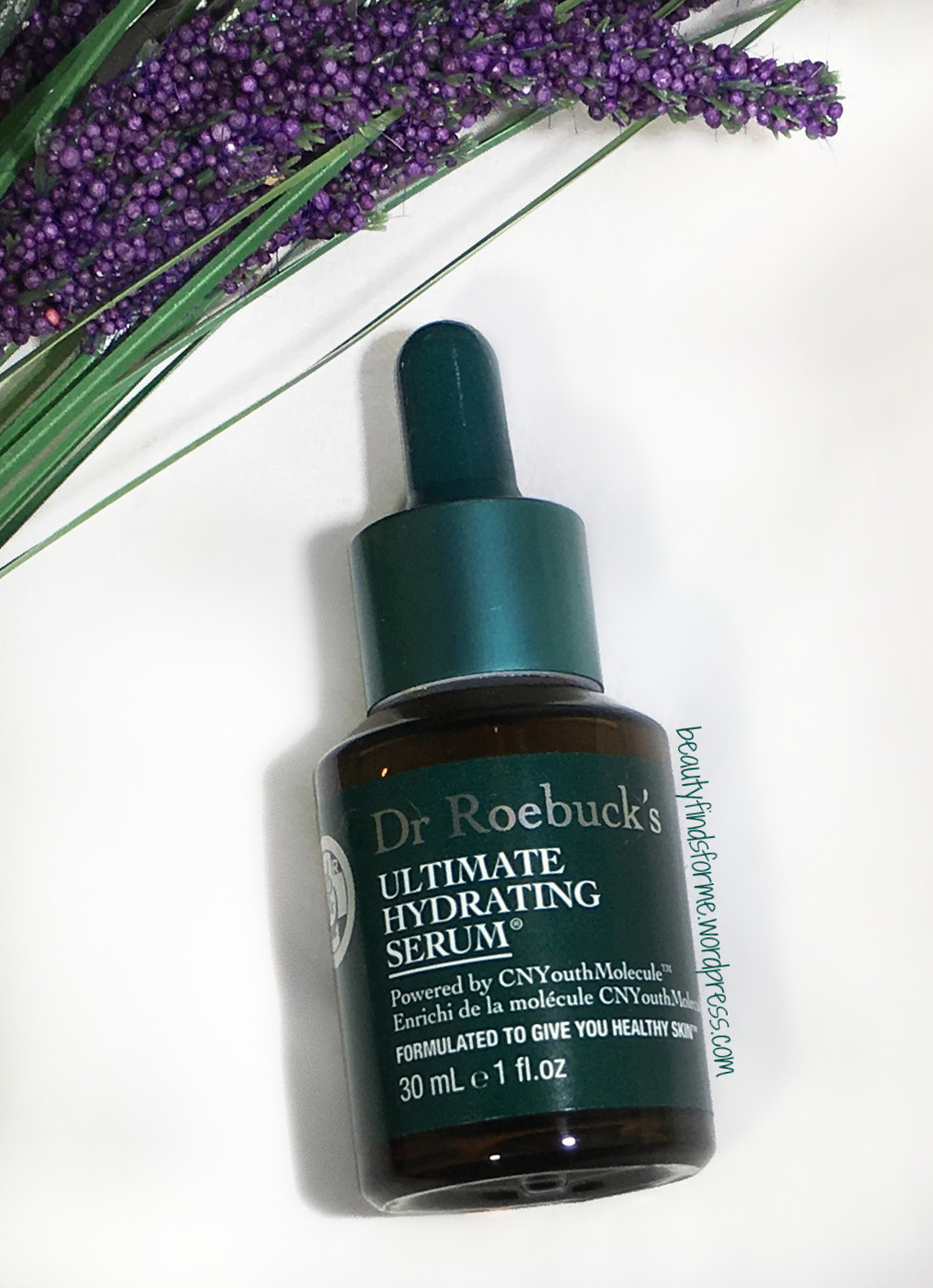 The other product I received from Dr Roebuck's is their Ultimate Hydrating Serum, which I will give some initial impressions on right now.  This serum is more than just hydrating ~ it is an anti-aging serum as well, due to its rich ingredient list.  Dr Roebuck's has a Reverse Aging Serum, but looking at the ingredients list, they both share a lot of ingredients and Reverse Aging Serum has some more oils and herbal extracts.   This serum is designed to moisturize and hydrate, while supporting your skin's elasticity. It has a proprietary ingredient ~ CNYouth Molecule, containing 5 actives: hyaluronic acid, vitamins B3 and C, ubiquinone and  aloe vera.    This also contains anti-aging peptides ~  palmitoyl tetrapeptide-7 and  palmitoyl tripeptide-1 ~ as well as brightening niacinamide, nourishing squalane and AHA citric acid. 
Ingredients: Aqua, Propanediol, Aloe Barbadensis Leaf Juice, Coco-Caprylate/Caprate, Ascorbyl Glucoside, Creatine, Glycerin, Sodium Hyaluronate, Retinol, Carnosine, Palmitoyl Tetrapeptide-7, Ubiquinone, Palmitoyl Tripeptide-1, Niacinamide, Squalane, Tocopherol, Lecithin, Tocopheryl Acetate, Hydroxyethyl Acrylate/Sodium Acryloyldimethyl Taurate Copolymer, Pentylene Glycol, Sodium Polyacrylate, Butylene Glycol, Sodium Hydroxide, Polysorbate 60, Sorbitan Isostearate, Polysorbate 20, Sodium Lactate, Carbomer, Potassium Phosphate, Citric Acid, Sodium Benzoate, Potassium Sorbate, Helianthus Annuus (Sunflower) Seed Oil, Limonene, Linalool, Citral, Citrus Aurantium Bergamia (Bergamot) Fruit Oil, Linalyl Acetate, Alcohol, Benzyl Alcohol, Dehydroacetic Acid cosDNA analysis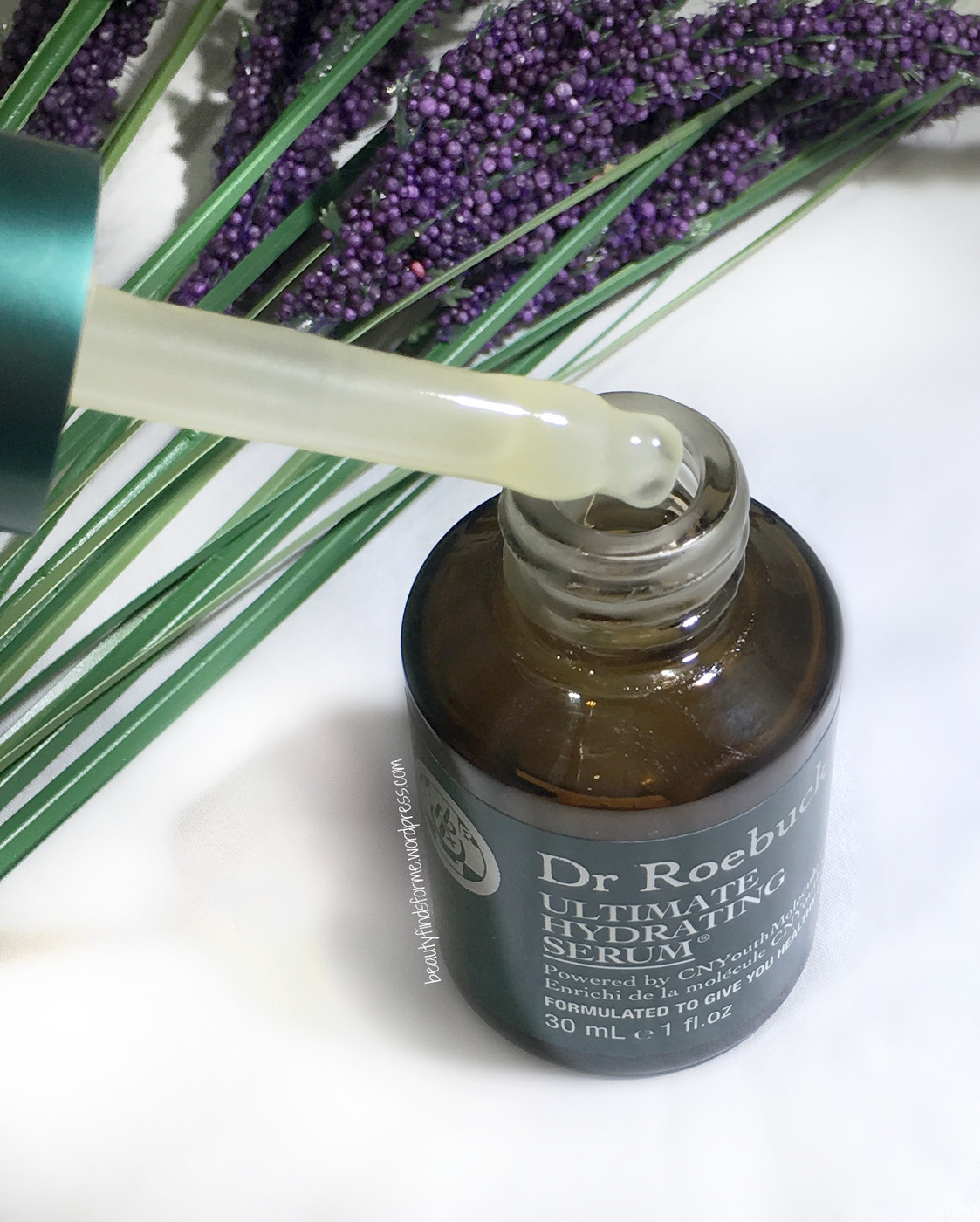 This comes in a lovely brown glass 30 mL bottle with a teal cap and an eye drop applicator.  The applicator is so fussy!  I have a hard time picking up the thick yellowish serum. The serum smells faintly of citrus and despite the serum's thickness, it is not greasy or oily at all . It has a slickness to it, but once is is massage into my skin, it absorbs in quickly with no sticky or tacky residue.  My skin feels very soft and smooth.  

Due to this serums lovely list of anti-aging ingredients and its texture on my skin, I am using it to target my forehead and around my eyes as I think this might really help with my fine lines and wrinkles there as well as deeply moisturizing. This serum normalized my oil skin as well as improving my moisture levels by 25% .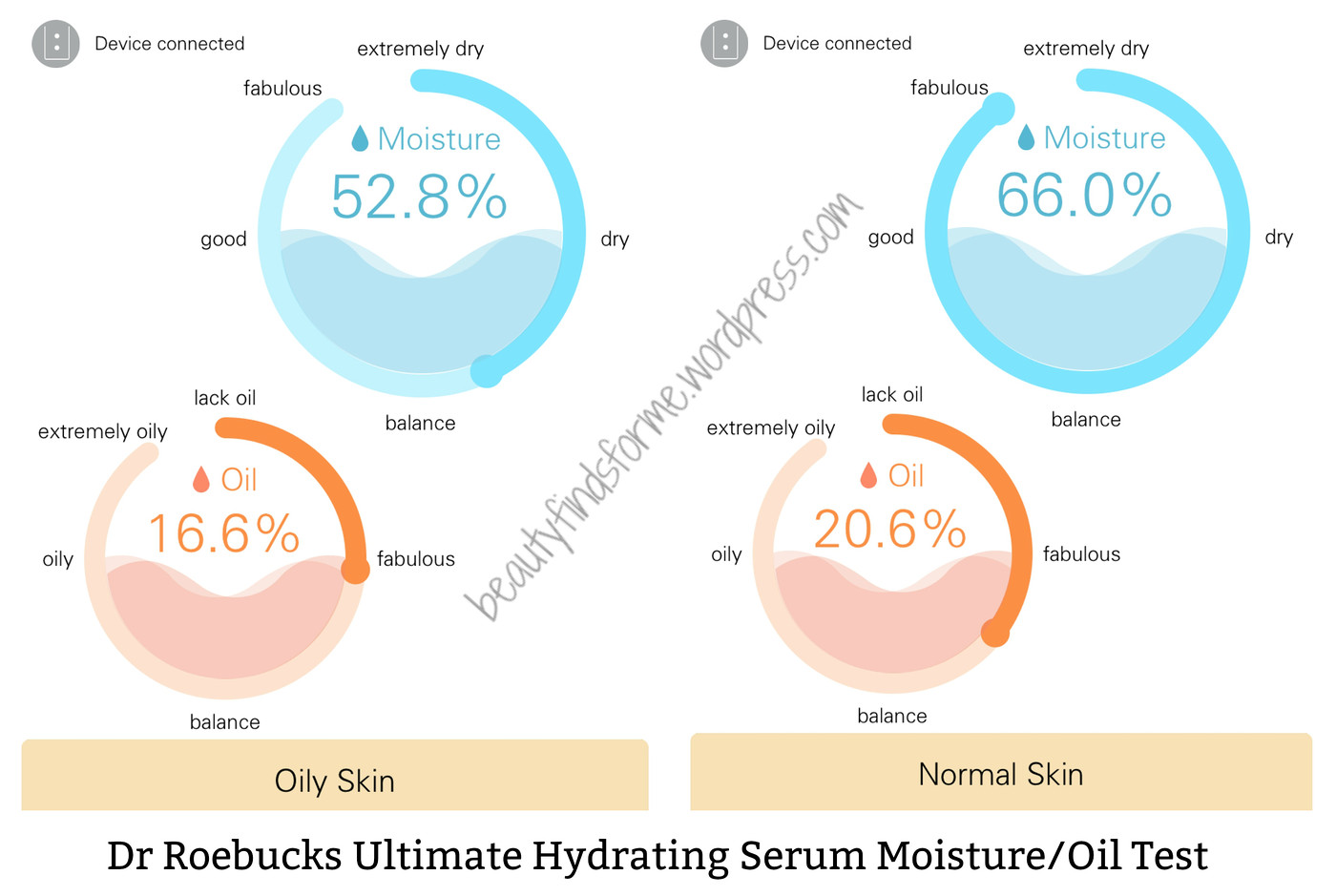 Final Thoughts
Overall, I really am enjoying these products from Dr Roebuck's.   POLISH scrub & mask is a gentle exfoliating product that really works better if you leave it on for several minutes before using it as a scrub.  Maybe it should be called mask & scrub?  ahaha  It is so gentle on my skin, yet it unclogs pores with efficiency ~  drawing out dirt, impurities, excess oil without harsh scrubbing.  I have used this a few times since I received it and it really helped to remove some dead skin flakes I have without irritating my monster pimple.  I also like that it moisturizes my skin without a greasy, filmy feeling ~ unlike the Olivarrier Gentle Glow Seed Polishing Mask, an expensive mask that was marketed as a "gentle polishing mask" and it was so ineffective (those HUGE seed things!) at cleansing and it left a film on my skin.  If you had bad results with that mask, I can tell you that Dr Roebuck's POLISH actually does live up to its claims of exfoliating and cleansing, leaving behind soft, smooth skin without dryness. Dr Roebuck's claims this is good sensitive skin types and so long you are not sensitive to essential oils, you might want to give this a try.
As I have only been using the Ultimate Hydrating Serum for about a week now, I can only give an initial impression ~ so far, I do like this a lot!  I was a bit surprised to see how thick this serum is, as when I think of hydrating, I think of a more watery serum.   However, this absorbs beautifully and is not oily or sticky, which I was initially worried about.  I love the scent of this product as well ~ very refreshing citrus and my only complaint right now is the eye dropper applicator as it doesn't "suck" up enough product ~ and in some cases, it didn't draw up any of the serum!  I think that dropper needs some work because it is ineffective ~ in the morning, I just want to squeeze the bulb applicator and deposit the product on my skin ~ I don't want to have to fiddle around with it, trying to get a few precious drops here and there.
Dr Roebuck's is a bit more expensive but if you shop at Sephora, you would be used to these prices ~ the scrub retails for $32.00 USD and the serum retails for $56.00 USD.  I find their prices to be mid-range for quality skincare products and especially ones that are natural and free from harmful chemicals and additives
Where to Purchase
Currently, it looks like Dr Roebuck's is only available in 3 countries.  I hope that they will expand their market soon, as I think they are really quality items. 
Dr Roebuck's has their own USA store now!  They offer free shipping with orders over $75.00 and I have a special affiliate code COLEBIANCARDI15, where you can save 15% off any of your purchases at their stores!

In the USA, Sephora carries these products plus more skincare items from Dr. Roebuck's!
In Canada, you can purchase them at Shopper's World and also online at Beauty Boutique
In Australia, you can find them in stores (see their handy map finder) and also purchase them online at David Jones
[ disclosure: products received complementary for review purposes.   blog post contains affiliate links for a small commission at no cost to you ]