Winner is @ange__santos!!
I will have more giveaways here at my blog (a big December one) and I am doing giveaways at my Instagram account too!
It's time for my November UnboxingBeauty GiveAway!   Thank you to my readers who support my blog and use my links to provide me with a small commission as this is how I can continue to do these giveaways!  Good luck

This  giveaway is open to both USA and  International Readers (basically anywhere the USPS can ship to)  This Giveaway runs until the end of the day (EST) November 26th, 2017 and some of the activities can be done daily.  The more options you do, the more entries you get!
If you regram on IG (see IG photo here) and tag @colebiancardi and #NovUnboxingBeautyGiveAway, you will get double the points with an Instagram repost!  Share the K-Beauty Love!
You get extra points for regramming on Instagram ~ BUT you need to post the link in the entry form here ~ this is something you can do daily!  Since Instagram Shadowbans, it is getting harder to find the hashtags and regrams, as you can be hidden from me.  
Winner will receive a Prize Package with a RETAIL value of over $180.00!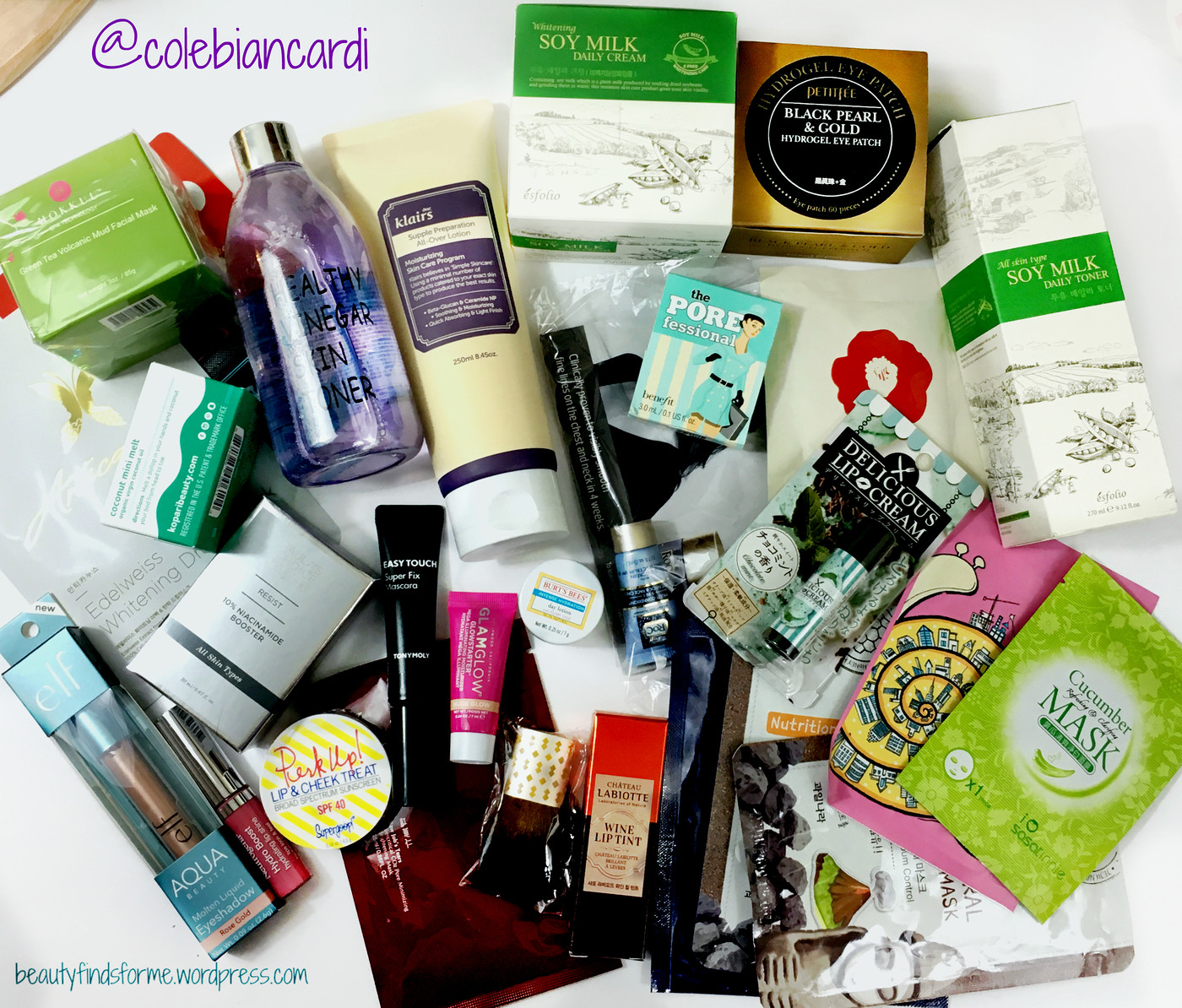 Full Size
Paula's Choice Resist 10% Niacinamide Booster RV $42.00  

Klairs Supple Preparation All-Over Lotion RV $25.00 exp 03/22/2020 

Esfolio Soy Milk Daily Toner RV $22.90  exp 09/01/2018 

Esfolio Soy Milk Daily Cream RV $21.90  exp 10/27/2018 

Hokkuu Green Tea Volcanic Mud Facial Mask  RV $15.99 exp 03/16/2020 

Real Skin Healthy Vinegar Skin Toner in  Blueberry (hydrating) RV $9.50 exp 09/27/2019   

Petitfee Black Pearl & Gold Hydrogel Eye Patch RV $10.00 exp 10/26/2018 

Delicious Lip Cream in Chocolate Mint

e.l.f. Aqua Beauty Molten Liquid Eyeshadow in Rose Gold

Tonymoly Easy Touch Super Fix Mascara

Supergoop Perk Up! Lip & Cheek Treat Tint RV $22.00 exp 11/2018

Labiotte Wine Lip Tint in OR01 Chardonnay Orange RV $10.00
Masks (all expire in 2019)
Innisfree Camellia Essential Hair Mask Pack (volume)

Naruko Snail Essence Mask

Sasa Cucumber Mask

Naruko Raw Jobs Tears Mask

Welcos Jeju Natural Canola Honey Mask
Deluxe Samples
Kopari Coconut Mini Melt 2 oz RV $14.00

Glamglow Glowstarter in Nude Glow 7 mL

Neutrogena Hydro Boost Hydrating Lip Shine in Radiant Rose

Burt's Bees Day Cream with Clary Sage .25 oz

Benefit The POREfessional 3 mL
I will also add in more masks and samples!
What you need to do to enter
Use the Entry Link below to enter via Rafflecoper.  This will open a new page with the entry form.  This is legit as my copy of wordpress does not allow me to embed the entry form directly into my blog.

All entries will be verified and anyone who has multiple accounts will be disqualified.

Qualified entry will then be randomly drawn.

I will notify the winner within 24 hours of the contest close. The winner will have 36 hours from then to contact me  with the following information:  their full name and mailing address as it should be addressed for their country


If the winner does not contact me within 36 hours,  another winner will be selected and the original entry is null and void
What you need to know
beautyfindsforme is me 🙂
By entering, you are agreeing to all of the following items:
beautyfindsforme is not responsible for damages due to shipping, lost, stolen packages or any other issues.  Once the parcel is mailed out, it is out of my hands.

Once beautyfindsforme has the winner's information, beautyfindsforme will ship it out and give the winner a tracking number (if applicable)

The winner is responsible for verifying the products and their contents and to determine the suitability of those products for their own needs.  beautyfindsforme is not responsible for the actual products and ingredients.
This is an international giveaway.  beautyfindsforme will pay for shipping and your country must be one that the USPS (United States Postal Service) ships to.  Please check their site to see if they ship to your country.

The winner is responsible for any custom and/or import duties in their country.  beautyfindsforme is not responsible for those fees.


You must be 18 years of age or older (or the age of majority in your own country), or must have the express permission of a parent or legal guardian to enter and receive the prize.

Please ~ would love it if you would post photos of your prize on IG and/or Facebook so people know where you got these great products!  And that I am legit in offering giveways! 
To Enter, Click on this link or the image and follow the instructions!  This contest will end on November 26th,  2017 at midnight EST.  Some of the entries you can do daily, so enter more often for a greater chance to win!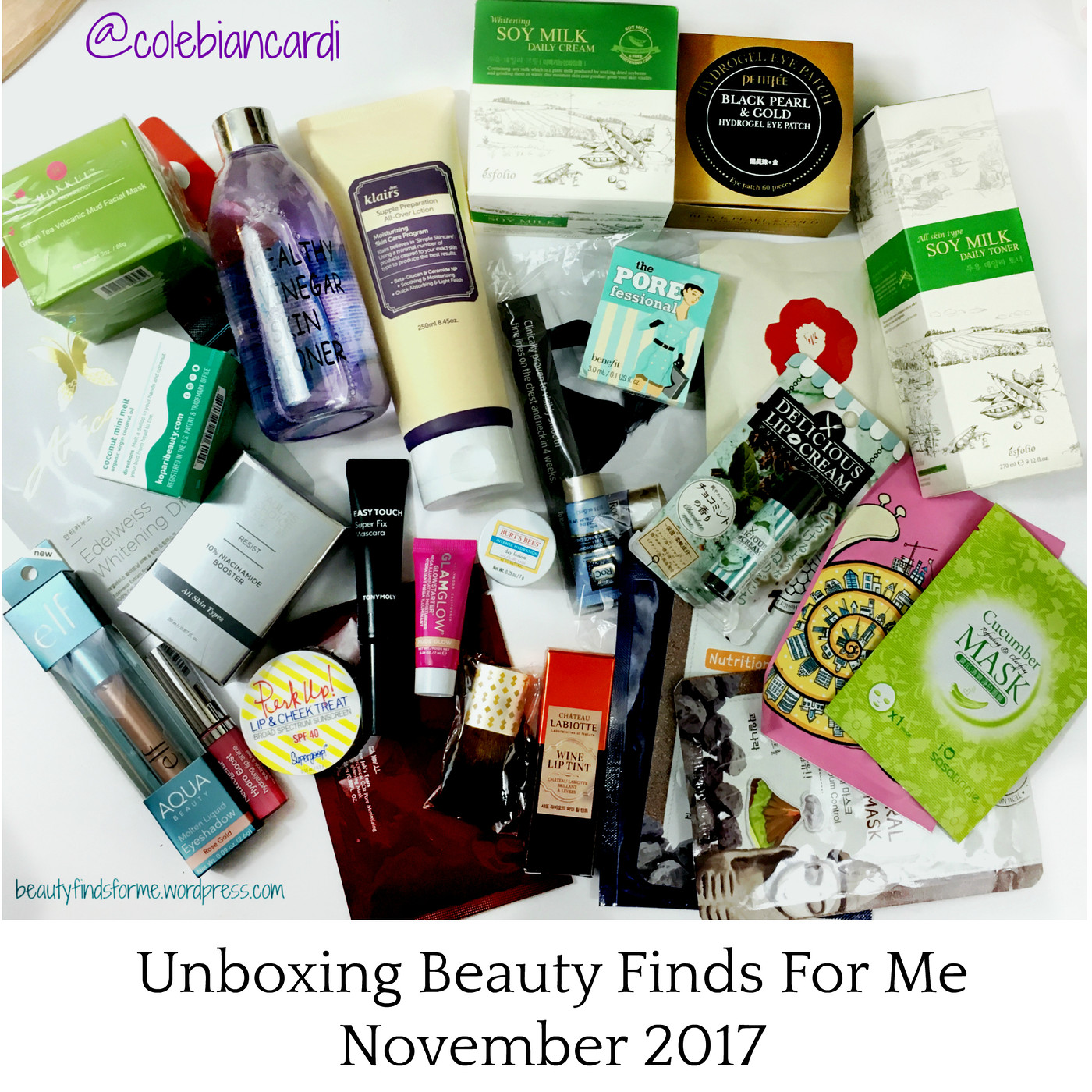 Don't forget to like me and follow me on Facebook and Instagram!  I've moved on FB, so I would REALLY appreciate it if you did so 🙂