The third edition of Innisfree's Color Picker series is now available ~ I have reviewed
The Summer 2017 Color Picker shades are using the theme from the Jeju Jongdalri Coastal Road, one of the most beautiful coastal roads on Jeju Island.  Featuring soft pinks, mauves, lavenders, blues, spring green, muted beige, bright corals and azure ~ pulled from the surrounding hydrangeas and blue ocean.  
 image source

This year, Innisfree came out with a highlighter, liquid cheek stains, "matte" liquid lipsticks, color correcting kit, contouring kit, nail polish and nail decals.   I skipped most of this collection, as I don't really use color correcting products, contouring and liquid cheek stains, but I did purchase one of the matte liquid lippies, highlighter and a couple of nail polishes.  I would love to have gotten the decals, but I couldn't find them when I originally purchased it.
I will show all the difference variations of the products before displaying the ones I purchased, as you might like the other shades as well.
Innisfree Flower Cotton Ink  This is a "matte" liquid lipstick containing hydrangea leaf extract and vitamin E and comes in 5 shades ~ all which pretty much look similar ~ all in the pink-coral-red family.   This is a light weight liquid lipstick that is patchy when I apply it ~ it is very glossy and shiny initially, but then I press my lips together and it really dries down quickly.  It is a stain for me, as I do blot it quite a bit, as this color is VIVID.  I picked #2 호 뭉게뭉게 핑크 수국, which the rough translation is "A thickly pink hydrangea". This is a pink color with a coral tone shade that really doesn't look much like the official Innisfree swatch:
Here are my swatches ~ the top is pure color without blotting and the bottom is when I blotted the color, so it looks more like a stain.  Once it is a stain, it is matte.   This has a doe foot applicator and it is very easy to apply, but it is patchy because it is really a liquid stain.
I am disappointed in this shade as it is SO bright on my lips and I find it to be more coral than pink in real life.  It is nothing like the tube color or the Innisfree swatch.  I wonder how the other colors would look like?  I found that most of the Ink shades were very similar, so I picked what I thought would have been the most wearable for me.  I am confused with these shades, as the hydrangeas shown in their layouts are very pastel and not bright vivid shades.   Oh  and despite being a stain, it isn't that long lasting. 
Innisfree Real Color Nail  I do love Innisfree nail polish and was happy to break out of my normal shades and go for some brighter summer colors.  Real Color Nail Polishes are made with citrus unshiu fruit oil, argan oil and pantothenic acid (calcium pantothenate) to help nourish and strengthen your nails.  The 2017 Color Picker Edition offered five  shades ~ a pale peachy-cream, baby pink, coral-pink, summer blue sky and a nude shade.  I chose 102 Hydrangea Flowers (호 수국이 만든 꽃길) and 103 Hydrangea Summer Sky (호 수국 가득 여름하늘).  These two shades were the most bold of the five and they are really pretty!  The above photo shows the color with just one coat.  Both colors have a slight shimmer if you hold your nails up to the light but they aren't metallic.  102 is a nice coral pink and this is the shade I wish my lip tint had been like!  103 is deeper than baby blue and would be a great base color to use if you want to use stickers or decorate your nails.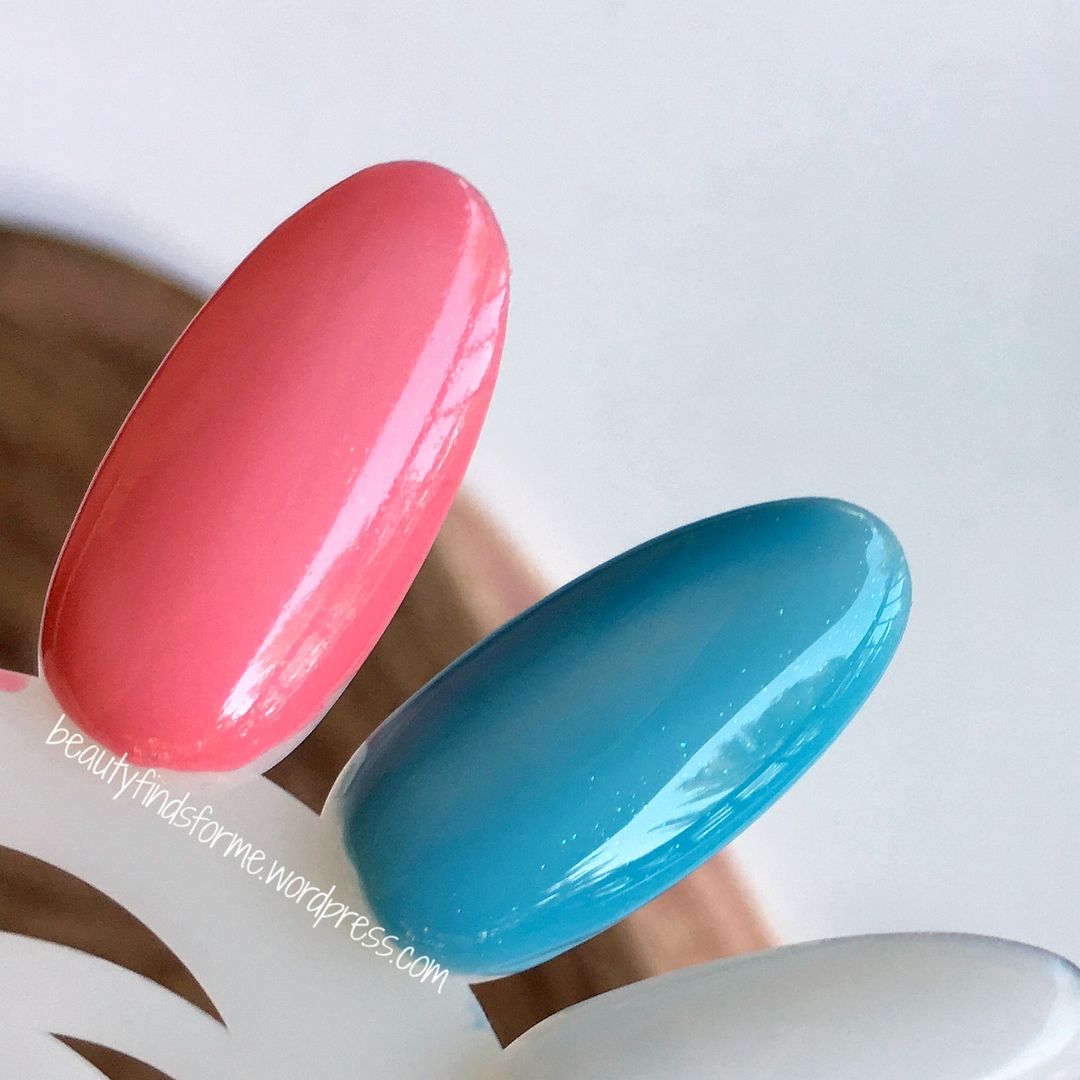 The above photo has  two coats on 102 and three coats on 103 ~ the blue actually can be streaky and I needed to add a third coat to even it out.   These colors have such depth and a muted vividness, if that makes sense!  They aren't neon bright, but they have such a nice vivid tone without screaming at people.  I really like these colors!

Innisfree Blooming Highlighter  This is my favorite item from my purchases and I love the design on the aqua blue compact.  This is what I came to expect from the Color Picker series and alas, only a few of the items have the floral theme printed on them. If you look at my past reviews from the Color Picker series, Innisfree always decorated their limited editions and this time, they only selected the color correcting and contouring kits and this item, to decorate. The compact isn't the most stable or well built and it doesn't even have a mirror inside 😦
However, the colors are beautiful ~ a bright silver white, gold, bright pink, muted coral and a lovely lavender,  a pastel rainbow of pearl shimmers!  This is a baked hightlighter that contains light reflecting pearl powders to help make your skin look radiant.This can be used on your face and even your body, for a light delicate glow.  You can use the colors individually as an eye shadow highlighter too. I love the printed design on the powder and it almost hurts to swirl my brush in it as it is so pretty. 
When all swirled together, this reflects light with a subtle unicorn glow.  I do have to layer it a couple of times to show up on my face, but it is a gentle and soft look with no harsh glitters.   This is a great everyday highlighter and can be worn without fear of looking too glittery.
Final Thoughts
So, for some reason, I feel that Innisfree fell a little flat with this year's Color Picker theme.  They had a lot of possibilities ~ cream eye shadows in lavender, muted peach, creams ~ maybe even do more lavender or mauve lip shades, instead of sticking with the coral shades. There were no eye products this year as well ~ and I am sad about that.  
I also was disappointed about the lack of decoration on their products ~ The boxes were beautifully designed, but I had come to expect to see designs on the nail polish and lip stain caps.  They didn't do that this year, but they did decorate the highlighter compact.  However,  I do love the nail colors I chose and the highlighter is amazing, despite the flimsy compact with no mirror.   I guess after the Autumn 2016 Color Picker Series, which REALLY raised the bar, it might have been an hard act to follow. 
Where to Purchase
Contains affiliate links, which means that I get a small commission if you use my links at no cost to you.  Using my links will help support my blog and I thank you in advance!
YesStyle
As well as other items in the collection
Jolse 

As well as other items

[ post contains affiliate links ]