[ disclosure: products received complementary for review purposes ]
I cross post a lot of my reviews on Amabie, which is an Asian Beauty Skincare and Makeup review site ~ anyone can join and submit their reviews!  If you don't have a blog, this is a great place for you to enter in your experiences with a product and you can upload your pictures there as well.  Amabie selected me to review a Taiwanese brand ~ Silkah ~ and three of their products. I have posted separate reviews on Amabie and have also decided to post a blog post here.  Amabie does have restrictions on how many photos you can upload and I wanted to review all three of the products together as Silkah recommends that these 3 products are to be used together.  Many thanks to both Amabie and Silkah for sending me these items to try out. 
I received a box of 5 Revitalizing Hydrating Masks, 2 boxes of Frozen 18 Activator and Regenerating Moisturizer.  What I learned from this trial is that I hate taking photos of my eyes. 
Skin Type/Concerns: Oily, blemish prone skin with aging concerns ~ fine lines/wrinkles and hyper-pigmentation.
About Silkah Stem Cell Skin Care System
The driving principle behind Silkah Stem Cell Skin Care System is to try and regenerate skin cells, as when we age, the speed of which of cells die is faster than their cell growth. They use stem cell technology which are a group of cells that have the ability to replicate and diversity.  SCSF (Stem Cell Secreted Factors) are a group of 200 kinds of proteins that are naturally secreted from  stem cells. It aids in regulating, activating and restoring cells, while increases the quantity and vitality of a new cell.  SCSF is key  in repairing and regenerating our cells. As we age, the amount of stem cells and SCSF decrease greatly, which causes wrinkles, sagging skin and dark spots. Our cells can also prematurely age, due to environmental causes, such as UV light exposure, which will  make the skin rough, dehydrated, dull and sag.
Applying SCSF on the skin topically helps increase the quantity of cells and rejuvenates the cells ~ increases collagen and elastin, reducing wrinkles. SCSF will help repair damaged skin cells, improving rough, dull skin and adding moisture. SCSF will help improve multiple skin aging issues such as  hyper-pigmentation, sagginess, wrinkles and will monitor and automatically detect the needs of aging skin.
Silkah uses stem cells from the Cyagen Bioscience lab, which has high and strict standards for stem cells, having to pass multiple inspections to ensure that the stem cells are safe with no adverse side affects.  
image credit: Silkah
This incorporates liposome technology, allowing water-based ingredients to deeply penetrate your skin layers by encapsulating the water-based ingredients within an oil-based bi-layer sphere. Oil and water don't mix as we know, but this structure is similar to our own skin and will help deliver the nourishing compounds ~ peptides, proteins, amino acids, vitamins ~ deep into your tissues.
Revitalizing Hydrating Mask  This mask is marketed as a hydrating mask and it is with its humectants of glycerin, amino acid sodium PCA and hyaluronic acid.   This contains nicotine acid, which is actually niacin, similar to niacinamide and in fact, niacin is actually vitamin B3. Niacin does help with repairing the skin barrier and facilities wound healing, but niacinamide is the ingredient that deals with brightening and hyper-pigementation.  That said, this has licorice and lactic acid, an AHA that will exfoliate your skin, so it will brighten. This has soothing and anti-inflammatory allantoin, extracted from the comfrey root and allantoin will also help speed up wound healing (blemishes). 
The mask has a lot of watery, unscented essence and comes with two protectors ~ a plastic "pearl" sheet and then a thin blue paper sheet,  as the sheet is quite thin.  However, it isn't that thin that it tears or loses shape easily.  The fit is also quite decent as well and in fact, if you have a larger face, it will fit nicely as I had a lot of mask "left over" on the sides of my face.
After 30 minutes, I removed and my face felt refreshed and hydrated, very plumped up with moisture.  My pores looked clean and smaller in appearance and my overall skin tone was brighter.
Ingredients: Purified water, Sodium PCA, 1,3-Butylene Glycol, Glycerin, Dipotassium Glycyrrhizate, Nicotine Acid, Hyaluronic Acid, Pantothenic Acid, Chlorphenesin, Allantoin, Hydroxyethylcellulose, Lactic Acid, Tocopherol, Lecithin, Phenoxyethanol, Trisodium HEDTA, Methylparaben cosDNA analysisimage credit: Silkah
Frozen 18 Activator  So, this was the product that is to be the crown jewel and the one that I was most interested in.  This product is made with over 200 proteins, some of such tiny proportions that they aren't included in the ingredient list. I recognize some anti-aging, wound healing, cellular rejuvenating amino acids.  The powder proteins has been freeze dried at -30º C under high vacuum, in order to rapidly dehydrate the product to produce the highest and best quality of SCSF. 
This trial came with 2 boxes of the Frozen 18 Activator and each box contained 5 of the spray crystals tube and one liquid bottle.  Each tube is good for 3 days and has lines marked on the side of the tube and the liquid bottle will fill up each of the 5 tubes.  Whew!!  So, the instructions are easy ~ just clip off the tip of the liquid bottle and then open up one of the tubes.  Take off the spray top and fill up the tube with the liquid.  Place the spray top back on the tube and shake well. 
This is a very watery liquid and it has a pH level of around a 8.  So, it isn't acidic. 
It is mildly alkaline, which I am not sure how this will work to reduce fine lines, wrinkles, brighten skin tone and so on.   Now, here comes the hard part.  The proteins in Frozen 18 are very sensitive to your skin's pH level, so my skin had to be around 6.5 to 7.5 level.  That means that I could not use any products 2 hours prior to applying Frozen 18 and 2 hours after applying Frozen 18.  My night time routine took over 4 hours!! haha   I did document my eye area as best as I could for the time period I was testing this.  I gave up trying to get the same lighting as even though I took the pictures at the same time during the day, I was going into from winter to spring time, so the lighting outside of my bathroom was changing as well.   Week 1 is the starting point before I began using the products.
Week 1
Week 5
Honestly, no.  I didn't see any major improvement with my fine lines and wrinkles around my eyes.  What I did notice was this ~ Frozen 18 is DRYING on my skin.  My skin was so tight and dry ~ which is not something desirable on thin, delicate eye skin. I could feel the moisture just being sucked out with this product on my eyes.   I had to wait 2 hours before applying Eye'm In Love, a fantastic moisturizing eye balm from Sumbody, courtesy of the brand, which is so rich and emollient.  Without that balm, I fear I would have more wrinkles and fine lines from the Frozen 18 product.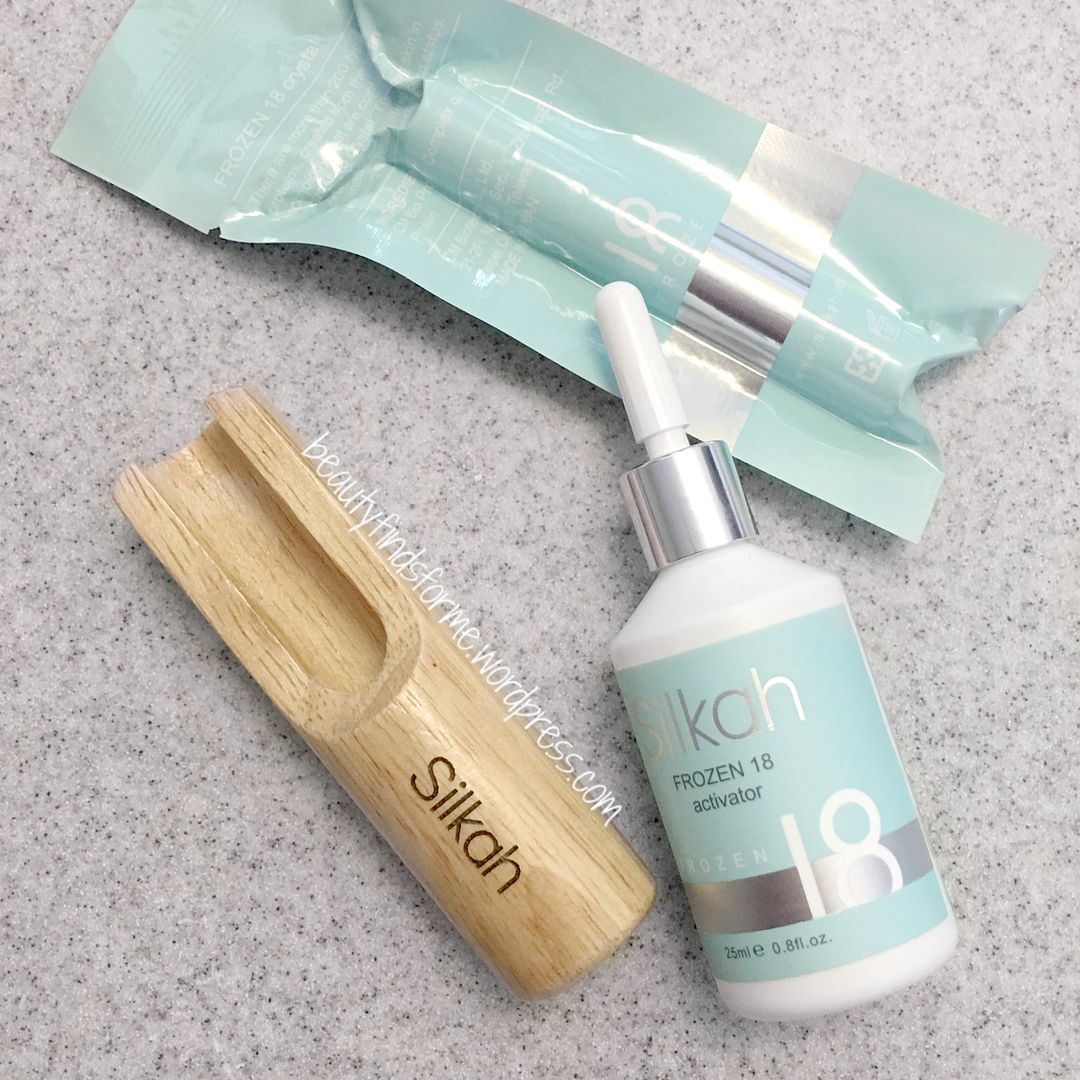 Now, it wasn't as if I was using  this product incorrectly.  I read the directions and I read the informational pamphlet with the trials conducted in the past.  Frozen 18 is used around the eye area and in fact, is one of the highlights with the before and after photos.  I am not sure why this failed so badly with my skin type as it isn't like I am too old.  They had test users who were way much older than I am in the pamphlet trial photos.  Let's just say that Frozen 18 was a fail for me. 
Ingredients: Purified Water, CM Bio Protein Complex α **, Serum Protein, Chlorphenesin, Methylparaben, Phenoxyethanol, Lecithin, Vitamin E  cosDNA analysis
** CM Bio Protein Complex α consists of  Sodium Chloride, Sodium Bicarbonate, D-Glucose, Potassium Chloride, L-Glutamine, Calcium Chloride, L-Arginine Hydrochloride, Sodium Phosphate Dibasic Anhydrous, Sodium Pyruvate, L-Lysine Hydrochloride, Sodium Phosphate Monobasic, L-Valine, L-Leucine, L-Threonine, L-Isoleucine, Magnesium Sulfate, Magnesium Chloride, Glycine, L-Serine, L-Phenylalanine, L-Tyrosine Disodium Salt Dehydrate, L-Proline, L-Histidine Hydrochloride-H2O, L-Methionine, L-Cystine 2HCl, L-Cysteine Hydrochloride-H2O, I-Inositol, Choline Chloride, L-Asparagine-H2O, L-Aspartic Acid, L-Glutamic Acid, L-Alanine, L-Tryptophan, Niacinamide, Hypoxanthine Na, Pyridoxine Hydrochloride, Thiamine Hydrochloride, Folic Acid, D-Calcium Pantothenate, Thymidine, Ferric Sulfate, Zinc sulfate, Riboflavin, Lipoic Acid, Putrescine 2HCl, Vitamin B12, Linoleic Acid, Ferric Nitrate, Biotin, Cupric Sulfate, HGF, TGF- β1, FGF, Collagen, Fibronectin, KGF, VEGF
image credit: Silkah
Sumbody Eye'm In Love Ingredients: Pistachio Oil, Shea Butter, Castor Oil, Apricot Oil, Avocado Oil, Jojoba Oil, Beeswax, Carrot Oil, Rose Hip Oil, Infused St. John's Wort, Vitamins C & E, Calendula, Apple, Chamomile, Elder Flower, Comfrey, Carrot, Burdock Root, Golden Seal, Irish Moss, Kombu, Wakame, Bladderwack Seaweeds, Licorice Root, Rose Hips, Bee Pollen, Green Tea, Rooibos, Noni cosDNA analysis

Regenerating Moisturizer  This moisturizer is to be used right after applying the Frozen 18 Activator.  I first want to say that I love this moisturizer ~ I view it more as a lotion, as it is very lightweight, but packs a punch with some excellent hydrating ingredients of glycerin and aloe vera.  It does have some oils that will help lock in moisture, such as squalane and olive oil, but it isn't heavy at all.  It contains niacinamide and tranexamic acid, which are brightening ingredients, along with some lovely botanical anti-aging  antioxidants, along with ceramide for a silky smooth skin.   Let's look at the packaging ~ this comes in a tall aqua bottle with a bright silver cap.  The cap is unique and I love it ~ it twists up to reveal a built-in pump applicator and then you twist it shut.  This is great for one handed opening and closing of the bottle!
This lotion is a light cream colored product, very lightweight and absorbs nicely into my skin.  The scent is amazing! It is a spicy botanical which I attribute to the bois de rose, neroli and lavender oils.  Bois de rose comes from the aniba rosaeodora tree and its scent is woody and mossy, which is where I am picking up the warm spiciness of this product.  You can see in the swatches below how lightweight and spreadable this product is.
This only increased my moisture level by 20%, but it is a balancing lotion ~ it turned my oily skin into normal skin after application.  I did find that I needed to add more products on my face after 2 hours at night.  Nighttime is the time which your skin can repair itself the best, and I used a sleep pack to lock in this product and to ensure my skin was sufficiently moisturized.  I think that this lotion is perfect for me during the daytime, however, and now that the trial is over, I will use it as such.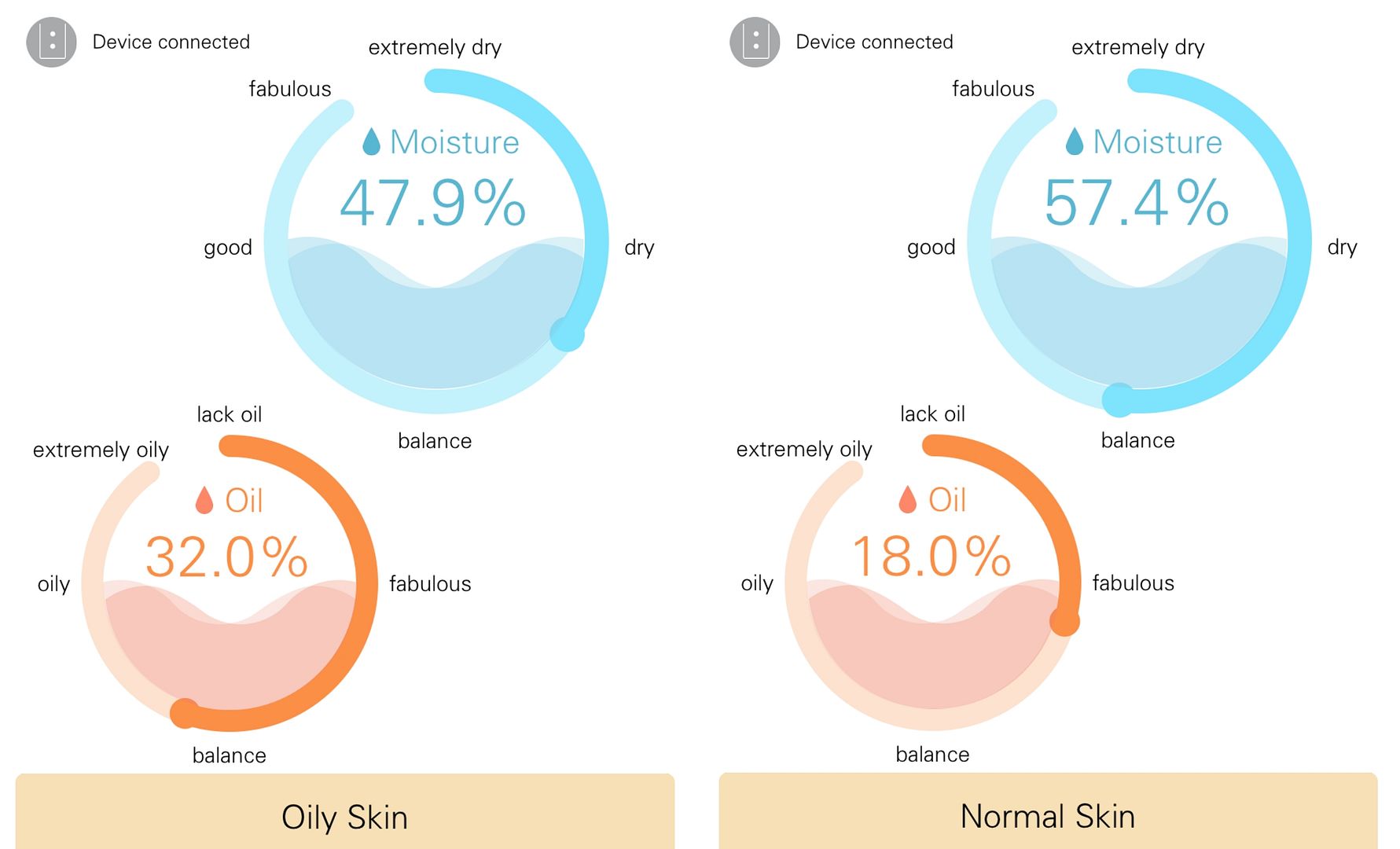 Ingredients: Purified Water, Caprylic/Capric Triglyceride Glycerin, Hydrogenated Lecithin, Squalane(Olive), D-Panthenol, Niacinamide, Tranexamic Acid, Stearyl Alcohol, Glycosyl Trehalose, Hydrogenated Starch Hydrolysate, Zinc PCA, Nasturtium Officinale Flower/Leaf Extract, Chlorella Vulgaris/Lupinus Albus Protein Ferment, Avena Strigosa Seed Extract, Lecithin, Glutamine, Decyl Glucoside, Phenethyl Alcohol, Cistus Incanus Flower/Leaf/Stem Extract, Gynostemma Pentaphyllum Leaf/Stem Extract, Tocopherol, Ceramide, Olea Europaea (Olive) Fruit Oil, Olea Europaea (Olive) Oil Unsaponifiables, Hydrogenated Vegetable Oil, Phytosterols, Glyceryl Stearate, Arginine, Aloe Barbadensis Leaf Extract, Magnesium Aluminum Silicat, Xanthan Gum, Alcohol Denat., Potassium Sorbate, Caprylyl Glycol, Ethylhexylglycerin, Aniba Rosaeaodora (Bois De Rose) Oil, Lavandula angustifolia L.(Lavender) Oil, Citrus Aurantium Flower (Neroli) Oil  cosDNA analysis

image credit: Silkah
Final Thoughts
There is a huge difference between hydration and moisturization.  Although many of us, including myself, may use those terms interchangeably, they do have different meanings.  Hydration is to add and bind water back into your skin, leaving it feeling plump, smooth and refreshed, with wrinkles and fine lines diminished.  Moisturization means sealing in moisture (water), usually with an oil or butter product.   Lack of moisturizing results in rough, dry and flaky skin.  Oily skin can be dehydrated without a lack of moisturization.   Why did I go on about hydrating and moisturizing?  Because I feel these products are primarily HYDRATING.  Not moisturizing.  The mask and lotion are lightweight without being heavy and they truly are hydrating products.  The lotion has some moisturizing ingredients in it, but I view it more on the hydrating side than moisturizing. 
Overall, 2 out of 3 ain't bad.   I loved Silkah Revitalizing Hydrating masks and the Regenerating Moisturizer ~ they are prefect for those who are looking for more lightweight, hydrating products that won't leave an oily or tacky residue.  The Frozen 18 Activator is another story. I did not see any improvement over the course of 4 weeks and in fact, my skin was drying out.   That is not something I want my skin care products to do, especially around my delicate eye area.
Where to Purchase
image credit: Silkah
Right now, the only place I know where you can purchase Silkah is at their site, which is for Taiwan only.  That said, Amabie is opening up a shop, called Shop Amabie (click here), very soon ~ and they might be carrying these items.  I hope they stock the sheet masks as those were fantastic!   I know that when they have their grand opening, there will be a 10% off promo code to celebrate their opening.
[ disclosure: products received complementary for review purposes ]