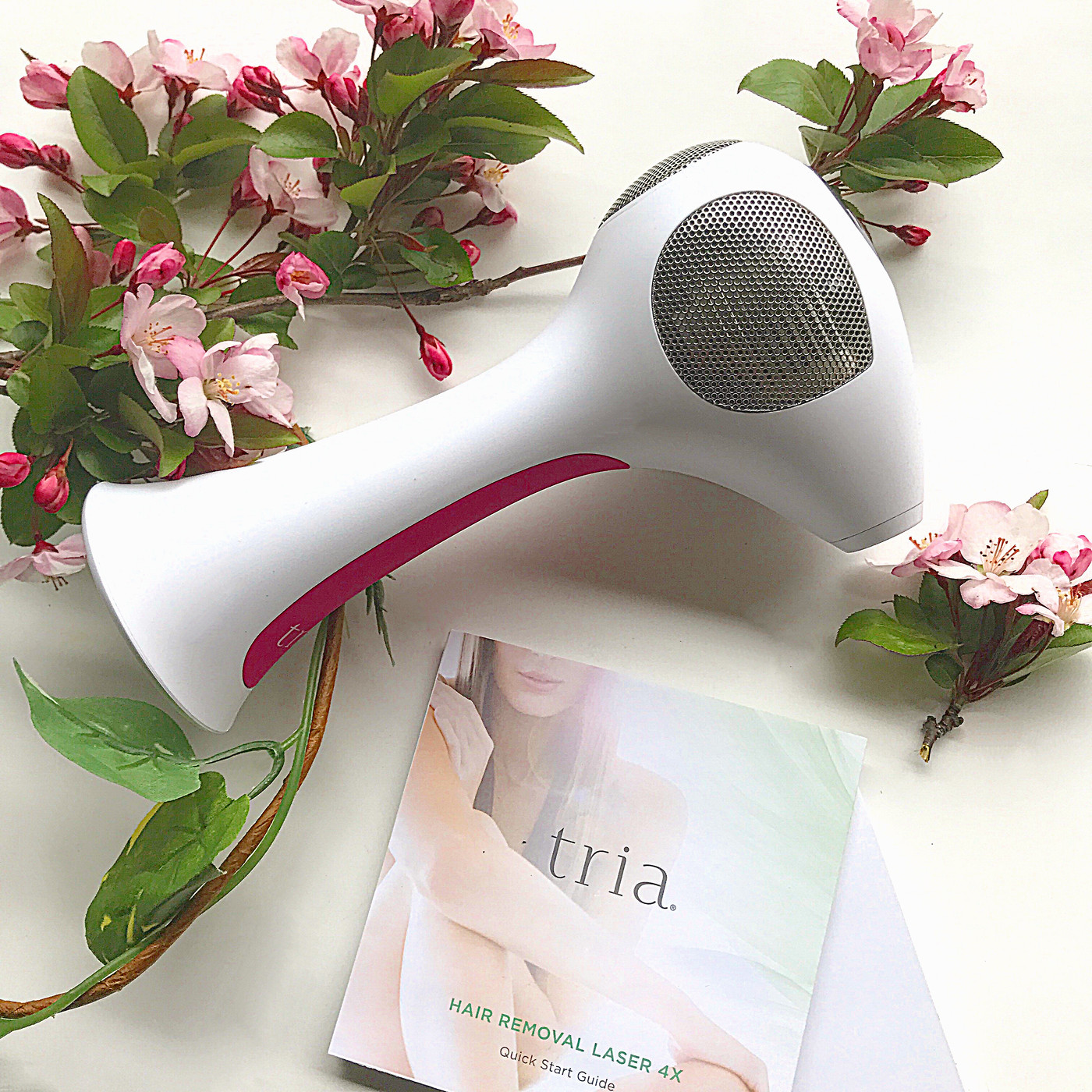 Ahhh, let's talk about a sensitive subject for women (and men!).  Hair in places where you DON'T want hair, whether it is under your arms, on your arms, legs, back or chin area.   For many of us, this "unwanted hair" ~ and it is only unwanted if YOU don't want it as I do not judge anyone for their personal choices ~ can be removed via shaving, electrolysis, waxing, sugaring or laser, just to name a few removal processes.  People throughout the ages have been removing hair off their body so it isn't anything new.
In the last decade, I have stuck to shaving and tweezing.  However, in the past, I have tried and failed for various reasons with
Waxing/Sugaring:  My pain level can't handle it plus I would rip the first layer of my skin as well
Chemical Removers(Nair):  Oh the irritation and skin discoloration that crap left behind.
Electrolysis: Professionally done, this was painful, I had to let my HAIR grow out and expensive.
Laser: Professional done, this wasn't that painful and I was supposed to remove the hair via shaving before the procedure.  Hella expensive though
My unwanted hair started to grow a few years ago.  In my early 30's, it was just a stray hair, but as time marched on, it became a little patchy area under my jawline.   I tweezed it out initially when it was a few hairs, but it is now 30 to 50 hairs which is too much to deal with.  I then shaved, but I do get razor bumps, red marks and even sometimes nick  my skin.  Plus there is the stubble (uggg).   I needed to do something about this and thankfully, Tria Beauty sent me their Hair Removal Laser 4X Device to deal with this issue
I received  this product complementary to review and was not paid.  All reviews are my own honest opinion and  I never have been asked to write copy for a brand.  This blog post might contain promo codes, affiliate and referral links, which using my links will help generate a small commission that helps support my blog at no extra cost to you.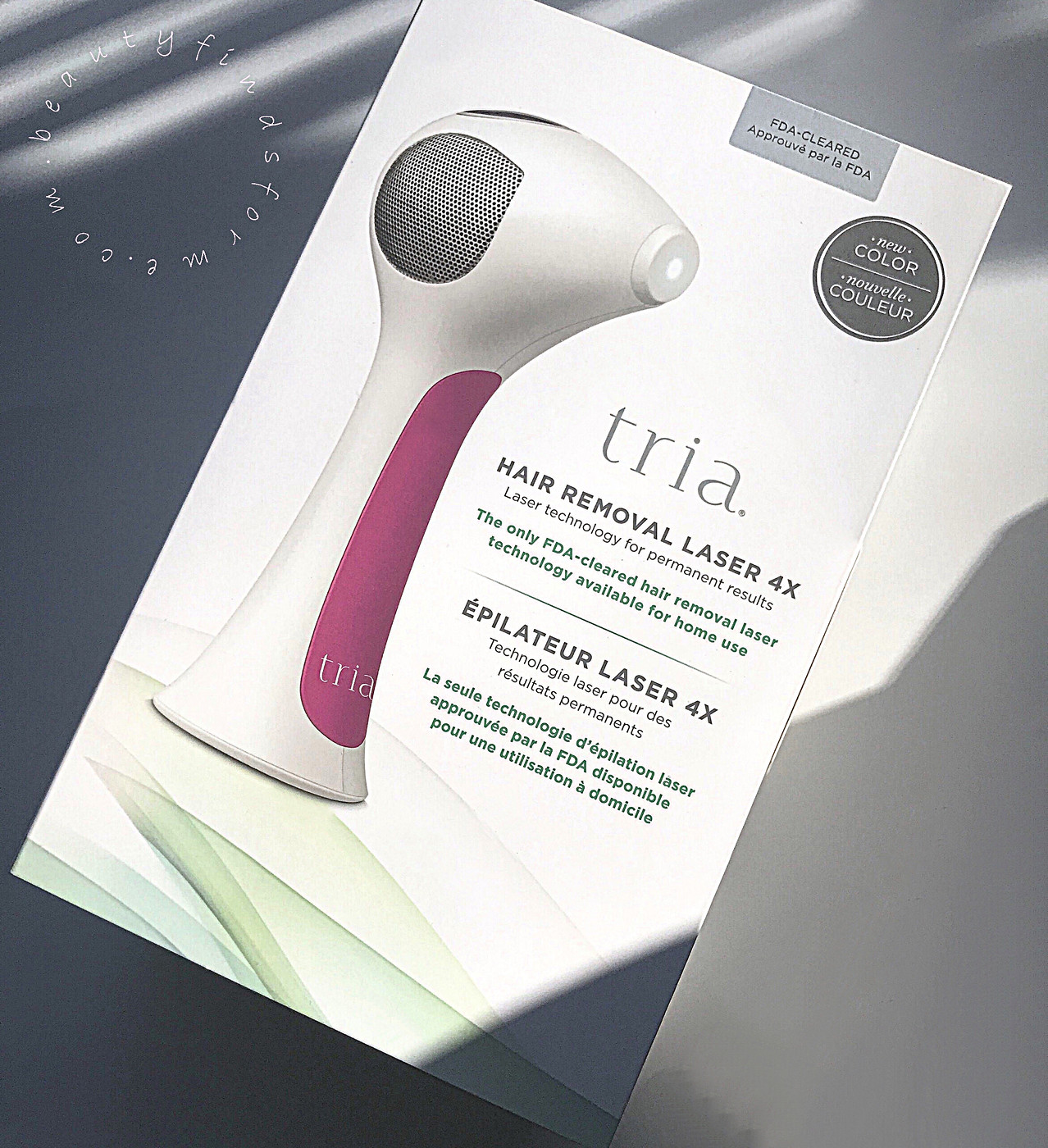 Let's talk about this device first and why I was eager to test it out.  I have looked at many home laser products and this one by Tria Beauty stood out for me as being the most promising.  This laser uses the same in-office laser technology that dermatologists use and it is FDA cleared for safe and effective use at home.   Tria Beauty uses an advanced hair removal laser technology that delivers of 3X more hair eliminating energy than any other over-the-counter hair removal devices.
image from triabeauty.com
Tria Hair Removal Laser 4X Device works by targeting the pigment in your hair follicles by using ultra high energy density and precise laser wavelengths.  This will permanently disabled the the follicle so it cannot regrow hair. This device is really easy to use ~ it has a large display that will allow you to choose the treatment level ~ 1 through 5, where 5 is the most powerful, shows the battery indicator, how many pulses you have used in the session to ensure that you have covered the treatment area accurately as well as a lock indicator.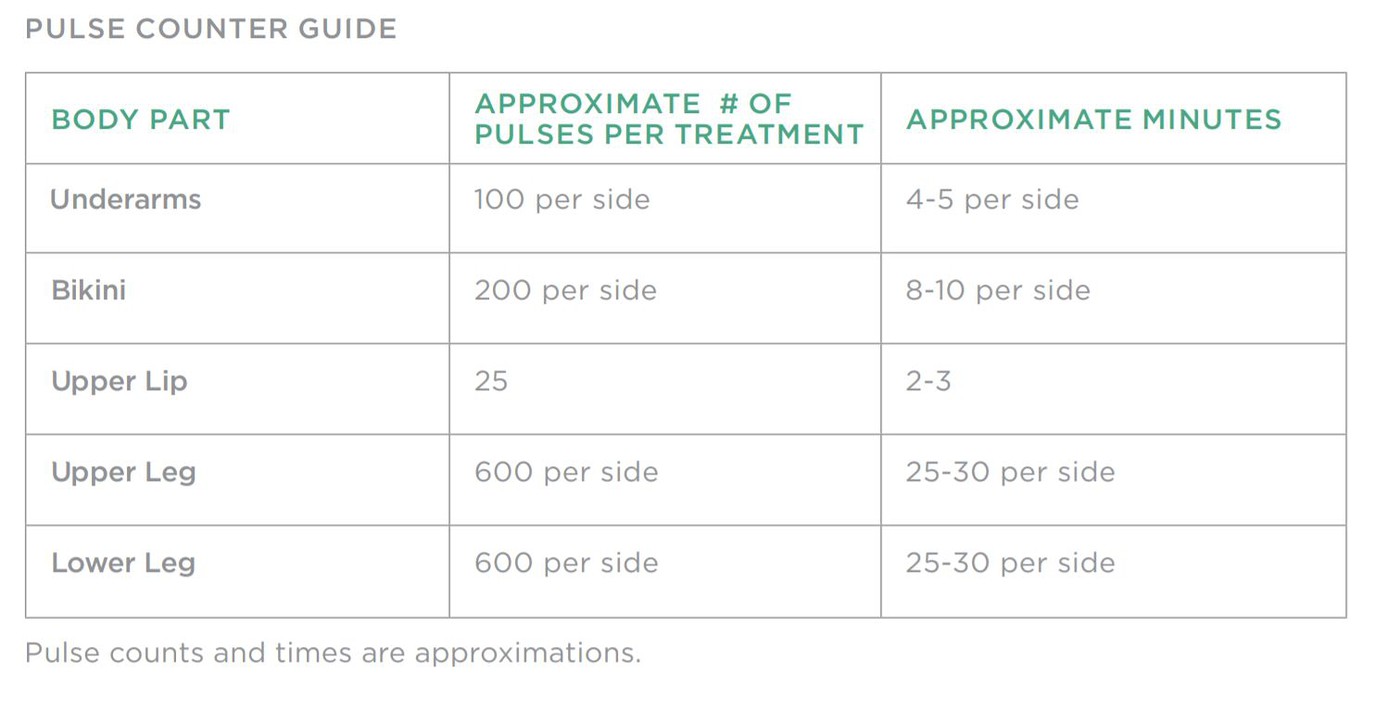 There is a single button to power on and off the device and at the base of the device, there is a skin sensor that will be used to unlock it.  The treatment window is on the front of the device "head" and it will deliver the laser light to disable the hair follicles.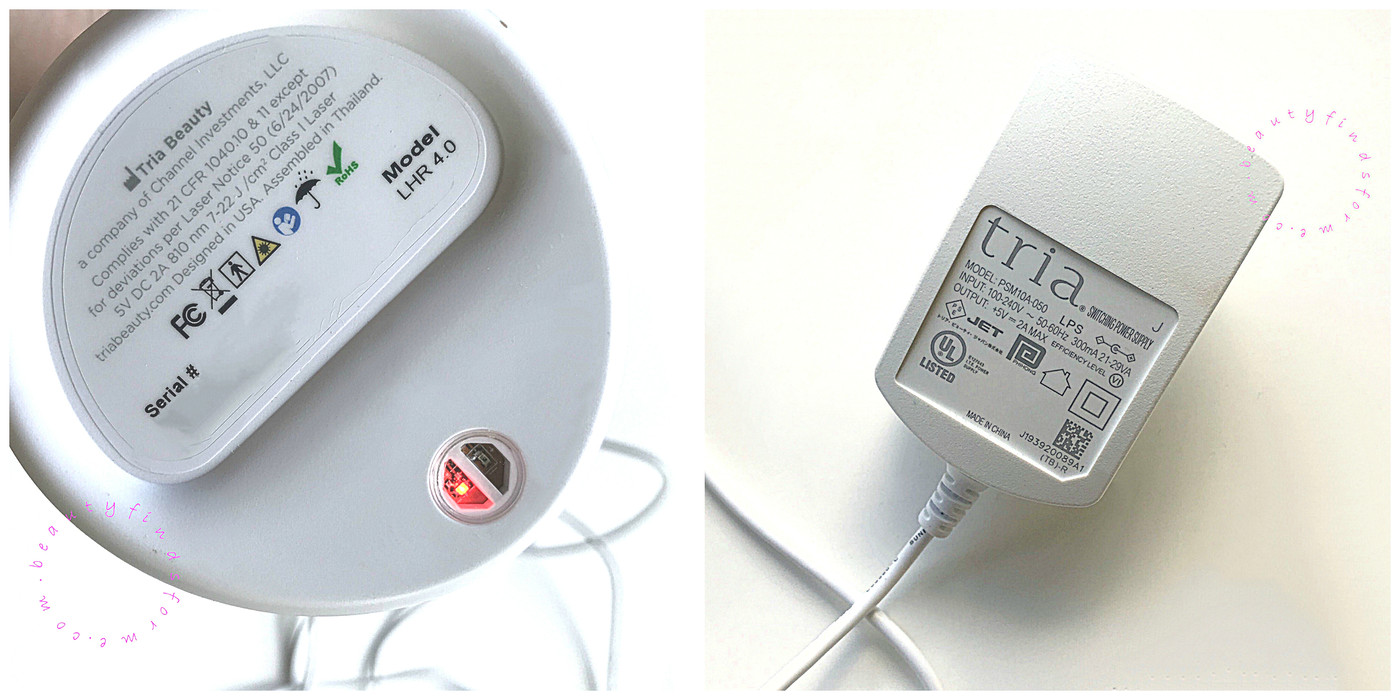 The lock indicator is to prevent you from using this product.  Lasers only work on darker hair ~ light brown to black ~ and light to light brown skin tones.  It cannot sense blond, gray or red hairs and if your skin tone is darker, it could cause damage and scarring.  It's for your own safety as well.  Power on the device and then rest the base on your arm and it will unlock if the device recognizes that it will work on you.
image from triabeauty.com
Okay, powered up and I set the setting at 4  ~ you should determine what setting to start out works for you ~ it might be that 1 is the proper setting for you initially and you will work up to a higher setting.  The first week, I didn't have a numbing gel so I was a bit nervous.  Placed on the area and zap.  Well, more like beep-beep.  The beep-beep tells you that the laser zapped the area you targeted.  If you hear a beep-uuuuu, that means the device was not fully on your skin ~ maybe part of it was or you lifted it before it was done zapping.  I then just move the device a little bit, overlapping part of the area I just treated and place again on my skin and beep-beep, thank you, next.  Just keep repeating this until the area has been treated.   Don't worry if you hear a noise start up inside the laser ~ there is a cooling fan that comes on and off while you are using it, as this baby is heating up inside!  You can still zap zap away while the fan is running.  I used about 30 to 50 pulses.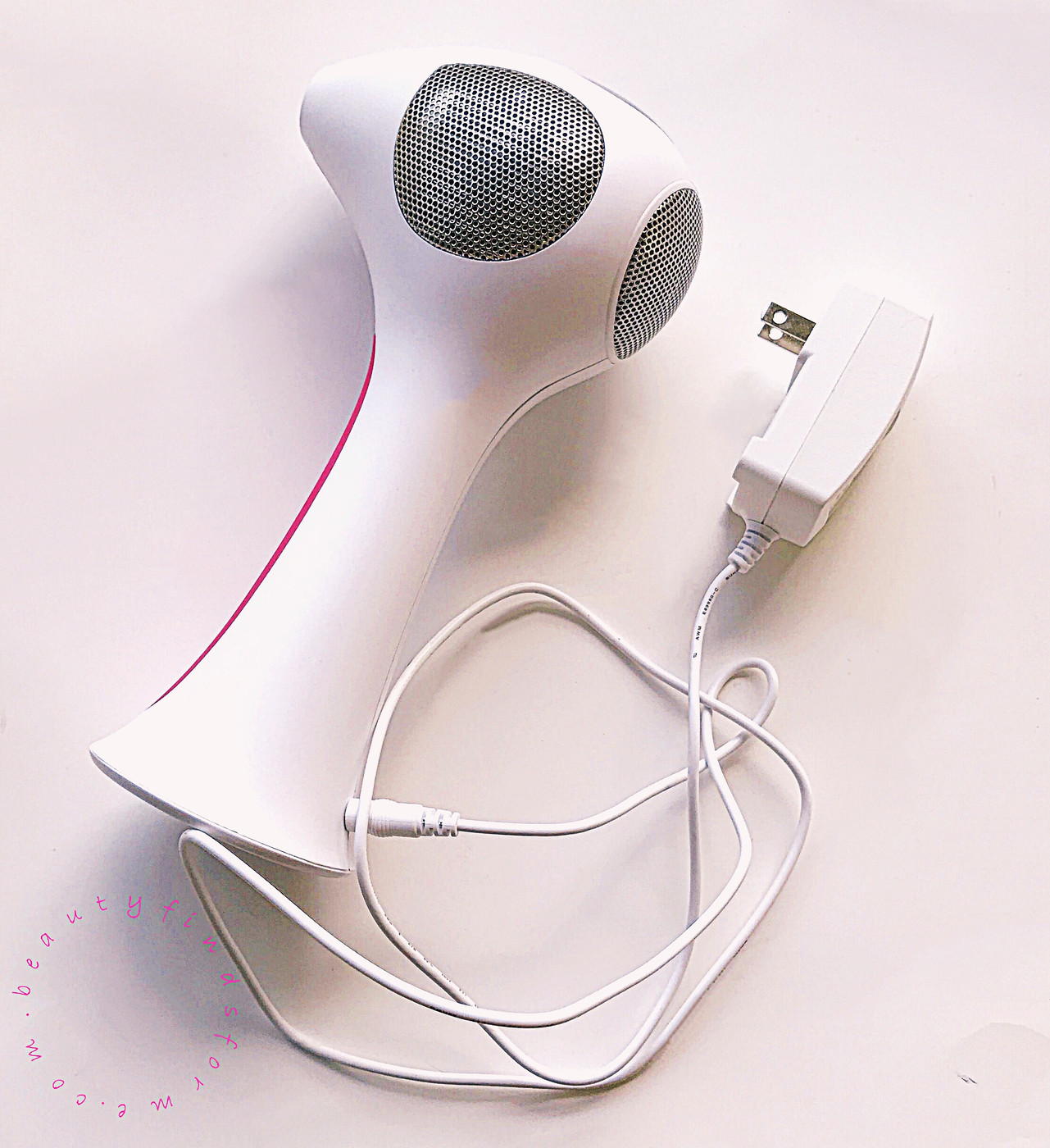 Now Tria Beauty states to use this every 2 weeks, but I am in a hurry and my hair grows fast, so I was using it every second or third day.   I was also able to go up to setting 5 pretty quickly ~ my skin under my chin is sensitive, yet this didn't hurt.  It felt like I was snapping a rubber band on my skin and my skin didn't turn red or irritated either.  I received my gel that I purchased off Amazon, but I have yet to use it.   I am saving it for under my arms and around my bikini area.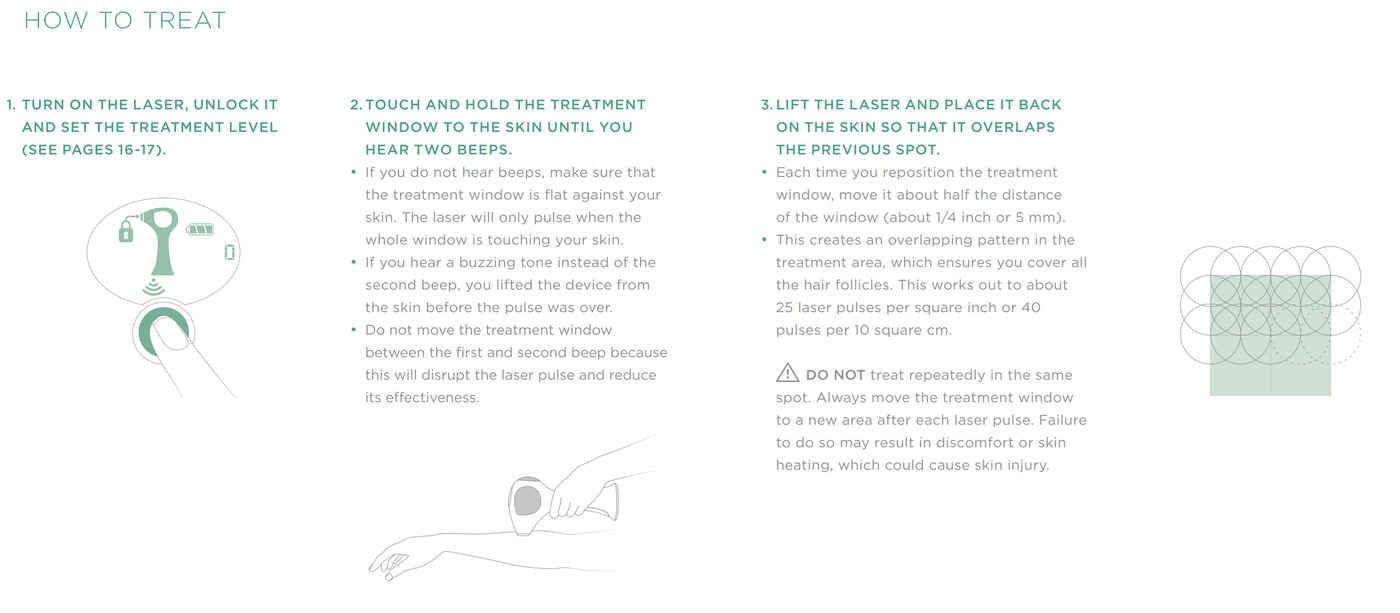 Results After 3 Weeks
OMG, after 3 weeks of using this, I notice a great improvement with the hairs under my jawline.  They are still there, but they look and feel finer, perhaps even a reduction in number.  I don't feel the stubble like I would during mid-day.  I also feel that my ingrown hairs are gone as well!  I am excited and will keep using this under my jawline and will now start under my arms.  I will continue to blog with photos every month ~ Tria Beauty does state it can take 3 to 6 months of using this consistently to see permanent results.  My photos below are taken in the morning, before I get into the shower and pre-shaving, so you can see the hair growth.  And yes, I have a double chin ~ it took me courage to post these photos!! hahaha
Week 0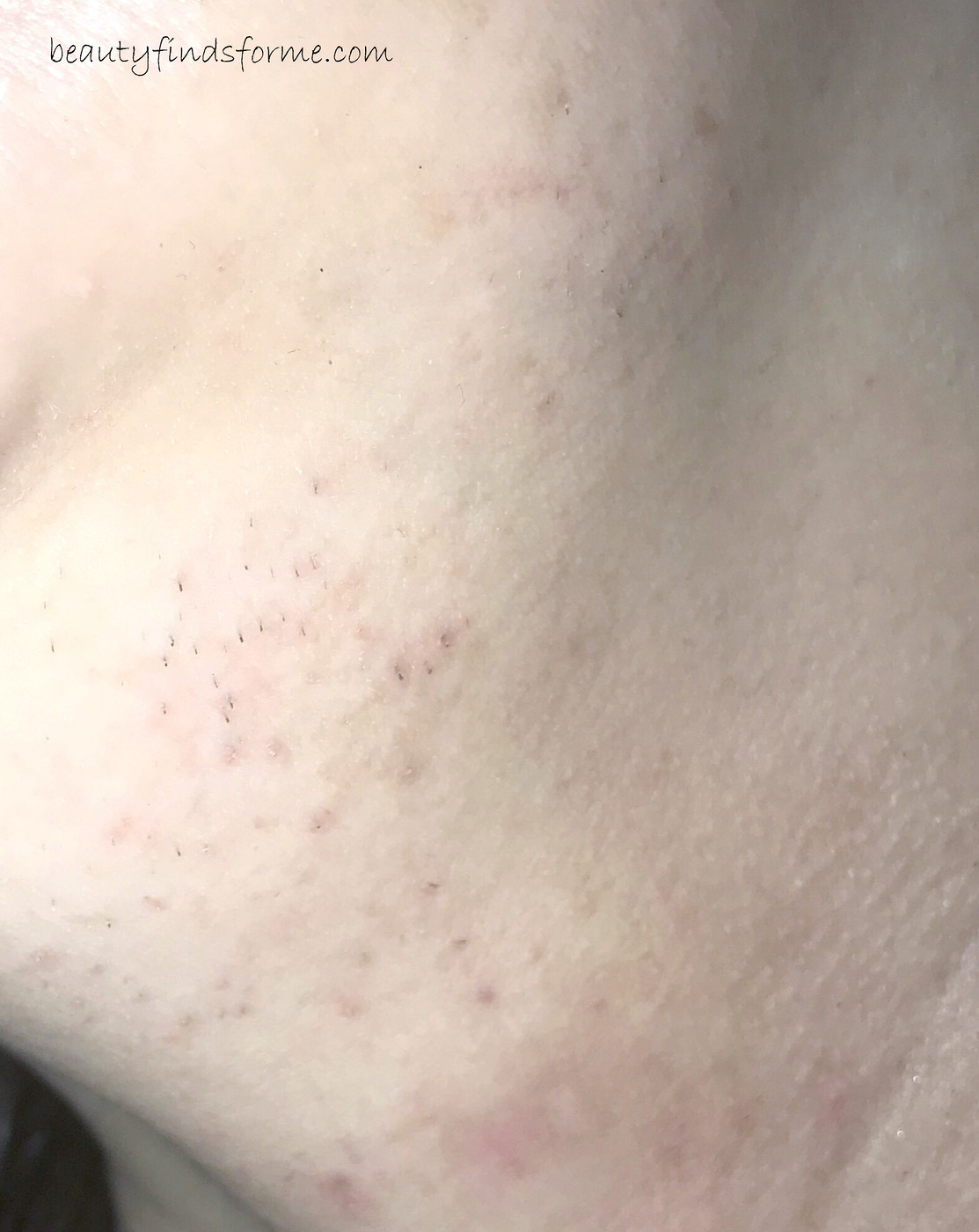 Before I started using the Tria Hair Removal Laser 4X.   Now, you might think that Week 0 is nothing.  Trust me, it LOOKS worse in real life ~ I have bumps, ingrown hairs, hairs that are itching to come on out.  You can see in the above photo that I have little bits of lighter skin around the hair follicles ~ that is because the hair is pushing against the skin and causing that dead skin to flake off.
Week 1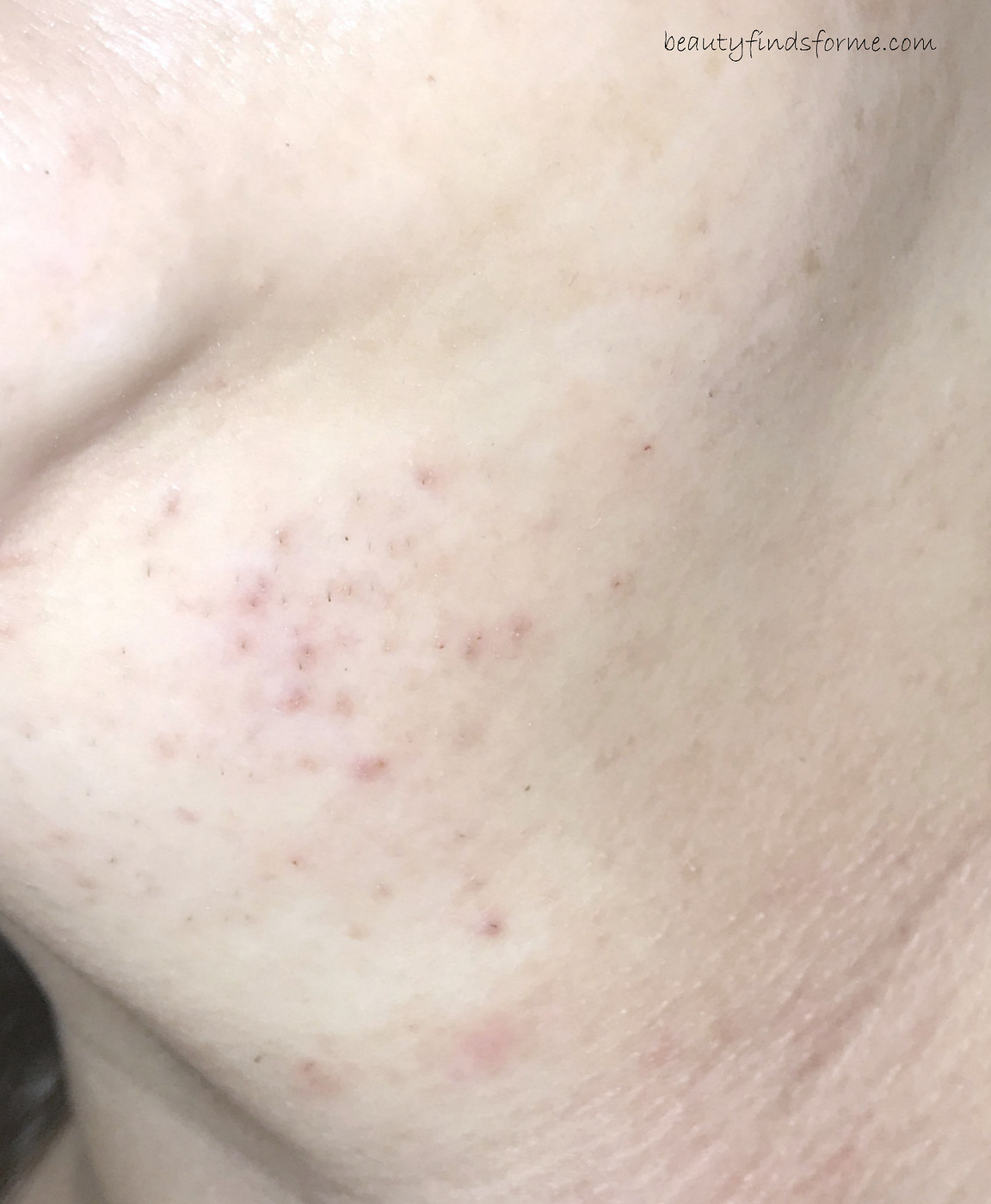 I still have hairs, but they look to be LESS, don't they?  The redness is from my shaving and has nothing to do with the Tria Laser.   I also notice that my ingrowns are really lessening as I can see the hairs wanting to come out ~ all those red spots. 
Week 3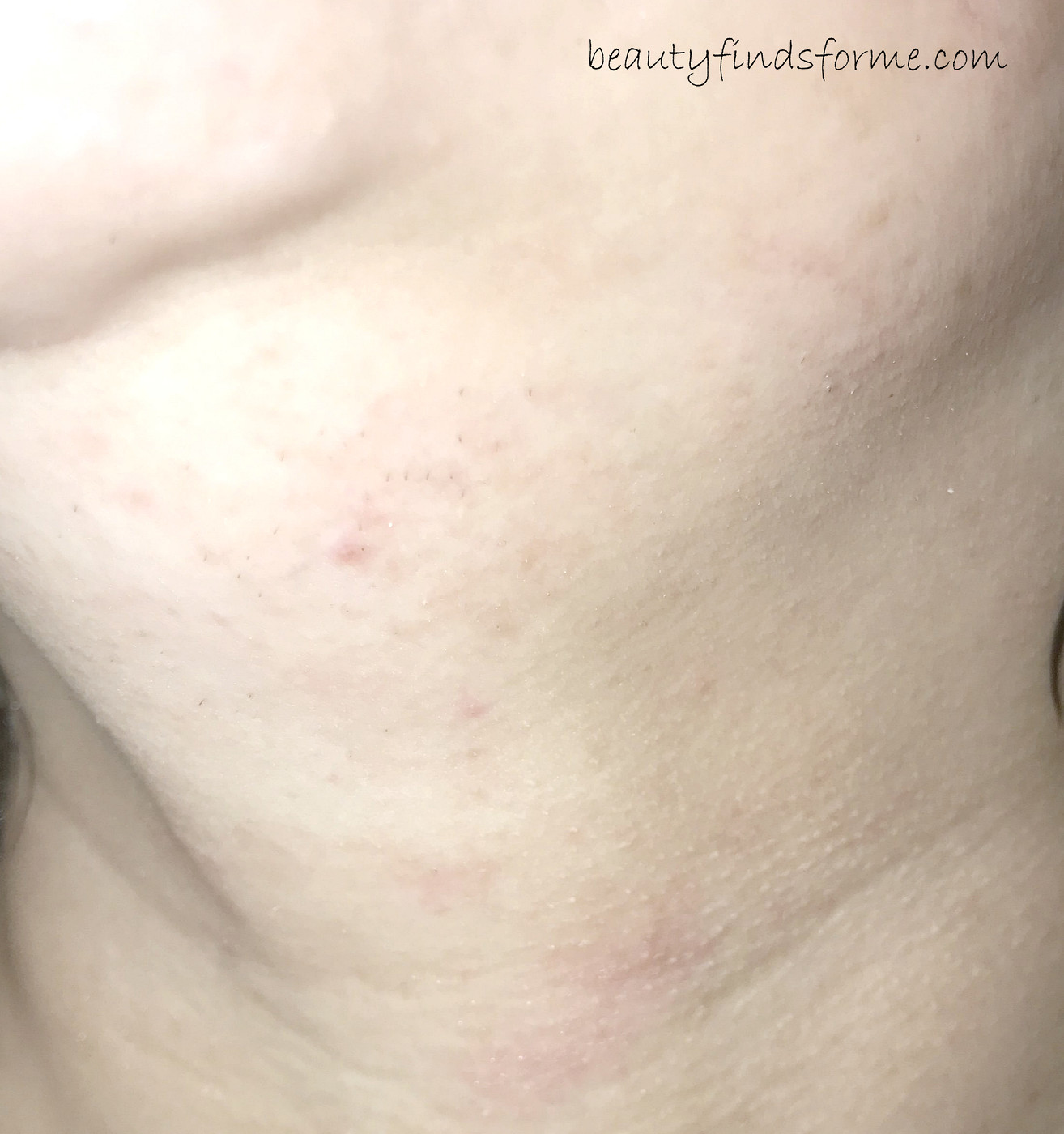 Missed Week 2, but OMG look at Week 3.  My skin is less red as I don't need to shave as much and the hairs are really reduced.  Plus the ingrown state has improved so much.  I was literally crying when I saw this photo as within 3 weeks, my hair had been reduced so much and what was growing out was so much finer in texture. 

Boring Stuff You Need To Know
Before you can use your Tria Laser 4X, you need to activate it at Tria Beauty  ~ it takes less than 5 minutes and your device won't work until you activate it.  Charging is easy ~ this comes with a charger, just plug it in overnight and it's ready to go.  You should charge it for at least 2 hours before you use it or when the battery indicator is blinking or low.  You can keep the Laser plugged into the charger for an unlimited time without any damage and once it is fully charged, you will see the battery light come on.  Only use the Tria battery charger that came with the Laser.  If you lose it, you could contact Tria Beauty Customer Service at customercare@triabeauty.com or call them at 877-321-8742 in the USA.  Tria Beauty also has customer service in Japan, UK and Europe, so if you are in those countries, make sure to look up that information in your user's manual.
Price
Yes, this is pricy.  I won't lie about that.  It is $499.00 USD for the device, but Tria Beauty has a few perks 
You are guaranteed results within 60 days or your money back

Free Shipping on domestic orders

One year warranty 
Also, you can do this in the privacy of your own home and if you have an area that you can't reach, you can recruit someone to help you ~ lol ~ this device is really simple to use!  In the long run, if you were looking at professional laser hair removal services, you would spend a lot of money.  Just look at this chart
By owning a Tria Laser 4X Device, you can treat ALL of these areas on your body for $499.00, plus you can sanitize the window and your family members can use it too.   This is WORTH the money ~ there is no muss, no fuss, no messy wax drips, no chemical burns and my hair is growing in much finer.  I am so impressed by this that I am saving up my money to purchase the Tria SmoothBeauty™ Eye Wrinkle Laser and see if that will help with my wrinkles around my eyes.   
Where to Purchase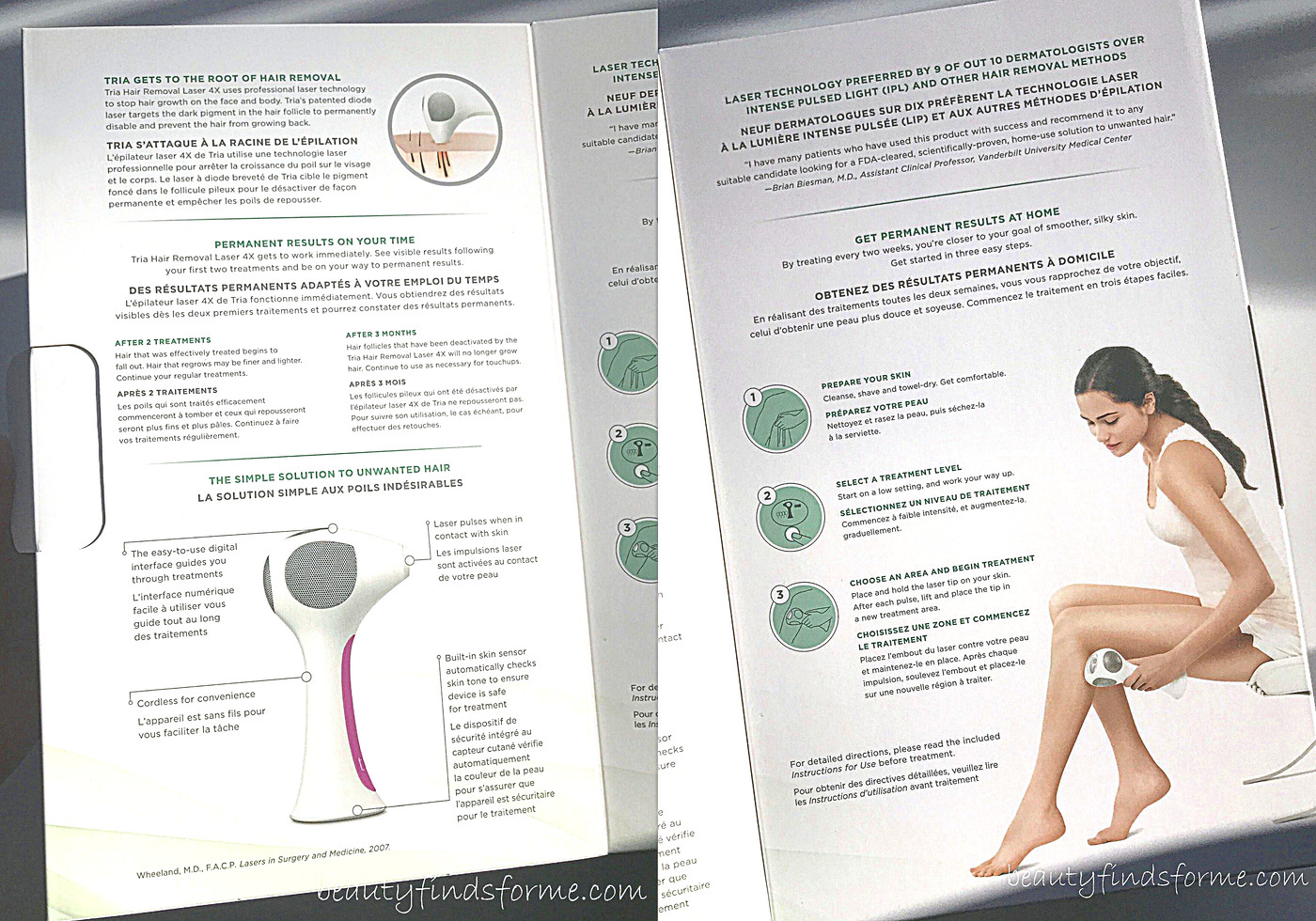 Tria Beauty, of course!  They sell this by itself or bundled with other goodies.  Sign up for their newsletter as they do run promos now and then so you can save money.  They normally have two colors ~ white with neon green accents and white with hot pink accents.  The hot pink one is sold out for now. 
[ products received complementary for review purposes  Contains affiliate links ]