I have the great pleasure of reviewing another product from Q-Depot.  Ivy meant to send me Skinfood Gold Caviar Moist Fitting Cake SPF25 PA++, which is a powder compact, but I received the Royal Honey Cover Bounce Cushion instead.  Sometimes, a mistake is a happy one and I am very pleased with this item. I had requested the powder pack in #2 Natural Beige , so I was lucky that the cushion was in the same shade. Q-Depot, for those who may not know, is an online Korean cosmetic store that has thousands of Korean skincare and   Korean makeup products with famous brands, such as Banila, Etude House, Hera, Skinfood, The Face Shop, History of Woo, Tonymoly, Innisfree, Missha, IOPE and many more.   Q-Depot has free international shipping with any orders $49.00 or more and you will get free samples with every order as well.
Skin Type/Concerns: Oily, blemish prone, aging with fine lines/wrinkles and hyper-pigmentation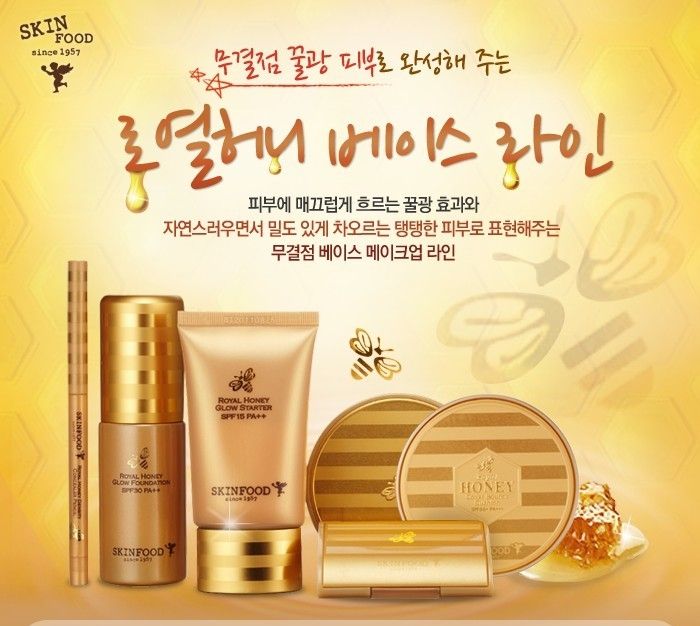 SkinFood has a several items in their Royal Honey foundation and base line and they are all infused with honey extracts.  The Royal Honey Cover Bounce Cushion will help cover blemishes, brighten skin tone and protect your skin from UVA/UBA rays as it does have a SPF50+ PA+++ rating.  This comes in 2 colors ~  #1 Light Beige and #2 Natural Beige.  My skin tone is a light-medium that has both ruddy and golden tones to it ~ and I wear NW20 in Mac and usually am a 23 in BB Cushions as I find 21 to be a bit too light for my skin tone.
Description:  A triple-functioning bouncy cushion foundation that effectively conceals imperfections and creates a smooth, luminous complexion. Using the enclosed puff, press the cushion to release the foundation onto the puff. Apply using patting motions. The more you pat your skin, your skin becomes smoother and has more luminous-looking.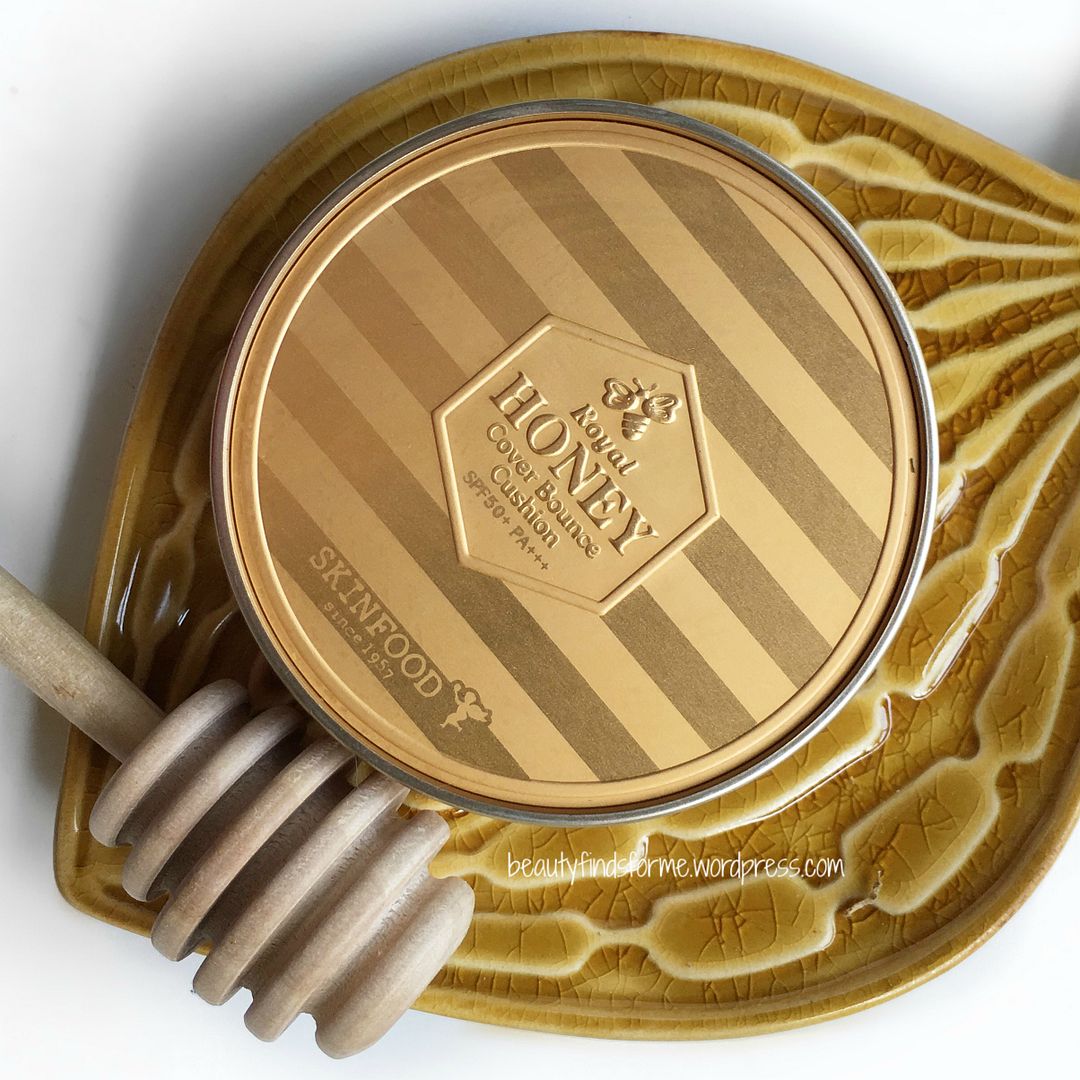 The packaging on this compact is adorable ~ it is a nice weighty gold colored compact with alternating stripes of shiny darker gold and lighter matte finish gold tones.  The bottom of the compact is in a light creamy yellow color.  The top also has a raised design feature a honey bee framed inside of a honeycomb and the name of the product.  It opens up to a traditional compact where there is the puff, a mirror and an inner lid that protects the BB cushion.  The puff is not one of the blue cell puffs, but has a white bottom sponge that seems to pick up and deposit more of the product on my face.  At times, I thought the cushion was dry, but then I flipped the sponge cushion over and there is a ton of product still left in the compact.  I did this several times already and I think because this cream is so lightweight, it just sinks down to the bottom of the compact.


This has some nice brightening and moisturizing ingredients ~ niacinamide (vitamin B3) is a powerful antioxidant that acts as an anti-inflammatory, improves your skin elasticity, enhance the skin barrier function and also it helps to even out skin tone and reduce post-inflammatory hyper-pigmentation.  Glycerin helps with healing of wounds, is an humectant, sealing in moisture, maintains the skin's water balance on an inter-cellular level, which makes the skin look healthy, moist (not dry and scaly), soft to touch, and is also an emollient, leaving your skin looking radiant and supple. Adenosine helps improve the reduction of wrinkles and is also an anti inflammatory.
Honey has antibacterial properties which help heal blemishes, rashes and prevent additional infections, while providing anti-aging, antioxidant benefits ~ it repairs your skin and fights off free radical damage.  Honey will keep moisture close to your skin, which makes for a glowing and radiant complexion. Not only does honey keep moisture in your skin, but it is humectant, which means it attracts moisture too. This also contains .1% of royal jelly, another honey bee product ~ it contains B-complex vitamins, nucleic acid, decanoic acid, flavonoids, essential fatty acids, amino acids, enzymes, minerals and natural antibiotic and antibacterial compounds. It is an anti-aging ingredient as well, as it can increase collagen production in your skin. increased collagen production.  
This contains four sunscreen ingredients, which provide UVA and UVB protection: ethylhexyl methoxycinnamate (Octinoxate), which protects against UVB rays, physical blocker titanium dioxide (TiO2) and zinc oxide, which in combination, block both UVA/UVB rays. Ethylhexyl salicylate (Octyl Slicylate) protects your skin against UVB rays.  Quick recap ~ the SFP rating protects against UVB rays, which cause sunburns and reddened skin and has direct links to cancer.  The PA rating protects against UVA rays which causes us to tan, and age ~ wrinkles and deep lines. 
Ingredients: Water, Titanium Dioxide (CI 77891), Cyclopentasiloxane, Ethylhexyl Methoxycinnamate, Ethylhexyl Salicylate, Cyclohexasiloxane, C12-15 Alkyl Benzoate, Glycerin, Niacinamide, Octocrylene, Zinc Oxide ( CI 77947), Trimethylsiloxysilicate, PEG-30 Dipolyhydroxystearate, Yellow Oxide of Iron (CI 77492), PEG-10 Dimethicone, Butylene Glycol, Sodium Chloride, Quaternium-18 Bentonite, Vinyl Dimethicone/Methicone Silsesquioxane Crosspolymer, Dimethicone, Ozokerite, Copernicia Cerifera (Carnauba) Wax, Red Oxide of Iron (CI 77491), Chlorphenesin, Triethoxycaprylylsilane, Aluminium Hydroxide (CI 77002), Honey Extract, Royal Jelly Extract (0.1%), Black Iron of Oxide (CI 77499), Adenosine, Fragrance  cosDNA analysis
This smells JUST like sweet honey ~ that alone sold me on this cushion!   This has a creamy texture and it has a light to medium coverage, depending on how many layers you pat pat pat on your skin.  It actually does a great job covering imperfections with one layer, but I don't consider this "heavy" coverage, as it doesn't feel heavy on my skin, if that makes any sense.

You can see below that I have some blemishes, redness and golden brown hyper-pigmentation in the photo to the left.  One thing I have learned with my research into skin care and aging concerns, is that when we age, our skin tends to get more redness.  I never had this much ruddiness in my skin tone when I was younger! In the middle, after one application of this cushion, my skin tone is dramatically evened out and much brighter in appearance.  One thing I like about this cushion is that it isn't a "dewy" cushion.  It provides a satin-matte finish without any additional dewiness to my already oily skin.  The photo on the right is after I apply the rest of my makeup, including a setting powder and blush.  This shade works well on my skin tone, as it really helps neutralize any redness on my skin while helping to cover my hyper-pigmentation, without feeling heavy or cakey.

This BB does set fast, so if you want to add another layer, you will have to move quickly, otherwise the coverage will be patchy. Since I find one application sufficient for my needs, I don't really have an issue that this cream sets quickly.  It isn't an oil controlling BB cushion, so that is why I add a setting powder, to help dampen down the oiliness of my skin.

After a few hours, I do need to touch up on my T-zone area, such as my chin, nose and forehead, which is normal for me and any foundation, tint or BB cream.  Since the product has already faded at that time, I don't need to worry about any patchiness.  
Final Thoughts
What's not to like? The sleek looking compact with its honey bee theme, the lovely sweet honey scent and the coverage are all winners in my estimation.  It covers my blemishes nicely and despite the fading after a few hours, I found that this has been a decent wearing product for me. It provides a nice satin-matte finish which with my natural oils, gives my skin a decent healthy glow. This does not clog my pores and any blemishes I have are not due to this cushion ~ I suffer from hormonal blemishes and that zit on the side of my nose is from my glasses, the heat and excess oil production. I feel that this cushion works really well with oily and normal/oil skin types ~ if you have dry skin, you may not think it is moisturizing enough, however.  I like this cushion so much, that I have purchased the refill!   I have come a long way with cushions ~ once I broke out of the Innisfree trap, whose shades never were quite right for me ~ I have found a lot of cushions that work for me.   Have you tried this product?  What did you think of it?

As with all cushions, this doesn't seem to have a lot of product at 15mL, but I have been using this cushion for a month now and it is still going strong.  I think I probably have another couple of weeks in this one and hopefully my refill will arrive at that time.  You can purchase this Skinfood Royal Honey Cover Bounce Cushion at Q-Depot for $21.31 USD (click here) and they also carry refills too, for $20.20 USD (click here to purchase).   You can save an additional 10% off your first purchase with Q-Depot by using  promo code MM1124.   Q-Depot has free worldwide shipping with orders$49.oo or greater as well.
[ product was complementary from Q-Depot.  All opinions are my own and unbiased ]
[ blog post contains affiliate links ]